Trump won't punish Saudi Arabia or its crown prince for killing of dissident journalist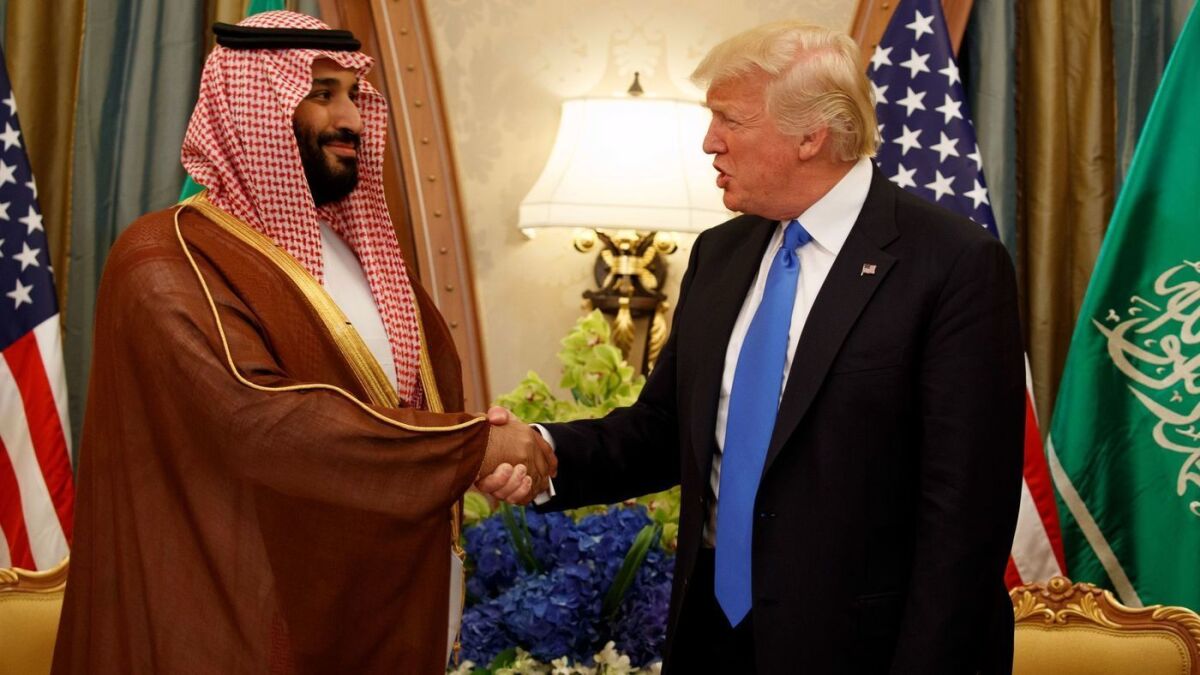 Reporting from Washington —
President Trump made it clear on Tuesday that he did not intend to punish Saudi Arabia or Crown Prince Mohammed bin Salman for the slaying of dissident journalist Jamal Khashoggi, an American resident killed by Saudi officials in Turkey in October.
In an unusual official statement replete with exclamation points and disputed claims, Trump cast doubt on the CIA's reported conclusions that it had a high degree of confidence that the crown prince ordered Khashoggi's killing and sent his closest allies to Saudi Arabia's consulate in Istanbul to carry it out on Oct. 2.
"Our intelligence agencies continue to assess all information, but it could very well be that the Crown Prince had knowledge of this tragic event — maybe he did and maybe he didn't!" Trump said in the written statement released by the White House.
"That being said," he continued, "we may never know all of the facts surrounding the murder of Mr. Jamal Khashoggi. In any case, our relationship is with the Kingdom of Saudi Arabia. They have been a great ally in our very important fight against Iran."
Trump called the killing a "terrible crime" and "one our country does not condone," while asserting that "the world is a dangerous place" and human rights concerns shouldn't get in the way of economic relationships. He cited deals he made last year with Saudi Arabia that have been widely discredited as inflated and, in some cases, nonexistent.
The president noted that the United States had sanctioned 17 Saudis for killing and dismembering Khashoggi, whose body has not been found. Yet his statement was a strong indication that he does not intend to penalize Saudi Arabia generally, or the controversial crown prince. In recent days, Germany announced it would rescind arms sales to Saudi Arabia.
Saudi prosecutors have indicted 11 people in the killing, including a senior intelligence agent. Of those, five were recommended to be executed.
Trump had said he would receive the CIA's report on Khashoggi's killing on Tuesday, although it's not clear if that occurred prior to the release of his statement — which oddly began with his nationalist foreign policy slogan, "America First!"
The president, who made his first foreign visit as head of state to Riyadh, Saudi Arabia, in May 2017 and has been determined to cultivate a close partnership with the Saudis, began the statement by pointing to Iran as the primary destabilizing force in the Middle East, and called Saudi Arabia "a great ally" in the effort to counter Tehran.
Trump also referenced the Saudi government's claims that Khashoggi, a Saudi expatriate who was a stubborn critic of the royal family, was an "enemy of the state" and a member of the Muslim Brotherhood. "But," Trump said, "my decision is in no way based on that."
Secretary of State Michael R. Pompeo, speaking later to reporters, echoed Trump and emphasized the importance of U.S. national interests over any other consideration. "It's a mean, nasty world out there, especially in the Middle East," Pompeo said.
The administration's priority, he said, was to "keep Americans safe" and "further American national security" with an "important partner … vital to American strategy."
Pompeo declined to comment when asked about the CIA report, saying that "facts will continue to come out" about Khashoggi's slaying. He then abruptly left the briefing room at the State Department.
The secretary of State spoke shortly after meeting there with Turkish Foreign Minister Mevlut Cavusoglu. The two discussed the Khashoggi case, Pompeo said.
The foreign minister, meeting later with a small group of American reporters, took issue with Trump's approaching the Khashoggi killing as simply one element among others in bilateral U.S.-Saudi relations. "It is a criminal and judicial case and has to be dealt with like that," he said.
The Turkish government has pressed for stiffer punishment of Saudi Arabia and claims to have evidence implicating the crown prince, including audio recordings of Khashoggi's killing shortly after he entered the consulate in Istanbul to get documents he needed to be married.
Turkey has given copies to Western governments, but Trump told Fox News recently that he refused to listen to what he called a "suffering tape" of a "vicious" crime. His CIA director among others has listened to the recording.
The White House statement from Trump, which read much like he talks, drew immediate outrage.
The Committee to Protect Journalists, in a reaction from executive director Joel Simon, said: "If you boil the White House statement down to its essence, President Trump has just asserted that if you do enough business with the U.S., you are free to murder journalists. That's an appalling message to send to Saudi Arabia and the world."
For the Washington Post, where Khashoggi worked as a columnist, Publisher Fred Ryan called Trump's response "a betrayal of long-established American values of respect for human rights and the expectation of trust and honesty in our strategic relationships."
"If there is reason to doubt the findings of the CIA, President Trump should immediately make that evidence public," Ryan added. "President Trump is correct in saying the world is a very dangerous place. His surrender to this state-ordered murder will only make it more so."
Ryan called on Congress to act. Several leading congressional Democrats were quick to suggest specific actions, including Rep. Adam B. Schiff of Burbank, who will become chairman of the House Intelligence Committee in January when Democrats' new majority gives them control of the House,
Schiff said in a statement that Trump's stance undermined respect for the presidency, the intelligence community "and America's standing as a champion of human rights." He called for an end to U.S. support for the Saudis' war in Yemen, suspension of arms sales and reduced reliance on the nation in pursuing U.S. interests in the Mideast.
The three most senior Democrats on the Senate Intelligence Committee also were quick to issue statements condemning Trump's stance and calling for action against Saudi Arabia.
"It's hard to imagine that the Saudis would have taken this action under a Reagan, Bush, Clinton or Obama administration without facing serious repercussions," said Sen. Mark R. Warner of Virginia, the committee's Democratic vice chairman.
California Sen. Dianne Feinstein said she was "shocked" at Trump's refusal to punish Saudi Arabia for what she called "a premeditated murder, plain and simple." She said she would vote against arms sales to the country, and called for sanctions against Mohammed bin Salman and the expulsion of the Saudi ambassador to the United States.
"To allow this to happen with no consequences is offensive to every value the United States holds dear," she said.
Sen. Ron Wyden of Oregon said that if CIA Director Gina Haspel and the director of national intelligence, former Sen. Dan Coats, do not publicly reveal what the U.S. intelligence community believes about the killing, he will introduce legislation requiring a declassified report. It's unclear that a Republican-controlled Senate would pass such a measure.
As usual, a few Republicans joined the criticism. The most scathing was Sen. Bob Corker of Tennessee, who is chairman of the Senate Foreign Relations Committee but retiring from Congress: "I never thought I'd see the day a White House would moonlight as a public relations firm for the crown prince of Saudi Arabia."
Sen. Rand Paul of Kentucky, a frequent Trump ally but among Congress' most isolationist members, also was critical and said he would join in voting against any arms sales to Riyadh.
"The president indicates that Saudi Arabia is the lesser two evils compared to Iran and so the U.S. won't punish Saudi Arabia for the brutal killing and dismemberment of a dissident journalist in their consulate. I disagree," Paul wrote in a tweet.
Since Khashoggi's slaying came to light, Trump has touted the upsides of economic and military cooperation with Saudi Arabia and scoffed at calls for some penalty even as evidence built of the crown prince's role.
After speaking with the crown prince and his father, King Salman, Trump has repeatedly emphasized to reporters that both men denied knowledge or culpability. As Turkey produced more evidence, the Saudis several times changed their stories, yet Trump continued to accept the rulers' claims of innocence.
Trump reiterated his case for supporting Saudi Arabia in remarks to reporters as he departed the White House for a six-day Thanksgiving holiday at his Mar-a-Lago estate in Florida.
He claimed ending deals with Saudi Arabia would devastate the U.S. economy, and again wildly inflated the value of existing sales to the country. He insisted he has no personal economic interest in cooperating with the Saudis, though he had boasted in the past that the Saudis "buy apartments from me."
"It's a very complex situation," Trump said of the murder mystery. "It's a shame, but it is what it is."
---
UPDATES:
3 p.m.: The article was updated with additional Trump comments and reactions from Secretary of State Pompeo; Rep. Schiff; Sens. Feinstein, Warner, Wyden, Paul and Corker; Washington Post Publisher Fred Ryan; and the Committee to Protect Journalists.
The article was originally published at 10:35 a.m.
Life is stressful. Our weekly mental wellness newsletter can help.
You may occasionally receive promotional content from the Los Angeles Times.