Trump administration bans bump stocks, but school safety report goes light on other measures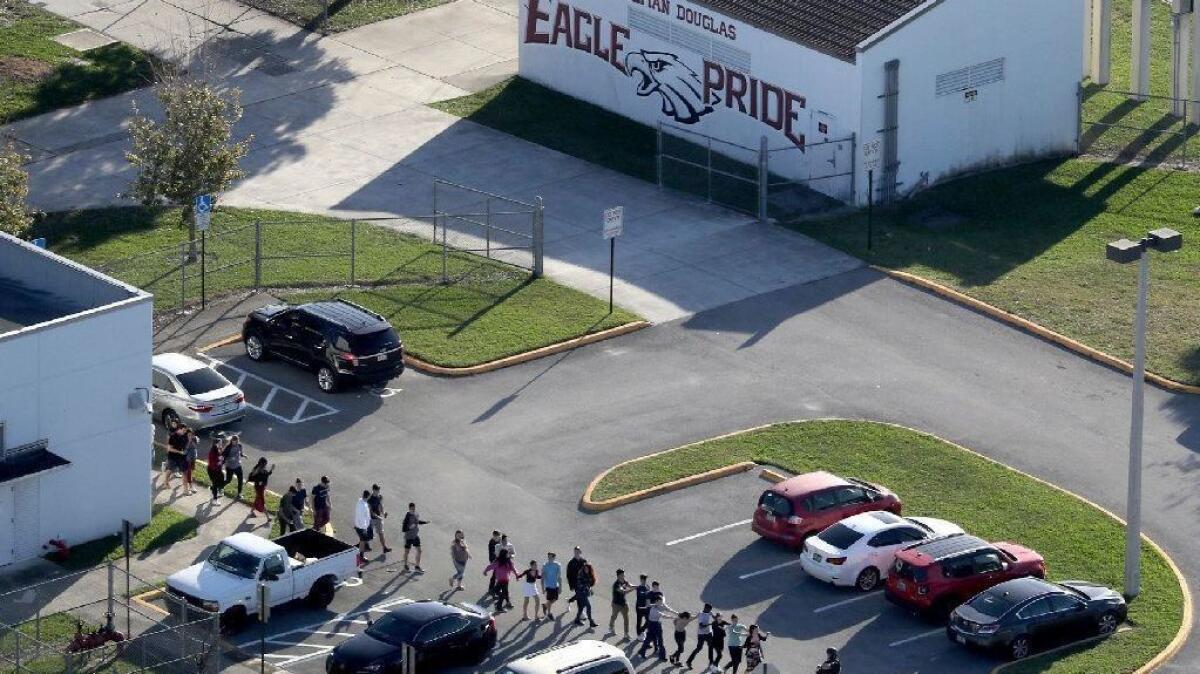 Reporting from Washington —
The Trump administration followed through Tuesday on the president's promise to ban so-called bump stocks, even as a new school safety report disappointed advocates who hoped the administration would consider additional gun control measures.
Acting Atty. Gen. Matthew Whitaker signed off on new regulatory language that will alter the definition of bump stocks, clarifying that they fall within the definition of machine guns, which most civilians are forbidden to own under federal law, a Justice Department spokesperson said.
The new language will be published Friday in the Federal Register, giving owners of bump stocks 90 days to destroy them or turn them in to law enforcement authorities. The devices allow semiautomatic guns to fire more rapidly.
Trump had promised for more than a year to enact the ban, one of the few gun control measures he has been willing to advocate. A bump stock was used by the shooter in the October 2017 massacre in Las Vegas, which led to pressure to outlaw the devices.
Hours before Justice Department officials disclosed the new ban, the administration released a separate school safety report, the product of a commission created in the aftermath of the Feb. 14 massacre at Marjory Stoneman Douglas High School in Parkland, Fla., that avoided the debate over firearms purchases.
The report makes nearly 100 recommendations, including the president's idea that generated much controversy at the time -- arming more teachers and other school personnel.
Other proposals, which depend mostly on school districts and state and local governments to put into place, call for easing the barriers to committing potentially dangerous people involuntarily and urging the media to avoid naming suspects in mass shootings or showing their photographs excessively, to limit the notoriety that some perpetrators are believed to crave.
The report drew new controversy for recommending an end to Obama administration policies that were intended to protect minority students from disproportionate punishments compared with their white counterparts. None of the perpetrators of recent years' school massacres have been minority students.
"We cannot keep children safe by only looking at one aspect," said Education Secretary Betsy DeVos, who was chosen by Trump to head the commission and previewed the recommendations with reporters Tuesday in a conference call.
She emphasized that the report does "not impose one-size-fits-all solutions for everyone everywhere" because "local problems need local solutions."
But many students in Parkland, who have become vocal advocates after the shooting that left 17 students and staff members dead, had been lobbying for more federal action restricting gun ownership.
The report's lone recommendation on that subject is to expand the ability of law enforcement agencies to impose temporary restrictions on access to firearms for those deemed to be at extreme risk of becoming a danger to themselves and others.
Absent were Trump's suggestions in a televised meeting with massacre survivors in February of possible federal policies raising the age requirement for buying an assault rifle from 18 to 21 and requiring more stringent mental health checks for firearms purchasers.
The president, despite frequent calls to change gun laws, has largely stuck with the National Rifle Assn.'s agenda after promising during the election that he would be the greatest champion of the 2nd Amendment to ever serve in the White House.
"Teachers don't want this. Parents don't want this," said Sen. Christopher S. Murphy, a Connecticut Democrat.
"Only Betsy DeVos, President Trump, and the gun industry think the best way to stop a school shooting is to load schools up with guns. Arming teachers and rolling back school discipline reforms won't make our kids any safer."
Follow the latest news of the Trump administration on Essential Washington »
Twitter: @noahbierman
Get our Essential Politics newsletter
The latest news, analysis and insights from our politics team.
You may occasionally receive promotional content from the Los Angeles Times.