Republicans distance themselves from Trump's 'Spygate' conspiracy theory
Reporting from Washington —
The air seems to be going out of "Spygate."
While President Trump still touts the unfounded claim that the Obama administration improperly spied on his 2016 campaign, senior Republican lawmakers have steered clear of the conspiracy theory since they received classified briefings last week on the role of an FBI confidential informant in an investigation aimed at unmasking Russian interference in the election.

For the record:
8:10 a.m. May 31, 2018A previous version of this article inaccurately referred to Mitch McConnell as the Senate minority leader. He is the majority leader.
That silence broke when Rep. Trey Gowdy (R-S.C.), one of the few who got the Justice Department briefing, said he believes the FBI acted appropriately when the informant, a retired American academic living in England, met with three of Trump's campaign aides.
"When the FBI comes into contact with information about what a foreign government may be doing in our election cycle, I think they have an obligation to run it out," Gowdy, a former federal prosecutor, said Wednesday on CBS News.
"I think when the president finds out what happened, he is going to be not just fine, he is going to be glad that we have an FBI that took seriously what they heard," Gowdy, who is not running for reelection, said a day earlier on Fox News, Trump's favorite cable news network.
The pushback was noteworthy since Gowdy, who chairs the House Oversight Committee, earned a reputation among Democrats as a partisan attack dog for leading the pursuit of Hillary Clinton after a terrorist attack in 2012 killed four Americans in Benghazi, Libya, while she was secretary of State.
He also has worked closely with Rep. Devin Nunes (R-Tulare), who chairs the House Intelligence Committee and has spearheaded Republican inquiries into the Russia investigation and spread still unproven allegations of improper surveillance of the Trump campaign.
White House Press Secretary Sarah Huckabee Sanders said Wednesday that Trump would not back down from his claims about what he has called "Spygate."
"The president still has concerns," she said.
Follow the latest news of the Trump administration on Essential Washington »
Trump also took another public swipe at Atty. Gen. Jeff Sessions, whom he nominated last year to lead the Justice Department but has bitterly criticized for his decision to step aside from overseeing the Russia investigation because he had served as a senior Trump campaign aide.
Ironically, Trump quoted Gowdy to issue his latest condemnation on Twitter, noting that the congressman had acknowledged the president's frustration at discovering that Sessions had recused himself from a politically charged investigation aimed directly at the White House.
"'There are lots of really good lawyers in the country, he could have picked somebody else!' And I wish I did!" Trump tweeted.
The tweet followed a New York Times report that Trump had demanded Sessions reverse his recusal in March 2017 but that the attorney general had refused. The episode could factor into special counsel Robert S. Mueller III's investigation into whether Trump sought to obstruct justice by interfering with the Russia investigation.
Trump also responded Wednesday to ABC's decision to cancel the hit show "Roseanne" because the show's star sent a racist tweet comparing an African American official in the Obama administration to an ape. While much of the nation condemned Rosanne Barr's tweet, Trump used the incident to complain about his own treatment by ABC.
In his tweet, Trump criticized the network, not Barr, whose revived sitcom depicted a blue-collar Midwestern family that voted for the president.
"Bob Iger of ABC called Valerie Jarrett to let her know that 'ABC does not tolerate comments like those' made by Roseanne Barr. Gee, he never called President Donald J. Trump to apologize for the HORRIBLE statements made and said about me on ABC. Maybe I just didn't get the call?" he wrote.
Iger, chief executive of ABC's parent company, Walt Disney Co., quit the president's business advisory council in June 2017, protesting the U.S. withdrawal from the Paris climate accord. Later he called Trump's decision to end protections for young immigrants known as Dreamers as "cruel and misguided."
Trump's tweet contradicted statements by his press secretary, who repeatedly told reporters Tuesday that the president had more important concerns than the cancellation of a TV sitcom.
"That's not what the president is looking at," Sanders said when pressed about Trump's reaction. "That's not what's he's spending his time on. I think we have a lot bigger things going on in the country right now."
At the White House on Wednesday, Sanders redirected a question about Trump's tweet into an extended protest about what she called bias against the president.
"The president's simply calling out the media bias," she said. "No one's defending what [Barr] said." Sanders underlined her point by asking, "Where was the apology?" after various attacks on Trump.
She called out several critics by name, including Jemele Hill, who is no longer anchoring "SportsCenter" on ESPN months after her tweets criticizing the president earned her a suspension; as well as Kathy Griffin, the comedian who lost her New Year's Eve hosting duties at CNN and has been ostracized by many in Hollywood after appearing in an image with a depiction of Trump's severed head.
Trump is notorious for his own refusal to apologize after generating controversy or for comments that were widely viewed as offensive.
His videotaped expression of regret in October 2016 for his lewd and predatory comments about women in a 2005 "Access Hollywood" segment is an outlier, and he later suggested those remarks might have been faked.
As a businessman, then a candidate and now president, Trump has stoked public outrage for his crass attacks on Sen. John McCain (R-Ariz.) for having been shot down and captured during the Vietnam War, callous remarks to a Gold Star family and sometimes profane name-calling of his political opponents, journalists and athletes.
In most cases, Trump has answered calls for an apology with claims that he is being unfairly attacked.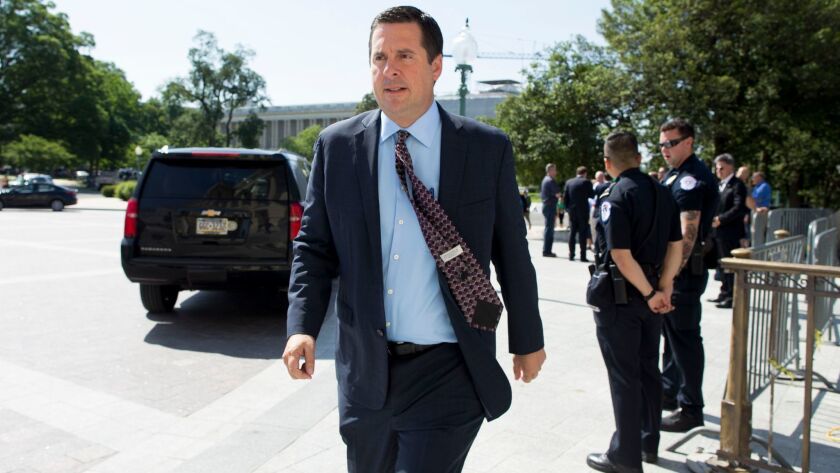 But in the case of the FBI informant, few Republican leaders are defending his assertion that his political opponents "spied" on his campaign. House Speaker Paul D. Ryan (R-Wis.) and Senate Majority Leader Mitch McConnell (R-Ky.), who participated in the Justice Department briefings, haven't backed up Trump's claims of wrongdoing.
The caution from Republican leaders stands in stark contrast to Trump's claims at a rally in Nashville on Tuesday night.
"How do you like the fact they had people infiltrating our campaign?" he bellowed as the crowd booed. "Can you imagine? Can you imagine?"
Nunes has not spoken publicly about the FBI informant since the May 24 briefings. The apparent collapse of the "Spygate" theory, at least in Congress, is the third allegation from Nunes related to the Russia inquiry to sputter out under scrutiny.
He told reporters outside the White House in March 2017 that the Obama administration may have improperly eavesdropped on Trump's team in New York during the presidential transition. A House ethics investigation later cleared Nunes of having improperly disclosed classified information, and no evidence of illegal surveillance of the Trump campaign has surfaced.
More recently, Nunes also demanded classified Justice Department documents that he later used to write a public memo about FBI eavesdropping on Carter Page, a former Trump campaign aide who the FBI suspected might be a Russian agent.
The memo harshly criticized law enforcement for including Democratic-funded opposition research in the application for a warrant and not telling the judge the information came from an opposing political party. In a rare public response, the FBI warned that it had "grave concerns about material omissions of fact that fundamentally impact the memo's accuracy."
A spokesman for Nunes did not respond to a request for comment. But before the Justice Department briefings last week, he was making eye-popping claims.
"If any of that is true — if they ran a spy ring or an informant ring and they were paying people within the Trump campaign — if any of that is true, that is an absolute red line," Nunes told Fox News on May 20.
Such statements have been fodder for Trump's legal team, particularly former New York Mayor Rudolph W. Giuliani, who repeatedly said the special counsel investigation could be illegitimate.
"We need to see reports on this spy situation, and see what the basis was, what the outcome was," he told The Times last week.
Giuliani did not return a request for comment on Wednesday.
Mueller has secured five guilty pleas and also charged Paul Manafort, Trump's former campaign chairman, with nearly two dozen financial crimes unrelated to the election. None of Trump's aides has been charged with assisting a Russian effort to meddle in the race, although 13 Russians have been indicted for their suspected roles.
Stokols is a special correspondent. Times staff writer Noah Bierman contributed to this report.
Twitter: @chrismegerian
---
Life is stressful. Our weekly mental wellness newsletter can help.
You may occasionally receive promotional content from the Los Angeles Times.