Trump calls Stormy Daniels 'Horseface,' the latest insult from a man known for demeaning women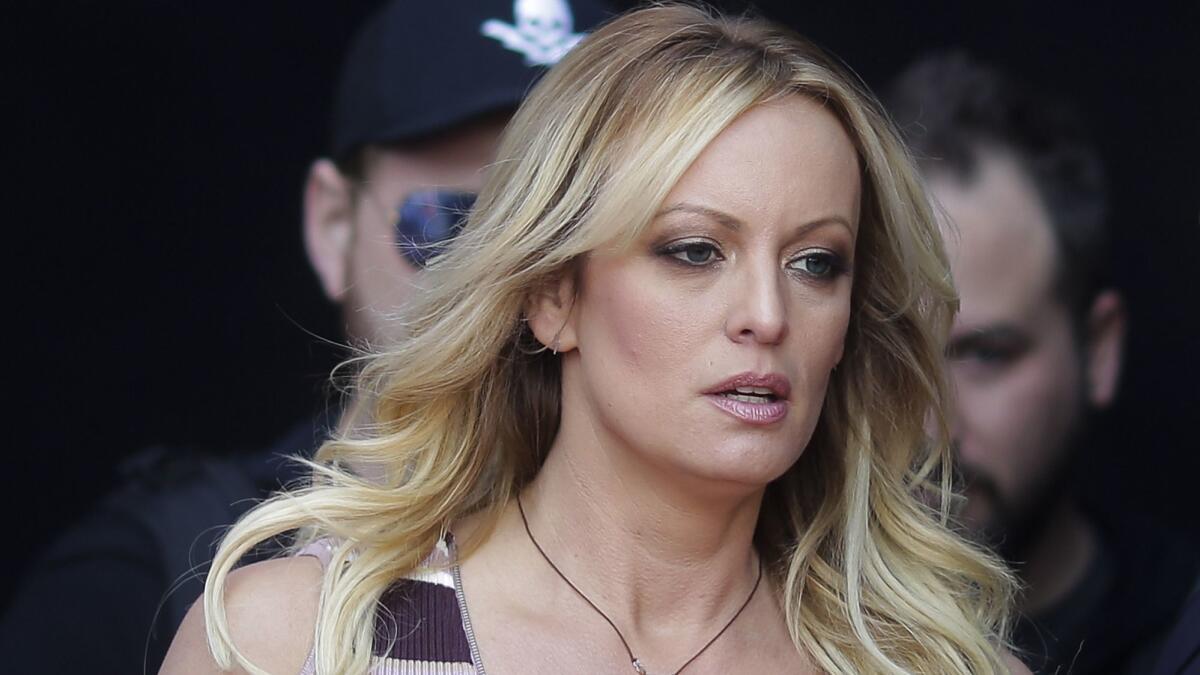 President Trump called porn actress Stormy Daniels "Horseface" in a tweet Tuesday, an extraordinary provocation even for a man whose habit of denigrating the appearance of women draws frequent accusations of misogyny.
Trump's insult came a day after a federal judge in Los Angeles dismissed a defamation suit that Daniels filed against the president. The judge ordered her to pay Trump's legal fees.
"Great, now I can go after Horseface and her 3rd rate lawyer in the Great State of Texas," Trump tweeted.
Daniels alleges that Trump, who will hold a campaign rally Monday in Houston, had sex with her in 2006. The president's former personal lawyer Michael Cohen says Trump approved an illegal $130,000 payoff to Daniels just days before the 2016 presidential election to keep her from talking about the affair.
Daniels, whose real name is Stephanie Clifford, responded to Trump's insult on Twitter, saying he'd demonstrated his "hatred of women and lack of self control."
Trump's attack came three weeks before a midterm election that is largely a referendum on the president, with polls showing women turning strongly against his Republican allies in Congress.
Daniels' lawyer, Michael Avenatti, a potential candidate for the Democratic presidential nomination in 2020, called Trump "a disgusting misogynist and an embarrassment to the United States."
Trump has a long history of making demeaning remarks about women.
He once called Rosie O'Donnell fat, ugly and disgusting. He criticized Cher for "massive plastic surgeries that didn't work." He praised the ex-husband of Arianna Huffington for leaving her for a man, calling her "unattractive both inside and out."
During the 2016 presidential campaign, he insulted GOP rival Carly Fiorina, saying: "Look at that face. Would anyone vote for that?"
In an "Access Hollywood" audio recording released just before the 2016 election, Trump was heard boasting in 2005 that women let him grab their crotches because he was a star.
In June 2017, Trump tweeted that MSNBC host Mika Brzezinski was "bleeding badly from a face-lift" on a visit to his Mar-a-Lago estate in Florida. More recently, he called former White House aide Omarosa Manigault Newman a "dog."
Shortly before he attacked Daniels on Tuesday, Trump twice called Sen. Elizabeth Warren "Pocahontas" on Twitter, reprising an insult that many consider racist to mock the Massachusetts Democrat's release Monday of a DNA test showing a bit of Native American blood in her ancestry.
In an interview later on Fox News, Trump gloated about getting Daniels and Avenatti to pay his legal fees in the defamation case. "They'll pay a lot," he told anchor Trish Regan.
On Monday, Judge S. James Otero of U.S. District Court in Los Angeles dismissed Daniels' lawsuit alleging Trump defamed her on Twitter. His April 18 tweet mocked her story of a man confronting her years ago in a Las Vegas parking lot and warning her to keep quiet about Trump.
"A total con job," Trump tweeted.
As a public official attacking the credibility of a political adversary, Otero ruled, Trump had a 1st Amendment right to challenge Daniels' allegation that she was threatened.
Twitter: @finneganLAT
---
UPDATES:
3:45 p.m.: This article was updated with President Trump's comments to Fox News and his tweets about Elizabeth Warren.
10:20 a.m.: This article was updated with more details on the defamation lawsuit.
10 a.m.: This article was updated with additional details on President Trump's history of insulting women.
This article was originally published at 8:35 a.m.
Get our Essential Politics newsletter
The latest news, analysis and insights from our politics team.
You may occasionally receive promotional content from the Los Angeles Times.