Stormy Daniels approaches Trump with a new proposition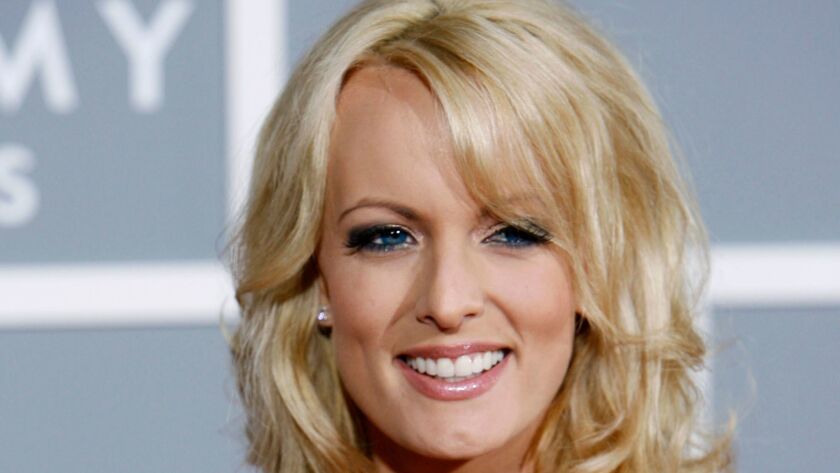 Porn actress Stormy Daniels offered Monday to give President Trump $130,000 if she is released from her deal to keep quiet about the sexual relationship she says she had with him in 2006.
Daniels, who received $130,000 from a company set up by Trump's lawyer as part of the confidentiality pact, has sued Trump in an effort to void the deal.
The Trump lawyer, Michael Cohen, says the hush money came from his own home-equity credit line, but has left unclear whether the president reimbursed him. Daniels' proposal to return her $130,000 to Trump, regardless of where the money originated, was part of an offer to settle a lawsuit she filed last week against Trump.
The settlement, outlined in a letter from Daniels' attorney, Michael Avenatti of Newport Beach, would let Daniels talk freely about her relationship with Trump and the attempts to silence her.
It would allow Daniels to make public any of her text messages, photos or videos that involve the president. Under the confidentiality deal, reached days before the 2016 presidential election, she was required to turn over all such material to Trump.
The settlement would bar Trump and his representatives from seeking a court order to block CBS News from airing a "60 Minutes" interview that Daniels did last week with contributor Anderson Cooper.
The offer, first reported by the New York Times, expires at 9 a.m. Pacific time Tuesday.
The proposal was sent to Cohen and another Trump attorney, Lawrence Rosen. Neither responded to an email seeking comment.
Daniels' lawsuit, filed March 6 in Los Angeles, accuses Cohen of using "intimidation and coercive tactics" to keep Daniels from going public with her story. She says Cohen surreptitiously initiated a bogus arbitration proceeding that yielded a temporary restraining order requiring Daniels to honor the confidentiality agreement. The suit argues that the deal is invalid because Trump did not sign it.
Trump's alleged pursuit of extramarital sex is causing him mounting legal troubles, starting with the hardball tactics that Daniels has used to escape the constraints of her hush-money deal. While avoiding direct public remarks about the alleged affair, Daniels is capitalizing on all the publicity with a "Make America Horny Again" tour of strip clubs from coast to coast.
Avenatti has been less coy, stating bluntly on national television that his client had sex with Trump.
Common Cause, a nonpartisan ethics group, has filed complaints with the Justice Department and Federal Election Commission alleging the hush money was paid to influence the presidential election. It accuses the Trump campaign of breaking federal law by failing to disclose the payment as a campaign expense.
On Monday, Common Cause amended its complaints to accuse Trump and Cohen personally of violating federal election law.
"If the allegations prove true it is hard to argue credibly that hush-money payments to cover up an affair between a presidential candidate and an adult film star, weeks before the election, were not intended to influence that election," said Paul S. Ryan, the group's vice president for policy and litigation.
"Hush money may be commonplace in some businesses, but when it is spent to influence a federal election it must be disclosed — without exception."
Cohen, who used his Trump Organization email to make bank arrangements for the $130,000 payment in October 2016, denies any campaign laws were broken.
Like Common Cause, Daniels alleges in her lawsuit that Trump's effort to silence her was meant to sway the election.
Daniels, 38, whose real name is Stephanie Clifford, says that she met Trump in 2006 at a Lake Tahoe golf tournament. In 2011, she told In Touch magazine that she had sex with Trump that weekend, which was just months after his wife, Melania, gave birth to their son, Barron. Daniels says she continued seeing him through much of 2007, including an encounter in a bungalow at the Beverly Hills Hotel.
In the closing weeks of his campaign, more than a dozen women accused Trump of sexual misconduct. Daniels says that after Trump was heard on an "Access Hollywood" tape boasting that he could grab women by the genitals because he was a celebrity, she wanted to speak publicly about her relationship with him. But Cohen, Trump's longtime fixer, pressured her into signing the confidentiality agreement, she says.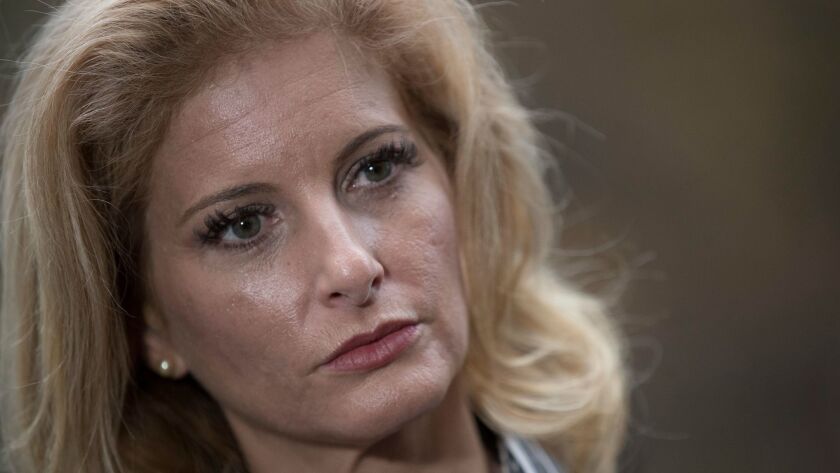 One of the other women, Summer Zervos, has filed a defamation suit against Trump in New York. A few weeks before the 2016 election, Zervos, a former contestant on "The Apprentice," accused Trump of trying to force himself on her in 2006 in a bungalow at the Beverly Hills Hotel. After Trump called her a liar, she sued him, demanding a retraction or apology.
Trump has denied Zervos' allegations.
In another case, Karen McDougal, Playboy's 1998 playmate of the year, says that she too had sex with Trump during the 2006 Lake Tahoe event. In a 2016 confidentiality deal that bars her from discussing her relationship with Trump, McDougal received $150,000 from American Media Inc., publisher of the National Enquirer, which never printed her story about the alleged tryst.
David Pecker, chairman and chief executive of American Media, is a close friend of the president. The company has denied suppressing McDougal's story as a "catch and kill" favor to Trump.
McDougal had kept a detailed account of the alleged affair in eight pages of handwritten notes that New Yorker magazine disclosed last month.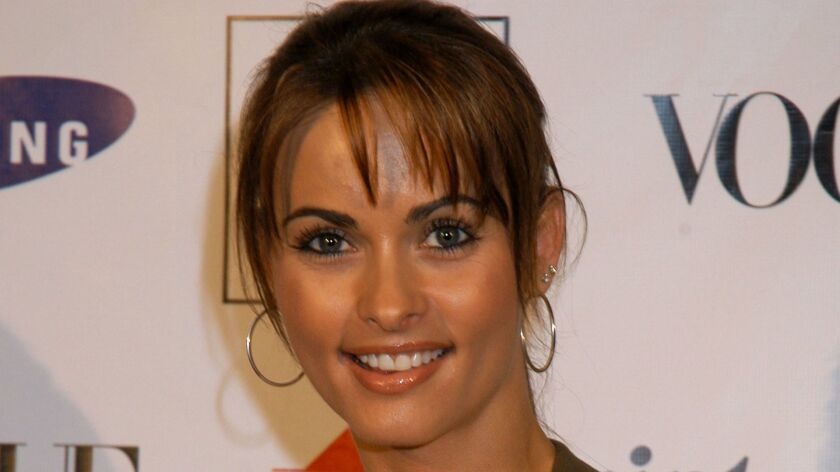 Twiter: @finneganLAT
---
UPDATES:
2:40 p.m.: This article was updated with Common Cause amending its complaint and other new details throughout.
11:50 a.m.: This article was updated with details from the lawsuit settlement proposal and background on the litigation.
This article was originally published at 9:55 a.m.
---
For reporting and exclusive analysis from bureau chief John Myers, get our California Politics newsletter.
You may occasionally receive promotional content from the Los Angeles Times.