Trump spends a holiday weekend in Washington, firing off tweet attacks on the Russia investigation and the media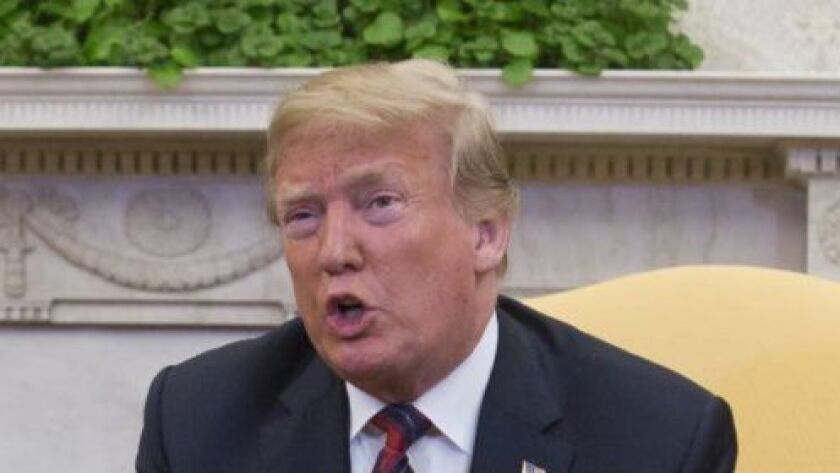 Even as he reached a critical moment in his diplomatic efforts with North Korea and celebrated the release of a prisoner from Venezuela, President Trump spent much of Memorial Day weekend tweeting angrily from the White House about the media and the Russia investigation, continuing his strategy of trying to delegitimize the probe that has consumed him since his election.
"Who's going to give back the young and beautiful lives (and others) that have been devastated and destroyed by the phony Russia Collusion Witch Hunt?" Trump tweeted Sunday morning.

For the record:
5:30 PM, May. 27, 2018An earlier version of this report said Mueller was named FBI director by President George H.W. Bush. President George W. Bush named Mueller FBI director.
It was unclear whom Trump was talking about, given that most of the people directly affected by the investigation have been limited to his inner circle and a handful of former campaign aides.
Trump instead referred to those hurt in romantic, generational terms.
"They journeyed down to Washington, D.C., with stars in their eyes and wanting to help our nation...They went back home in tatters!" Trump continued.
Although a number of young aides have left Trump's White House — notably his former communications director Hope Hicks — most have departed as a result of the fierce infighting among administration factions, not because of the investigation into Russian meddling in the 2016 election and any possible Trump campaign involvement and whether the president obstructed justice.
Follow the latest news of the Trump administration on Essential Washington »
Trump's focus on the investigation — even on a weekend typically reserved for mourning soldiers who died in combat — underscored the degree to which the issue continues to obsess and frustrate the president, who believes it is an effort to delegitimize his presidency. His chief of staff, John F. Kelly, told National Public Radio this month that Trump is "somewhat embarrassed" by the string of investigations.
One continuing issue has been whether Trump will sit for questioning by special counsel Robert S. Mueller III. The president's lawyer and close advisor Rudy Giuliani, appearing on CNN Sunday, declined to say directly.
Giuliani said Mueller's office, which has been negotiating the parameters of a potential sit-down, would probably limit questions to those involving whether the campaign colluded with Russian agents and whether Trump tried to obstruct the investigation into those efforts.
Trump continued his campaign over the weekend of trying to sow distrust in the probe by calling Mueller's team of attorneys "13 Angry Democrats (& those who worked for President O)."
In fact, Mueller is a Republican and not all of the political affiliations of his team are known. Mueller was named FBI director by President George W. Bush in 2001 and stayed on during the Obama administration until 2013.
Trump also repeated his allegation that the FBI's use of informants — a common practice in investigations — amounted to spying on his campaign.
"With Spies, or 'Informants' as the Democrats like to call them because it sounds less sinister (but it's not), all over my campaign, even from a very early date, why didn't the crooked highest levels of the FBI or 'Justice' contact me to tell me of the phony Russia problem?" Trump asked in one tweet.
In another tweet, Trump wrote that a U.S. team had arrived in North Korea to arrange a summit between him and leader Kim Jong Un.
Twitter: @noahbierman
---
Get our Essential Politics newsletter
The latest news, analysis and insights from our bureau chiefs in Sacramento and D.C.
You may occasionally receive promotional content from the Los Angeles Times.