'Finish the wall'? Facing failure, Trump tries rebranding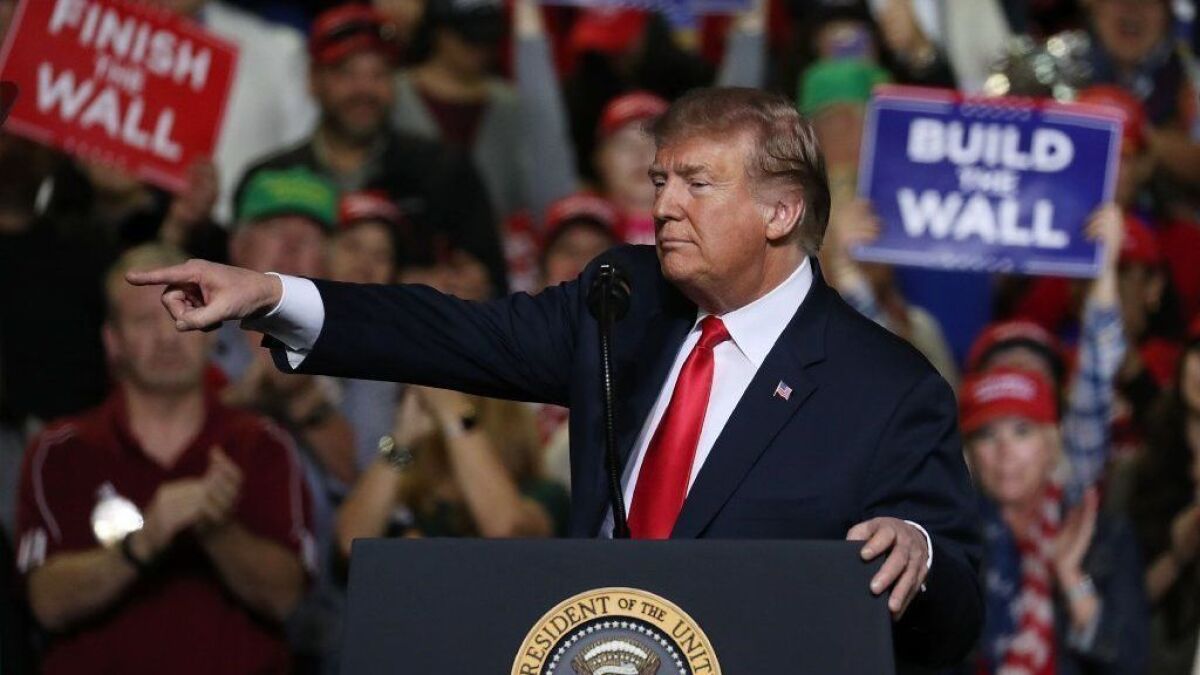 Reporting from Washington —
For President Trump, chants and signs saying "Build the wall" are so 2016 — "Finish the wall" is his new rallying cry. Yet two years into his term, not one new mile of a barrier has been erected along the nearly 2,000-mile U.S.-Mexico border.
At a rally in El Paso on Monday night, Trump went so far as to declare that nearby, just that day, "the big beautiful wall right on the Rio Grande" had gotten underway. In fact, some brush was cleared in anticipation of construction, according to a check with the Homeland Security Department.
If and when a 25-mile physical barrier ultimately is built there, it will represent the first new miles of border barriers since Trump took office. That is the reality that the president — a businessman and self-proclaimed construction expert elected in part on his promise to build a massive border wall — is increasingly attempting to obscure as he looks to reelection.
Even as the president has failed to get the funding he wants for a wall, despite two years with a Republican-controlled Congress, he has shifted to declaring victory and claiming credit for the 654 miles of fencing constructed under his predecessors — the same former presidents he often criticizes for their border policies, as he did Tuesday by derisively referring to "our past geniuses."
Trump himself directed campaign officials that "Finish the wall" was to be the theme of the El Paso rally, according to a person familiar with the planning. With the slogan on red and blue banners hanging from the rafters, and on signs distributed to the crowd, when supporters chanted the usual "Build the wall," Trump corrected them: "You mean finish the wall."
The president's attempted sleight of hand on his signature issue comes amid both deepening resignation in his circle that Democrats in Congress are not going to support significant increases in wall funding and concern about disappointing his core supporters.
"The point is this wall will not be built without Donald Trump in office in 2021 and beyond," said Raj Shah, a former White House deputy press secretary.
Even after a record five-week partial government shutdown provoked by Trump's funding demand, and current efforts by lawmakers to avoid another impasse, Congress will not be approving anywhere close to the $5.7 billion he's been demanding to finance 230 miles of new wall. Instead, tentative plans in Congress call for less than a quarter of that — $1.375 billion for 55 miles of barrier.
"Am I happy? The answer is no, I'm not. I'm not happy," Trump told reporters at the White House on Tuesday. Claiming that he is "adding to" the emerging compromise, Trump did not say if he would sign off on the deal. He did say he does not expect another shutdown, which would occur if he doesn't sign a spending bill for about a quarter of the government by midnight Friday.
Administration officials have been looking to redirect existing funds to his wall project. In his remarks to reporters during a Cabinet meeting, the president sought to reassure supporters that he'll fulfill his promise regardless of what Congress does.
"It's very simple: We're building a wall and now I say we're finishing a wall," he said, repeating the false claim.
A campaign official, who asked to remain unidentified for speaking on the sensitive topic, argued that there is nothing contradictory in the president simultaneously claiming the wall is being finished and complaining that Congress won't fund it.
"You can be at Mile 2 of a [26.2-mile] marathon and still say, 'We're going to finish,'" the person said. "And we are at Mile 2, not Mile 24. But we've erected some barricades, so it's not nothing."
The president, according to the official, "is just reassuring his voters because he knows he's likely going to end up accepting a deal" that's less than he sought.
Much of the work that Trump is touting consists of strengthening or restoring the existing 654 miles of pedestrian and vehicle barriers largely built or funded under the George W. Bush and Obama administrations, according to the Government Accountability Office.
From 2007 to 2015, the Customs and Border Protection agency spent about $2.3 billion to increase barriers on the border from 119 miles to the current 654 miles, with almost all of the work done on land, much of it federally owned, in California, Arizona and New Mexico. East of El Paso, much of the land along the U.S.-Mexico border in Texas — the least-fenced area — is privately owned.
So far under Trump, Congress has approved nearly $1 billion to replace more than 50 miles of fencing in California, New Mexico and Texas, the GAO reported.
Several of these renovation projects, in what are known as the El Paso and El Centro sectors, were completed in October. Homeland Security Secretary Kirstjen Nielsen boasted that the latter was the completion of the "first section" of Trump's border wall. More replacement construction is underway, due to wrap up this spring.
More than $640 million of the funds Congress provided last year is for 25 miles of fencing along levees in Texas' Rio Grande Valley as well as areas in the sector "to be determined." That is the only new construction approved under Trump so far.
Carlos A. Diaz, a CBP spokesman, said the fiscal 2018 budget, which covered spending through September last year, included roughly three dozen new miles of a levee and border wall system in the Rio Grande Valley. Construction on the first 14 miles of the levee system is to begin this month.
The Homeland Security Department planned to spend billions to meet Trump's executive orders for his border wall despite lacking key information on cost, acquisition and technology issues — risking that a wall would "cost more than projected, take longer than planned or not fully perform as expected," the GAO concluded in August. Cost estimates have ranged from $20 billion to more than $70 billion.
For fiscal year 2019, through Oct. 1, the White House initially requested $1.6 billion for a wall system along 65 miles in the Rio Grande Valley. Now, after a shutdown estimated to have cost the U.S. economy $11 billion, the spending agreement reached Monday night would give Trump about $200 million and 10 miles less than what he stood to get before he upped his demand to nearly $6 billion late last year.
In his struggle to win Congress' buy-in, Trump has significantly redefined what, exactly, his wall would be. He campaigned for a "big, beautiful wall" that he's since variably said would be precast or plank concrete, steel slats, see-through, human, "matte black," too tall to climb over, too deep to tunnel under, to be paid for by Mexico or paid for inexplicably by the benefits of a revised trade agreement with Canada and Mexico.
Trump's former chief of staff and Homeland Security secretary, John F. Kelly, told The Times late last year: "To be honest, it's not a wall."
"Now he's tended toward steel slats," Kelly said. "But we left a solid concrete wall early on in the administration, when we asked people what they needed and where they needed it."
The Trump administration awarded more than $3 million for the construction and design of eight border wall prototypes — four of reinforced concrete and two that could be seen through.
Congress' tentative spending agreement would restrict CBP to using currently deployed designs for the new border barrier, including steel slats or bollard fencing. But it remains unclear whether the House and Senate will approve the compromise, or whether Trump will sign it if they do.
Key Trump supporters, led by Fox News host Sean Hannity, bashed the agreement as soon as it was announced for backing off the president's $5.7-billion demand. Some liberal Democrats are likely to oppose any new funding for a border fence and complain that negotiators dropped a proposed cap on how many immigrants Trump can detain.
Still, Trump insisted Tuesday: "We're getting a beautiful-looking structure that's also less expensive to build and works much better."
"I never kid about construction," he added. "I love construction."
Life is stressful. Our weekly mental wellness newsletter can help.
You may occasionally receive promotional content from the Los Angeles Times.