The complicated immigration history of Melania Trump: Tourist visas, then work visas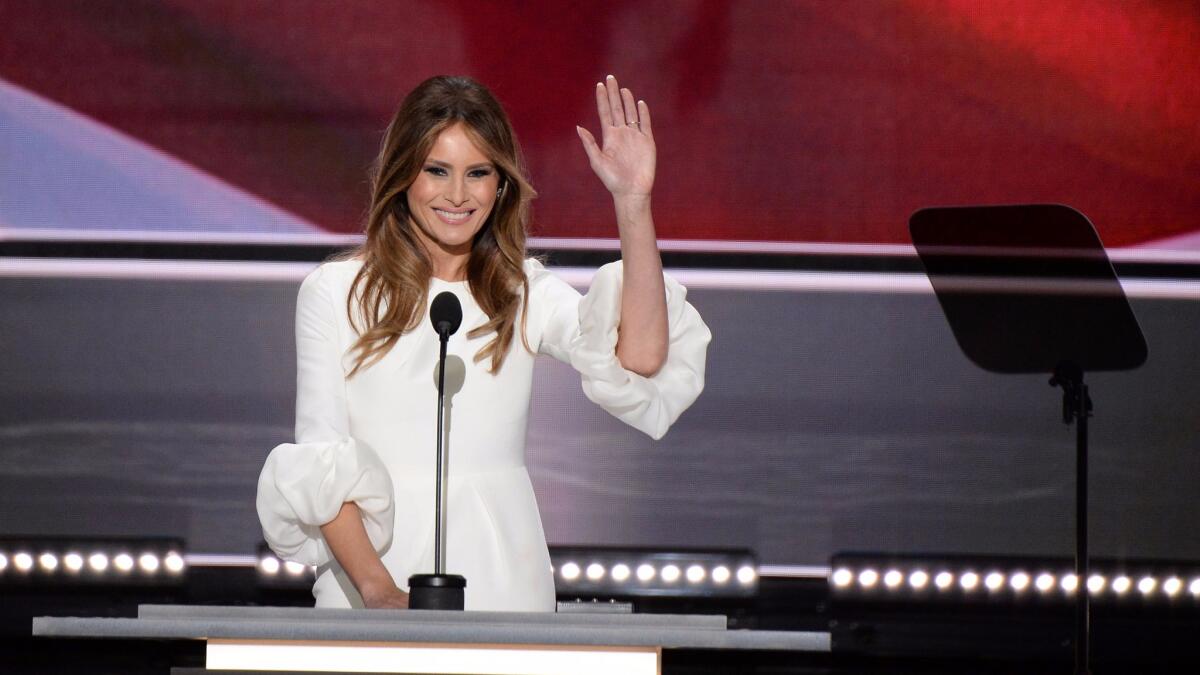 Reporting from Washington —
While an aspiring model from Slovenia, the future wife of Donald Trump came to the United States on a tourist visa, but never worked illegally, according to a lawyer hired to review her immigration records. But Melania Trump has declined to release those records, and the account still leaves some open questions about her immigration history.
Donald Trump has made illegal immigration a central issue of his campaign, vowing to build a wall on the Mexican border and deport millions of people living in the U.S. illegally. Melania Trump's immigration status became an issue last month, when the New York Post published nude photos it said were taken during a New York photo shoot in 1995 — raising the question of whether she came here on a tourist visa, and worked illegally, before obtaining an H1-B work visa in 1996.
In an attempt to end the controversy, Melania Trump hired immigration lawyer Michael Wildes, who has done work for Donald Trump's modeling agency and the Miss Universe pageant, to review her records. She released a letter from him Wednesday on Twitter.
Based on his review of the records, Wildes wrote, allegations that she worked illegally "are not supported by the record and are therefore completely without merit."
Melania Trump first entered the U.S. on a visitor visa in August 1996, Wildes wrote, and first obtained a work visa that October — the same month she posed with another woman in the nude shoot, according to Wildes. The Post on Wednesday corrected the initial story, saying the photographer had confirmed the 1996 date in an interview.
After that, Wildes wrote in the letter, Melania Trump obtained a series of four more one-year work visas because, at the time, one-year visas were all that were permitted under the U.S. agreement with Slovenia. She obtained a green card and became a lawful permanent resident in 2001, he said, applying as a model of "extraordinary ability."
Wildes, who added other details in an interview, said Melania Trump first obtained a tourist visa in 1994, and repeatedly renewed it, just in case she got work — though she never traveled to the U.S. until 1996.
"When I asked her why she went to the effort to go and get them, she indicated that she had to be poised to get jobs should they come in," Wildes said, adding that he did not press her for details on what she was doing before 1996. "I didn't ask how she spent the years. I was not there to know all the aspects of what she was doing."
Under a tourist visa, he said, she could have had meetings or scouted for work without violating the law. "She could come into America and talk potential work, that would not violate the visitor visa," he said. "She knew the fine line and never worked in a way that would have breached the visitor visa."
Wildes acknowledged that models often aren't exactly sticklers about following the letter of immigration rules, but said that wasn't the case for Melania Trump: "It's definitely a loosey-goosey world, but not in her life. It's not in her DNA, and it's not in her history."
In her own interviews, Melania Trump has given a somewhat different account of her visa history. "I followed the law the way it's supposed to be," she said on MSNBC in February. "I never thought to stay here without papers. I had a visa. I traveled every few months back to the country to Slovenia, to stamp the visa."
Election 2016 | Live coverage on Trail Guide | Sign up for the newsletter »
Paolo Zampolli, who worked as a modeling agent, says he first scouted Melania Trump in Europe and sponsored her work visa. "I'm 100[%] positive that she never worked here illegally. There was not a reason to do that," said Zampolli, who later worked for Donald Trump's real estate company.
Immigration experts have pointed out that flying back and forth every few months suggests a tourist visa, not the longer work visa. Immigration lawyer David Leopold said there's one easy way to settle the issues for good —release her file to show whether she had visitor visas or work visas and when.
Leopold, a past president of the American Immigration Lawyers Assn., served on the Democratic Party's platform committee and worked on the immigration plank.
"There are plausible explanations for everything we know about her immigration history," said Leopold. "Which begs the question: Why won't the Trump campaign simply show the American people the relevant immigration paperwork?"
Wildes said Melania Trump considers the records private. "It's her choice," he said.
Twitter: @jtanfani
ALSO
Trump and Clinton both release some medical details amid scrutiny over their health
Clinton has enough policy to fill a book, while Trump has said little about how he'd govern
Democratic and Republican voters are further apart than they've been in a generation. Here's why
Get our Essential Politics newsletter
The latest news, analysis and insights from our politics team.
You may occasionally receive promotional content from the Los Angeles Times.