Porn actress Stormy Daniels jokes with Jimmy Kimmel about romp with Trump
Porn actress Stormy Daniels stopped just short of saying on television Tuesday night that she had sex with President Trump in the early days of his marriage to Melania Trump.
In an appearance on "Jimmy Kimmel Live," Daniels said she did not authorize a signed statement under her name denying the affair, which was spread online Tuesday by several media outlets.
Kimmel read highlights from In Touch Weekly magazine's transcript of a 2011 interview with Daniels, including graphic details of her having sex with Trump at a Lake Tahoe hotel. Kimmel asked Daniels whether any of it was true.
"Define true," she responded.
When Kimmel got to the part about Trump asking her to sign a copy of one of her porn videodiscs, she joked, "Well, he does have good taste, I guess."
The Wall Street Journal reported Jan. 12 that a Trump lawyer paid Daniels $130,000 right before the 2016 presidential election to stay silent about the reported tryst. The adult film star has kept a high profile since then, capitalizing on the publicity while dodging questions about the president.
On her Twitter feed, she uses an American flag to promote her "Making America Horny Again" tour, with strip-club dates scheduled around the country. Daniels was a star attraction at the Adult Video News Awards on Saturday in Las Vegas.
The marquee at Little Darlings, a Vegas strip club where she appeared, advertised the show with a sign flashing: "See the Mistress Live!" Inside, she let several men take pictures of themselves standing behind her with their hands on her bare breasts.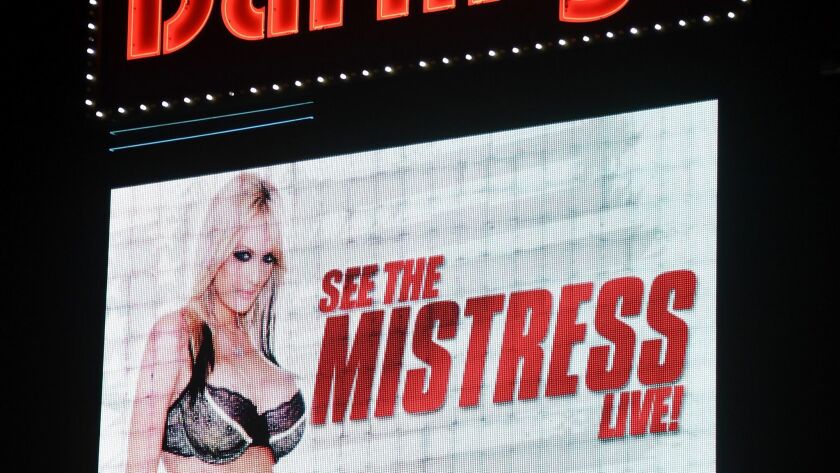 When Daniels sat down last week for an on-camera interview with "Inside Edition," she responded with a blank face and silence each time she was asked about sex with Trump.
Daniels, 38, known offstage as Stephanie Clifford, told "Inside Edition" that she leads an ordinary life in small-town Texas with her husband and 7-year-old daughter.
"And then I wake up one morning and there's news trucks and reporters outside of my house," she said. "Now suddenly I'm having to make phone calls to hire security."
In the 2011 interview with In Touch Weekly, which was published this month after the Wall Street Journal disclosed the payment of hush money, Daniels said she had sex with Trump after meeting him at a Lake Tahoe golf tournament in 2006, months after Melania gave birth to their son, Barron.
Trump, who was once photographed with Daniels, has denied the affair.
The Journal reported that Trump lawyer Michael Cohen arranged the $130,000 payment to Clifford a month before the 2016 election.
In a brief phone conversation with The Times, Cohen declined to comment. He did not respond to an email asking whether he arranged the payment to Daniels.
Some details of Daniels' recollections in the In Touch Weekly interview appear to corroborate allegations of Summer Zervos, an Orange County woman who has sued Trump. She charged that he tried to force himself on her at the Beverly Hills Hotel in 2007, and then lied about it.
Daniels, in the In Touch transcript, and Zervos, in court documents, each said that Trump invited them to dinner, asked them to meet at his hotel room, ordered room service rather than going to a restaurant and tried to initiate sex in the room. Daniels said they had sex; Zervos said she spurned Trump's advances.
Both also recalled specifically visiting Trump's suite in a bungalow at the Beverly Hills Hotel.
Zervos, a onetime contestant on Trump's reality TV show "The Apprentice," alleged a few weeks before Trump was elected president that he tried to sexually assault her in the bungalow. She was one of the women who went public with accusations of sexual misconduct by Trump in the days after disclosure of an "Access Hollywood" recording of him saying that he got away with grabbing women's genitals without their consent because he was a celebrity.
Trump charged repeatedly in the campaign's final weeks that Zervos and the other women were lying. He threatened to sue them after the election but has not followed through.
Zervos sued Trump a few days before his inauguration, saying he defamed her and the other women he branded as liars. Trump denies sexually assaulting Zervos and has asked a judge to dismiss the case.
Twitter: @finneganLAT
---
UPDATES:
10:10 p.m.: The article was updated with details from Daniels' appearance on "Jimmy Kimmel Live."
6:15 p.m.: The article was updated with Daniels' latest denial of the affair with Trump and additional details of her national tour.
The article was originally published at 1:25 p.m.
---
For reporting and exclusive analysis from bureau chief John Myers, get our California Politics newsletter.
You may occasionally receive promotional content from the Los Angeles Times.