Trump backs off border wall fight for now, easing government shutdown threat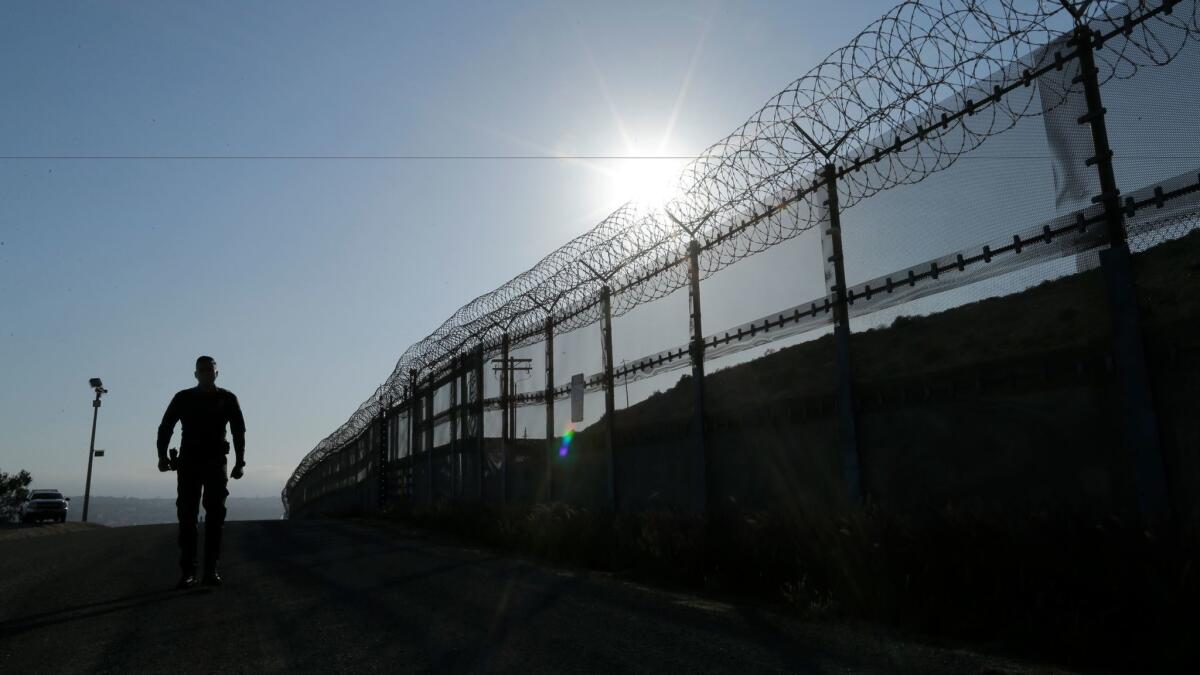 Reporting from Washington —
About that border wall with Mexico.
President Trump backed off demands that Congress fund his promised border wall with Mexico after political opposition threatened a government shutdown, averting what could have been an embarrassing moment Friday on the eve of marking his first 100 days in the White House.
Trump's reversal was welcomed on Capitol Hill as tensions eased and negotiators continued talks Tuesday to reach an agreement. But it does not completely eliminate the drama surrounding the shutdown threat.
Congress will likely be forced to approve a stopgap measure allowing government offices to remain open while budget negotiations continue into next week.
Democrats welcomed Trump's changed course, but it drew swift criticism from conservatives who support the wall as a way to curb illegal immigration, as Trump promised in one of the most prominent issues of his campaign.
"It looks like President Trump is caving on his demand," talk show host Rush Limbaugh said on his show.
Trump tweeted Tuesday that building the border wall remains a top priority for him, but the White House said the president was willing to shelve the fight until the next budget go-around in the fall.
"Nothing has changed on the president's priorities," press secretary Sean Spicer said. "In that next budget, we'll go for the next group of money."
House and Senate negotiatiors have been working nonstop on a compromise to fund the government for the remainder of the 2017 fiscal year by Friday's deadline.
Even though Republicans have the majority in Congress, they are almost certain to need Democratic votes to pass the measure because their own party remains split over how much to spend on government functions.
Republicans submitted their latest proposal Tuesday -- minus the $5 billion in border wall funds, sources said – but outstanding issues remain.
Democrats want assurances that Trump won't yank funding for subsidies to help some Americans afford healthcare under the Affordable Care Act, as he has suggested.
And both Democrats and Republicans are trying to salvage a coal miners' pension fund that tanked during the Great Recession and now is at risk of going insolvent unless the government intervenes.
Dozens of miners, many of them retirement age, walked the halls of the Capitol complex in matching camouflage United Mine Workers of America T-shirts Tuesday to urge support.
Republicans, meanwhile, are seeking to boost defense spending Trump has requested, and have also tried to include anti-abortion measures – including the Abortion Non-Discrimination Act, which would prohibit public agencies that receive federal funds from blocking healthcare facilities or doctors who refuse abortion services.
Trump wanted $34 billion for the military, but talks now appear to be focusing on about half that amount, about $15 billion, sources said.
Instead of the wall money, the final deal will likely include about $1 billion for other security measures -- possibly surveillance -- on the border.
Trump has long promised that Mexico would pay for the wall along the Southwestern border, something officials in that country have said is not going to happen.
Lawmakers in Congress had little interest in footing the bill -- costs could be as high as $70 billion, according to one new report -- and even less interest in shutting down the government over it.
The growing criticism of the border wall plan, along with the apparent lack of enthusiasm in Congress to funding it, haven't yet caused any reassessment of the plan by Homeland Security, the agency that will be tasked to build it.
Spokesman David Lapan said Tuesday DHS will move forward with building barrier prototypes using $20 million redirected from the current budget.
"Our directive is to continue to find ways to meet the mission of building the border wall, but we need the funding to do that," Lapan said. "We can't do anything until funding is provided to continue construction."
Actual construction will have to wait for the 2018 or 2019 budget years, he said.
"No one knows what the wall will cost," he said.
Trump later Tuesday, though, insisted his wall would become a reality.
"The wall's going to get built, folks," he said during a White House meeting with agriculture executives. "In case anybody has any questions, the wall is going to get built."
ALSO
Q&A: Filibuster, cloture and what the 'nuclear option' means for Gorsuch nomination and future of the Senate
What we learned about Neil Gorsuch during his Supreme Court confirmation hearing
Gorsuch set to be confirmed to the Supreme Court, but will the fight over Trump's pick break the Senate?
Get our Essential Politics newsletter
The latest news, analysis and insights from our politics team.
You may occasionally receive promotional content from the Los Angeles Times.