What you need to know about the four women Donald Trump appeared with at a surprise pre-debate event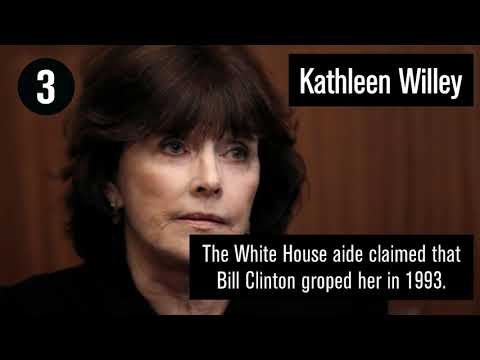 Kathleen Willey, Juanita Broaddrick, Kathy Shelton, and Paula Jones. Three have accused President Bill Clinton of rape or unwanted sexual advances. Shelton was 12 when a man was accused of raping her and Hillary Clinton was assigned to defend him. O
Reporting from St. Louis —
Less than two hours before tonight's presidential debate, Donald Trump appeared alongside three women who have previously accused former President Bill Clinton of rape or unwanted sexual advances. A fourth woman was the victim in a sexual assault case when she was a child in which the accused perpetrator was defended by Hillary Clinton, who was appointed to the case by the court.
The unexpected event Sunday came as Trump's presidential bid is reeling after the release of a recording of him speaking in vulgar terms about women. Trump had telegraphed before the debate that he planned to bring up Bill Clinton's sexual history. He has also blamed Hillary Clinton for enabling her husband and said she attacked the women who made claims against her husband.
Here is a look at the four women Trump appeared with Sunday evening in an event that was streamed live on Facebook:
Juanita Broaddrick: In 1999, after Bill Clinton was impeached for lying about his affair with intern Monica Lewinsky, Broaddrick said the president had raped her when he was Arkansas' attorney general in 1978. A handful of confidantes said she had told them about the incident when it occurred.
Clinton denied the claim through his attorney, and he was never charged. Some argued that Broaddrick was not credible because she waited 21 years to make the allegation and because she had earlier signed an affidavit denying non-consensual sex or advances by Clinton.
Election 2016 | Live coverage on Trail Guide | Sign up for the newsletter |The race to 270
Paula Jones: Jones accused Bill Clinton of sexually propositioning her and exposing himself to her while he was governor of Arkansas. She filed a sexual harassment suit against him that was dismissed and still under appeal when Bill Clinton settled with Jones for $850,000 and made no admission of wrongdoing.
Kathleen Willey: The White House aide claimed that Bill Clinton groped her in 1993. The president denied it, and an independent prosecutor found the evidence inconclusive. She first made her allegations on a "60 Minutes" segment in 1999.
Kathy Shelton: Shelton was 12 when a man was accused of raping her. Hillary Clinton, an attorney, was assigned by a judge to defend him. The case against the accused rapist fell apart and the charges were reduced to fondling a child.
In her 2003 biography, Clinton wrote that she was reluctant to take the case but had been reminded by the prosecutor who had recommended her for the assignment that she was obligated to not refuse the judge's request.
ALSO
Trump and his campaign's record of controversy involving women: A brief history
Tonight's debate is now an even bigger test for Trump amid GOP division over leaked recording
Dump Trump? Hundreds of thousands of votes have already been cast with his name on the ballot
Get our Essential Politics newsletter
The latest news, analysis and insights from our politics team.
You may occasionally receive promotional content from the Los Angeles Times.