Pentagon plans to send Navy hospital ship to assist Venezuelan refugees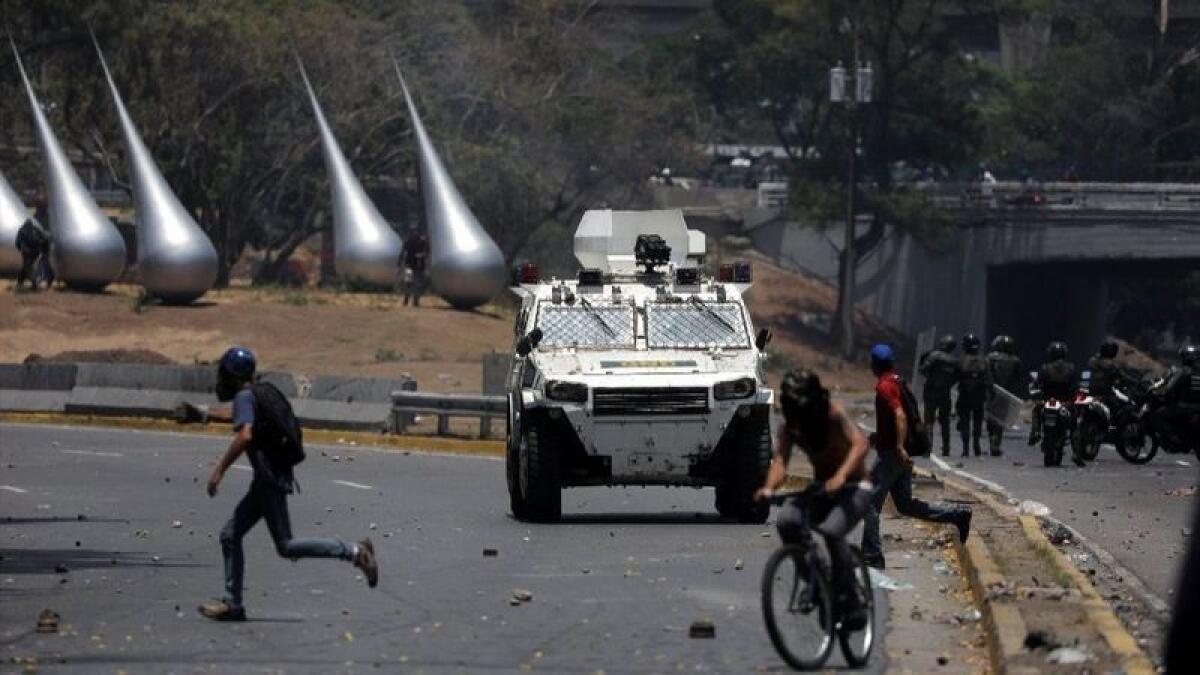 Reporting from Washington —
The Defense Department planned Friday to send a Navy hospital ship to help alleviate a humanitarian crisis in Venezuela as senior national security officials convened at the Pentagon to discuss military options for pressuring the country's president to step down.
Officials said the Comfort, a 1,000-bed vessel, probably would be sent off the coast of northern Colombia, near enough to treat refugees who have fled Venezuela.
An announcement is expected next week.
President Trump seemed to play down potential U.S. military action to push out Venezuelan President Nicolas Maduro after Trump spent an hour on the phone with Russian President Vladimir Putin.
Putin "is not looking at all to get involved in Venezuela other than he'd like to see something positive happen for Venezuela," Trump told reporters in the Oval Office. Trump said he feels "the same way. We want to get some humanitarian aid."
The Kremlin said in a statement that Putin warned Trump during the call against "outside interference" in Venezuela's internal affairs and "attempts to change the government in Caracas by force."
Read More: In Venezuela right now, one constituency matters most: the military »
Some members of Congress appeared to urge more muscular action. "Where is our aircraft carrier," tweeted Sen. Lindsey Graham (R-S.C.), a member of the Senate Armed Services Committee.
National security advisor John Bolton, Secretary of State Michael R. Pompeo, acting Defense Secretary Patrick Shanahan and other officials met with senior military commanders at the Pentagon in what officials said was a session to review options for potential military action.
Trump's lack of concern about Russian assistance to Maduro appeared at odds with Bolton, who has repeatedly warned that Russian and Cuba must stop propping up Maduro with military aid and advisors.
"The United States will not tolerate foreign military interference in the Western Hemisphere," Bolton tweeted Friday after the Pentagon meeting. "President Trump has made it clear that there will be costs for those who further Maduro's usurpation and repression."
The mixed messages suggested divisions between Trump and some top advisors over what to do after this week's unsuccessful push by the U.S.-backed opposition in Venezuela to drive Maduro from office.
Trump has appeared ambivalent about taking military action in Venezuela since throwing his support behind Juan Guaido, the Venezuelan opposition leader who has declared himself acting president.
U.S. military officials have argued against direct intervention, but under orders from the White House, they have devised an array of options for raising the pressure on Maduro, officials said, along with less aggressive moves aimed at alleviating humanitarian suffering.
Adm. Craig Faller, the commander of U.S. Southern Command, which oversees military operations in Latin American, briefed the other officials on "a wide range of military options, as the command continues to monitor activities on the ground in Venezuela," his headquarters said in a statement.
"We have a comprehensive set of options tailored to certain conditions, and I'm just going to leave it at that," Shanahan told reporters. "All options are on the table."
The Navy hospital ship carried out a similar humanitarian mission late last year. The Pentagon could also take other steps, such as delivering aid, perhaps in collaboration with allies in the region, officials said.
"Right now, people are starving. They have no water, they have no food," Trump said. "So we want to help on a humanitarian basis."
Get our Essential Politics newsletter
The latest news, analysis and insights from our politics team.
You may occasionally receive promotional content from the Los Angeles Times.