Robert Lee Ahn's 'misleading' mail tactics helped him get into L.A.'s congressional runoff. Will he use them again?
The mail looked just like letters or official notices marked with the candidate's name and "Attorney at Law" or stamped with "URGENT MESSAGE."
Like many voters in L.A.'s 34th Congressional District, Christina Wong has gotten used to receiving stacks of political mailers. With two dozen candidates competing in the April 4 primary to replace Xavier Becerra, her mailbox was deluged with dozens of pieces of glossy mail featuring smiling photos of the candidates.
"Most of it immediately goes into my trash," said Wong, 34, who manages public relations for a restaurant company. Then she started getting mail from Robert Lee Ahn.
"It wasn't telling me that this is a very clear political mailer," Wong said. Inside were letters touting Ahn's endorsements and describing him as a "budget cutter" and businessman. "It's really just misleading junk mail."
Wong wasn't the only one who was angry. On social media, voters in the district posted photos of the mail they received and called the tactics "manipulative" and "properly disgraceful." One voter said she opened mail with Ahn's law office in the return address because she thought she was being sued.
Ahn came in second in the primary, trailing first-place finisher Assemblyman Jimmy Gomez by about 3 percentage points. The two Democrats will compete for the seat in a June 6 runoff to replace Becerra, who resigned to become California's attorney general.
Most who complained cited one of two mailers from Ahn: one with the words "Jury Duty is Good Citizenship" printed on the envelope, and another sent days before the election that read "New Polling Place Information" and "PLEASE OPEN IMMEDIATELY." When some voters opened the envelope, it was an advertisement for Ahn that had no new polling information, after all.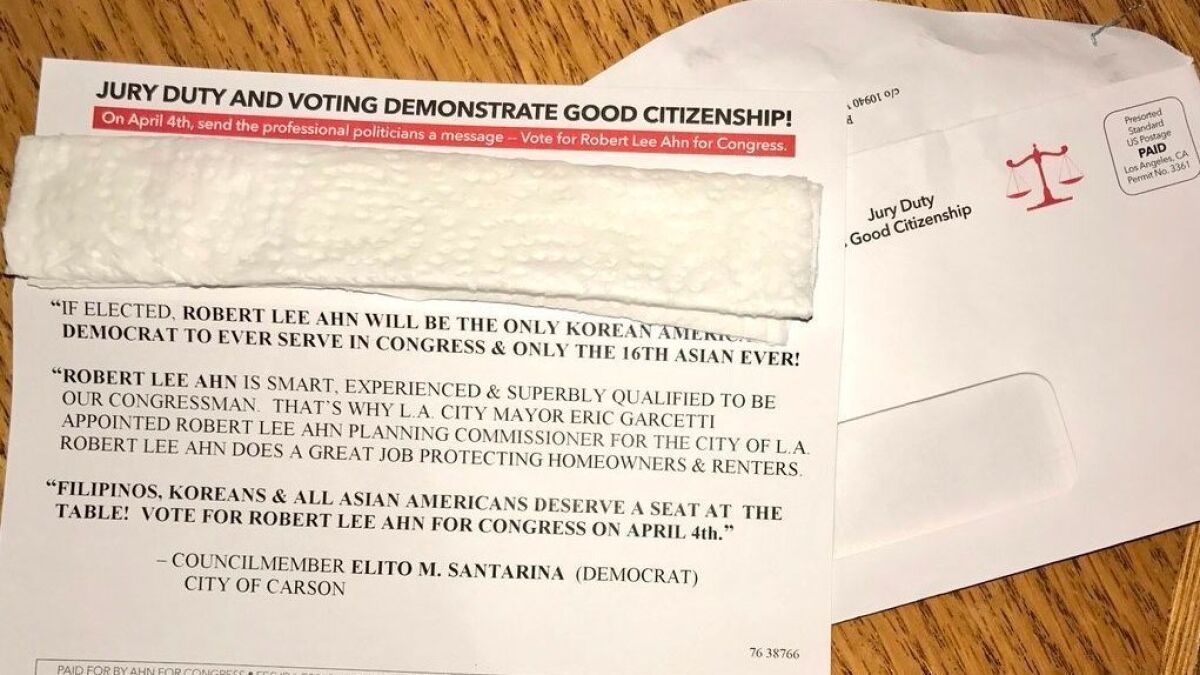 "It's misleading. It's like spam email, basically," said Jessica Levinson, a professor at Loyola Law School who sits on the L.A. City Ethics Commission. "I don't think it rises to the level of illegality, but it rises to the level of 'yuck.' Something on a gut level is troubling about getting people to open mail under semi-false pretenses."
Levinson said that although Ahn's mail tactics are risky and could turn off voters who feel as if they've been duped, "in the end, it may be a very smart move, and this is how he gets the votes he needs."
Mailers were a major part of Ahn's primary campaign strategy: He spent $463,280, more than half of his total expenditures, on envelopes, potholders, notepads, postage and other mail costs, and he blanketed swaths of the district with his mailers. But several voters said the mail made them decide not to vote for Ahn.
The last straw for Wong was receiving a flimsy blue and white potholder in a large white envelope marked "FREE GIFT," accompanied by a letter that called Ahn a "fervent environmentalist."
"If you're a fervent environmentalist, you wouldn't be mailing me all this stuff," Wong said. She ended up voting for Sara Hernandez in the primary and says she won't vote for Ahn in the runoff.
Mayka Mei, who received the potholder as well as a branded notepad and multiple invitations to coffee meetings from Ahn, said she felt the packaging was "deceptive." But she also became increasingly irritated at the typos and grammatical errors she noticed in the mail he sent.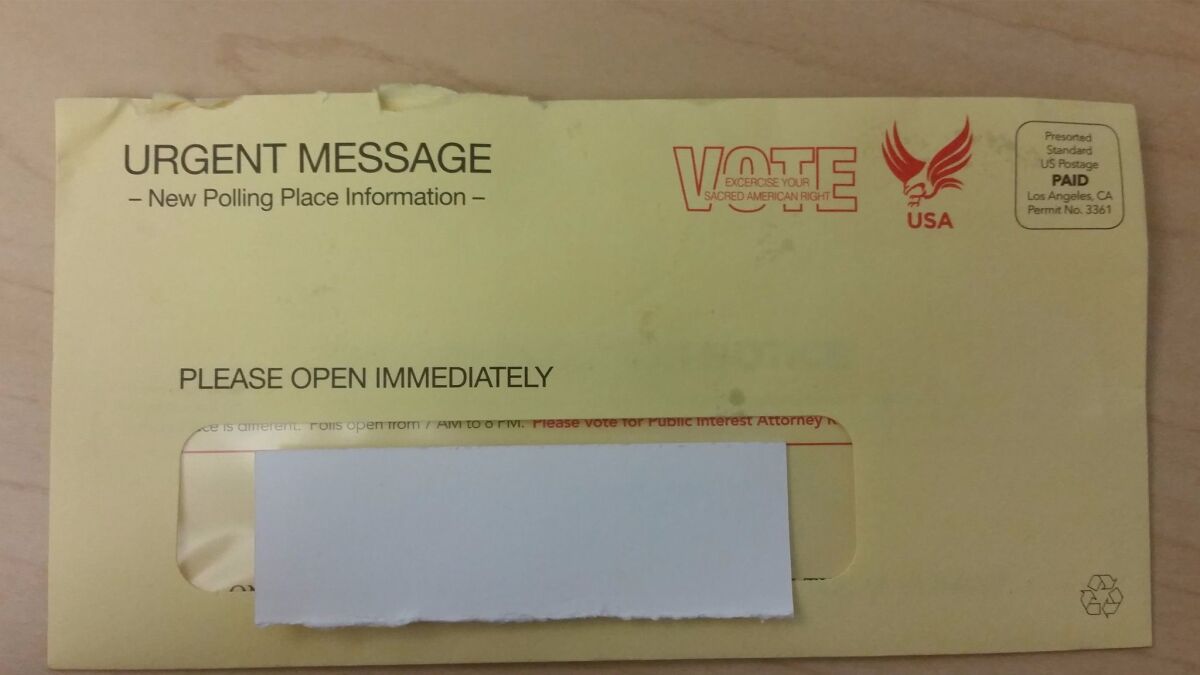 "I wrote him off early because I felt like the mailers were so unprofessional," said Mei, a 33-year-old who works in animation. "Ultimately, I felt more distrusting of his campaign the more I got."
Others were impressed by Ahn's strategy.
"I just appreciated it as shrewd," said Joe Huser, a 39-year-old attorney and former campaign strategist who lives downtown. Huser said the creative packaging of Ahn's mail meant it made it to the pile of "real mail" after he dumped stacks of political mailers in the trash.
"There was nothing misleading about the message, it was more just the optics and the design," Huser said. "It really helped him break through an incredible amount of noise."
Huser recalled a particular mailer that prominently displayed the name of Jason Collins, a former NBA player and the first openly gay athlete in professional basketball, who endorsed Ahn. As a gay man who admires Collins, it made Huser pay attention and ultimately was one of the reasons he voted for Ahn, Huser said.
In an interview, Ahn said he thinks providing polling place information to voters is a service. He declined to comment further without reading specific complaints.
After The Times provided links to complaints on social media, Ahn campaign consultant Darby Levin said, "You can't please everybody." The campaign won't say whether voters should expect similar mailers leading up to the runoff.
"Am I aggressive in trying to get people to open my mail?" Levin said. "Sure, I'll cop to that. We think these issues are important and we want people to be aware of them."
Levin defended the mailers, saying it cost less to print envelopes with the words "New Polling Place Information" than to customize each envelope based on whether the voter's poll location had actually changed. He also said the mailers with "Jury Duty" on the envelopes looked "nothing like" a real jury duty summons.
Levin said Gomez's campaign employed similar tactics, sending out a mailer listing Gomez backer "Xavier Becerra, Attorney General of California" in the return address and featuring the California state flag.
Parke Skelton, a campaign consultant for Gomez, said the two aren't comparable. "When you open the letter from Xavier Becerra, there was, in fact, a letter from Xavier Becerra," Skelton said, adding that Ahn's mail is a "classic bait-and-switch … attempt to make a piece of propaganda look like some sort of official notification."
"That's really just an 'I'm rubber, you're glue' response," said Levinson, the Loyola professor, of Levin's argument. "They're both doing something problematic."
For more on California politics, follow @cmaiduc.
ALSO
Updates on California politics
What you need to know about L.A.'s congressional runoff
Nancy Pelosi weighs in on race to replace Xavier Becerra
---
Life is stressful. Our weekly mental wellness newsletter can help.
You may occasionally receive promotional content from the Los Angeles Times.