One of these two Democrats will be L.A.'s next member of Congress. Here's what you need to know for today's election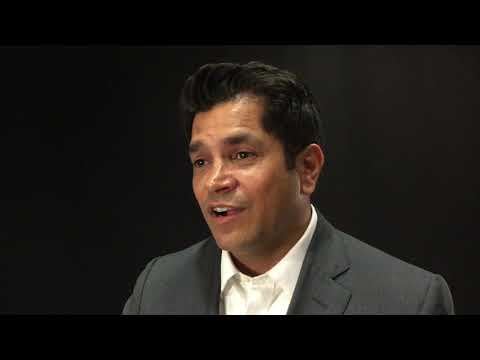 The Times asks 34th Congressional District candidates Robert Lee Ahn and Jimmy Gomez six questions about their backgrounds, legislating in a Republican-controlled House, what challenges the district is facing, and their favorite restaurant in the di
Yes, Los Angeles already had a congressional election this year, and yes, it's having another. With a super-crowded field competing in the April primary to represent the 34th Congressional District in central L.A., we're now down to just two candidates.
As the campaign wraps up, here's what you need to know:

For the record:
6:33 p.m. Dec. 9, 2023A previous version of this article implied that L.A. Councilman Mike Woo is Korean American. He is Chinese American. Also, the average amount of candidates' combined campaign spending per vote was $67.97, not $86.74 as a previous version of this article stated.
The contenders
In the primary election, voters whittled down a field of 24 candidates to the top two vote-getters: Assemblyman Jimmy Gomez, 42; and former L.A. city planning commissioner Robert Lee Ahn, 41. Both are Democrats.
Neither of them received anywhere near 50% of votes in the last round, so they have to face each other in a runoff election.
When is the election?
The runoff is set for June 6. That's today.
How did we get here?
It all started when Xavier Becerra stepped down from his House seat to become California's attorney general. (He was replacing Kamala Harris, who was elected to the Senate). That triggered a special election to replace him in the 34th District, which stretches from downtown and Koreatown to Eagle Rock, Highland Park and Boyle Heights.
In the April 4 primary, the vast majority of the 24 candidates running didn't even get more than 10% of the votes.
Ahn and Gomez pulled significantly ahead of the pack in early returns. Ultimately, Gomez was the top vote-getter with 25% of the vote, but Ahn was just behind at 22%. Only about 42,000 people, or 14% of registered voters, cast ballots in a district that represents more than 735,000 people.
Neither Ahn nor Gomez received more than 11,000 votes each.
Ahn and Gomez have pretty different backgrounds
Ahn was born and raised in Los Angeles, and his parents, immigrants from Korea, worked long hours to support the family. As a result, Ahn says, he and his sister spent most of their youth with their grandparents.
He graduated from Harvard-Westlake School and attended Emory University. He later earned a law degree from USC and has worked as an attorney and in his family's real estate business. He was appointed to the L.A. Planning Commission by Mayor Eric Garcetti in 2013 and resigned earlier this year.
Gomez's parents are immigrants from Mexico, and his father was in the bracero program for guest workers. They and most of his five siblings were undocumented but became citizens after Gomez was born in the U.S. He often talks about how his parents worked multiple jobs to make ends meet.
Gomez grew up in Riverside and attended community college before transferring to UCLA. He later earned a master's degree from Harvard University's John F. Kennedy School of Government. Before running for the Assembly, Gomez worked for the United Nurses Assns. of California.
Their bases of support are pretty varied
Gomez, widely regarded as the establishment choice in the election, has racked up dozens of endorsements from Democratic Party elected officials, including Becerra and Garcetti. He also has the backing of the California Democratic Party and at least eight of his primary opponents, all Democrats.
As a former union organizer, Gomez has also consolidated support from many of the major L.A. labor unions, which could be key if they decide to contribute manpower or major funds to his race against Ahn.
He had strongholds of voters in the northeast L.A. neighborhoods of Eagle Rock and Highland Park, which he represents in the Assembly.
Ahn, on the other hand, is running as an outsider opposing "politics as usual." He has sent mailers touting the support of retired NBA player and former high school classmate Jason Collins. During the primary, he also sent one mailer to Republicans in the district, highlighting the support of former California GOP Chairman Shawn Steel.
Ahn would be the first Korean American Democrat in Congress if elected, and the first Korean American to serve in nearly 20 years.
His major endorsers include L.A. City Councilman David Ryu and Virginia House Delegate Mark Keam, both Korean Americans, and Mike Woo, the first Asian American elected to the L.A. City Council.
His campaign has concentrated on registering and turning out voters in Koreatown, which served as a major base of support for Ahn in the primary. His major endorsers include L.A. City Councilman David Ryu and Virginia House Delegate Mark Keam, both Korean Americans, and Mike Woo, the first Asian American elected to the L.A. City Council. He also won the endorsements of former L.A. Mayor Richard Riordan and several religious leaders, including J. Edgar Boyd, pastor of the First African Methodist Episcopal Church in South Los Angeles.
Their money is coming from different places
Both candidates have demonstrated their ability to raise funds quickly: Ahn has raised roughly $874,000 since entering the race in mid-January, not including money he's given himself, while Gomez has taken in about $961,000.
Neither candidate has raised a significant amount of money inside the 34th District, where nearly half of households earn less than $35,000 a year. A Times analysis shows that more than three-quarters of both candidates' funds have come from ZIP Codes outside the district.
While Gomez has tapped into money in Washington, D.C., and Sacramento, Ahn has reached out to wealthier parts of L.A. County and Southern California to build up his coffers.
Of Gomez's fundraising total, at least $200,000, or about a fifth, came from ZIP Codes in the Washington, D.C., area.
On the other hand, less than 10% of Ahn's donations have come from outside California. But contributors from the wealthy enclaves of Beverly Hills, La Cañada Flintridge and the Palos Verdes Peninsula have helped Ahn make up the difference, as has the $490,000 he's lent himself.
Where do they fall on the political spectrum?
Gomez is regarded as a reliably progressive vote in the Legislature and has received perfect legislative scores in the Assembly from groups such as Planned Parenthood, the League of Conservation Voters and Equality California. He often touts his work expanding California's paid family leave law and his votes to increase the minimum wage.
In an L.A. Times questionnaire sent to candidates in the primary, Gomez said he would fight to save the Affordable Care Act and push for a single-payer healthcare system, and would oppose using taxpayer funds to build a border wall while pushing to make Deferred Action for Childhood Arrivals a permanent policy.
Ahn, who was a Republican until switching parties in 2012, has promised to bring a "business sensibility" to the office if elected and appears to be taking a more centrist approach. He calls himself a progressive who can also be pragmatic, saying in the questionnaire that Democrats should negotiate with Republicans on healthcare and immigration policy. He said he would fight any immigration policy that would include "breaking families apart" as part of immigration reform.
Gomez has criticized Ahn for suggesting he would negotiate with Republicans to protect parts of Obamacare. In a recent debate, Gomez said Democrats need to take a "hard line" and that Ahn was too soft on support for Medicaid. But Ahn maintained that "we're going to have to talk to the other side."
Ahn has also criticized Gomez for taking special interest money, suggesting it would be "payback time" for his donors if Gomez is elected to Congress.
How much is all this costing?
The estimated cost of the April 4 primary alone was about $1.3 million, according to L.A. County election officials and the June runoff is expected to cost another $1.3 million.
The 24 candidates in the primary spent at least $2.9 million collectively, or an average of about $67.97 per vote.
The full taxpayer cost of both elections won't be known for months.
For more on California politics, follow @cmaiduc.
ALSO
Here's what the candidates running for an L.A. congressional seat think about the top issues
Korean Americans have his back, but Robert Lee Ahn will need more to become L.A.'s next congressman
MAP: How did your neighborhood vote in L.A.'s open House race?
Updates on California politics
---
UPDATES:
June 6: 2:27 p.m.: This article was updated with information about election day.
June 2, 2:10 p.m. This article was updated with additional campaign finance data and other information.
April 20, 5:18 p.m.: This article was updated with the latest estimated taxpayer cost of both elections.
This article was originally published April 19.
Get our Essential Politics newsletter
The latest news, analysis and insights from our politics team.
You may occasionally receive promotional content from the Los Angeles Times.