Sara Hernandez posed for ads wearing hot pink boxing gloves and a steely expression. Tracy Van Houten, an aerospace engineer, donned a gray T-shirt adorned with a NASA logo altered to read "NASTY." Wendy Carrillo released an ad that ends with her raising her fist, an American flag scarf tied around her wrist, in an act of defiance.
These are some of the 13 women running for Congress in Tuesday's election to replace Xavier Becerra, and they all face an uphill battle: Two dozen candidates are in the primary for the 34th Congressional District, the first in the nation since Donald Trump was elected president.
Fewer than 20% of seats in Congress are held by women, and California's congressional delegation recently dipped from 19 to 17 women. Only one of the 14 current Los Angeles City Council members is a woman. But the sheer number of women who have stepped up to run in this race have some observers hoping it's an indication there will be more female candidates in 2018 and beyond.
Maria Cabildo, a longtime affordable housing developer who founded the East Los Angeles Community Corp., said she was hesitant to run, with her daughter finishing her sophomore year of high school and her son starting college next year. Cabildo is a single mom, and like many of the female candidates, left her job — director of homeless initiatives at L.A. County — to run.
She said it took the coaxing of several longtime supporters who told her "If you win, we win."
Christina Bejarano, a professor of political science at the University of Kansas who has studied women and Latinas in politics, says Cabildo broke one of the biggest barriers to most female candidates: deciding to run at all. Women make up less than a quarter of candidates for office.
"Women usually have to be talked into running," Bejarano said.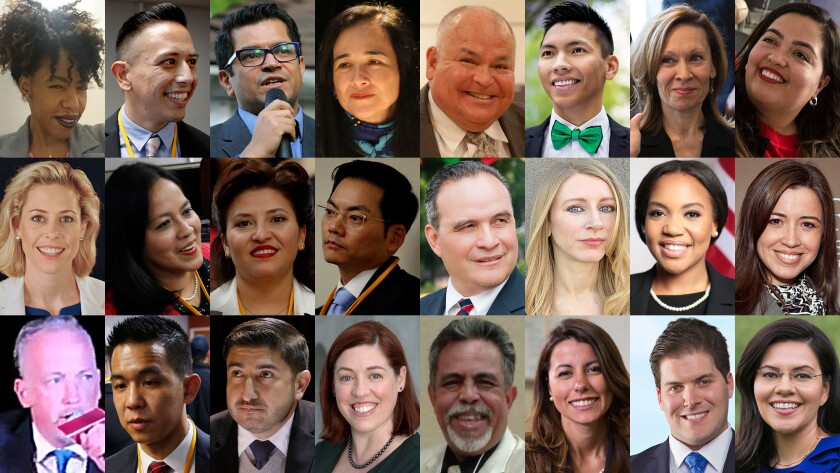 Studies have shown far fewer women ever consider running for office, even though women win at about the same rates as men when they do decide to run.
The women who are running in the 34th district have brought a distinct energy to the race, reveling in images of rebellion and eager to identify themselves as fighters in the age of Trump. (All are Democrats except for one, who is a Libertarian.) At a forum where candidates were asked to describe themselves in one word, the women on stage chose terms like "relentless," "unapologetic," "effective," and "badass."
When Vice President Mike Pence tweeted a widely derided photo of a roomful of men discussing the Affordable Care Act, multiple candidates used it to ask voters to send them to Congress to have a seat at the table.
And when Becerra announced he would support Assemblyman Jimmy Gomez, Carrillo tweeted that she was "disappointed" he passed over "multiple mujeres," and followed with a GIF of "Wonder Woman" smashing a pane of glass with the word "PATRIARCHY" written on it.
On a warm Sunday afternoon in February, 10 of the women running attended an event at the expansive Hancock Park home of Jyoti Sarda, a former Paramount Studios executive who produced a documentary about women's rights.
"Truly," Sarda said of Trump as she looked out at the women, "No. 45 seems to have been the wake-up call that we were all looking for."
Hernandez agreed. "I woke up on Nov. 8 and I put on my white pantsuit and I was fired up and ready to go," she told the crowd, referencing a sartorial choice many Hillary Clinton voters made in a show of solidarity. "I woke up the next day and I didn't feel as proud as I did that day before and that's really why I'm running for office."
Another statistic about the women running in the 34th district stands out: eight are Latinas, a significant number even in a progressive district in a progressive state, Bejarano said.
In recent years, Latinas have actually made gains in terms of the proportion of congressional seats they hold compared to their Latino counterparts, a phenomenon Bejarano chalks up to a "Latina advantage" that involves drawing on compelling personal stories and being able to drum up support from both female voters and other minority groups.
Alejandra Campoverdi, a former model, Harvard Kennedy School of Government graduate and former Obama White House staffer, has spoken frequently about her experiences being raised in a poor family by a single mother.
Campoverdi, a former Los Angeles Times employee who left in July, released an emotional ad in which she discusses Obamacare and her family's genetic history of breast cancer, a disease she's at increased risk of developing. "If Donald Trump wants to have a conversation about women's bodies, let's start with mine," she says into the camera.
Yolie Flores, a former LAUSD school board member and one of the few candidates in the race who has held elected office before, says she welcomes the increased competition.
"I think it says that women are tired of being left behind, having to wait their turn for the men," Flores said last week at her campaign headquarters as about 40 volunteers, mostly women, made phone calls to voters on her behalf. "In fact, we have women who are prepared and ready to lead and I think this group of women exemplifies that to the T. They're articulate, they're smart, they're passionate and I love it."
Times staff writer Javier Panzar contributed to this report.
For more on California politics, follow @cmaiduc.
ALSO:
Updates on California politics
Half the candidates in L.A.'s latest congressional race have their own immigrant story
The latest test of the Bernie Sanders movement may be in this L.A. race for Congress
Here's what 23 candidates in L.A.'s congressional race say on the top issues
---