From protecting lighthouses to restricting e-cigarettes, retiring California lawmakers have a long to-do list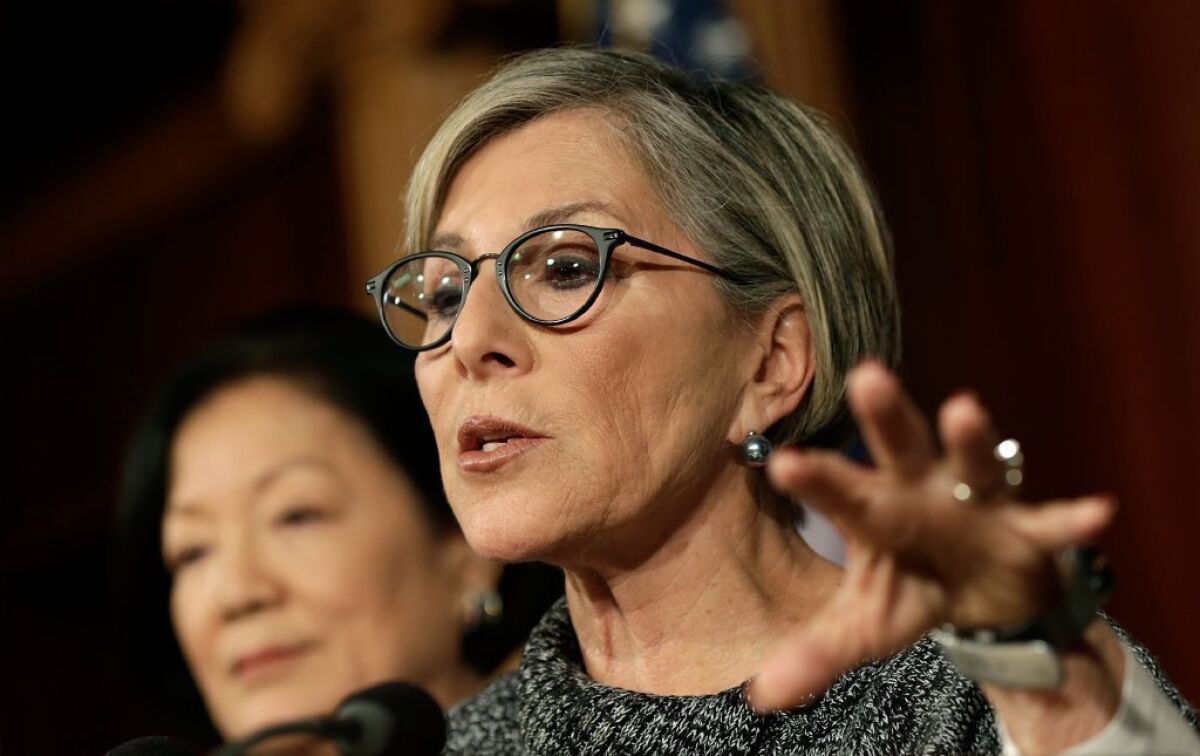 Reporting from Washington —
It's a race against the clock for some Democrats in California's congressional delegation.
With less than a year until their replacements are sworn in, Sen. Barbara Boxer and Reps. Sam Farr and Lois Capps are checking off their to-do lists, trying to wrap up decades of work in Washington.
With Republicans in charge, gridlock at its peak and scant working days left on the congressional calendar given this is an election year, it's a daunting challenge.
Boxer, who was elected to the Senate during the so-called year of the woman in 1992, is known as an advocate for the environment, organized labor and women's rights. Leaving the Senate won't change that, she said.
"As long as I'm vertical, I'm going to be working on these issues," said Boxer, 75.
The senator said she's been meeting with her California and national staffs to determine priorities for the year. She listed more than two dozen.
They include raising the minimum wage, keeping guns out of the hands of terrorists and people with mental health problems, supporting research on cancer and Alzheimer's disease, and limiting e-cigarette advertising aimed at children.
She also wants to push for student loan refinancing, create a dedicated fund for bridge infrastructure and require local election officials to reduce the length of time people have to wait in line to vote.
She also talked about creating a plan to ease the effects of California's drought, aiding the restoration of the Los Angeles River, protecting military whistle blowers and blocking Republican attempts to repeal the Affordable Care Act or cut off money to clinics that provide abortions.
Boxer said she isn't willing to narrow the list.
"You've got to do a lot of them. You can't just have one or two on your list," she said. "You just have to do everything."
The feeling is similar for Capps, 78. Saying it was time to go home to Santa Barbara, she said in April she wouldn't pursue an 11th term.
Her to-do list includes making the Piedras Blancas Light Station near San Simeon and its 141-year-old lighthouse a national monument.
"The lighthouse is still there, and it still remains lit," she said.
She also wants to work on pipeline safety, an issue she's focused on since the 1969 blowout of Union Oil's Platform A in the Dos Cuadras Offshore Oil Field.
"We don't have enough inspections, not regularly," she said.
Capps, a former nurse, also wants Congress to approve her bill to reauthorize federal funding for nursing programs, and make advanced education grants available to more nurses.
"That is on my bucket list to do before I leave," Capps said. "You need to remind leadership that, 'Don't forget, this needs to be done too.'"
Capps was elected to Congress in a 1998 special election to replace her husband, Walter, after his death.
"We asked everybody to run after he died in office. Nobody would do it; it was a tough race. People came to me, or bugged me, or harassed me, to say 'You have to do this,'" she said. "It was an unexpected piece [of] my life when it started, but it turns out to be so meaningful to me, makes me a huge believer in democracy."
In November, Farr, 74, a Carmel Democrat, announced that he wouldn't seek a 13th term. He said he wanted to focus on being a "full-time grandpa."
Farr was first elected to Congress in 1993 in a special election to succeed Leon Panetta. Previously, Farr served 12 years in the Assembly and six years as a Monterey County supervisor after getting his start in public service in the Peace Corps.
See the most-read stories this hour >>
Farr said he likes to think he'll leave things in Monterey County better than when he started.
"I've just fixed a lot of things in that district," he said.
Boxer, Farr and Capps aren't the only members of California's delegation leaving their positions this year. Rather than seek a fourth term, Rep. Janice Hahn is running for Los Angeles County supervisor, saying she can be more effective in local government.
Rep. Loretta Sanchez (D-Santa Ana) is pursuing the Senate seat held by Boxer.
Farr said he's always remembered the advice photographer Ansel Adams gave him during Farr's first campaign. He said Adams told him: "Creating a national park is forever. Nothing else you do in Congress really is."
Farr was behind the creation of Pinnacles National Park and the preservation of Big Sur as national wilderness. He has also worked to preserve California Missions.
Before he leaves office next January, Farr wants to pass the Clear Creek National Recreation Act, a bill he has proposed before without success. This year, he's working with Reps. David Valadao (R-Hanford) and Jeff Denham (R-Turlock) on the legislation, which directs the Bureau of Land Management to open the 75,000-acre Clear Creek Management Area in San Benito and Fresno counties to recreational use, including off-road vehicles, hikers and hunters. The Environmental Protection Agency closed the area because of high levels of naturally occurring asbestos.
The bill also designates 21,000 acres of sandstone outcroppings in Fresno County as the Joaquin Rocks Wilderness.
Farr said he'd also like to see changes to routes designed by a state-of-the-art air traffic control system that is being introduced nationwide by the Federal Aviation Administration.
Since the Next Generation Air Transportation System was implemented, complaints about noise from residents living below the flight paths have increased dramatically.
"It's just created a havoc in Santa Cruz because of the incredible noise, and it is just awful," Farr said.
Farr, who served in the Peace Corps in Colombia in the 1960s, said that before he leaves office, he wants to put the program on a path to have 10,000 volunteers by 2020. It now has about 7,000 volunteers.
"It's not that anybody opposes it. It just costs money," Farr said. With "the mess the world is in, the best we could do is increase the Peace Corps."
So, what's next?
Capps and Boxer both said they don't like the word retirement.
Boxer plans to continue operating her political action committee, PAC for a Change, saying there is a need for a progressive alternative to prominent conservative donors such casino magnate Sheldon Adelson and Charles and David Koch, who own one of the largest corporations in the country, Koch Industries.
"I just don't see anybody out there on my side. I don't see any other women," she said. "It's critical that we have more women involved."
Boxer said she expects to make speeches based on her forthcoming book, "The Art of Tough," and to continue to advocate on issues she cares about, such as environmental protection and women's health.
"I am far from slowing down. In some ways, I'm speeding up," Boxer said.
Capps said she's put off thinking too much about what she'll do after Congress, but she won't call it retirement.
"I say I'm not running for reelection. Retiring means you're going to, I don't know, go somewhere and pull the covers up over your head -- or at least that's the image I think of, and I'm kind of resistant to that," she said.
Farr said that after 42 years in public service, he's looking forward to "being a full-time babysitter for my grandchildren." Beyond that, he said, "we'll see what else happens, but I have no plans. I think it will be really hard not to be an activist. I've been an activist all my life."
Follow @sarahdwire on Twitter
Read more about the 55 members of California's delegation at latimes.com/politics
See more of our top stories on Facebook >>
ALSO
Democrats likely to keep two of California's three congressional races without incumbents
Sen. Barbara Boxer, liberal lion from California, to retire after 2016
---
Life is stressful. Our weekly mental wellness newsletter can help.
You may occasionally receive promotional content from the Los Angeles Times.