Like a 'stab in your brain' -- Complaints from Bay Area residents in noisy flight path spike 2,706%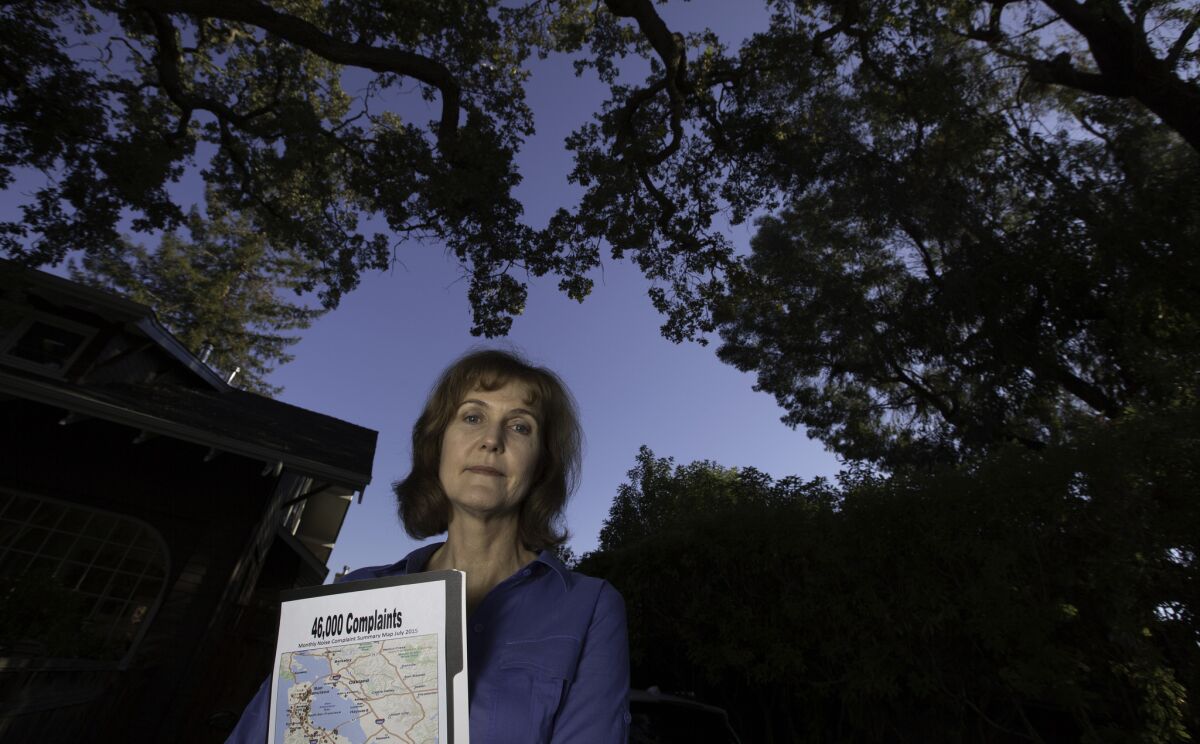 The rumble of jets overhead every five minutes means Rachel Kellerman has a hard time working from her Palo Alto home.
"It's this big spike all of a sudden," she said. "Over and over again, it's like a stab in your brain."
Hundreds of flights pass over Kellerman's home each day through routes designed by a state-of-the-art air traffic control system being implemented nationwide by the Federal Aviation Administration.
The result — complaints about noise from residents in the flight path have spiked 2,706% in one year.
Kellerman is one of thousands of Peninsula residents concerned about the noise, and members of the state's congressional delegation are pushing back on how the agency has implemented the Next Generation Air Transportation System, known as NextGen. The FAA responded Monday with a plan to consider those concerns and weigh if changes should be made.
Reports on the San Francisco International Airport's Noise Abatement office website show a spike in noise complaints since NextGen was implemented. Many of the complaints come from areas that didn't frequently complain to the airport in the past.
Between March and August, residents filed 147,442 complaints. During the same months in 2014, there were just 5,254. August alone notched 62,391 complaints, compared with 824 the year before.
Kellerman, a librarian at the local high school, said the noise punctuates the walls of newly constructed classrooms. The roar of overnight flights splits the silence and startles homeowners awake, she said.
SIGN UP for our free Essential Politics newsletter >>
For a while, Kellerman had a professional noise monitor in her backyard. She'd watch the ticker jump from around 30 decibels on a normal moment to 70 decibels when a jet passed over, she said.
Residents avoid going outside during Friday and Sunday night "rush hours," she said.
"These are people who've owned their houses since the '60s and the '70s," Kellerman said. "They love their neighborhood and they can't go outside. It's just crazy."
How did this happen?
Set to gradually deploy by 2025, NextGen uses satellites rather than radar to set routes and to organize plane departures and arrivals in an effort to save fuel and reduce both emissions and delays. With more information and control of where planes are, controllers can space aircraft closer together during takeoffs, landings and flights — meaning airports could handle more traffic. To coordinate flights in areas with multiple commercial and general aviation airports, the FAA has designated "Metroplex" areas.
The North California Metroplex includes Oakland International, San Francisco International, Norman Y. Mineta San Jose International and Sacramento International Airports.
An August 2014 FAA review found that new routes in the area "would not result in significant noise impacts."
Since the new routes took effect in Northern California this spring, Bay Area community groups worried about the economic and health effects of the transportation noise have formed to encourage elected leaders to find a solution. That includes Sky Posse Palo Alto, to which Kellerman belongs.
She and other concerned community members have compiled data on the effects of airplane noise and pollution on human and plant health. They have examined if the new routes actually save fuel, and they question if the way the FAA determines noise pollution is outdated.
At least one route stretches the length of Democratic Rep. Anna Eshoo's Menlo Park district, prompting a flood of complaints from all over the district to her office.
"These are not anecdotal stories from within one or two communities," Eshoo said.
While she supports NextGen's efficiency and safety measures, "the program has proven itself to cause widespread problems. It's at their doorstep and they need to address [it]," she said.
FAA responds
The FAA is reevaluating aspects of the routes, Ian Gregor, an agency spokesman in Los Angeles, said in an e-mail.
"People have identified a number of distinct issues and/or proposed remedies. In response, the FAA is developing a detailed plan of action to explore the proposed modifications," he said last week.
According to the report released Monday, the FAA will look into several of the community groups' suggestions — including whether to change flight paths so more planes come in over water, to adjust airplane speed to manage noise and to modify the angle and timing at which planes come into Northern California Metroplex airports. The agency said it would then meet with community and industry groups to discuss its findings before making changes.
Worries about increased noise from new routes aren't specific to California. Politicians in cities such as Chicago and Washington, D.C., have raised similar concerns and Phoenix city officials sued the agency in June.
Eshoo, Rep. Sam Farr (D-Carmel) and Rep. Jackie Speier (D-Hillsborough) recently joined members of the Congressional Quiet Skies Caucus in introducing legislation aimed at reducing noise.
The Quiet Communities Act would re-establish the Environmental Protection Agency's Office of Noise Abatement and Control and task it with reviewing the effects of airplane noise. The FAA Community Accountability Act would require the FAA to hire community ombudsmen to listen, and if necessary, propose changes. It would also prevent the agency from skipping environmental reviews for some new flight paths.
There is Republican support for the Community Accountability Act, but the measure's supporters say they are worried about getting both pieces of legislation past House Transportation and Infrastructure Committee Chairman Bill Shuster (R-Pa.), who hasn't acted on similar requests.
Eshoo said the FAA should work hard to involve communities.
"They design something, they come up with it, they implement it… and then everyone has to react to it," she said. "This is not one size fits all. The FAA is going to have to work with each region, each area that is affected."
Gregor said the agency hosted public workshops in Sacramento, Oakland, San Francisco, San Jose and San Mateo in April. The agency informed local, state and federal elected officials, announced the meetings on social media and collected public comments for 45 days, he said. More than 100 people submitted comments about the proposed plan to the FAA in person or online.
Still, Farr said people in his district more than 50 miles from the airport were shocked when planes flying into San Francisco were suddenly funneled into a route above their homes.
"They come minutes apart and even late into the night. It's unbelievable," Farr said. "The FAA never informed these people of what was going to come."
Kellerman said she often files complaints three times a day because she thinks government officials look at data to make decisions.
"I don't think of it as complaining, I think of it as testifying," she said.
A member of Save Our Skies Santa Cruz said he can file up to 20 complaints a day.
And Southern California is next.
Some in Southern California already are bracing for changes as the Federal Aviation Administration determines new routes for flights in the "SoCal Metroplex," which will organize flights from 13 regional airports including Los Angeles International, John Wayne in Orange County and San Diego International.
The agency held 11 public meetings in a four-month long comment period that closed in early October, Gregor said. In June, the agency released a draft environmental assessment that found there would be no significant noise effects in Southern California.
Without elected officials' intervention, Kellerman said she doesn't expect the Northern California route to change.
She stressed she doesn't just want the route shifted to be above other people's homes. Instead the flight path should be disbursed, she said.
"No region in any place in our country should be a sacrificial noise corridor," she said. "They created these pencil-thin routes so they can save a bit of fuel. We don't want this in anybody's backyard."
Noisy neighbors up above
The number of complaints to the San Francisco International Airport's Noise Abatement Office have spiked since new routes passing over Palo Alto and Santa Cruz were put in place last spring. The Federal Aviation Administration is reviewing the routes.
| | | | |
| --- | --- | --- | --- |
| Month | 2014 | 2015 | % Increase |
| March | 1,096 | 3,019 | 175% |
| April | 1,164 | 3,954 | 240% |
| May | 1,076 | 12,091 | 1,024% |
| June | 449 | 17,564 | 3,812% |
| July | 645 | 48,423 | 7,407% |
| August | 824 | 62,391 | 7,472% |
| Total | 5,254 | 147,442 | 2,706% |
* Number of complaints does not mean number of people who called. Some people file multiple complaints.
Source: Monthly reports from San Francisco International Airport Director to Community Roundtable. Graphics reporting by Sarah Wire
Follow @sarahdwire on Twitter
Read more about the 55 members of California's delegation at latimes.com/politics
Get our Essential Politics newsletter
The latest news, analysis and insights from our politics team.
You may occasionally receive promotional content from the Los Angeles Times.