'I still have nightmares': Four women accuse O.C. assemblyman of misconduct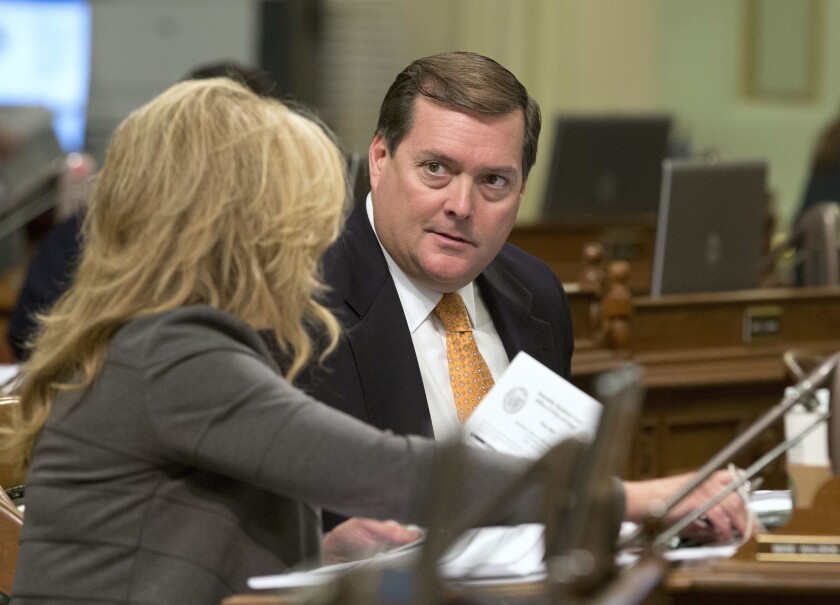 Four women, including an Orange County supervisor, have accused Assemblyman William Brough (R-Dana Point) of unwanted touching and other misconduct.
The allegations came to light last week, when Orange County Supervisor Lisa Bartlett spoke out against an endorsement for Brough at an Orange County Republican Party meeting and claimed she'd had a negative encounter with the lawmaker. In an interview with The Times, Bartlett said Brough propositioned and "attacked" her at an official event in 2011 when they were both on the Dana Point City Council.
Three other women, who spoke to The Times on condition of anonymity citing fear of reprisal, have also alleged that Brough made unwanted advances toward them. One woman, a governmental affairs manager who filed a 2017 complaint against Brough with the Assembly Rules Committee, allegedthat Brough propositioned her in a Sacramento hotel lobby. An Assembly investigation later found Brough did not violate Assembly policy. And a former Assembly staffer and former lobbyist claim that the legislator sexually harassed them in separate incidents in Capitol-area bars and implied he could help their careers if they obliged his overtures.
Brough, who is married, denies the claims, calling them a "coordinated effort of unsubstantiated allegations" that are politically motivated by rancor over his attempts to rein in a local toll road agency. He introduced a bill earlier this year that would have curtailed the powers of Orange County's Transportation Corridor Agencies to build new roads and bridges but later pulled it, saying he would seek an audit instead.
"I have been on the end of many political attacks but I will not stand for personal attacks on me and my family. I have done nothing wrong," Brough said.
A public accusation
Bartlett said she decided to speak up against Brough's endorsement because she was a "recipient of inappropriate behavior" by the legislator.
"I stated [in the meeting] that I still have nightmares about that incident, and that, sadly, I am not the only one," she said.
Bartlett told The Times that the alleged incident occurred at the end of a March 2011 retirement party for a Marine colonel at a Dana Point restaurant. She said she was in a dark, empty section of the restaurant, looking in her purse for her car keys when she felt someone grab her from behind.
When she looked up, she saw the person was Brough and asked him what he was doing, she said.
"He said something to the effect of, 'Let's get out of here and go for a drink and do something,'" Bartlett said, adding that she could smell alcohol on his breath. She says she interpreted Brough's actions as a sexual proposition.
Bartlett said she could feel Brough trying to steer her toward an exit door on the side of the restaurant. She said she repeatedly asked Brough to let go of her and that his grip was so strong that she initially couldn't wriggle free.
"I was thinking, 'I don't really have anything to protect myself, I'm in high heels, I can't run,'" Bartlett said. "I was petrified."
Bartlett said she was eventually able to pull herself downward and twist away from Brough before running to the front of the restaurant to try to find then-Dana Point City Manager Doug Chotkevys.
When Bartlett learned Chotkevys had left the party, she called him and he returned to the restaurant, she said.
Chotkevys confirmed to The Times that Bartlett called him that evening. He said that she was "visibly upset" and that he returned to the restaurant to ensure she got home safe, but declined to comment further, citing personnel issues.
Bartlett filed a complaint with the city the day after the alleged incident. A 2011 memo from Dana Point city attorney A. Patrick Muñoz provided by both Brough and Bartlett to The Times stated that Muñoz didn't have "sufficient facts or evidence to come to any conclusions regarding the matter."
The memo, which cited conflicting accounts from Brough and Bartlett, stated that Bartlett told the city attorney that she believed Brough was "very intoxicated." Concerned about his condition, Bartlett said she called Chotkevys before the alleged incident and asked him to return "to take care of [Brough]," according to the memo. When Chotkevys arrived, the city attorney wrote, Bartlett was helping him look for Brough when Brough allegedly accosted her. According to the city attorney's report, Bartlett initially said the incident occurred in the parking lot, a claim Bartlett denied at the time.
Bartlett said she disputes the summary of the incident in the city attorney's report and that she believes Muñoz misrecorded her version of events. Muñoz did not respond to a request for comment.
Brough's endorsement was tabled at the GOP meeting where Bartlett made her public accusation last week. An email obtained by The Times that was sent to the county party central committee last week indicates that Brough later withdrew his request for an endorsement.
The Republican Party of Orange County declined to comment on the allegations in a statement, but said it has "no tolerance for sexual misconduct."
Assembly complaint
Assembly Rules Committee records obtained by The Times also show that Brough was investigated in late 2017 and early 2018 by the committee for a separate incident that it later determined did not violate Assembly policy.
In that case, a governmental advocate with business in the Capitol alleged that in February 2015, Brough followed her into the lobby of her Sacramento hotel and propositioned her for sex. In a March 2018 appeal letter to the Assembly Rules Committee, the woman described being "sexually battered" by Brough, claiming that he pressed his erection against her and said, "You know I'm really into you, right?" She wrote that when she told Brough she was married, he replied, "So am I."
The woman also alleged in the letter that Brough's behavior followed "almost two years of sexual innuendo and advances," which she said began when he was an Assembly staffer. She said that in other alleged incidents, she declined Brough's requests for a walk on the beach during a business lunch and his offer of a hotel room should she decide to volunteer on another candidate's political campaign.
"[Brough] repeatedly propositioned me for an extramarital affair," the woman wrote in the letter. "I repeatedly declined or ignored his propositions, and his propositions were severely unwelcome and caused me an immense amount of stress."
The woman also said in the letter that she believed Assembly investigators brushed off Brough's alleged ongoing behavior and had said to her in a phone call that the incidents she reported were interactions between "consenting adults," a characterization she disputed.
A friend of the woman who filed the complaint, who works in Orange County Republican politics and requested anonymity to speak freely about the matter, confirmed to The Times that she told him about the 2015 incident shortly after it happened and said he was later contacted by an Assembly Rules investigator in late 2017 as part of the inquiry. Another friend and coworker of the woman also confirmed that she relayed the same details to him before filing her complaint in 2017.
Former state Sen. Dick Ackerman, an Orange County Republican whom the woman considers a mentor, told The Times that she first spoke to him about alleged ongoing harassment by Brough as early as 2012 and said that he has spoken to her more than a half dozen times since about her claims.
Ackerman said he was contacted multiple times by an Assembly Rules Committee investigator as part of the investigation. He said he also told the investigator about Bartlett's 2011 allegation, which Bartlett had recounted to him. Ackerman said he was told that the earlier allegation was discounted by the committee because it occurred before Brough's election to the Assembly.
"Quite frankly, I was shocked," Ackerman said. "When you have sexual harassment-type things, you have to be looking at a course of conduct and how he conducted himself before he was there should be relevant to the investigation."
Assembly Speaker Anthony Rendon (D-Lakewood) declined to comment on the 2018 investigation into Brough's conduct. In a statement responding to Bartlett's allegations, Rendon said that "The Assembly takes all allegations seriously. Allegations will be reviewed by the Workplace Conduct Unit, the independent body created by the Legislature to investigate claims of workplace misconduct."
Other allegations
In another alleged incident, a former Assembly staffer told The Times that Brough propositioned her at a March 2015 political event at a Sacramento bar that she attended with her former boss, who was then a Republican Assembly member.
The woman said she, her former boss and Brough were talking before she was briefly left alone with Brough at the bar and he allegedly told her, "I've been watching you for a long time and I've always wondered why you weren't married yet." He then commented on a dress he'd seen her wear at a previous event, noting the color, she said.
"I remember that really gave me a creepy feeling," the woman said. "I hadn't really had any interaction with him before."
Brough allegedly told the woman that he was on a key caucus committee and that he could "help" her boss. He added that his apartment was "right around the corner," she said.
"That's when I told him, 'I'm disgusted that you would even think that you can talk to me like this,'" she said. The woman said she recounted the incident to her boss and another coworker shortly after it happened.
Brough denied the allegation and said he remembered speaking to the woman and her boss at the bar and that he asked her to send him a business proposal for her fundraising services but did not have any other conversations with her that night.
The woman's former boss, who asked for anonymity to freely discuss the alleged incident, confirmed that he attended the event with the woman and said he remembered leaving her and Brough at the bar briefly. He confirmed that she relayed her account to him immediately after she said the alleged incident occurred, and said they left the venue shortly afterward.
"She was having a rough time with it," the former legislator said, noting that he urged the woman to file a complaint with the Assembly Rules Committee. "I do remember her being shaken and upset."
A friend and Democratic labor leader also said the woman recounted the incident to him a few days later.
The woman said she didn't file a complaint at the time because she didn't have faith in the Assembly's internal investigation process.
A fourth woman, who is a Democratic activist and former registered lobbyist involved in Orange County politics, told The Times she was in Sacramento for a lobbying day in March 2018 when she attended a dinner with several Orange County elected officials, including Brough.
Following the dinner, the woman said, she accompanied some of the attendees to a bar near the Capitol. While there, the woman said, Brough followed her to the bar when she went to order a drink and put his arm around her shoulder. After she turned and backed away, the woman said, Brough put his hand on a wall behind her, blocking her from moving, and began touching her face and neck with his other hand.
The woman said Brough then propositioned her, saying, "We should get out of here. Do you want to have fun with me? You look like the kind of girl who would like to have fun."
The former lobbyist said she tried to laugh Brough's comments off, and said they should get back to the group.
A friend, who was not present at the event, confirmed that the woman shared details of the alleged incident with him earlier this year.
Brough did not respond to requests for comment regarding the fourth accuser, reiterating in a text message, "I have done nothing wrong."
In addition to serving on the Dana Point City Council, Brough previously served as a White House liaison at the U.S. Department of Veterans Affairs under the administration of George W. Bush and ran a public affairs consulting firm before being elected to the Assembly in 2014. He is deputy Republican floor leader in that chamber.
In a joint statement, California Assembly Minority Leader Marie Waldron (R-Escondido) and Senate Minority Leader Shannon Grove (R-Bakersfield) said that "California State Legislative Republicans will not tolerate sexual misconduct of any kind."
"These accusations are serious and troubling," Waldron and Grove said in their statement. "Any allegation of this nature deserves a thorough, fair and transparent investigation by the Legislature's Workplace Conduct Unit. The Legislature has worked hard to improve its process for reviewing these types of claims and we are committed to cooperating with any investigation into this matter."
For more on California politics, follow @cmaiduc.
---
Life is stressful. Our weekly mental wellness newsletter can help.
You may occasionally receive promotional content from the Los Angeles Times.