Bonnie Reiss, early and key advisor to former Gov. Arnold Schwarzenegger, dies at 62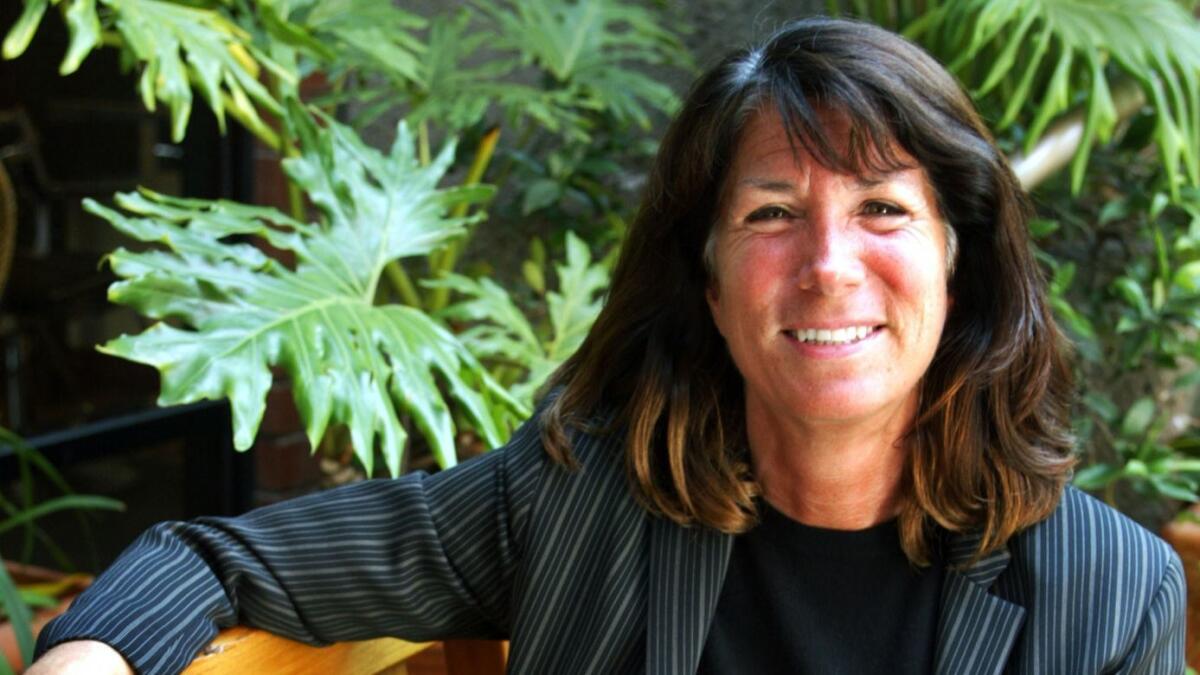 Bonnie Reiss, who played a key role in crafting education and environmental policy for Gov. Arnold Schwarzenegger, died Monday at her home in Malibu.
Reiss made her way from national politics to entertainment law to government service, serving as a senior advisor to Schwarzenegger and later as California's education secretary.
A family spokesman said she was diagnosed with lung cancer last year. Reiss was 62.
"Bonnie never accepted things as they are," Schwarzenegger said in a statement in response to her death. "She was born to shake the status quo to its core and shape the world."
"I have never met anyone with more energy for helping others and improving the world around her," he said.
Reiss' devotion to Schwarzenegger's agenda was a testament to their close personal connection. The partnership between the Republican governor and his liberal Democratic advisor was rooted in a friendship that began four decades ago with Maria Shriver, who married Schwarzenegger in 1986. "She was where the action was," Shriver said.
Reiss had a leadership role in Schwarzenegger's efforts to boost after-school programs for children and was an advocate for environmental protection while serving in his administration. She most recently was a regent for the University of California and served as director of the USC Schwarzenegger Institute.
As a regent, she was praised by colleagues for her focus on the needs of students from underserved and low-income communities.
Arnold Schwarzenegger talks bipartisanship and climate change »
"She was the conscience of the regents," said Sherry Lansing, a former studio executive and fellow UC regent who later became a close friend. "She always heard the other side in a debate. And when Bonnie spoke, she could sway the room."
UC President Janet Napolitano praised Reiss' work on policy regarding sexual harassment investigations on the system's campuses, and on efforts to make the university "carbon neutral" by 2025. She said the university will move next month to rename an environmental fellowship program in Reiss' honor.
Reiss was born in New York City in 1955 and graduated from the University of Miami, where she wrote a column for the student newspaper and hosted a campus radio show. After a brief stint with an accounting firm, she received her law degree from Antioch School of Law in Washington.
It was in law school that Reiss joined the Capitol Hill staff of Massachusetts Sen. Edward M. Kennedy, later putting law school on hold to work on his 1980 presidential campaign. That brought her to California and a fast friendship with Shriver, Kennedy's niece.
"She was always interested in being a part of movements that made people's lives better," Shriver said. "She wanted to be a part of the social change in our country."
Shriver was dating Schwarzenegger at the time and recalled in an interview how she and Reiss borrowed his Jeep for campaign events. "We put Kennedy posters on the sides of his car," she said.
Reiss settled in California to practice entertainment law, though national politics was never far from her mind. In 1984, after Democrats picked New York Rep. Geraldine Ferraro as their vice presidential nominee, Reiss helped found the Hollywood Women's Political Committee. Over more than a decade, the group raised some $6 million for liberal causes through a series of star-studded events.
The environment was a longtime passion. In 1988, Reiss created the Earth Communications Office, an organization The Times described the following year as seeking to "ingrain the green ethic into our pop culture." Reiss lobbied producers and writers to weave pro-environment topics into the story lines of television shows and convinced AMC Theatres in 1991 to run an environmental protection advertisement during movie previews.
Those experiences were a precursor to her work with Schwarzenegger, which began with his organization promoting sports and academic competitions for inner-city kids in Los Angeles — an effort that expanded across the country and then to after-school programs. When Schwarzenegger wanted to add state government funds for some of those efforts, Reiss helped draft Proposition 49, approved by voters in 2002.
It was not too surprising that Schwarzenegger, a political neophyte, would seek Reiss' help when he decided to run for governor. "When you make a decision like that, you want to have people around who know you," Shriver said.
Not that Reiss seemed completely sold on the idea at first. "I live in Malibu and am not eager to move to Sacramento," she told The Times in August 2003.
She ultimately relented and signed on with his administration, serving as a key liaison between those who were a part of Schwarzenegger's celebrity past and those he needed for his political future. Her official portfolio included children's programs, and she was appointed in 2004 to the California State Board of Education. She stepped away from her government post in 2006 to return home to Malibu but was tapped in 2010 to serve as the governor's secretary of education.
Reiss had encouraged Schwarzenegger since 2003 to embrace broad action on environmental protection, likening it to the work of a celebrated Republican conservationist, President Theodore Roosevelt. She and others helped steer the efforts behind the scenes that resulted in Schwarzenegger's signature on the 2006 law requiring California's greenhouse gas emissions to be reduced to 1990 levels by the year 2020. In 2016, Schwarzenegger singled her out for praise during an event celebrating the law's 10th anniversary.
As director of the USC Schwarzenegger Institute, she said the goal was to help elected leaders "put people over political parties and political ideology."
Ultimately, those close to Reiss described her as someone who was as committed to her friends and those around her as she was to her work. "She cared," Shriver said in an interview. "And then she executed that caring — physically, socially — in her friends and in her politics."
Follow @johnmyers on Twitter, sign up for our daily Essential Politics newsletter and listen to the weekly California Politics Podcast
ALSO:
Schwarzenegger recovering from heart surgery
Get our Essential Politics newsletter
The latest news, analysis and insights from our politics team.
You may occasionally receive promotional content from the Los Angeles Times.