California's progressive plans could rest on one state Senate race, where rural interests collide with party politics
Reporting from Santa Nella —
The biggest political battles of 2018 feel a long way from the tiny Merced County communities connected by Interstate 5, where cars, not campaigns, rumble through otherwise quiet farm towns. But the year's most expensive state legislative race is here, and the outcome could tip the partisan balance in Sacramento.
In the state Senate, Democrats are one seat short of a two-thirds supermajority, a level of legislative dominance that would allow them to increase taxes or push proposals onto the ballot without Republican support.
To achieve that goal, Democrats are eyeing the open seat in the 12th Senate District, stretching from Fresno to Monterey counties. Represented by a Republican for more than two decades, the GOP's share of voters has been falling since 2001, when the two major parties registered voters in nearly equal numbers. Now, Democrats have an 18-point registration advantage there and nearly one-fourth of voters have no party preference, so Republicans must bring their all to win.
The Republican candidate in the race, Madera County Supervisor Rob Poythress, spoke to supporters at a pizza shop in Gustine last weekend, warning them that "if the Democrats take this seat, they're going to run the table."
"This is one of those things where you either go big or go home," Poythress said in an earlier interview.
He and his opponent, Democratic Assemblywoman Anna Caballero, have gone big, raising a combined total of more than $6 million. Most of the money has come from the state Republican and Democratic parties. Each has invested nearly $2 million in their respective candidate, more than three times their contributions to any other state Senate race this cycle. Outside groups have spent an additional $600,000.
The money stands in sharp contrast to the region's financial picture. Median income is $47,000 but in Silicon Valley, one legislative district away, it soars to more than $95,000. Those Bay Area high-earners are increasingly moving in to take advantage of lower housing costs, raising prices for those who already live there.
Caballero, who served as Gov. Jerry Brown's secretary of business, consumer services and housing for four years, said that the state's budget has failed to allocate enough funds to rural areas dealing with such pressures.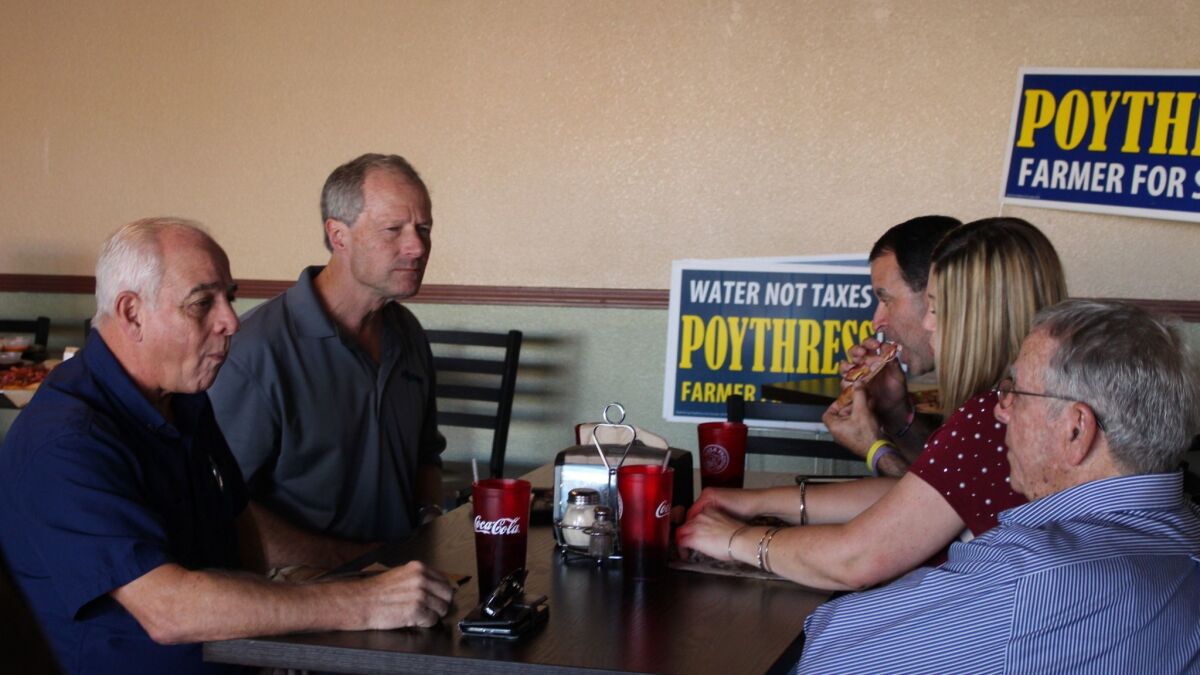 "Because we have so many commuters on rural agricultural roads, we now have traffic issues that are very significant," Caballero said. "People are taking hours to get to work. [But] if you look at public transportation, the money goes to the big cities."
Poythress takes a different approach, promising to focus on lowering taxes. He opposes "the unfair gas tax" — a 2017 state transportation package that funds infrastructure repairs through increased gas taxes and vehicle fees. To him, Caballero's vote for the plan indicates that she has lost touch with constituents.
"People here tend to drive low-mileage cars because they can't afford hybrid and electric cars. Compare that to San Francisco, where people drive $60,000 to $80,000 electric cars, Teslas," he said. "We need to look at a system that's more equitable."
The termed-out lawmaker whom Poythress and Caballero hope to succeed, Sen. Anthony Cannella (R-Ceres), was the only Republican who voted for the transportation tax plan. He did so after Brown agreed to give his district an extra $500 million to extend a commuter rail line to Ceres and build a parkway at UC Merced.
Cannella and other Central Valley Republicans have won in other Democratic-leaning areas by highlighting their ability to work with Democrats.
Victor Davis Hanson, a senior fellow at the Hoover Institution and conservative political commentator who lives in the district, said Poythress can win by presenting himself the way other local Republicans have — notably Rep. Jeff Denham (R-Turlock), who held the state Senate seat until 2010.
"They avoid national, hot-button issues," Hanson said. "They're bipartisan fixers. They don't talk about deportation."
Immigration can be a fraught subject in the district, where two-thirds of the population is Latino. Although the U.S. Census Bureau estimates that nearly 80% of residents are U.S. citizens, the national immigration crackdown may be affecting local farms.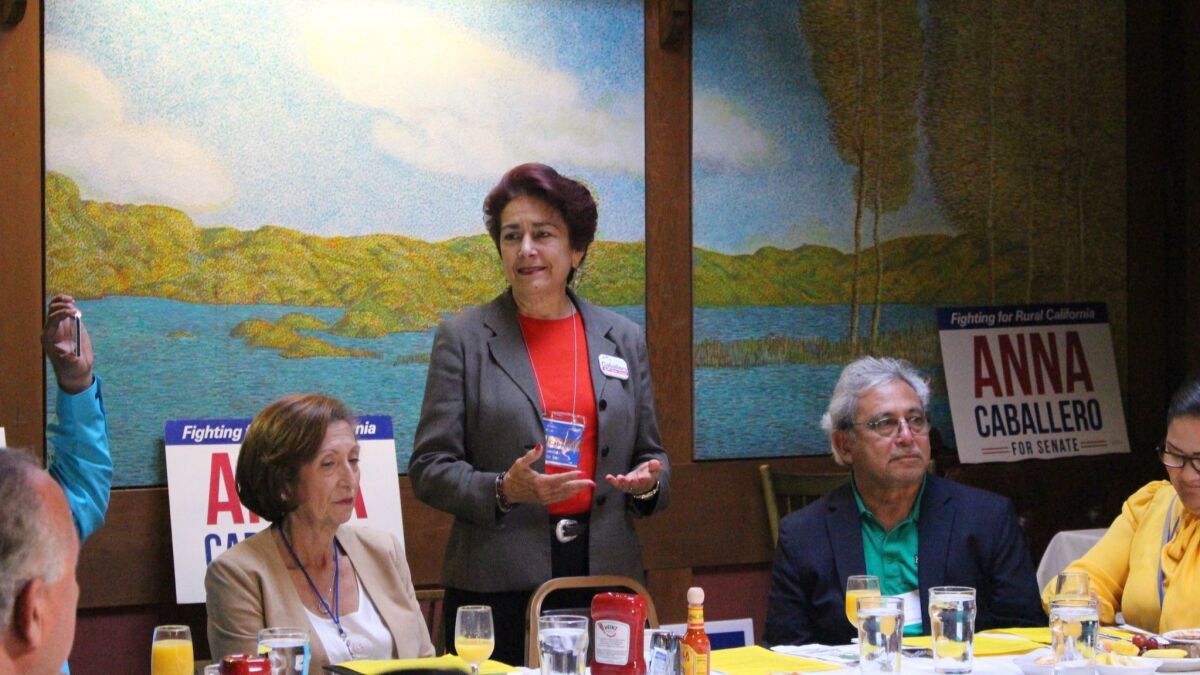 "For the first time last year, I heard that farmers left produce in the fields because they couldn't get workers," Caballero said. "I think it's the federal immigration policies, all of them. The deportations, the wall, the name-calling."
In general, Poythress has sidestepped endorsing the kinds of immigration policies Republicans have backed at the federal level. Like Caballero, he supports a path to citizenship and opposes separating families at the border. But the candidates differ on California's so-called sanctuary state law.
Caballero voted for the measure signed by Brown in 2017, Senate Bill 54, which limits how closely local law enforcement can work with federal immigration agents. She wants crime victims to feel comfortable going to the police without fear of deportation.
"I have a number of town hall meetings," she said. "At one of them, I was stopped by a little girl, about 7 or 8, who said she was afraid to go to school because she was afraid she'd go home and her parents would be gone."
Poythress has criticized Caballero's support for SB 54. He serves on the Madera County Board of Supervisors, which last year ordered the local jail to notify federal agents when releasing immigrants who are in the U.S. illegally. The action came before the enactment of SB 54.
The American Civil Liberties Union sued Madera County, saying the decision by supervisors in a closed-door session violated open government laws. The county settled the lawsuit, and local officials stressed that they comply with the sanctuary law. Poythress said he supports the power of U.S. Immigration and Customs Enforcement officers to pick up criminals in jails.
For all the money going into the race, it isn't clear how many people will show up on election day. Fewer than one-third of registered voters actually cast ballots in the June primary. Nearly half of them supported Republicans.
As political observers watch the race from across California, most district Democrats aren't thinking about their party's fate in Sacramento. According to Democrat Espi Sandoval, a city councilman from Kerman, they simply don't care about the supermajority.
"A lot of our people are just caught up in survival," Sandoval said. "They're so poor that voting is not even a priority."
Twitter: @MiniRacker
---
Life is stressful. Our weekly mental wellness newsletter can help.
You may occasionally receive promotional content from the Los Angeles Times.