Will California flip the House? The key races to watch
Election day is shaping up as a classic referendum on Donald Trump's presidency, and California is one of the main battlefields as Democrats try to seize control of the House.
The party that holds the presidency typically plays defense in a midterm vote. But Trump's unpopularity is driving an extraordinary surge of voter hostility toward Republicans.
Democratic candidates here are raising staggering sums of money, driven mostly by increased enthusiasm by donors on the left and aided by ActBlue, the online fundraising platform for progressive candidates.
It's especially pronounced in California, where the GOP is badly diminished after more than two decades of decline brought about by political and demographic changes.
The state's expanding Latino population has grown more politically active and pro-Democratic in response to the belligerent tone sounded by many Republicans. The GOP's embrace of religious conservatism also pushed many Californians away from the party.
The nonpartisan Cook Political Report, which has tracked House and Senate races nationwide for decades, rates five of California's 53 House contests as toss-ups; one as leaning Republican; and, on Monday night, moved the Republican-held 49th District from leaning to likely Democratic. All seven of those fiercely competitive races are for House seats held by the GOP.
Three others appear safe in Republican hands, but that could change if a Democratic wave were to become a political tsunami.
Congressional District 10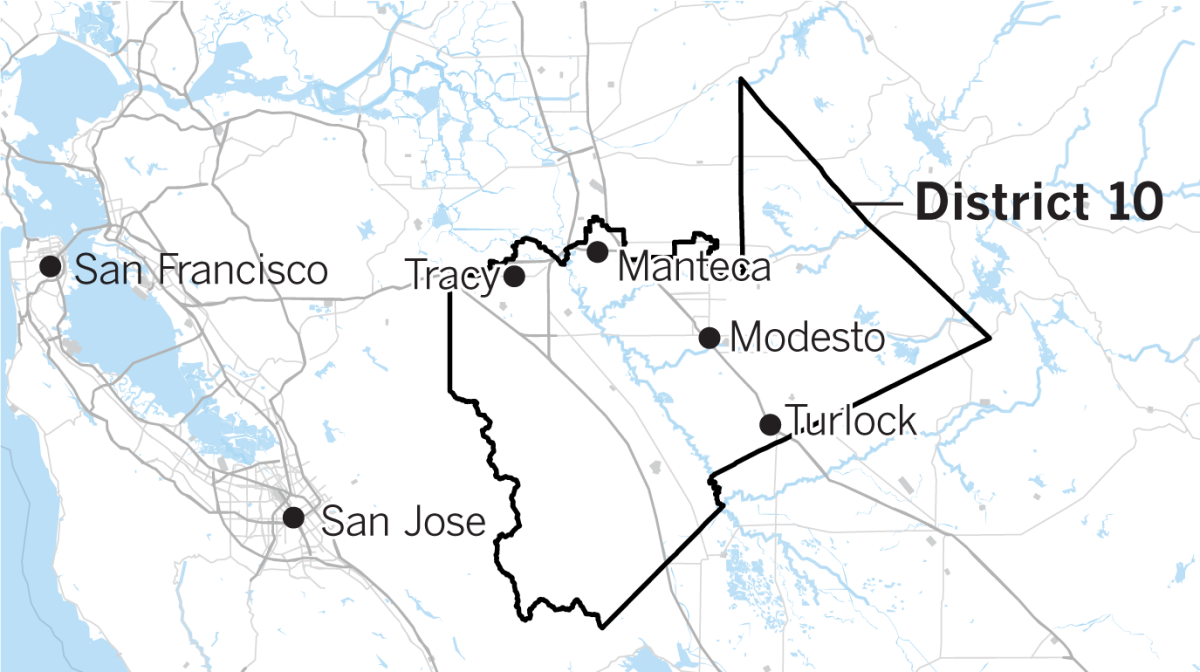 On paper, this Central Valley district looks attractive for Democrats, who hold a 3-percentage-point registration advantage. But consistently higher GOP turnout has kept the seat in Republican hands. The district takes in all of Stanislaus County and the southern portion of San Joaquin County.
Latinos — who lean Democratic — make up nearly the same share of residents as whites, but their low turnout has also given Republicans an edge. This year, healthcare could be a major issue in the district, where more than 40% of residents are enrolled in California's Medicaid program for low-income people.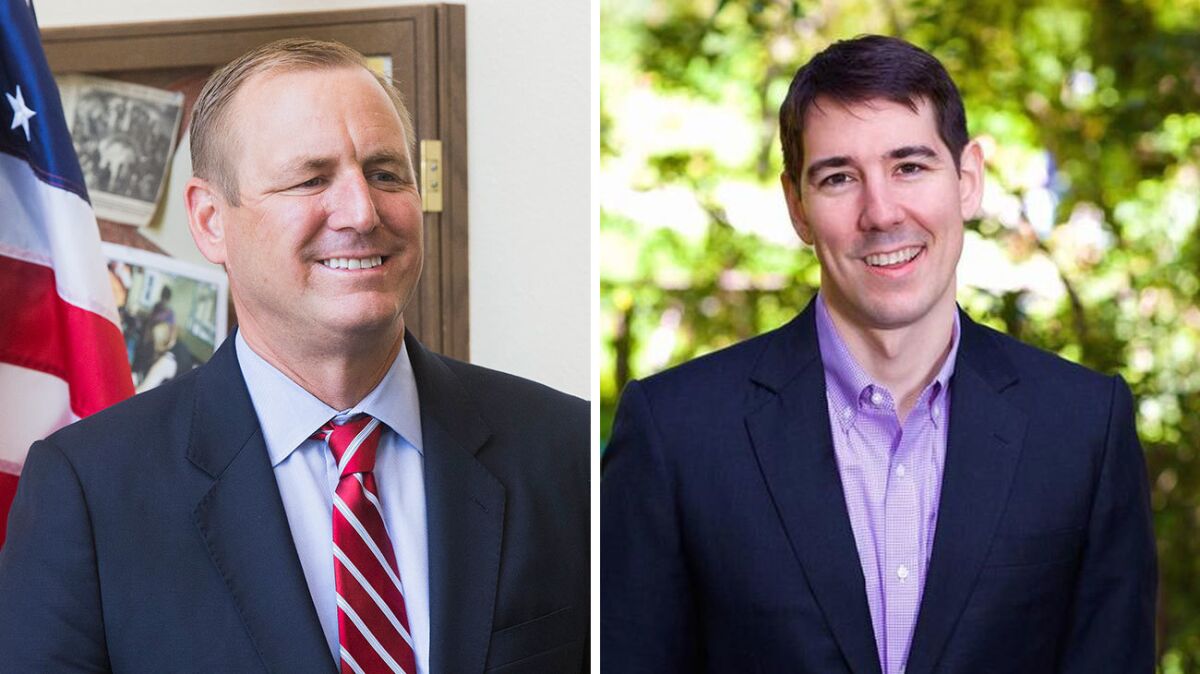 JEFF DENHAM, 51, Republican incumbent
Denham, who previously represented the area in the state Senate, was first elected to the House in 2010. Before entering politics, he served in the Air Force and later founded a company specializing in plastic packaging used in agriculture. Denham has emphasized the need for comprehensive immigration reform and his opposition to state plans to reduce the amount of water diverted from Northern California rivers for irrigation, a move being pushed by environmentalists.
He has tried to walk a tightrope on immigration in a district where immigrants make up more than 20% of residents, but his most recent work with the GOP leadership on a solution for "Dreamers" brought to the U.S. illegally as children imploded. His votes to repeal the Affordable Care Act and support the Republican tax plan could also hurt him. Still, Denham has proved an effective campaigner who is used to facing stiff challenges and winning.
JOSH HARDER, 32, Democrat
An investor and former venture capitalist, Harder was born and raised in the district but spent most of the last decade attending school and working on the East Coast. He was vice president of a Silicon Valley venture capital firm before he moved home last year to run for Congress. The incumbent has portrayed Harder as a "Bay Area" candidate. The Democrat is currently working as a business instructor at Modesto Junior College.
Harder points out he was born and raised in the district and says he's running to protect healthcare for residents and to "stand up to President Trump when he is wrong." He supports Medicare for all and said the GOP tax bill was "a massive middle finger to California families." He says his main focus if elected would be the valley's water issues; he opposes the Delta Tunnel.
Denham has raised more than $4.4 million this election cycle; Harder raised just over $7 million. These figures don't take into account money raised by outside groups.
Read more about 10th District candidates and the issues.
Congressional District 25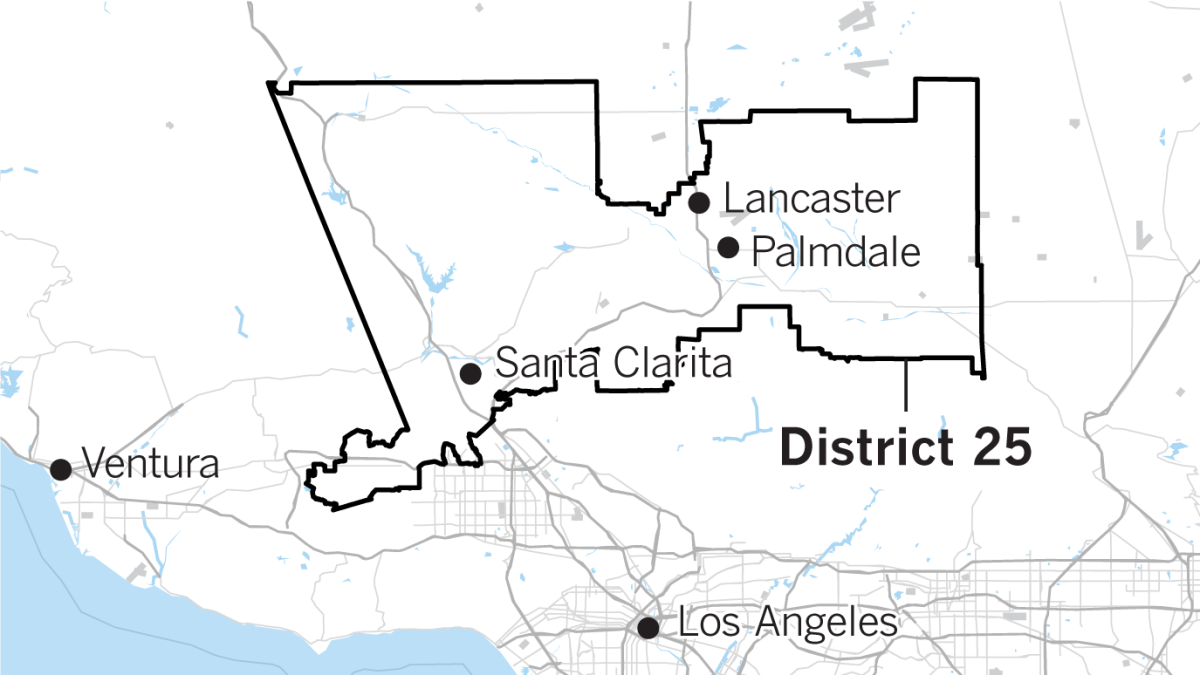 This is the sole Republican-held seat that is mainly in Los Angeles County, in a district that stretches from Simi Valley in Ventura County through the Santa Clarita Valley and into the high-desert cities of Lancaster and Palmdale.
Politics here have changed rapidly as Angelenos flee exorbitant home prices for affordable housing inland. Between 2012 and 2018, voter registration swung from a 5-percentage-point Republican advantage to a 4-percentage-point edge for Democrats.
Latinos make up nearly 40% of the population; Asians and blacks make up about 16%. Though there are still pockets of rural conservatives, the area has become increasingly diverse and suburbanized and has grown more politically competitive.
STEVE KNIGHT, 51, Republican incumbent
Knight is a former state legislator and Palmdale city councilman who had a 18-year career as a Los Angeles police officer before running for office. A U.S. Army veteran who almost always votes along party lines, he has enjoyed solid support from the district's sizable military and law enforcement communities.
Knight has survived tough challenges before, most recently in 2016, but his fundraising has been lackluster. He has touted his support for the 2017 Trump tax overhaul, but played down his opposition to abortion rights and his votes to repeal the Affordable Care Act.
Hill is a former executive at PATH, a Los Angeles-based nonprofit providing services to the homeless. She describes herself as a "pragmatic progressive," emphasizing her support for border security, lower prescription drug costs and new tax cuts for the middle class.
Hill, one of the Democrats' most successful fundraisers in the nation this year, grew up in the district, lives with her husband on a farm near Santa Clarita, and isn't shy about discussing her family's gun collection as she calls for new restrictions on firearm purchases.
Hill has raised about $7.3 million this election cycle to Knight's nearly $2.4 million.
Read more about 25th District candidates on the issues.
Congressional District 39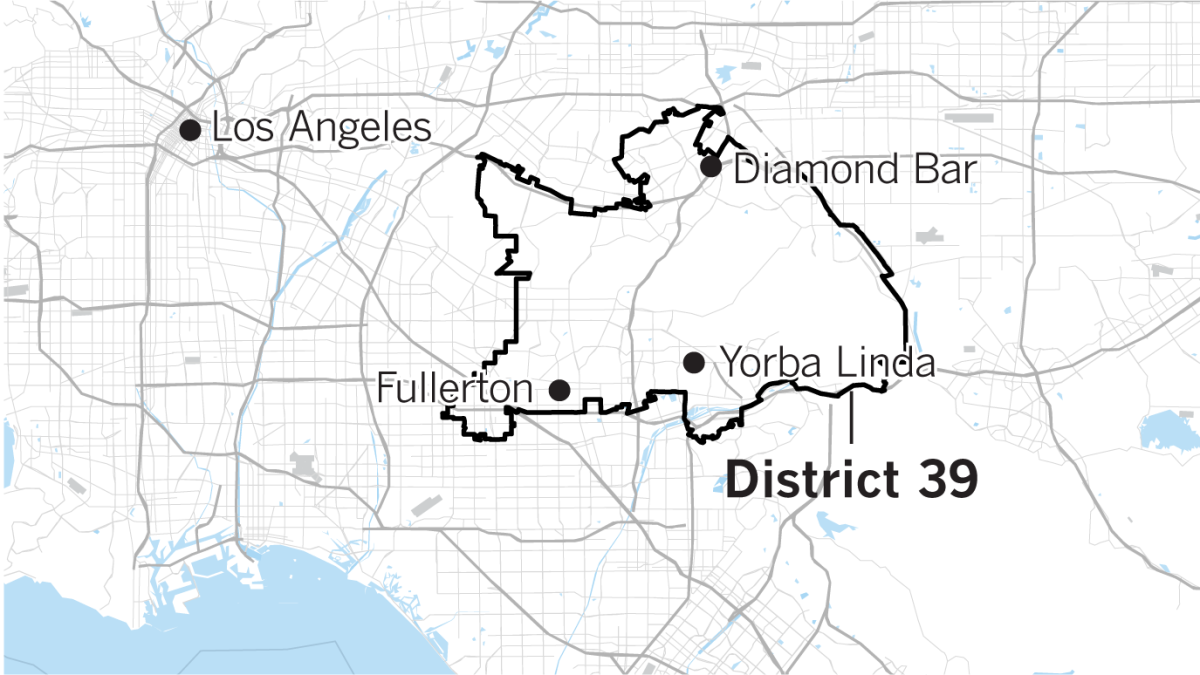 This majority-minority district, home to the Richard Nixon Presidential Library, has grown beyond its conservative roots. Most voters live in the dense suburbs of northern Orange County with Fullerton as its focal point; the district also includes the hilly communities of Diamond Bar and Rowland Heights in Los Angeles County and Chino Hills in San Bernardino County.
A burgeoning population of Asians and Latinos makes up about two-thirds of the district. Voter registration between the two parties is just about evenly split. Hillary Clinton beat Donald Trump here by nearly 9 points in 2016, and Democrats see the district as one of their best pickup opportunities, especially now that 13-term incumbent Ed Royce is retiring.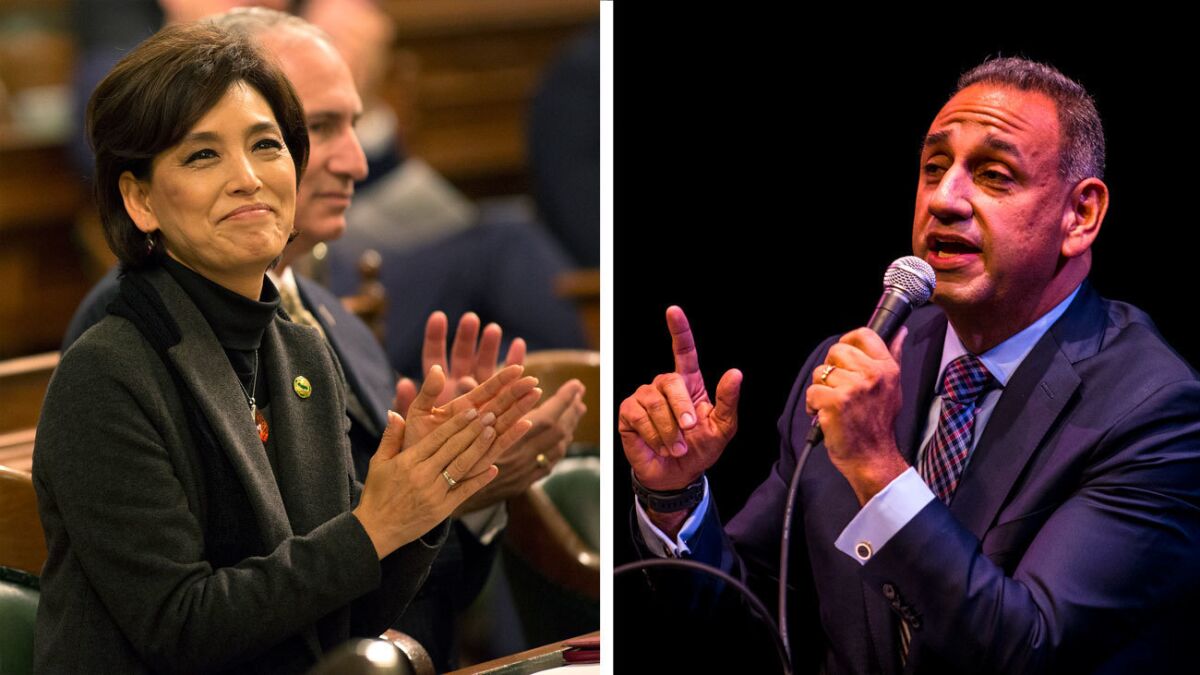 YOUNG KIM, 56, Republican
An immigrant from South Korea with an extensive political background, Kim is running in a district where more than a third of residents are immigrants and about a fifth of registered voters are Asian American. She worked for Royce for two decades before being elected to the state Assembly in 2014. She was unseated in 2016 by the same Democrat she'd previously defeated.
In her congressional campaign, Kim has promised to fight for lower taxes and has criticized California's "sanctuary state" policy. Kim enjoys the backing of Royce, who is still well regarded among many in the district. But Trump's immigration policies complicate Kim's effort to broaden her appeal beyond Republicans. She would be the first Korean American woman elected to Congress.
GIL CISNEROS, 47, Democrat
Cisneros was a manager at Frito-Lay when he and his wife hit a $266-million lottery jackpot in 2010. Since then, the couple have become well-known in Democratic circles for their education-related philanthropy, including funding for a news assignment desk that bears their name at the USC Annenberg newsroom.
Cisneros has campaigned on affordable healthcare, stricter gun laws and passing the Dream Act. A former Republican who switched parties in 2010, Cisneros has emphasized his status as a Navy veteran. He has injected more than $8 million of his own money into his campaign so far.
Cisneros has raised more than $11.1 million, including the money he lent his campaign. Kim has raised about $2.5 million.
Read more about 39th District candidates and the issues.
Congressional District 45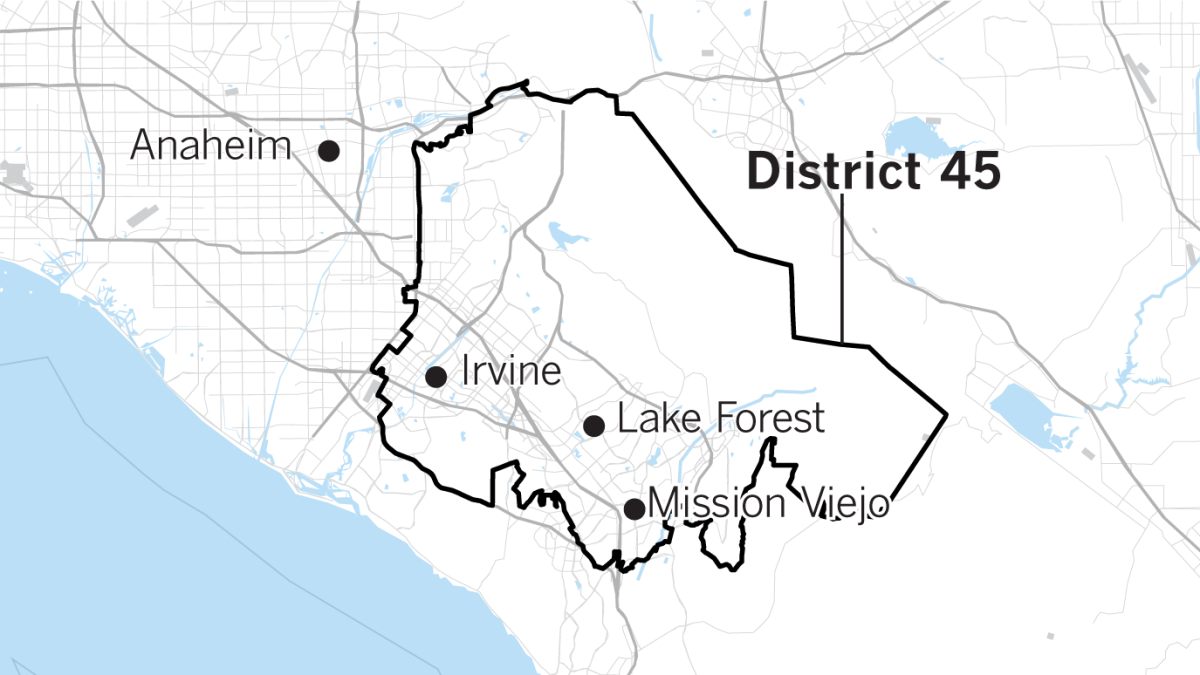 This was a heavily Republican district when Rep. Mimi Walters was first elected here in 2014. Since then, the GOP voter registration advantage has shrunk by half to about 8 percentage points; in 2016 Hillary Clinton outperformed Trump by 5 percentage points.
But no Democrat for congressional or statewide office has ever broken the 50% mark in this district, contained entirely within Orange County and stretching from Anaheim Hills south to Mission Viejo. More urban areas like Irvine are liberal and fast-growing; smaller, inland communities skew more conservative.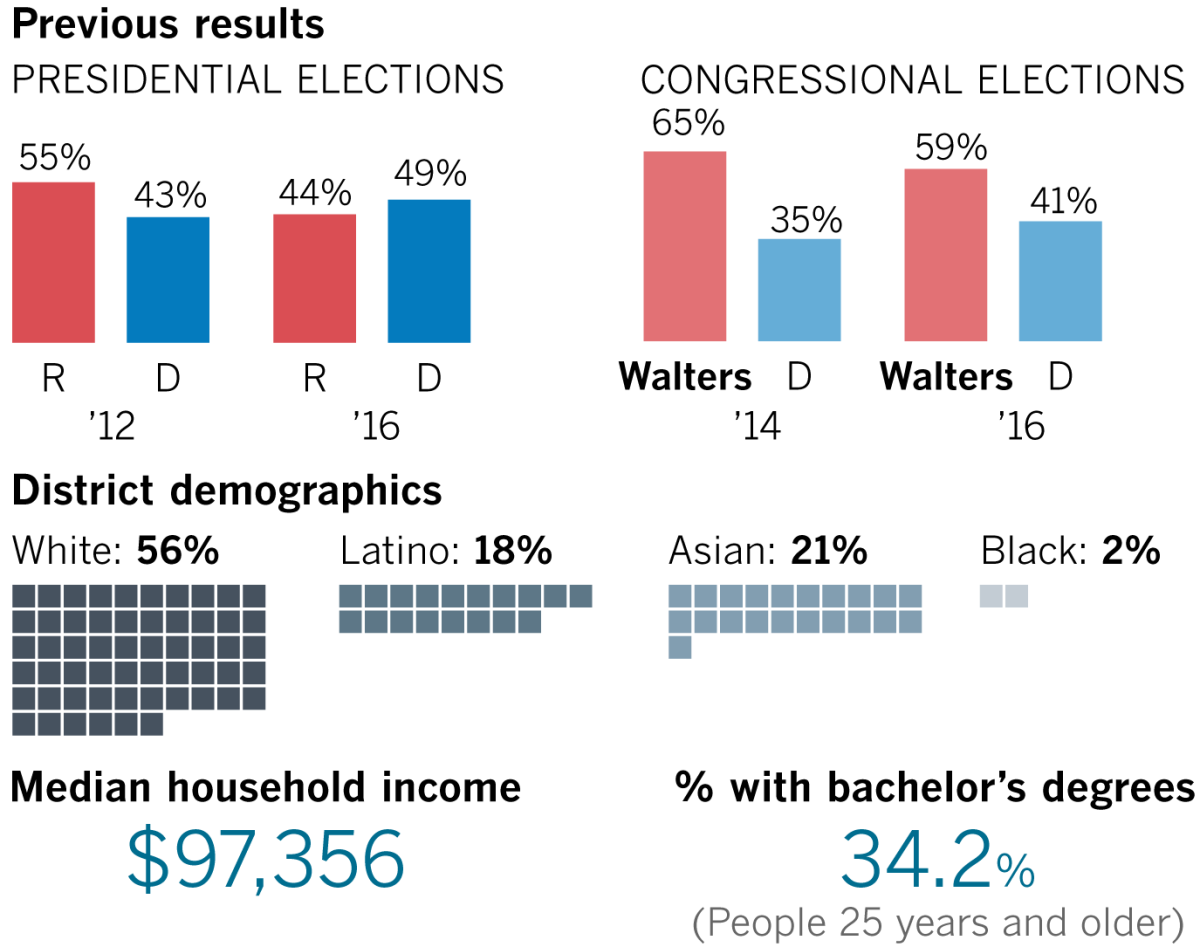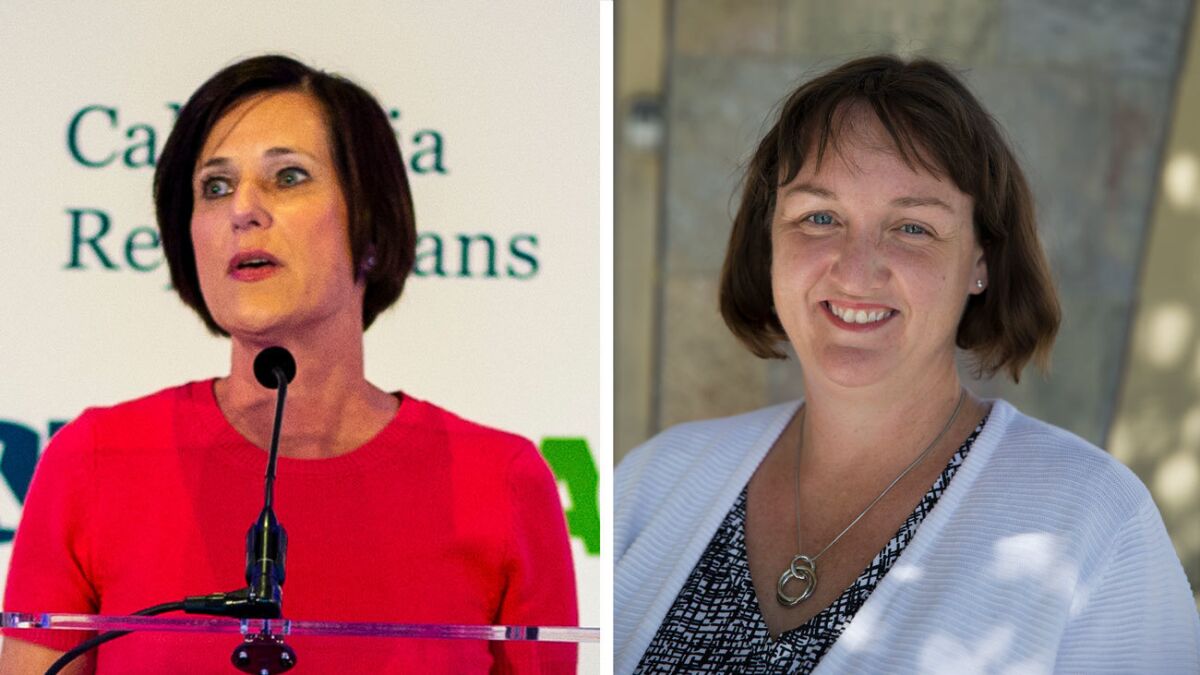 MIMI WALTERS, 56, Republican incumbent
A former state legislator and Laguna Niguel city councilwoman, Walters has long run on a pro-business, anti-tax platform. She previously worked as a stockbroker, and co-owned a business with her husband that provided medical staff to California prisons. A resident of Laguna Niguel, Walters is one of several California members of Congress who do not live in the districts they represent.
Walters rallied her House colleagues to donate money to a ballot measure that would repeal the California gas tax hike, which Republicans hoped would spur GOP turnout. Walters has focused much of her attention on touting the Trump tax plan, which may actually raise taxes for many in her district by eliminating many deductions for state and local taxes. She has campaigned on her work to pass a bill establishing rights for sexual assault survivors in federal criminal cases and to fund firefighter training. Walters voted to repeal the Affordable Care Act.
KATIE PORTER, 44, Democrat
A UC Irvine law professor, Porter is testing the limits of progressivism in this politically transitioning district. She supports single-payer healthcare and has cast herself as a consumer advocate who stood up to big banks when she was tasked with overseeing the distribution of California's share of the national mortgage foreclosure settlement. She has criticized the 2017 tax plan and called for reform that would cut taxes for the middle class but not corporations. Porter broke with her party to oppose the increase in the California gas tax.
She's mentioned her endorsements from U.S. Sens. Kamala Harris of California, who appointed her to that role, and Elizabeth Warren of Massachusetts. A single mother of three, Porter spoke openly during the primary about her experience as a domestic abuse survivor.
Porter has raised about $5.9 million this election cycle, compared with $4.5 million raised by Walters.
Read more about 45th District candidates and the issues.
Congressional District 48
This district hugs nearly the entire Orange County coastline, stretching from conservative Seal Beach to Laguna Beach, a progressive city founded as an artist's colony. Republicans dominate voter registration here by 10 percentage points.
The district's fiscally conservative tendencies are leavened by a strong support for environmental protections. It also has more diverse, Democratic-leaning pockets like the Vietnamese enclaves of Westminster and Garden Grove and Latino-heavy Costa Mesa.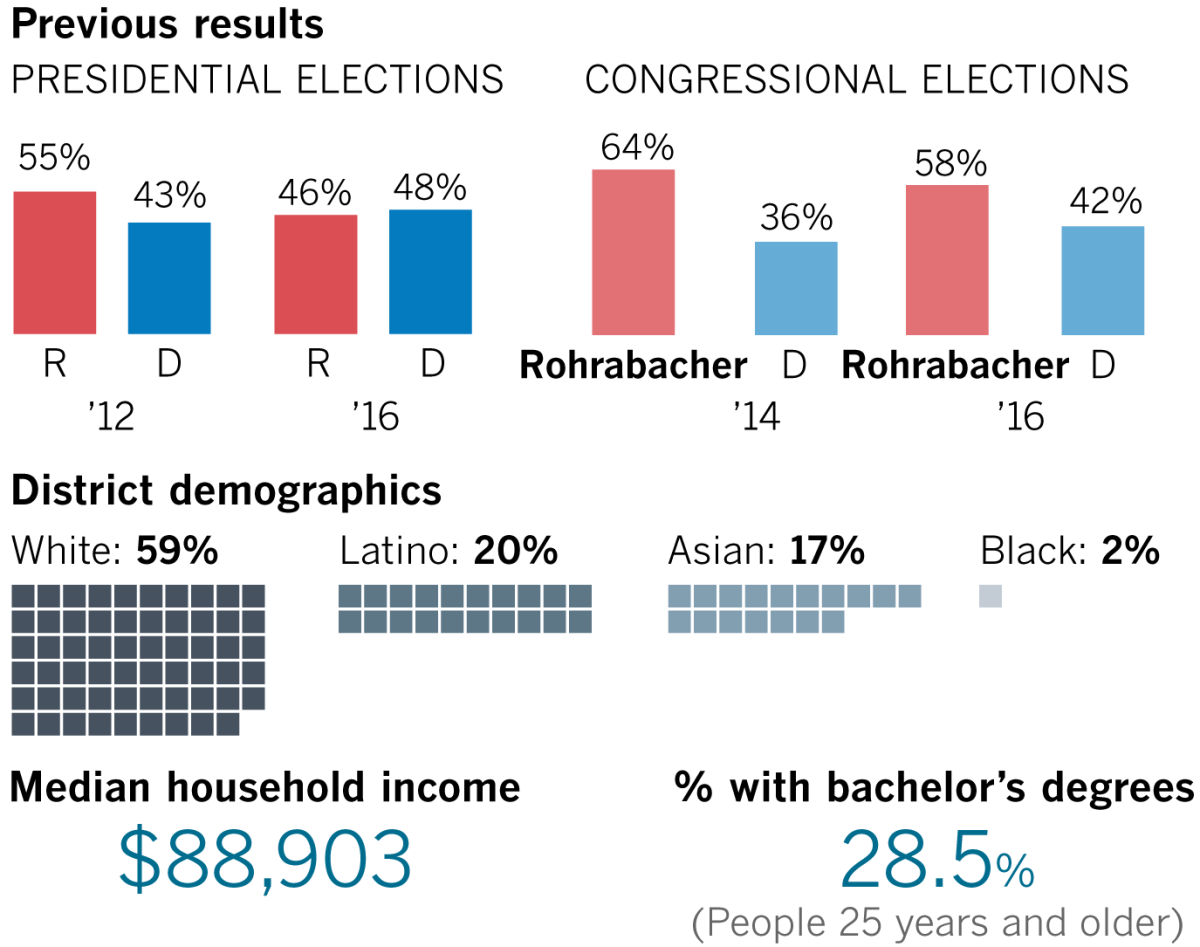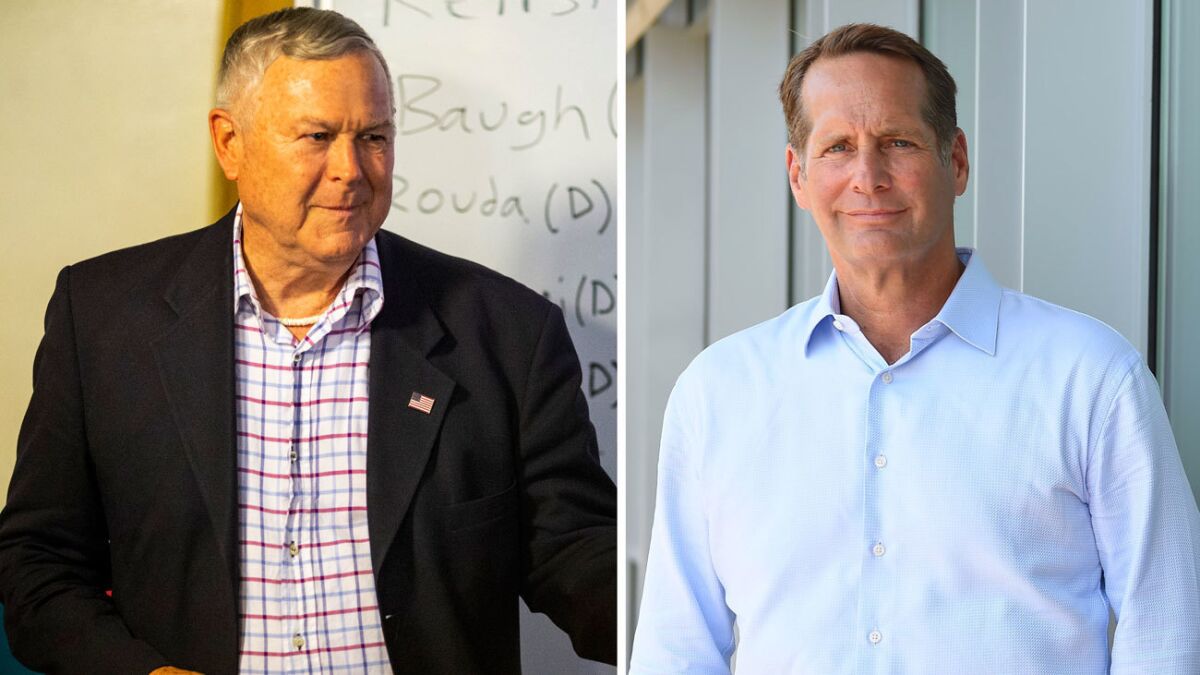 DANA ROHRABACHER, 71, Republican incumbent
The 15-term incumbent got his start in politics as a speechwriter for Ronald Reagan and previously worked as an editorial writer for the Orange County Register. The image he's built over the decades as a surfer with a libertarian bent has competed in recent years with his push for better relations with Russia, leading one publication to name him "Putin's favorite congressman."
Rohrabacher now appears to be trying to mobilize his loyalists by emphasizing hard-line immigration stances. He voted against the Trump tax plan, citing its potential harm to his constituents and its ballooning of the deficit.
Rohrabacher said in an ad put out just before the election that he wants to protect healthcare for people with preexisting conditions. However, he voted for the Republican American Health Care Act, a repeal of Obamacare that a Congressional Budget Office report said would undermine coverage for such people.
HARLEY ROUDA, 56, Democrat
Rouda is an Ohio-born real estate investor who moved to Laguna Beach seven years ago. The former Republican became a Democrat last year after nearly two decades as a political independent.
Rouda has said he's running to strengthen environmental protections and protect healthcare coverage; he favors giving people the option to join Medicare. He wants to provide a path to citizenship to participants in the Deferred Action for Childhood Arrivals program.
During the primary, Rouda fundraising emails called for Trump's impeachment, but now the candidate says he would wait for the outcome of the special counsel's investigation — into Russian interference in the 2016 election and the Trump campaign's links to Moscow — to decide on the matter.
Rouda has raised around $7.4 million to Rohrabacher's nearly has $2.5 million.
Read more about 48th District candidates and the issues.
Congressional District 49
RATING: LIKELY DEMOCRATIC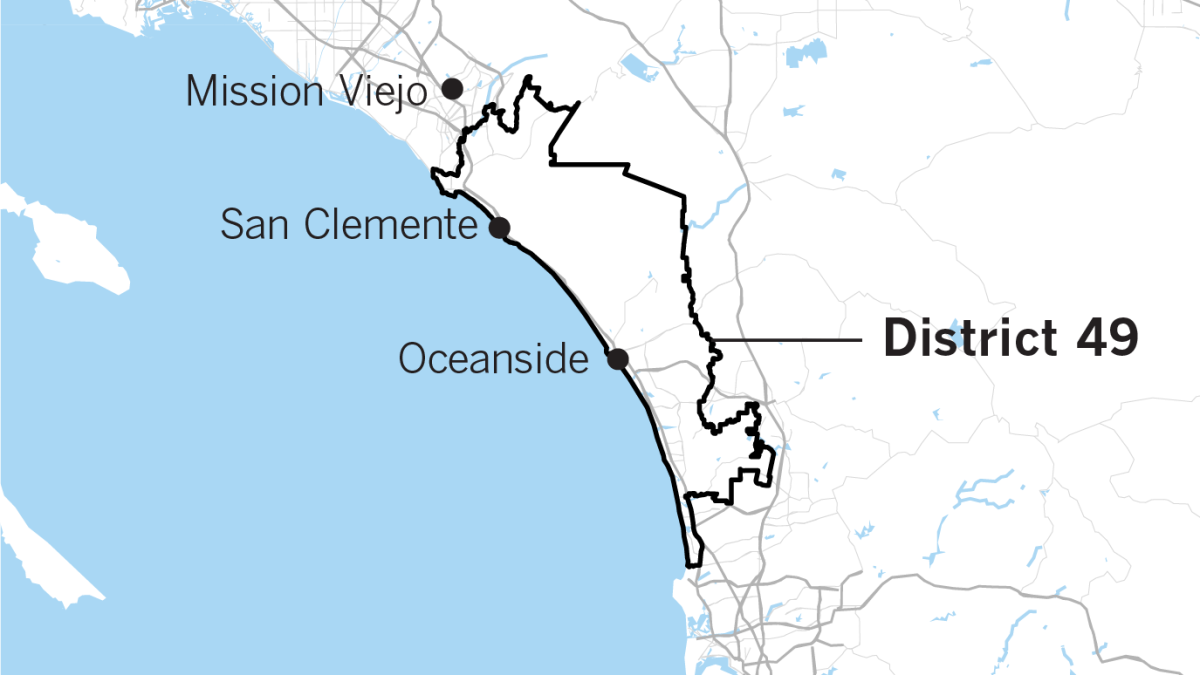 This district spans the more conservative south Orange County cities of Dana Point and San Clemente and northern San Diego County, including Oceanside and swaths of Encinitas and Solana Beach.
It also includes Camp Pendleton, a Marine base that gives the district a big military and veteran constituency. The district is also home to a vocal group of Democratic activists who helped pressure nine-term GOP incumbent Darrell Issa to stand aside in this race after he barely won reelection in 2016.
Republican voters outnumber Democrats by 5 percentage points.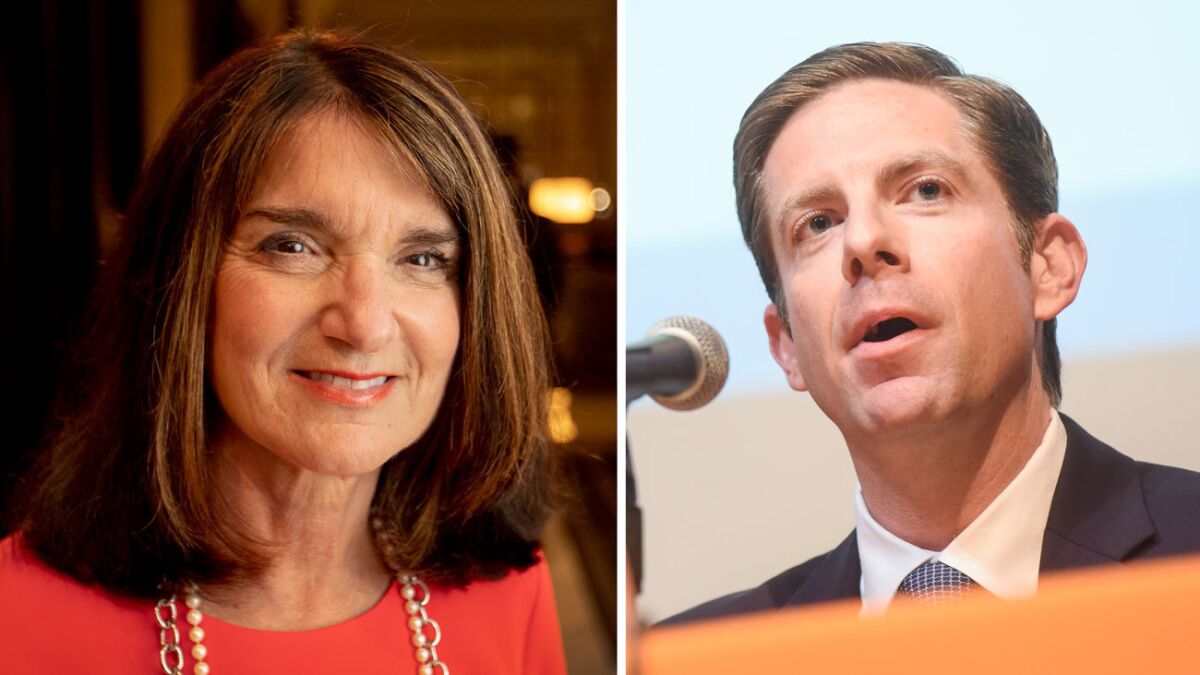 DIANE HARKEY, 67, Republican
Harkey is chairwoman of the state Board of Equalization, which oversees many of California's tax collection policies. A former state legislator who worked in corporate finance and banking before entering politics, she has positioned herself as a pro-business candidate who will fight tax increases, oppose California's sanctuary state law and scale back regulations. She's said there's "probably [a] need to beef up" the Affordable Care Act, questions how much the U.S. should regulate emissions of greenhouse gases, and says whether to arm teachers depends on where the school is.
She has had to fend off criticism over her ex-husband's legal problems. Dan Harkey was accused of misleading investors at his lending company and was found liable for $10 million in damages after it went belly-up. The judgment was recently affirmed by a California appellate court.
Levin is an attorney specializing in environmental issues. He previously served as executive director of the Orange County Democratic Party and most recently was director of government affairs for FuelCell Energy, an energy storage company that focuses on carbon capture.
He supports single-payer healthcare, a $15 federal minimum wage and free tuition at community colleges. Levin says he wants to expand background check requirements for gun purchases and ban assault weapons and "bump stocks"; he opposes arming teachers. He supports a path to citizenship for participants in the Deferred Action for Childhood Arrivals program.
Levin has raised nearly $5.6 million this election cycle to Harkey's $1.5 million.
Read more about 49th District candidates and the issues.
Congressional District 50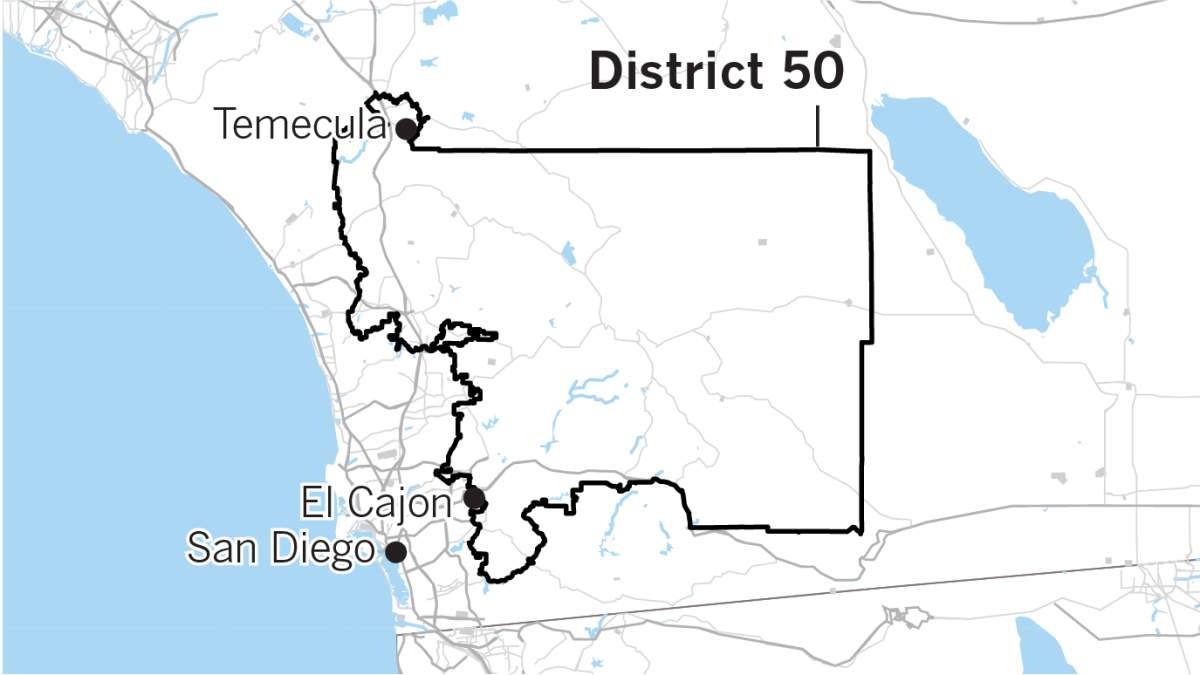 This is one of the most conservative districts in California. Based in inland San Diego County and part of Riverside County, Republicans dominate nearly all of the major cities in this region. Trump won by 15 percentage points here in 2016 and Democrats make up just 27% of voters, the lowest share in any California congressional district.
There is a strong military influence here; more than 10% of adults are either veterans or active-duty service members, and residents here skew much older and whiter than those in other battleground districts Democrats are trying to capture this year. But the August federal indictment of the incumbent on felony charges of fraud, conspiracy and misusing campaign funds has led several election watchers to move this race into a more competitive column.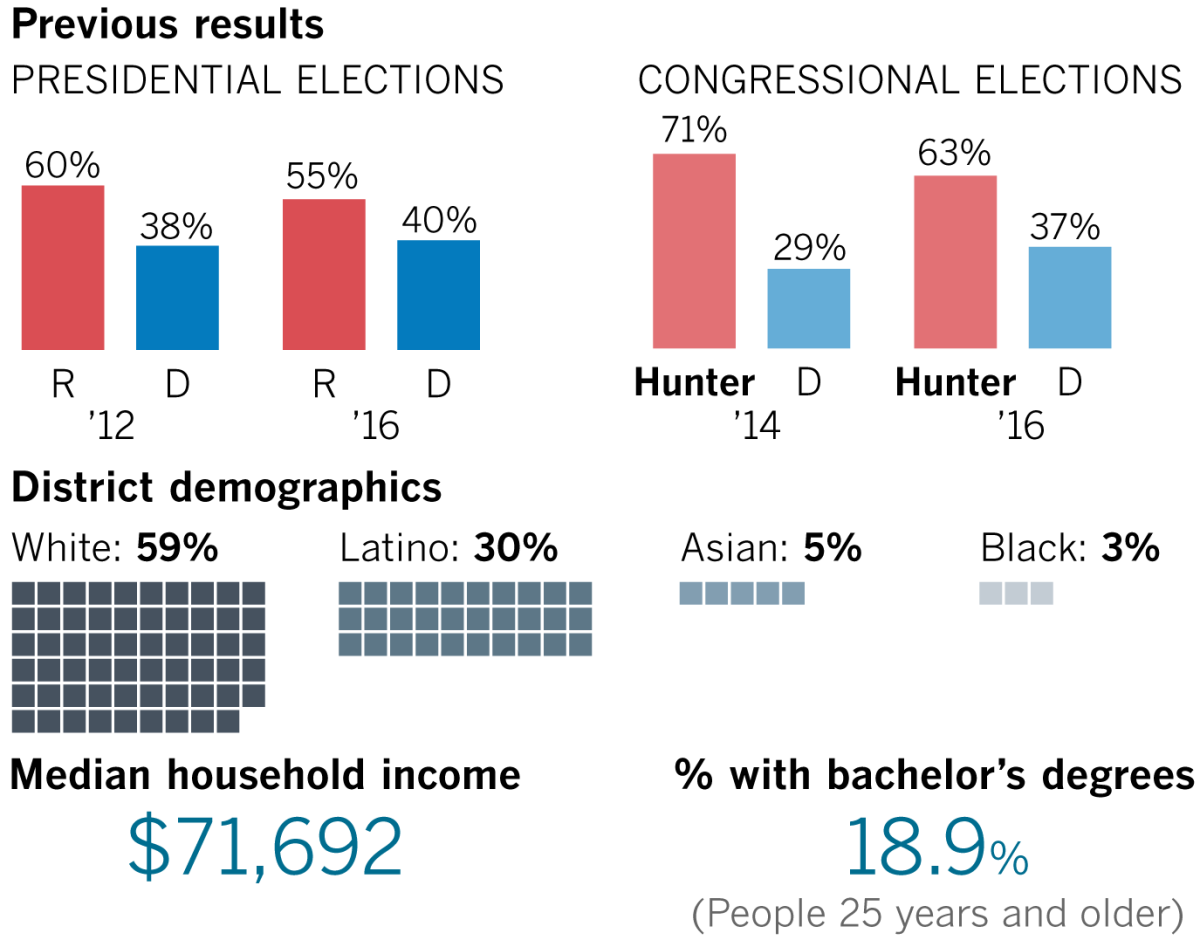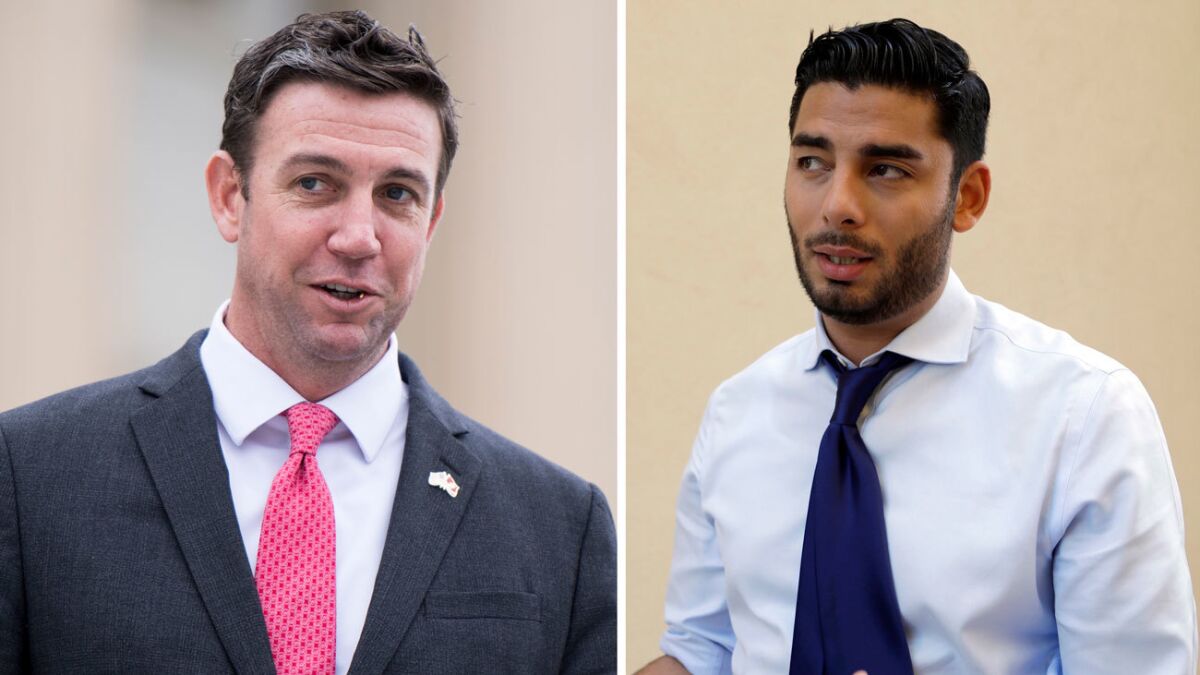 DUNCAN HUNTER, 41, Republican incumbent Hunter was first elected in 2008 and succeeded his father, former GOP Rep. Duncan L. Hunter, who held the seat for nearly three decades. A Marine Corps veteran, Hunter enlisted in the military following the Sept. 11 attacks after spending several years in the computer industry. He has emphasized his work advocating for veterans issues and has said he supports Trump's policies to secure the border.
Hunter and his wife, Margaret, were indicted in August on charges they used more than $250,000 in campaign funds for personal expenses, including payments to nail salons, their children's private school and an airline ticket to fly the family rabbit. The Hunters have pleaded not guilty to the charges, which were the result of a months-long investigation by the FBI.
The incumbent, in speeches and a widely condemned ad, has tried to portray his Democratic opponent as a security risk based on his family ties. The Campa-Najjar campaign has called Hunter's attacks "pathological."
AMMAR CAMPA-NAJJAR, 29, Democrat
Campa-Najjar is a public affairs strategist who previously worked in the Department of Labor under President Obama and for Obama's reelection campaign. He most recently was a communications director for the U.S. Hispanic Chamber of Commerce. Born to a Mexican mother and a Palestinian father, Campa-Najjar grew up mostly in the San Diego suburbs. He also spent a few years in the Palestinian territories.
The candidate says he's committed to promoting peace in the Middle East and has said Hunter is trying to turn attention from his indictment with unfounded attacks. Campa-Najjar's grandfather led a group of terrorists who killed 11 Israelis at the 1972 Munich Olympics. Campa-Najjar, a practicing Christian who held a government security clearance, has condemned the actions of his grandfather, who he notes was killed 16 years before the candidate was born.
Campa-Najjar, who graduated from San Diego State University, says he favors Medicare for all but would also support a version in which people 50 to 64 have an option to buy in. He supports the repeal of the gas tax increase.
Campa-Najjar raised more than $3.2 million this election cycle to Hunter's $1.1 million.
Read more about 50th District candidates and the issues.
THREE TO WATCH
Congressional District 4
RATING: LIKELY REPUBLICAN
Centered in California's gold country, this district is one of the most rural in the state. It runs from Truckee, north of Lake Tahoe, through Yosemite and into Kings Canyon National Park to the south. The largest chunk of residents, who are overwhelmingly white, live in Placer and El Dorado counties, which include the populous and wealthy suburbs of nearby Sacramento.
Trump won here in 2016 with 54% of the vote, a good 15 percentage points better than Hillary Clinton. Winning this district is a real long shot for Democrats: It has the highest share of registered Republican voters in the state, and no Democrat except for Sen. Kamala Harris (who ran against a fellow Democrat) has ever won in any congressional or statewide race here.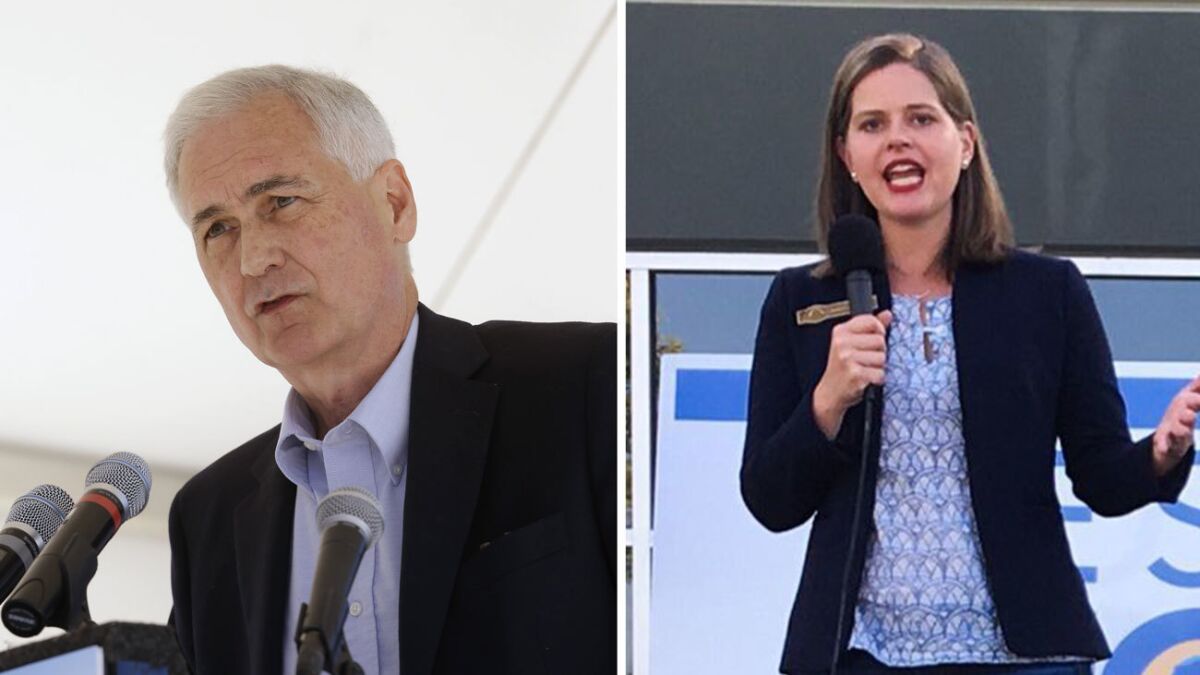 TOM McCLINTOCK, 62, Republican incumbent
McClintock built his reputation as an anti-tax, limited-government conservative starting in his mid-twenties, when he was elected to the state Legislature to represent Ventura County. He cast himself as "frugal Tom," often referencing a cheap, dark JCPenney suit he wore for years. He mounted several failed campaigns for statewide office, including a bid in the 2003 recall election for governor. McClintock was first elected to Congress in 2008 to represent a seat hundreds of miles from his state Senate district.
He has emphasized reining in spending on social programs to control the national debt, as well as stricter enforcement of immigration laws. After voting against an early version of the GOP tax plan, McClintock changed his vote to help pass it. He voted to repeal the Affordable Care Act. McClintock doubts the scientific community's consensus that human activity is driving climate change and believes teachers with concealed-carry permits should be allowed to take guns on campus.
JESSICA MORSE, 36, Democrat
Morse is a national security strategist with a background working for the military, the State Department and the U.S. Agency for International Development. Her portfolio included U.S.-India defense relations and a role coordinating aid to Iraq; detractors accuse her of inflating her resume and responsibilities.
Morse has pitched herself as a Northern California native, a contrast with McClintock, who lives in Northern California but outside the district. She has emphasized local issues such as protection of public lands and natural disaster and fire prevention policy. She wants to allow Americans to buy into the Medicare system and calls for comprehensive immigration reform, including modernization of work visa system.
Morse raised about $3.25 million this election cycle and McClintock has raised more than $1.6 million. These figures don't take into account money raised by outside groups.
Read more about 4th District candidates and the issues.
Congressional District 21
RATING: LIKELY REPUBLICAN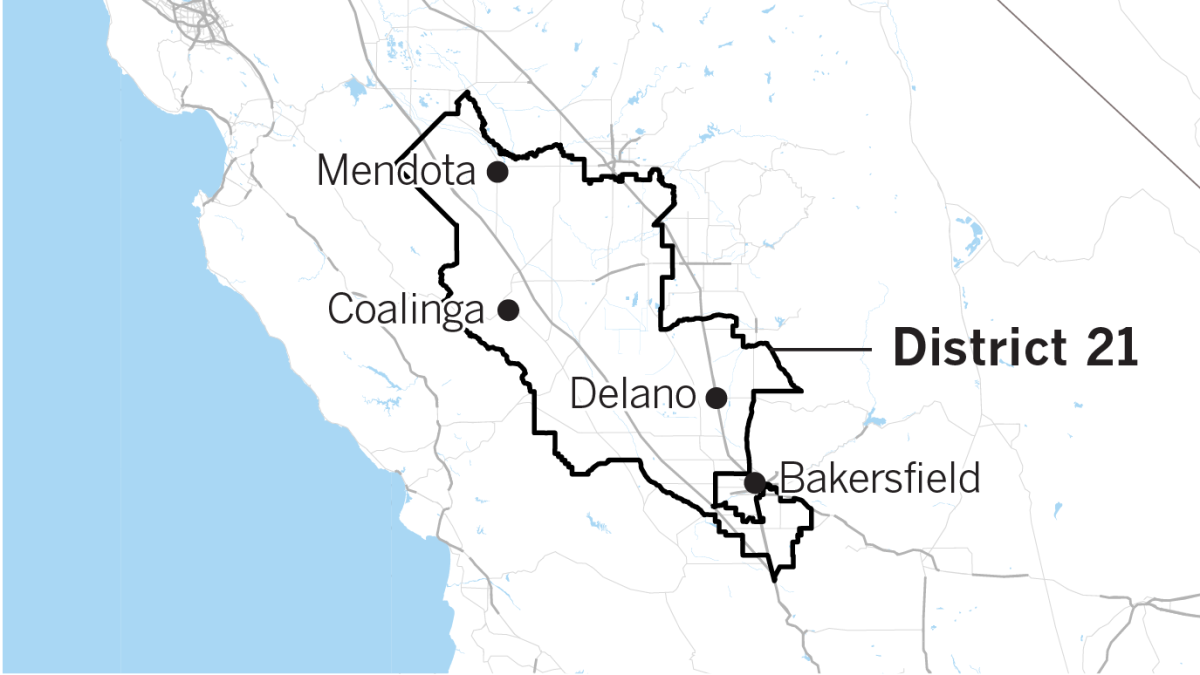 This is a largely rural Central Valley district that, despite its hard tilt toward registered Democrats, has long been out of their grasp. Democrats have a registration advantage of 17 percentage points over GOP voters.
The region is home to both water-hungry industrial farms and massive oil drilling operations inland.
Latinos make up nearly three-quarters of the population and nearly 60% of registered voters. But their historically low turnout, as well as the independent-minded nature of Central Valley politics, makes this area more like a swing district. Issues such as immigration and healthcare are acutely felt in this largely poor, immigrant-heavy district.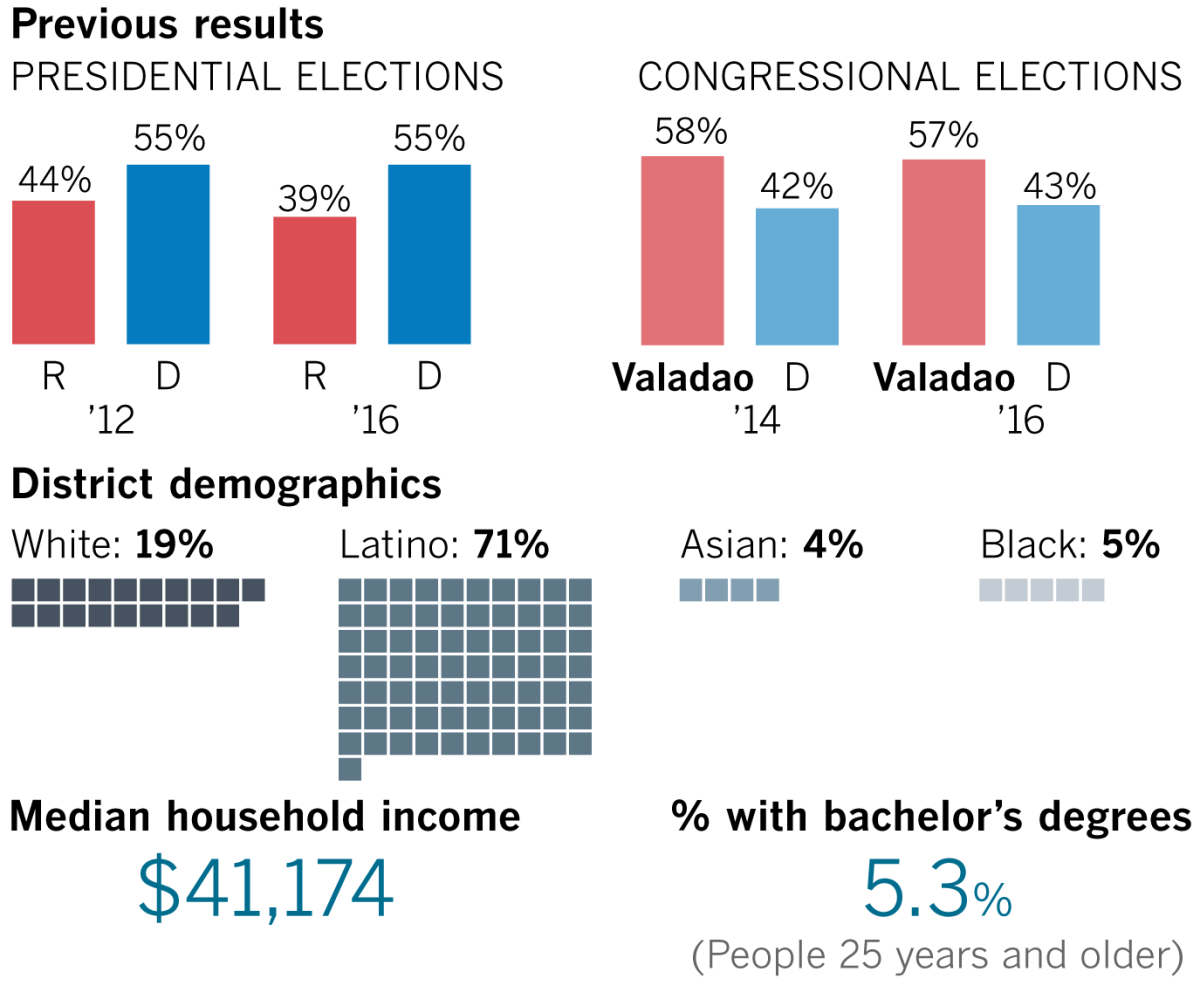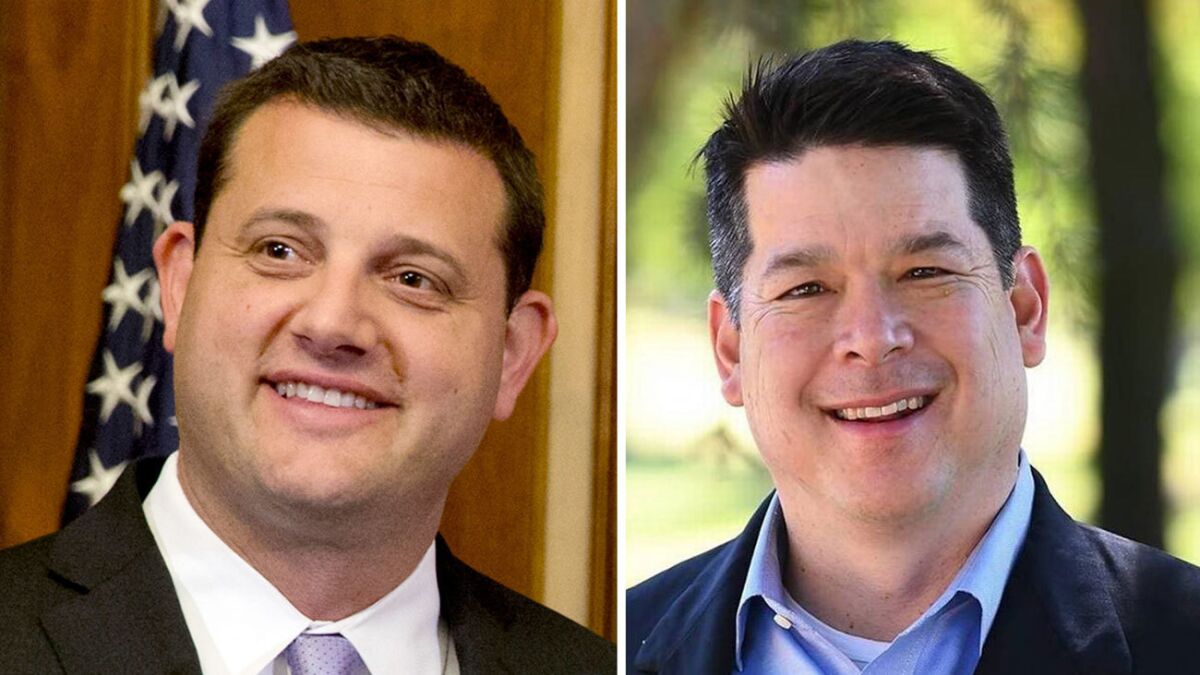 DAVID VALADAO, 41, Republican incumbent
Valadao comes from a family of Portuguese dairy farmers and was first elected to Congress in 2012. The son of an immigrant from the Azores Islands, Valadao often takes a softer line on illegal immigration than some of his GOP colleagues, a necessity in a region where agriculture depends on migrant labor.
A former state legislator who became involved in politics through the family business, Valadao sits on the powerful House Appropriations Committee, a post he's used to funnel federal funding back home. Valadao has withstood Democratic challengers mostly because of his focus on local issues such as irrigation and water storage. He voted for the 2017 Republican tax plan and to repeal the Affordable Care Act.
Cox is an engineer and a business owner who founded two nut-processing companies. He now serves as president of the Central Valley New Markets Tax Credit Fund, a community development group focused on local investments.
Cox previously ran for Congress against former GOP Rep. George Radanovich in 2006 but lost by more than 20 points. He's promised to push for a path to citizenship for participants of the Deferred Action for Childhood Arrivals program and for affordable healthcare and safe drinking water. He supports a public buy-in for Medicare and says the GOP tax plan was a gift to corporations and the very wealthy.
Valadao has raised about $3.1 million this election cycle, while Cox raised almost $2.5 million. These figures don't take into account money raised by outside groups.
Read more about 21st District candidates and the issues.
Congressional District 22
RATING: LIKELY REPUBLICAN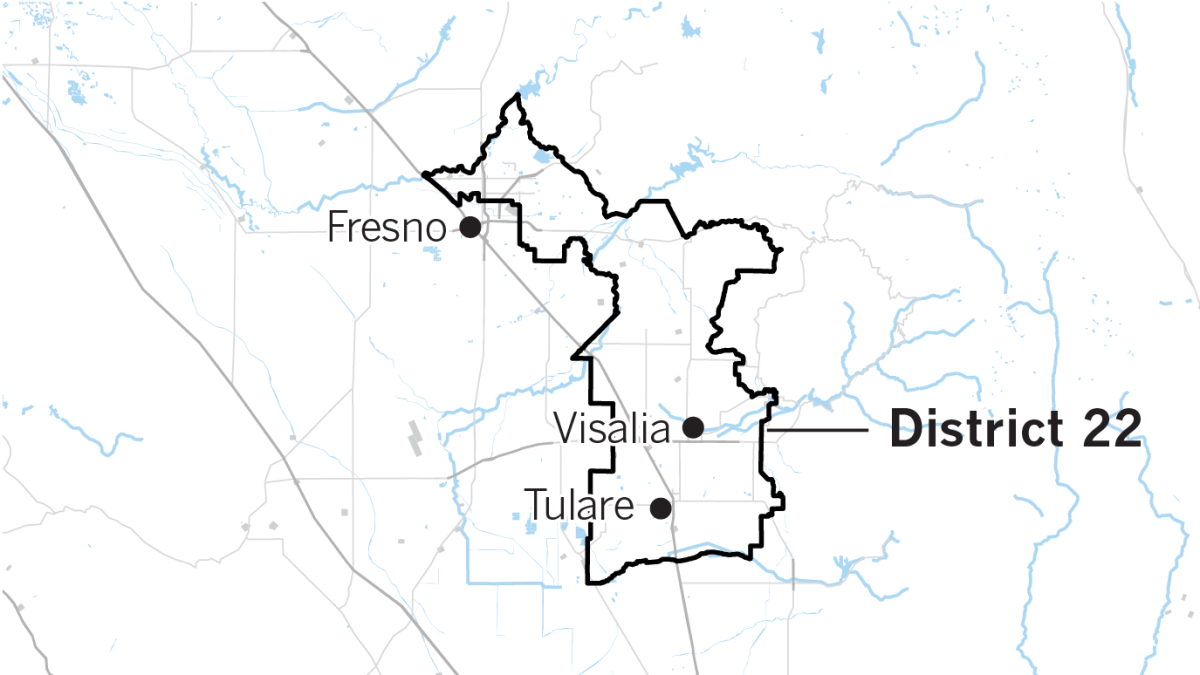 Unlike the other Central Valley districts on Democrats' wish list this year, the 22nd is solidly Republican. The GOP has about 9% more registered voters than Democrats. Contained within Fresno and Tulare counties, it's an area flush with large-scale dairy farms, vineyards and citrus groves.
The district also includes two major urban areas, with a majority of voters living in the cities of Fresno and Visalia. Latinos make up nearly half of the population but less than a third of the district's voters, and the electorate has proved cycle after cycle to be reliably conservative, with Trump beating Clinton by nearly 10 percentage points.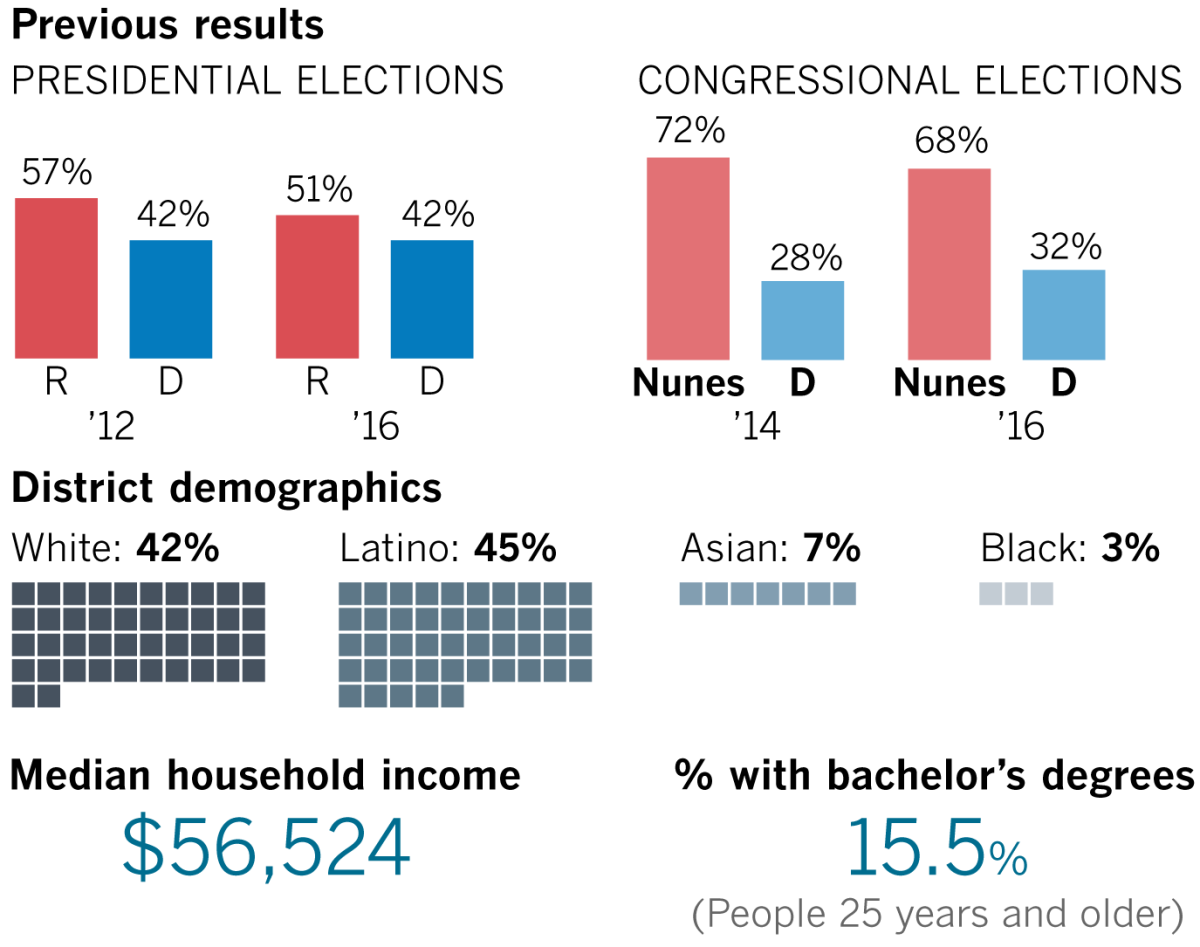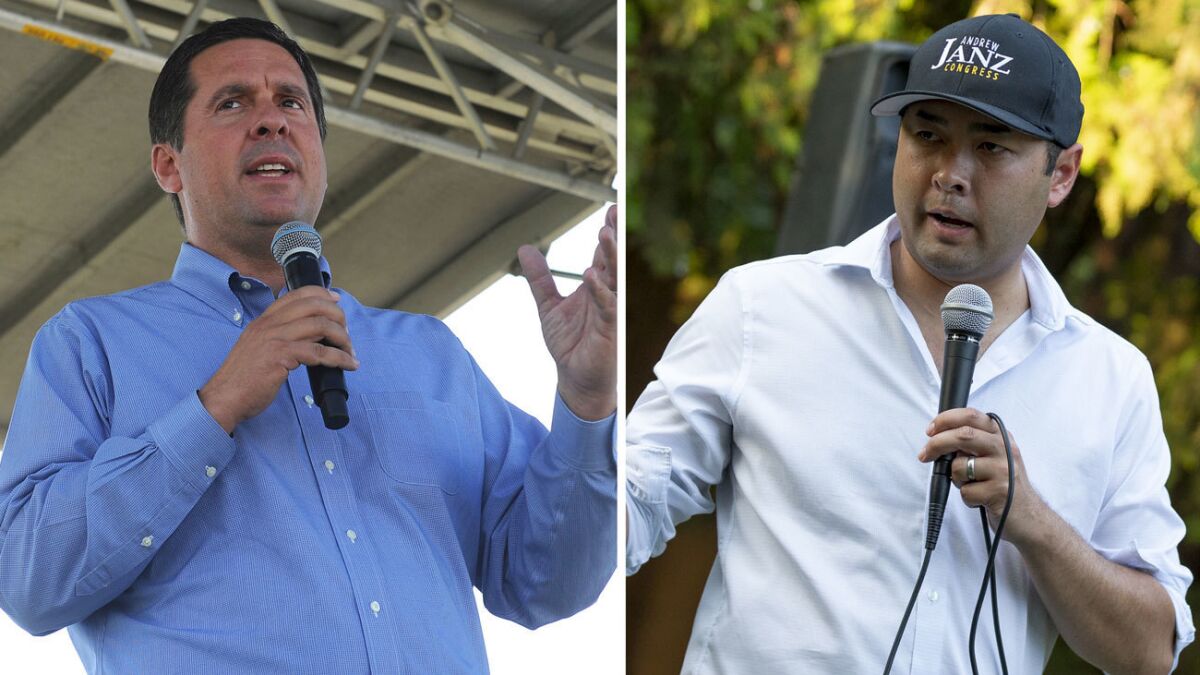 DEVIN NUNES, 45, Republican incumbent
An eight-term incumbent first elected at age 29, Nunes has built formidable clout and a political war chest to match. He sits on the powerful Ways and Means Committee and is chairman of the House Intelligence Committee. It's in the latter post that Nunes has been thrust into the limelight, first as a leader in Congress' investigation into Russian election interference and then during the furor over a memo he drafted about FBI surveillance of a former Trump campaign advisor.
Nunes has spent much of his career focused on water storage and irrigation. He is derisive on concerns over climate change, calling it "nonsense," and says he wants more offshore oil exploration. He won reelection in 2016 with 68% of the vote. His high-profile role defending the Trump administration has brought a financial boon: As of Oct. 17, he had nearly $5 million in the bank.
ANDREW JANZ, 34, Democrat
Janz is a Fresno County prosecutor specializing in violent crimes. He grew up in Visalia, earned his law degree from Southwestern Law School and worked as a law clerk in Las Vegas before returning in 2014 to join the Fresno County district attorney's office.
Janz has promised to protect Social Security and Medicare and bring in federal funding to improve water storage infrastructure. He has used Nunes' notoriety to shore up his campaign coffers, too.
Nunes has raised over $11.8 million this election cycle, while Janz raised about $8.3 million.
Read more about 22nd District candidates and the issues.
Coverage of California politics »
For more on California politics, follow @cmaiduc.
---
UPDATES:
Nov. 5, 7:30 p.m.: This article has been updated with Cook Political Report's rating change in the 49th Congressional District from leans Democratic to likely Democratic
Oct. 31, 4:05 a.m.: This article has been updated throughout with more fundraising figures and to reflect that the race in the 22nd Congressional District has moved from solid Republican to likely Republican.
Oct. 29, 6:15 p.m.: The article has been updated throughout with fundraising figures, candidates' stances on issues, and other details.
The article was originally published at 3 a.m. on Sept. 6, 2018.
---
Life is stressful. Our weekly mental wellness newsletter can help.
You may occasionally receive promotional content from the Los Angeles Times.