Democrats appear poised to sweep statewide races in California, shutting out Republicans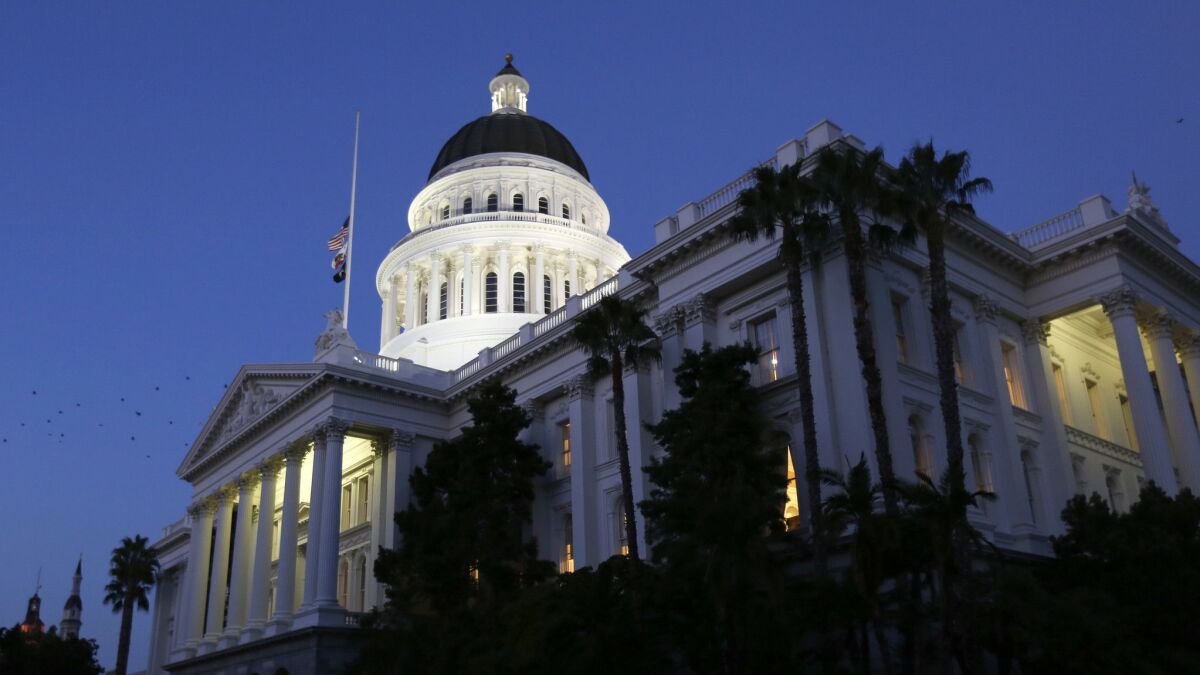 Reporting from Sacramento —
Democrats were poised to capture at least seven of eight statewide constitutional offices and Republicans once again failed to win a single post at the highest ranks of California government on election day.
Democrats swept statewide races for attorney general, secretary of state, treasurer and controller in a state where 43.5% of voters are registered members of that party. Intraparty matchups for lieutenant governor and superintendent of public instruction iced out the GOP after the primary. And state Sen. Ricardo Lara (D-Bell Gardens) held a slight lead in the insurance commissioner race over Steve Poizner, a former Republican who ran as an independent, as of early Wednesday.
Republicans make up less than a quarter of registered voters in California and none have been elected to statewide office since 2006.
"The reality is that if you're a Republican and you want to try to be involved in winning races, running for statewide office is not where you really want to be," said Matt Rexroad, a Republican strategist.
The final results mark a first for women, who have never been elected to more than two of California's eight statewide constitutional offices at the same time. Lt. Gov.-elect Eleni Kounalakis, Treasurer-elect Fiona Ma and Controller Betty Yee, who was reelected Tuesday, will increase that tally to three.
California voters elected nine new constitutional officers this year, including five statewide positions and four members of the Board of Equalization. That's the largest election year turnover since 1911, according to Alex Vassar, a California State Library historian.
Attorney general
Atty. Gen. Xavier Becerra overcame a challenge from Steven C. Bailey, a Republican and former Superior Court judge, in his first official campaign for the role of California's top lawyer.
After besting Bailey in the primary by more than 20 points, Becerra was beating the Republican 61% to 39%, according to vote counts early Wednesday.
Gov. Jerry Brown appointed Becerra the state's attorney general in late 2016 after Kamala Harris won a seat in the U.S. Senate. Becerra had represented Los Angeles in the U.S. House of Representatives for more than two decades.
The attorney general leads the state Department of Justice, enforces state law and oversees law enforcement agencies.
The battle between California and the Trump administration dominated Becerra's first two years in office. Under his watch, the state filed more than 40 lawsuits against the federal government on issues including immigration and climate change — some of which Bailey criticized on the campaign trail as a waste of taxpayer money. Becerra has pledged to continue to defend the state from "federal overreach" in his next term.
Secretary of state
Voters gave Alex Padilla a second term as California's secretary of state. Padilla, first elected in 2014, won 62% to 38% against Republican Mark Meuser.
Padilla, a former state senator and member of the Los Angeles City Council, has worked to make it easier to vote in California. The state has registered 2 million more voters since he took over as the chief elections officer.
But a series of errors coinciding with the rollout of the state's motor voter program put pressure on Padilla to increase oversight on the Department of Motor Vehicles during the campaign. Tens of thousands of voters were incorrectly registered — including some noncitizens — among other failures at the state agency. The Legislature approved the motor voter program in 2015 to automatically register anyone who obtains a license at the DMV.
Meuser ran his campaign on calls to "clean up California's bloated voter rolls," repeating unfounded criticism that the state has more registered voters than residents in some counties.
Treasurer
Democrat Fiona Ma beat Republican Greg Conlon by 24 points in the race for state treasurer.
Ma started her political career on the San Francisco Board of Supervisors in 2002 and served six years in the state Assembly, where she unsuccessfully pushed for a single-payer healthcare system and passed a law to ban toxic chemicals in toys.
She has represented coastal counties from the California-Oregon border down through Santa Barbara on the Board of Equalization since 2015. She advocated to reform the troubled agency after audits revealed widespread mismanagement.
As California's banker, Ma campaigned on promises to develop a first-time home buyers program to address affordability and to take on the challenge of college tuition debt.
Controller
Voters elected Controller Betty Yee to a second term. The Democrat incumbent led Republican Konstantinos Roditis with 63% of the vote.
As the chief financial officer of California, the controller acts as a bookkeeper of all state funds. She oversees payroll, the collection and disbursement of state money and can conduct audits of state agencies.
Before she was elected in 2014, Yee served on the Board of Equalization for a decade. She continues to sit on the board in a spot reserved for the state controller.
The controller's office audited the board in her first term, and Yee became a vocal critic of nepotism and mismanagement at the tax collection agency. Brown and the Legislature ultimately stripped the board of some of its duties and power.
Yee previously served as deputy budget director under former Gov. Gray Davis.
Lieutenant governor
Eleni Kounalakis, a former U.S. ambassador to Hungary, defeated labor-backed state legislator Ed Hernandez in the race to become California's next lieutenant governor; she led by a 12-point margin as of early Wednesday.
Kounalakis topped the June primary with 24.2% of the vote and Hernandez came in second with 20.6%.
The Democrat-on-Democrat race pitted a wealthy first-time candidate against a termed-out legislator from Azusa for a job many consider a stepping-stone to the governor's office.
Kounalakis and her father, a Greek immigrant who built a fortune in real estate, contributed nearly $13 million to support her campaign. Critics have accused the well-to-do Sacramento-area family of trying to buy a statewide office. Kounalakis also worked in the family business, AKT Development, for nearly two decades.
Hernandez, an optometrist with two clinics in La Puente and Duarte, raised $2 million and labor unions gave an additional $695,000 to independent expenditure committees to boost his campaign.
The lieutenant governor's most important role is pitch-hitting for the governor if he or she leaves the state, resigns, dies or otherwise gives up the post.
Superintendent of public instruction
Democrats Marshall Tuck and Tony Thurmond were in a tight race for state superintendent of public instruction. Tuck held a 74,000-vote lead as of early Wednesday.
The candidates agreed on big-ticket items, such as the need to increase education funding and provide free universal preschool. But differences in their backgrounds and policy approach turned the election into a $40-million proxy battle in California's ongoing war between teachers unions and charter schools.
The California Teachers Assn. backed Thurmond, a state assemblyman from Richmond, and the California Charter Schools Assn. lined up behind Tuck, an education consultant who led charter school initiatives in Los Angeles.
The election marked Tuck's second attempt to become California's public schools chief and leader of the Department of Education. The Los Angeles native lost to Tom Torlakson in 2014.
Insurance commissioner
After trailing for most of the evening in the race for insurance commissioner, Lara notched a more than 100,000-vote lead over Republican-turned-independent Poizner as of early Wednesday.
A longtime Republican, Poizner served one term as insurance commissioner from 2007 to 2011 before making an unsuccessful run for governor.
Poizner has said his party switch is part of an effort to demonstrate that nonpartisans can get elected to office in California. If he wins, Poizner would be the first independent to hold a partisan statewide constitutional office in more than a century.
Lara worked in the Legislature before serving two years in the Assembly and six in the Senate. As one of the most left-leaning lawmakers, he made a name for himself as an advocate for immigrants, a single-payer healthcare system and California's powerful labor unions.
California's insurance commissioner leads the Department of Insurance, an agency that regulates insurance companies operating in the state and develops regulations to carry out state laws.
Times staff writer Liam Dillon contributed to this report.
Get the latest California politics news »
Follow @tarynluna on Twitter and sign up for our daily Essential Politics newsletter.
---
UPDATES:
6:50 a.m.: This article was updated to reflect results and new vote totals in several races.
Nov. 7, 12:05 a.m.: This article was updated to reflect results in several races.
This article was originally published on Nov. 6 at 10:20 p.m.
---
Life is stressful. Our weekly mental wellness newsletter can help.
You may occasionally receive promotional content from the Los Angeles Times.