State GOP's fundraising choice: Lean on big donors or get $10 a month from thousands?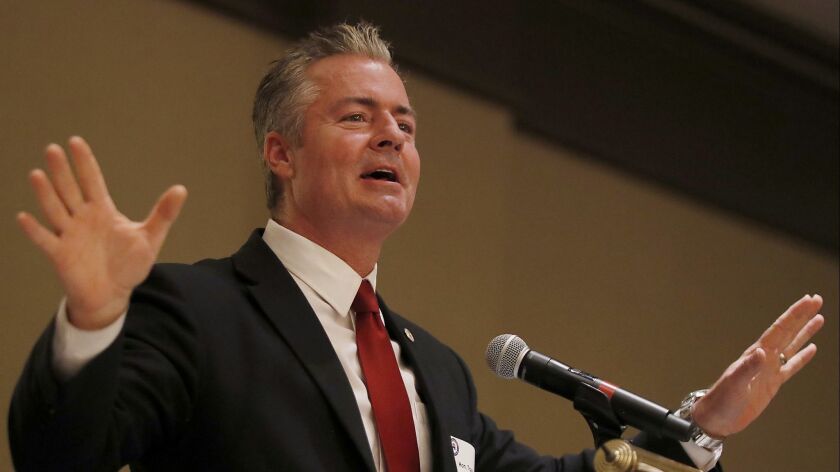 There's at least one thing California Republicans can still agree on: To recover from brutal midterm election losses, they need to raise a lot more money.
But when delegates vote to elect the party's next chair this weekend, they'll weigh pitches from two front-running candidates with very different views about just how to put Republicans on the offensive again in a blue state that's a reliable cash machine for Democrats.
Jessica Patterson, chief executive of California Trailblazers, a group that trains Republican legislative candidates, has said her long-standing rapport with top-dollar donors will help move the party forward.
But Travis Allen, the hard-charging former gubernatorial candidate running against her, has decried "special-interest billionaires" who fund the party and says he wants to instead fill its coffers with an unprecedented grass-roots fundraising effort that would ask thousands of "ordinary California Republicans" to make small monthly contributions.
Many who have labored for years to put the state GOP back on track are worried Allen's approach is unrealistic and could plunge the organization into further disarray.
Over the last decade, California Republicans have been consistently outgunned financially, raising just 60% of the money the California Democratic Party brought in during that same period.
In the 2018 election cycle, soaring energy among Democratic activists and a boost from small donors through online giving platforms such as ActBlue widened the gulf: California Democrats raised a record $62.4 million to Republicans' $35.6 million.
To close the gap, the new leadership of the California Republican Party must reassure donors that they have a credible path forward.
"I look at people who contribute as investors, and investors want to get a return on their investment," said departing Chairman Jim Brulte. "They don't expect to win every election … but investors have to have confidence that A. you know what you're talking about, and B. you will keep your word."
State Republicans believe they have an effective strategy to push back against the Democrats' "one-party rule" in California by pointing out the oversteps they are sure will come with a new, emboldened Democratic governor eager to take on an ambitious, expensive policy agenda — if only they can get the funds to do it.
Brulte, who helped steer the party back from the brink of insolvency, said the next chair's most important task is to establish confidence among donors. When he hands over the reins, he'll leave the organization with just enough money in its operating accounts to keep it functioning for a couple of months.
Can't live with Trump, can't live without him: California Republicans' challenging future »
"If we want to win back any of those congressional seats that we just lost, we're going to have to have an infrastructure in place," said Erik Weigand, treasurer of the Republican Party of Orange County, who saw a complete wipeout of GOP-held House seats in his historically conservative county. "The Democrats are just licking their chops; they smell blood in the water."
Weigand is among those skeptical of Allen's plan to raise funds by soliciting $10 a month — $120 a year — from 100,000 Californians.
Fewer than half that number gave as much to the state Republican Party last year.
A third candidate, longtime party activist Steve Frank, wants to revamp the party by focusing on its voter registration efforts, but he has not said how he would fund such a proposal. His ideas include expanding mail solicitations and asking small donors to give more often.
But an analysis of internal fundraising data obtained by The Times shows that the party has leaned heavily on its biggest donors and that reversing that trend would be a monumental task.
Data show that those giving $10,000 or more have accounted for 76% of the California Republican Party's fundraising since 2013. The small circle of donors who wrote checks for $100,000 or more — a few dozen people per election cycle — accounted for more than 36% of the money the party took in over the same period. Many of the most influential GOP donors have backed Patterson, as have most of California's Republican state legislators and six of the party's seven remaining House members.
Allen's appeal to a frustrated but passionate cadre of activists has left donors nervous.
Tom Ross, political director for the New Majority, a group of wealthy Orange County donors including apartment developer Michael Hayde and retired Automobile Club CEO Tom McKernan, says those who have endorsed Patterson and wield considerable sway in the party are ready to help Republicans win back congressional and legislative seats.
"At the same time, we're waiting to see the results of the [chairmanship] election," Ross said.
"There's a trust level with Jessica that I know if she's elected, on Day One we're going to be able to move ahead," he said. If she's not elected, "the whole process could slow to make sure that the party is functional and trustworthy."
Meanwhile, on Wednesday evening Frank and Allen sent out a joint email to supporters each urging them to support the other in an attempt to block Patterson's path to the chairmanship. Frank said he and Allen agree that "she would destroy what's left of the party."
The fate of the California Republican Party wasn't always so dependent on its leader's personality and relationships with donors.
For decades, it functioned as an offshoot of GOP presidential campaigns and to support gubernatorial candidates in midterm elections. State party officials raked in a healthy share of the cash raised by candidates as they tried to win California and used campaign consultants to direct the party.
In the 2006 reelection campaign for Gov. Arnold Schwarzenegger, for example, the party raised more than $70 million due in large part to his star power, which packed fundraisers and could raise six-figure sums at a single event.
But GOP nominees and donors alike grew weary of such arrangements as the political terrain became less friendly for Republicans here.
In the 2000 presidential election, then-candidate George W. Bush raised tens of millions of dollars for the state party but lost by double digits to Al Gore in California. Billionaire Meg Whitman spent a record $177 million on her 2010 gubernatorial bid — $144 million of it from her own pocket — only to lose by 13 percentage points to Democrat Jerry Brown.
Party insiders say that loss was deflating, shaping for years to come GOP donors' perceptions of California as unwinnable. They began giving instead to national Republican campaigns and political committees, leaving the state party to fend for itself and rebuild its fundraising base.
In 2012, the state party raised just $21 million — less than a third of the high in the Schwarzenegger years.
Tom Del Beccaro, chairman of the California GOP from 2011 to 2013, said the party was forced to cut back substantially on its political activities because it lacked funding for basic things such as printing campaign fliers and opening field offices. He blamed dismal fundraising on the rise of national political action committees and 2012 presidential nominee Mitt Romney's refusal to hold joint fundraisers with state Republican parties.
Others said Del Beccaro's strained relationships with legislative leaders and top donors led them to use PACs and other vehicles to help legislative candidates instead.
"The chairman of the party lost the confidence, cooperation and support of our elected leaders and our large donor pool, and that damaged our fundraising almost to the point of bankruptcy," said Mike Osborn, a Ventura County activist who served as state party treasurer under Del Beccaro and now heads the California Republican Party's County Chairmen's Assn.
"It was horrific," said Bob Huff, a former state senator who served as minority leader during Del Beccaro's tenure. "Because a party that can't raise money is a party that can't win seats."
In 2012, Democrats picked up five seats in the state Legislature and flipped control of four congressional districts.
By the time Brulte took over the party in 2013, its Sacramento headquarters had been shuttered and the party was mired in debt. To stabilize the party's finances, he hired professional staff and reestablished a joint fundraising program between the party and state legislative leaders that is today the state GOP's main fundraising vehicle.
But for nearly a decade, the California Democratic Party has consistently outraised its Republican counterpart by millions of dollars each election cycle.
Allen, a former state assemblyman, blames party leaders for failing to inspire donors and grass-roots supporters alike.
"Money alone will not fix the systemic failing of the Republican establishment over the last decade," Allen said. "What has been lacking is a Republican Party with a message and a plan that ordinary Californians believe in and are willing to donate to."
By Allen's math, his grass-roots fundraising plan would bring in an additional $12 million a year for the state party and increase its budget by 70%. He says he would put all of that money toward voter registration.
Experienced GOP operatives call the plan unsustainable. In 2018, the California Republican Party saw its highest number of small donors in at least five years, according to The Times' analysis of internal fundraising data. Still, fewer than 45,000 individuals gave up to $250 to the state party — less than half the annual goal Allen is aiming for.
Marty Wilson, who managed Carly Fiorina's 2010 campaign for the U.S. Senate and is executive vice president of public affairs for the California Chamber of Commerce, says that generally, a little over 3% of people reached by fundraising appeals actually donate money.
Getting $10 a month from 100,000 California Republicans would require emailing, mailing or calling around 3 million people.
"I just don't know the algorithm to make that work," Patterson said. "There certainly needs to be goals and there needs to be milestones. But they have to be feasible."
Alienating the party's large donors would also be a grave mistake, Patterson said. She says that if elected, she would maintain her relationships with deep-pocketed donors and grow the party's small donor programs online and by mail. But she also wants to create a system of incentives to engage midlevel donors — those giving $1,000 to $10,000 — to create a less volatile funding stream.
Meanwhile, some local parties are bracing for the possibility that the state GOP's ability to fund campaigns may be diminished under a new chair.
Fred Whitaker, chairman of the Orange County party, said he and others aren't waiting to find out the results of the chair's race. They're reaching out to donors now in hopes that money that might have flowed to national groups or campaigns will stay in Orange County instead.
"I definitely think there's a sea change," Whitaker said, "because we know we need to win these seats back, and we have the resources here in Orange County to do it."
Times staff writers Ryan Menezes and Maloy Moore contributed to this report.
For more on California politics, follow @cmaiduc.
---
Get our Essential Politics newsletter
The latest news, analysis and insights from our politics teams from Sacramento to D.C.
You may occasionally receive promotional content from the Los Angeles Times.