Gavin Newsom is elected California's next governor in a win for the resistance against Trump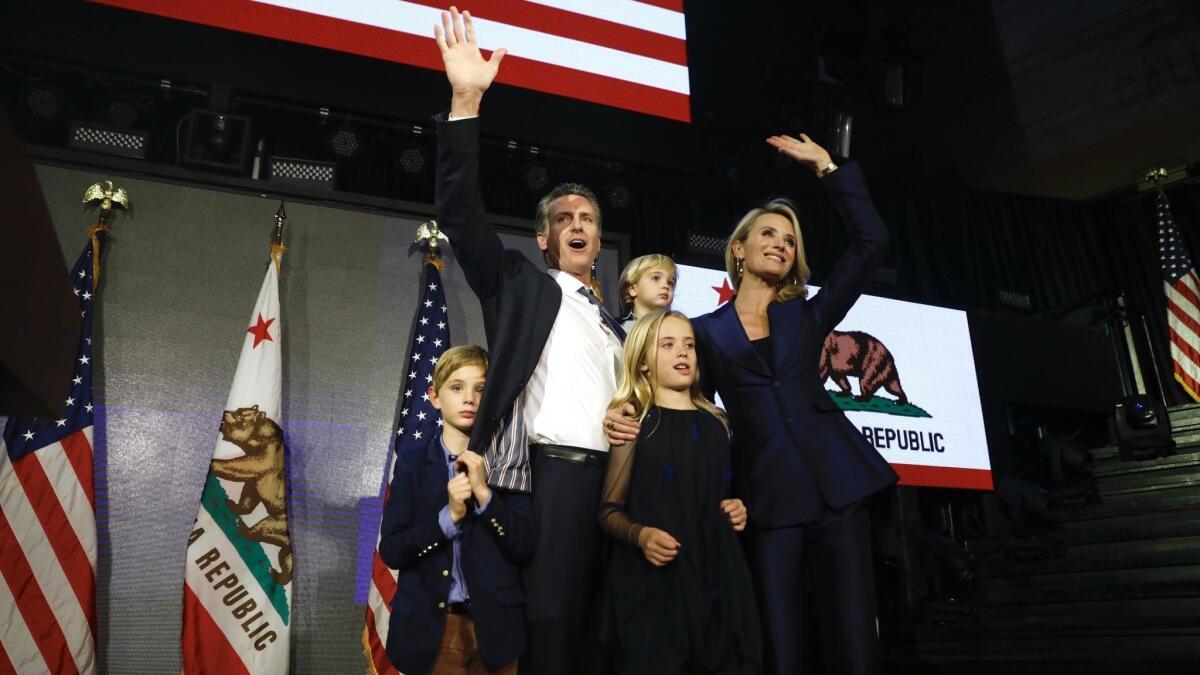 Gavin Newsom won a decisive victory for governor Tuesday night, placing the risk-taking liberal at the center of the resistance to President Trump at a critical moment for California.
Newsom is expected to shift state politics and policy even further to the left after eight years of Gov. Jerry Brown, a pragmatic Democrat known for his fiscal restraint and distaste for expensive new social programs.
An outspoken champion of LGBTQ rights, strict gun control and the legalization of marijuana, Newsom campaigned with an ambitious and expensive agenda, including proposals for a state-sponsored healthcare system, universal preschool and increased funding for higher education.
Newsom, 51, also promises to heighten California's role as a foil to the Trump administration and Republicans in Congress, vowing to fight the president's crackdown on immigration and dismantling of the nation's environmental protections.
California's two-term lieutenant governor handily defeated Republican challenger John Cox, 63, a multimillionaire businessman and political newcomer in the state who dipped into his own fortune hoping to overcome long odds.
In his victory speech Tuesday night to supporters gathered in downtown Los Angeles, Newsom portrayed California as a beacon for those who are wearied by the rancorous tone of national politics.
"To those who wonder whether polarization is permanent, who think today's big dreams are tomorrow's broken promises, who question whether a 40-million-person melting pot of different faiths, families and futures can live and prosper together — California is your answer!" he said.
MORE: Full 2018 midterm election results »
Trump went unnamed in Newsom's speech, but the implied contrast ran through his remarks, as well as the pointed declaration that "the California dream has always been — and will always be — too big to fail and too powerful to bully." Still, Newsom acknowledged the challenges facing the state's residents, including unaffordable housing and higher education, and threats to the workforce from automation and wage stagnation.
Cox was met with cheers as he took the podium in the U.S. Grant hotel's ballroom in San Diego shortly after 9:30 p.m., telling the crowd that he called Newsom, wished him well and offered him assistance. He predicted a Republican resurgence in California and said that he planned to "stay involved."
"We highlighted the incredible struggle that the people of this state have had for years under the people that are running this state," Cox said. "We identified the needs of these people, the fact that they can't afford housing, they can't afford gasoline, they can't afford the basics of life."
Underpinning the race between Newsom and Cox was the political upheaval stirred by President Trump.
Newsom enthusiastically embraced Trump as his main foil in the campaign, rarely mentioning his GOP opponent by name. Cox, meanwhile, touted the president's endorsement before the primary, which helped him consolidate the Republican vote in California and finish in the top two in a crowded field of candidates. Days after the primary, Cox said he hoped Trump would come to California to campaign for him, but that never happened and the president fell silent about the candidate he backed in May.
"I don't wake up every morning looking to pick fights," Newsom said while campaigning in Sacramento last week. "But if he attacks the values of this state, he attacks the people of this state, he attacks our clean air, our clean water, he attacks our diverse communities, I'll have the back of the people of this state and the values that we hold dear."
In contrast, Cox softened his embrace of Trump as election day neared, seeming aware that the president remained extremely unpopular among independent and moderate Democratic voters in California whose support Cox desperately needed. Cox rejected the president's heated rhetoric about immigrants and his administration's policy of separating immigrant parents and children at the border but praised Trump for the recent federal tax cuts.
"I like what's he's done. I'm not a fan of the personality," Cox said during a campaign stop at a Starbucks in Carlsbad on Friday.
The son of an appellate court judge with deep ties to San Francisco's most affluent residents, Newsom began his career in public office in 1996 when San Francisco Mayor Willie Brown appointed him to the Parking and Traffic Commission and then, a year later, to the Board of Supervisors.
Newsom was elected mayor of San Francisco in 2004 and quickly rose to national prominence within months after directing the city to issue marriage licenses to same-sex couples. That defiant act became a catalyst for a nationwide political battle over the issue that ended when the U.S. Supreme Court affirmed the right of gays to marry in 2015.
Then San Francisco became the first city in the nation to offer universal healthcare to all residents and to provide "preschool for all," bolstering Newsom's reputation among California Democrats and leading to his first run for governor in 2010. But Newsom quickly acquiesced in that race to the inevitability of Jerry Brown, California's seemingly ethereal Democrat who went on to win two straight terms as governor.
He settled for serving as California lieutenant governor, a largely powerless post where the Democrat could cocoon his political career and plot a second run for governor when Brown termed out of office.
The two-term lieutenant governor and married father of four young children entered the governor's race in February 2015, more than a year before any other major candidates, and set forth on an aggressive fundraising effort that brought in more than $53 million — almost four times the amount raised by Cox during the campaign. Newsom immediately cemented himself as the front-runner, a position he never yielded.
Newsom's greatest challenge came in a primary that included two other Democratic heavyweights: former Los Angeles Mayor Antonio Villaraigosa and state Treasurer John Chiang. Villaraigosa entered the race after a five-year hiatus from politics but failed to recapture the magic that led to his two terms as mayor, even after a group of wealthy charter school backers poured $23 million into an independent expenditure effort backing his campaign. Chiang's bid never caught on with voters.
Before the primary, the Newsom campaign moved to elevate Cox among California conservatives so he would have enough Republican support to finish in the top two, squeezing out a more formidable Democrat. Newsom attacked Cox in ads and on the campaign trail as Trump's handpicked favorite and a rabid gun-rights supporter.
Then, after Cox finished second and headed for a face-off with Newsom, the Democratic front-runner declined to participate in more than one debate, robbing the Republican of his biggest opportunity for increased statewide exposure. Their only debate was broadcast on radio only during the workday, when most Californians were too busy to listen in.
Cox kicked off his campaign for governor in 2017 as a self-described Ronald Reagan Republican, calling for lower taxes, smaller and more efficient government and a crackdown on political "cronies" in Sacramento.
Though a newcomer to California politics, Cox by that time was a veteran — albeit unsuccessful — campaigner. In Illinois, the Chicago-area native ran for Congress and twice for the U.S. Senate, failing to make it past the primary each time. The wealthy real estate investor also launched a quixotic campaign in the 2008 presidential race, even appearing on some early primary ballots but dropped out within a year.
Cox's run for California governor was, by far, his most successful foray in the political realm. The effort was aided in large part by the $5.5 million he donated to his campaign, a significant percentage of the $13.9 million he raised
During the campaign, Cox was criticized for a string of gaffes and eyebrow-raising comments.
The Newsom campaign also seized on statements Cox made in a 2007 presidential debate, when he warned that the push for LGBTQ rights might "open the floodgates to polygamy and bestiality and all kinds of other things." Cox responded by saying his opinions have "evolved" since that time.
Newsom's victory continues the slow transition of California's top political leadership to a new generation of rising politicians. Change began in 2016 following Sen. Barbara Boxer's retirement after more than 25 years in office. She was succeeded by state Atty. Gen. Kamala Harris.
Coverage of California politics »
phil.willon@latimes.com | Twitter: @philwillon
melanie.mason@latimes.com | Twitter: @melmason
dakota.smith@latimes.com | Twitter: @dakotacdsmith
Updates on California politics
---
UPDATES:
11:55 p.m.: This story was updated with more details from the election night parties.
10:25 p.m.: This story was updated with a quote from Gavin Newsom.
9:55 p.m.: This story was updated with additional details about Cox and Newsom's election night parties.
This story was originally published at 9 p.m.
Get our Essential Politics newsletter
The latest news, analysis and insights from our politics team.
You may occasionally receive promotional content from the Los Angeles Times.