A bill would end a $5 co-pay that has some California inmates choosing between buying soap or seeing a doctor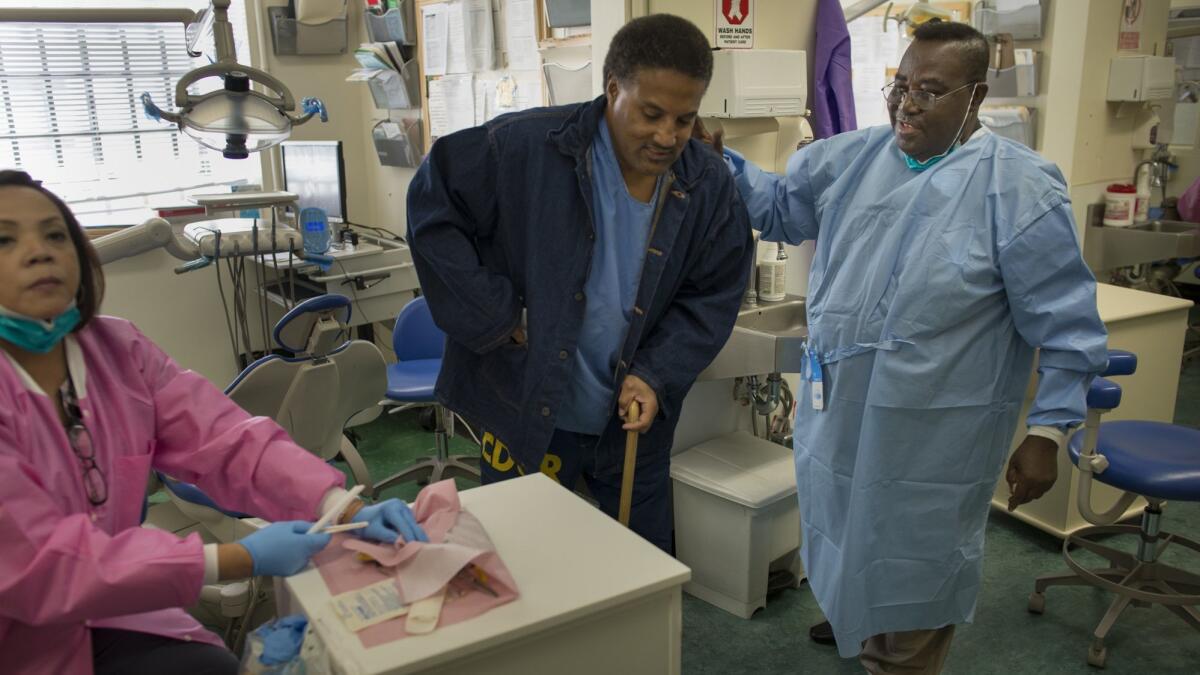 Reporting from Sacramento —
San Quentin State Prison inmate Andre Erick Watson was diagnosed with throat cancer in 2007. His vocal cords feel weak, he said, his saliva glands hurt and he keeps losing teeth.
In May, the 73-year-old signed up to have a new pair of dentures made — his third set — and it left him with a $255 bill on top of a $5 co-payment for his visit to the medical care unit. With a prison plumbing job where he earns 18 cents an hour, Watson said it will take months to pay off the expenses.
"I still have no teeth and no money," he said in a phone call this month, as he waits for his new dentures to get made. "It is very hard if you don't have outside support."
Thousands of California inmates like Watson struggle to cover their healthcare costs in prison every year, and Assemblyman Mark Stone (D-Scotts Valley) says the state should ease some of the burden. He has introduced a bill that would prevent the state Department of Corrections and Rehabilitation from charging a co-pay for self-initiated medical and dental visits that has some inmates choosing between buying soap or visiting the doctor.
State prison inmates are not charged a co-payment for mental health treatment or in the case of emergencies, and corrections officials waive the fee for roughly 61,000 prisoners who qualify as indigent for having $25 or less in their account for 30 consecutive days. Stone's legislation would eliminate it for all of the estimated 131,000 people incarcerated in the state. New amendments added on Monday would eliminate a $3 co-payment for inmates who request medical visits in county or city jails.
"They are patients with nowhere else to go, so why do we even bother with co-pays?" Stone said. "We know that when people don't get the medical care that they need — when they need it — then it becomes a much more significant issue later."
The proposal is the latest effort by Stone to remove barriers to healthcare for people in prison. He first introduced it as part of broader legislation from last year that expanded the definition of who could be considered indigent in the state prison system. But a provision to eliminate the $5 co-pay was removed amid debate over how much the state could lose in revenue.
The last time state auditors analyzed the co-payment system was in 2000, when they recommended that corrections officials end the program because it had not generated expected revenue, and said the corrections department had not demonstrated it was cost-effective.
State corrections officials have since calculated that they collected more than $460,000 last fiscal year from prisoners for medical and dental visits, far less than the nearly $2.5 million in the budget this year for inmate medical and dental care expenses.
The department first began requiring inmates to share in the cost of their healthcare in 1994 with the intention of reducing unnecessary medical visits, a model similar to that of health insurers outside of prison. But researchers say inmates don't have the earning power to make the system work.
Prisoners earn as little as eight cents an hour in some jobs, requiring them to work 62.5 hours to afford a single medical visit, according to a study by the Prison Policy Initiative, a nonprofit organization dedicated to researching the effect of mass incarceration. The study's authors found that to be the equivalent of someone outside of prison with a minimum wage job spending $656.25 on a healthcare co-payment.
Corrections officials say health staff serves patients 24 hours a day, and that wait times vary depending on when patients are brought to the clinic for an appointment. On non-business days, the staff uses a triage system to treat emergencies or urgent cases, assigning all other routine reports to a nurse.
Some San Quentin and Solano state prison inmates said they often forgo medical or dental care visits in lieu of buying toiletries or cans of soup. The wait times to see a doctor at some prisons make spending that $5 even less worth it, said 62-year-old David "Jazz" Brown, who has been in prison since 1982 serving a sentence for first-degree murder.
"If I get sick on Saturday, the medical care unit will probably get [my pass] on Monday and they won't end up seeing me until Wednesday," Brown said. "They take your slip, they assign you a nurse and then they make you wait in a waiting area, in a cage, with six to 12 other sick guys… and guys can wait up until three or four hours to see the doctor."
Watson, who was sentenced in 1997 for second-degree murder, said he hadn't been able to buy personal items in seven months. Leonard Brown, 55, imprisoned since 1990 on kidnapping, rape and robbery charges, said he receives free mental health treatment but prefers to ride out his physical pain.
"One of the biggest problems with the co-pays is that it was initially put in place from inmates going to see the doctor for frivolous stuff, but it cost them more money because guys will put off going to see the doctor," Leonard Brown said. "They should spend money on preventative care, not after your body is breaking down."
More stories from Jazmine Ulloa »
Follow @jazmineulloa on Twitter, sign up for our daily Essential Politics newsletter and listen to the weekly California Politics Podcast
Get our Essential Politics newsletter
The latest news, analysis and insights from our politics team.
You may occasionally receive promotional content from the Los Angeles Times.