California trails in regulating short-term lenders. This bill could finally rein them in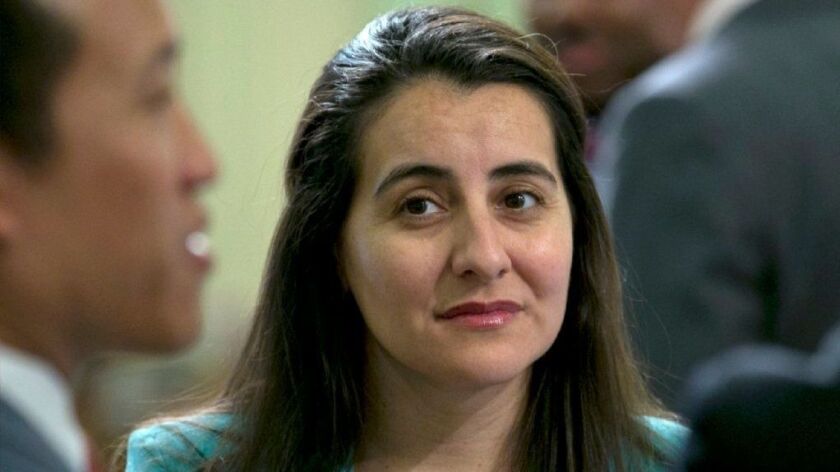 Reporting from Sacramento —
After years of failed attempts to rein in California's "small-dollar" lenders, supporters of a bill to cap interest rates are hoping that a wider coalition of backers and a governor who has spoken out against predatory lending will make a difference.
Assembly Bill 539, which would set an annual interest rate cap of 36% plus a 2.5% federal funds rate on loans of $2,500 to $10,000, is sponsored by the Los Angeles County Board of Supervisors and supported by Atty. Gen. Xavier Becerra, churches, unions, community organizations and even some lenders.
But with the industry spending heavily to lobby officials ahead of a key vote on Wednesday, supporters worry that California could fail yet again to stop lenders from charging triple-digit interest rates on loans that more than a third of borrowers fail to pay back on time.
"They're being pressured," said Assemblywoman Monique Limón (D-Santa Barbara), who introduced the bill. "They're being lobbied. Our members will have to decide if they are going to protect the profits of some businesses or if they are going to land on the side of consumers and the responsible lenders."
Nineteen so-called small-dollar lenders, who offer auto title loans, personal loans and other installment loans, have spent nearly $3.5 million lobbying at the state Capitol since 2017. More than a dozen of the companies have given another $3.2 million to lawmakers, political parties and campaign committees over the last decade.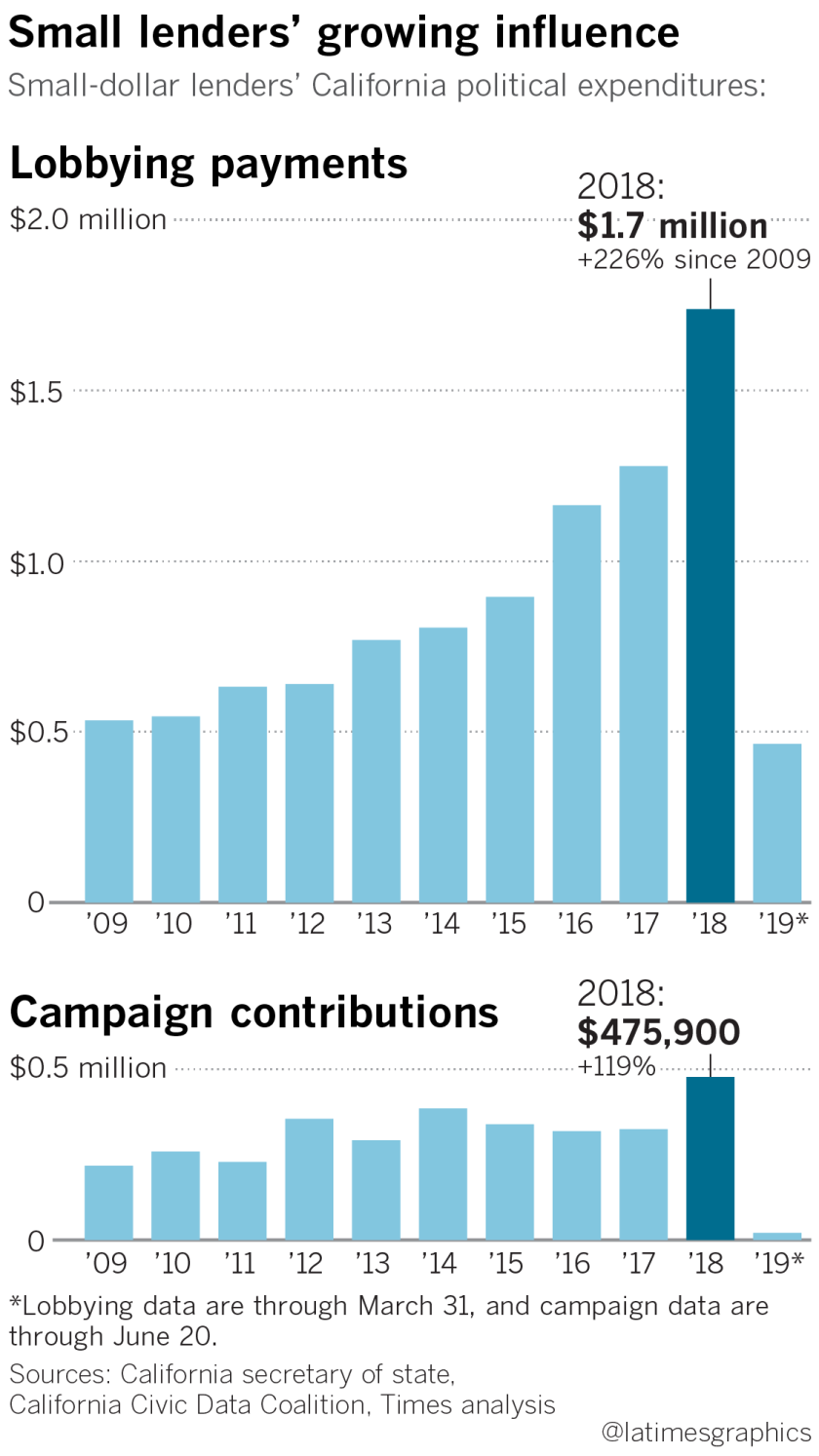 Ahead of a tough hearing this week in the Senate Banking and Financial Institutions Committee, lenders opposing the legislation have given at least $39,000 directly to state senators and $10,000 to the California Democratic Party this month.
Licensed lenders in California who offer consumer loans under $2,500 are required to cap interest rates at between 12% and 30% a year. State law dictated a cap on loans above $2,500 until 1985, when the Legislature voted to lower the threshold.
As part of a multiyear effort to ramp up enforcement of the limits, the state's Department of Business Oversight reached an $800,000 settlement earlier this year with California Check Cashing Stores after alleging that the company pushed borrowers to take out loans larger than $2,500 to avoid the cap and earn more money on interest.
California's lending laws are considered lax compared with other states'.
More than three dozen states and the District of Columbia have implemented interest caps for five-year, $10,000 loans at a median rate of 25%, according to a 2018 report from the National Consumer Law Center.
At the same time, the prevalence of high-cost loans has grown exponentially in California since the recession, from roughly 2,000 with annual interest rates above 100% in 2008 to more than 350,000 with such terms in 2017, according to the California Department of Business Oversight.
A late-night CashCall television commercial advertising loans with easy qualifications seemed to be the solution to Shellise Jordan's financial troubles after her husband moved out, leaving her with two children to support and a stack of bills.
She took out a $2,525 loan in the fall of 2013 with four years to pay it back. As an inexperienced borrower, Jordan said she never thought to ask about the annual percentage rate, which turned out to be 138%.
"I said, 'I can get myself out of some of these bills,' and then it turned into $14,000,'" said Jordan, 55, who lives in the South Bay city of Lawndale. "I think I told them too much. Once they know you're desperate, that's how they prey upon you."
Opponents and supporters of AB 539 disagree over the implications of the proposal for people in situations similar to Jordan's.
Advocates say the legislation would prevent unscrupulous lenders from charging vulnerable Californians exorbitant rates, which can exceed 200%, on loans.
But lenders fighting the proposal contend that fewer companies could afford to write loans under the new cap. They say borrowers who are considered subprime with no credit or bad credit and whom traditional banks and credit unions decline to serve will lose access to loans altogether.
"It takes away their options for credit while not eliminating their need for it," said Roger Salazar, a spokesman for Don't Lock Me Out, a coalition of lenders opposing the bill.
The Legislature has rebuffed several efforts to place limits on lenders in recent years, including proposals to cap interest rates and block people from taking out multiple payday loans at once.
A bill similar to AB 539 by Limón faltered in the Senate banking panel a year ago, falling one vote short. The lawmaker's new iteration of the proposal, this time sponsored by L.A. County, returns to the committee on Wednesday with a larger coalition of supporters, including some lenders, in a new political era in Sacramento.
Gov. Gavin Newsom has not endorsed Limón's legislation and his office isn't intervening behind the scenes to ease the proposal's passage. But the governor's public threats to put a check on the industry — and jabs at his former gubernatorial opponent, fellow Democrat Antonio Villaraigoisa, for taking money from payday lenders before the 2018 primary — have set a different tone at the Capitol this year.
"Make no mistake, there are powerful forces arrayed against us," Newsom said during his inauguration speech in January. "Not just politicians in Washington — but drug companies that gouge Californians with sky-high prices. A gun lobby willing to sacrifice the lives of our children to line their pockets. Polluters who threaten our coastline and payday lenders who target our most vulnerable. In other places, interests like these still have a tight grip on power. But here in California, we have the power to stand up to them — and we will."
Advocates say the new dynamics helped push some lenders to come to the table and negotiate on the terms of the proposal this year. Rumblings over a potential ballot measure — a strategy that has been successful in other states — and a recent California Supreme Court opinion that courts may declare high rates "unconscionable" and unenforceable also aided discussions.
Assembly Speaker Anthony Rendon (D-Lakewood) has been a vocal supporter of the bill. He stood next to Limón at a news conference this month where a person in a shark costume held a briefcase full of money and danced to the children's song "Baby Shark."
Weeks earlier, Rendon told Assembly members that AB 539 was "as important as any piece of legislation we will vote on this year."
"Opponents of this bill will tell you that it will restrict access to credit for the people who need it most," Rendon said before the Assembly sent the bill to the Senate with a 64-4 vote in May. "Those are merely talking points of an industry that has repeatedly lied to members of this body. Those are the talking points of an unscrupulous industry. Don't be fooled by them."
Limón admits that her legislation isn't perfect.
As part of a compromise between consumer advocates and lenders who support the bill, such as OneMain Financial, Oportun and Lendmark Financial Services, the proposal applies only to loans and doesn't address ancillary products, such as credit insurance applied by lenders.
The Don't Lock Me Out coalition says the proposal will allow the major lenders supporting the bill to increase their market share.
"If the bill was passed the way it's written right now, you would have many of these small lenders pushed out of the market, while One Main, Oportun and Lendmark stay here and don't have anybody else to compete with," Salazar said.
But an analysis from the Senate banking committee cites state data that suggest many lenders could continue to operate in California under a cap. More than 150 lenders offered loans of between $2,500 and $9,999 with interest rates below 40% in 2017.
The proposal's fate in the committee remains unclear. But Senate President Pro Tem Toni Atkins' decision to add Sen. Brian Dahle, a Republican from Bieber who won a special election earlier this month, to the committee in the place of another GOP lawmaker gives the bill another yes vote. Dahle supported the bill earlier this year in the Assembly, where he previously served as Republican leader.
"I think if you borrow $2,500 and ended up paying $12,000 back over time it's just not right," Dahle said. "That tells me there's something wrong. We need to help these people if there's a tragedy and they need short-term money to take care of a problem. There should be an opportunity for that, but it shouldn't be where it puts them further in debt."
More stories from Taryn Luna »
Follow @tarynluna on Twitter.
---
Get our Essential Politics newsletter
The latest news, analysis and insights from our bureau chiefs in Sacramento and D.C.
You may occasionally receive promotional content from the Los Angeles Times.