California files 50th suit against Trump administration, this time disputing union dues policy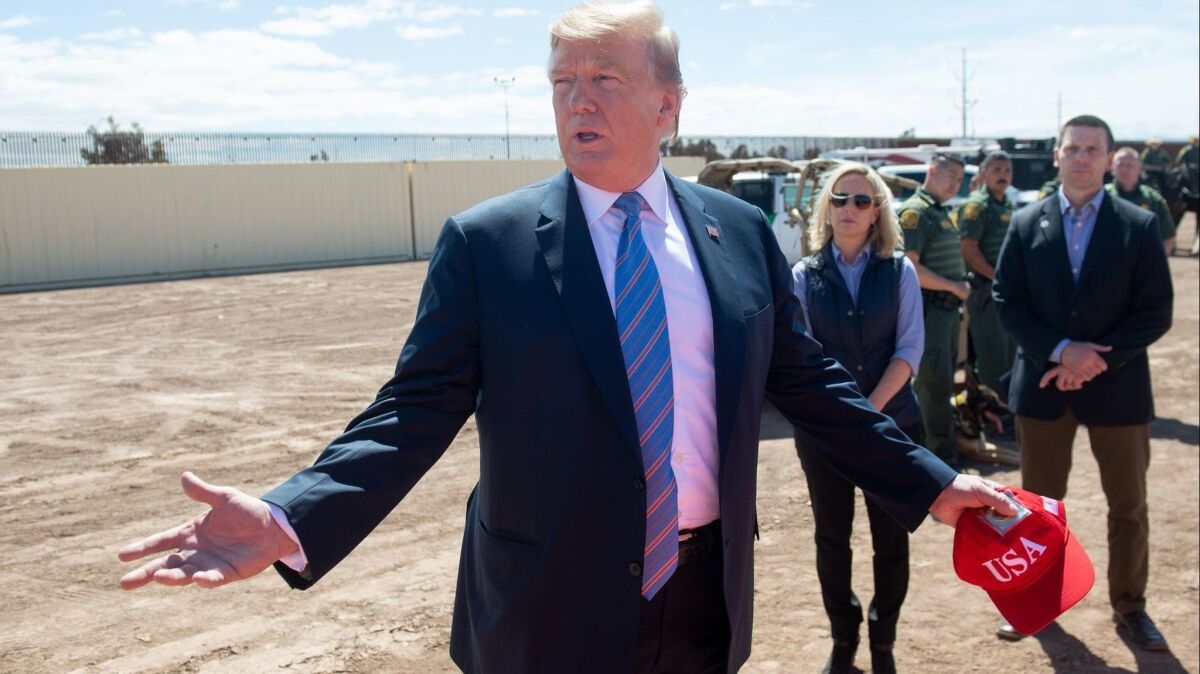 Reporting from Sacramento —
California filed its 50th lawsuit against the Trump administration on Monday, challenging a new federal rule that the state argues interferes with the ability to deduct union dues from the paychecks of workers in a government program that helps the elderly and disabled in their homes.
State Atty. Gen. Xavier Becerra said the new rule applies to California's 500,000 workers in the state's In-Home Supportive Services program who provide homebound clients with services such as bathing, feeding, house cleaning and administering medications.
Many workers are represented by the Service Employees International Union.
The federal government covers about half of the cost of the program, but a new Medicaid rule creates barriers for deducting employee medical benefits and voluntary union dues from workers' paychecks, according to the lawsuit filed by California, Connecticut, Massachusetts, Oregon and Washington. The rule affects home healthcare workers in the other states as well.
"With this rule, the Trump administration is not only harming Medicaid skilled home-care workers who have joined unions, but the millions of seniors and people with disabilities who depend on these indispensable workers," Becerra said in a statement.
About half of home-care workers elect to join a union, Becerra added.
The rule "is a shameful political attack on home-care providers who are largely women and people of color," said April Verrett, president of SEIU Local 2015, during a news conference held with Becerra in Sacramento.
The lawsuit was filed in federal court in California.
The new rule "shows the reckless disregard of this administration for healthcare and these workers," Becerra said at the news conference. "It will disrupt these unions and the care their workers provide in monumental ways."
Becerra's previous 49 lawsuits against the Trump administration include 24 lawsuits on environmental issues, of which the state won 15 in court, and 11 involving immigration matters in which the attorney general has prevailed five times, his representative said.
Other lawsuits were over gun control, the U.S. census, consumer protection, education and civil rights issues.
Becerra's office has previously filed seven lawsuits against Trump healthcare policies, including six in which the state won in court, a representative for Becerra said.
The attorney general was asked Monday about reaching the milestone of 50 lawsuits against the Trump administration.
"That's a lot of lawsuits," he said. "That is a lot of wrongdoing and a lot of unlawfulness by the president of the United States."
California has passed the milestone set when Republican attorneys general in Texas filed 48 lawsuits against the Democratic administration of President Obama on issues such as healthcare, immigration, climate change and transgender bathroom policies.
Becerra was appointed attorney general by then-Gov. Jerry Brown in 2017 to fill a post vacated when Kamala Harris was elected to the U.S. Senate. Becerra previously served 12 terms in Congress, where he was part of the Democratic leadership.
He won his first statewide election as attorney general last year. During the campaign, Becerra's Republican challengers accused him of spending too much time chasing the national spotlight with lawsuits against Trump and not enough time dealing with California's problems.
"They are political lawsuits that have little value to California, such as the lawsuit on the border wall," Republican challenger Steven C. Bailey, a retired judge, said at the time.
Sign up for our Essential Politics newsletter »
Twitter: @mcgreevy99
Get our Essential Politics newsletter
The latest news, analysis and insights from our politics team.
You may occasionally receive promotional content from the Los Angeles Times.