California seeks injunction against border wall declaration ahead of Trump visit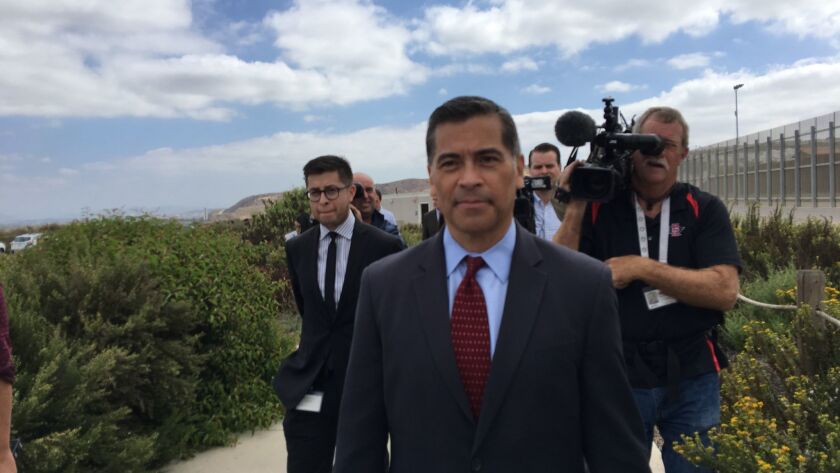 Reporting from Sacramento —
Hours before President Trump's visit to the border fence in California, state Atty. Gen. Xavier Becerra said Friday he is seeking a preliminary injunction challenging Trump's national emergency declaration that seeks funding to expand the barrier.
Becerra's action, coordinated with the attorneys general of 19 other states, comes two months after he and the other attorneys general filed a lawsuit against the Trump administration that alleges the president's declaration is unnecessary and unconstitutional, and will jeopardize public safety by diverting money from programs including one aimed at intercepting drugs.
Becerra said the injunction is necessary to block improper diversion of federal funds to the wall project while the courts weigh the merits of the larger lawsuit.
The attorney general said, "Trump's action to divert funding to a vanity project" is illegal because Congress, not the president, has the power of the purse.
"President Trump is not above the law and we will continue to hold him accountable," Becerra said.
Gov. Gavin Newsom, who is on vacation, issued a statement supporting Becerra's action.
"California stands united against President Trump's money-grab to fund his expensive and ineffective wall, which he promised would be paid for by Mexico," Newsom said. "This funding should be spent as it was intended: to support local law enforcement agencies and to fight drug trafficking."
The latest court filing was criticized by Assemblyman James Gallagher (R-Yuba City).
"Gov. Newsom is heading to El Salvador to learn about the migrant crisis. Atty. Gen. Becerra just filed a lawsuit because he insists there is no crisis," Gallagher said. "The attorney general must have missed the memo. While we are unfortunately all too used to political stunts, you think they could at least get on the same page."
In announcing his national emergency declaration in February, Trump said "Walls work 100%."
Trump was scheduled to visit a section of the border fence in Calexico on Friday to highlight his efforts to expand security amid an increase in asylum requests from Central American immigrants.
Trump's third visit to California as president comes just after he retreated from a threat to close the border out of concern that immigration facilities have reached capacity because of the influx.
Sign up for our Essential Politics newsletter »
Twitter: @mcgreevy99
---
Get our Essential Politics newsletter
The latest news, analysis and insights from our politics teams from Sacramento to D.C.
You may occasionally receive promotional content from the Los Angeles Times.