How Gov. Gavin Newsom's new California wildfire fund for utilities will work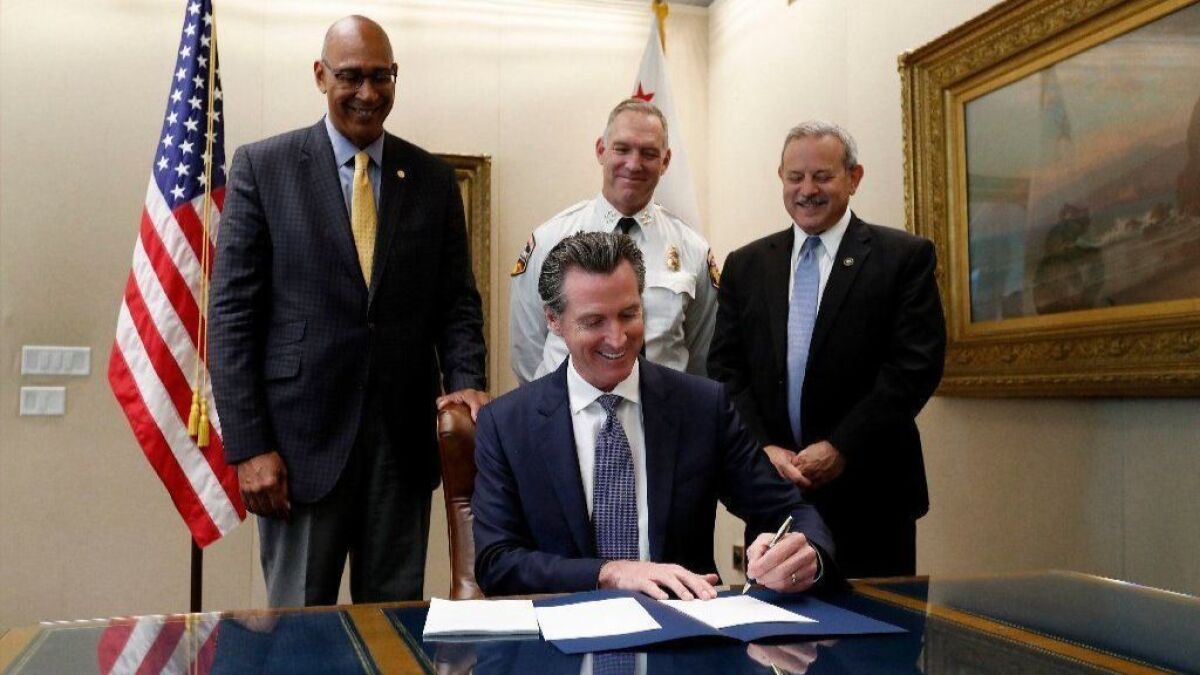 Reporting from Sacramento —
Gov. Gavin Newsom signed into law on Friday legislation creating a multibillion-dollar fund available to California's electricity providers held liable for wildfire damage linked to their equipment.
Investor-owned utilities will receive at least $21 billion to pay for damage from such blazes, according to Newsom's administration. Ratepayers will pay $10.5 billion into the so-called wildfire fund through a 15-year extension of an existing charge on monthly bills that was set to expire in 2021.
Newsom has said the law will stabilize the state's electricity markets to protect ratepayers from skyrocketing costs while requiring Pacific Gas & Electric Co. to pay victims for wildfire claims in 2017 and 2018 and prioritize overall utility safety.
The utility wildfire rules kick in now — with a caveat
The bill took effect immediately with the governor's signature, but it will take months for the money to be deposited into the fund and several years to gauge whether the complex law achieves its promised goals.
The success of the proposal largely depends on Wall Street's reaction to it and whether the state's investor-owned utilities decide to put up $10.5 billion to match money from ratepayers.
Wildfire prevention also remains critical. If utility equipment continues to spark increasingly destructive wildfires, the fund could be quickly depleted.
"Now we are cognizant of the fact that we now have to implement this legislation," Newsom said.
Utility customers will see charges on monthly bills
The law extends a state Department of Water Resources charge, originally expected to expire by 2021, for another 15 years to raise $10.5 billion for the fund from customers of PG&E, Southern California Edison and San Diego Gas & Electric Co.
The fees won't be charged to those who receive electricity from municipal organizations such as the Los Angeles Department of Water and Power or the Sacramento Municipal Utility District.
The charge is listed on utility bills as a "DWR Bond Charge" and varies based on electricity consumption, which the governor's office says equals about half a cent per kilowatt-hour.
A suburban home with a pool in PG&E's Northern California territory was charged more than $6 in the month of June, while a small two-bedroom apartment with no air conditioning in Edison's coverage area in Hermosa Beach only saw a 29-cent charge last August.
Utilities will decide whether they want to match the ratepayer money
The state's three largest investor-owned utilities have 15 days, or until July 26, to decide whether they intend to spend a collective $10.5 billion to match the ratepayer money in exchange for a cap on their liability. The new law indicates PG&E would have to pay 64.2% of that amount, while Edison would be responsible for 31.5% and SDG&E would cover 4.3% of the total.
At the bill signing Friday, Newsom said he expects the utilities to join the fund.
"I don't want to speculate, but we wouldn't have gone through this process if we didn't believe that, and so I'm very hopeful and I expect they will," Newsom said.
After the companies agree to pay the money, SDG&E and Edison will have 60 days to put up their shares of an initial contribution of $7.5 billion required from the utilities in the first year. PG&E's participation would have to be approved by a bankruptcy judge, and the company would be required to put up its initial share no later than June 30, 2020.
With the threat of another dangerous wildfire looming, credit rating agencies initially planned to downgrade SDG&E and Edison earlier this spring, which could have led to higher monthly charges for utility customers. But the agencies agreed to give the Legislature until July 12 to pass a law to offset the utilities' liability for wildfire damages. It's unclear where the agencies stand on the final proposal.
Future fire seasons will determine whether the law's new safety measures work
The governor's new law creates a safety certification that utilities must attain to tap into the fund. The certification requires companies to tie executive compensation to safety performance, create safety committees on their boards of directors and start implementing wildfire mitigation plans before fire season begins. The law also establishes a new safety division under the California Public Utilities Commission, which would later become an independent unit within the Natural Resources Agency.
The governor's office has described the certification as providing incentives for the utilities to prioritize safe performance to prevent wildfires and said the safety division will provide new oversight of utility practices. Time will determine whether the safety measures lead to fewer wildfires.
Follow @tarynluna on Twitter.
---
Life is stressful. Our weekly mental wellness newsletter can help.
You may occasionally receive promotional content from the Los Angeles Times.