One of California's best-known Republicans is backing Democrat Loretta Sanchez for Senate. Here's why
Republican Rep. Darrell Issa is supporting his colleague Rep. Loretta Sanchez in Senate race.
Reporting from Oceanside —
Republican Rep. Darrell Issa is supporting his colleague Rep. Loretta Sanchez in this fall's Senate race, a contest that pits two Democrats against each other and gives GOP voters no obvious choice.
The two appeared together in Issa's congressional district this week, giving Sanchez an opportunity to publicize her expertise on national defense in a part of the state where she needs to do well with Democrats, Republicans and independents alike if she hopes to overtake her rival, Atty. Gen. Kamala Harris.
For Issa, the bipartisan event may help soften his image as congressional Republican leadership's attack dog on the Obama administration.
He said that despite their differences on most issues facing the nation, he respects Sanchez's knowledge of military and world affairs and they both support efforts to keep the country safe.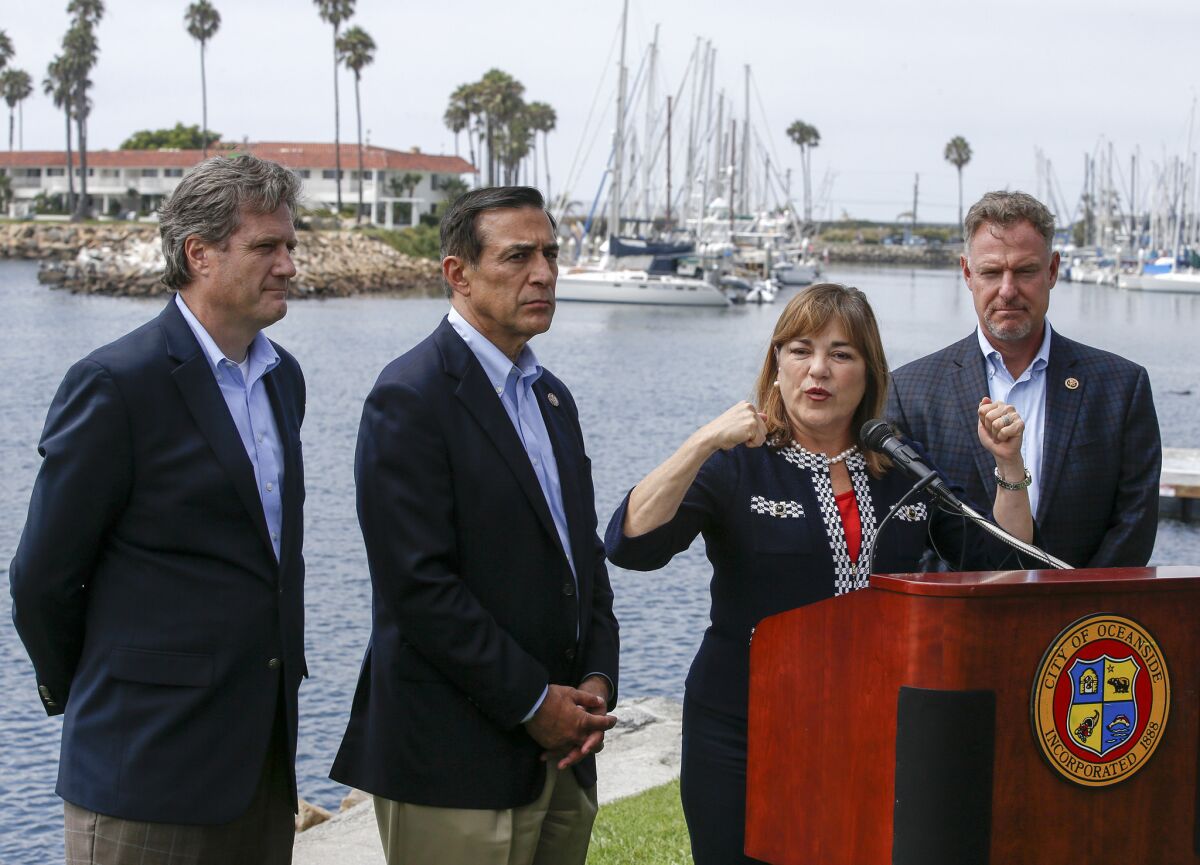 The Vista Republican said that background makes the choice clear for Republicans and other voters about whom to support Nov. 8.
Hurting for support in her own party, Rep. Loretta Sanchez tilts her Senate campaign to the right >>
"I've already long ago figured out that Loretta Sanchez, her work on national security, probably tips the scale for a lot of us," Issa told The Times. "She's also very well aware of our problems with water. So those are, in my particular case, making a difference that is pretty measurable."
The comments were made after he and Sanchez toured San Diego military installations, saying they found common ground when it comes to national defense and protecting the troops.
The visit also provided both with ample, mostly positive news coverage in a region loaded with Navy and Marine bases and defense contractors, an added benefit for two politicians facing tough elections.
"There's nothing wrong with coming back and paying attention to your district. I think all congressmen should do that," said San Diego Republican political consultant Jennifer Jacobs. "Yes, it will be good for his constituents, and, yes, I'm sure it will help him with the voters."
Election 2016 | California politics news feed | Sign up for the newsletter
They were in the region as part of a bipartisan congressional delegation assessing the needs of the military. Joining them were Reps. Mike Turner (R-Ohio) and Scott Peters (D-San Diego). Sanchez, Turner and Peters are members of the House Armed Services Committee. Issa's district includes the Camp Pendleton Marine base, and he is a member of the House Foreign Affairs Committee.
The four joined together for a news conference in Oceanside to voice concerns about the aging Marine Corps F-18 Hornet aircraft. So many planes are out of service for maintenance that pilot flying time has been seriously curtailed, they said.
Although they all insisted that the event was not political, it provided a dose of positive publicity. Their concerns were aired on two local television stations and picked up by the San Diego Union-Tribune.
"What most people don't understand, because they see politics and Republicans and Democrats fighting all the time, the reality is that we need to do our work in the Congress," Sanchez said after the tours, which were not open to the media. "And to do that you have to work with both sides of the aisle, and that's what we do especially on the military committee.''
Issa's Democratic challenger in his 49th congressional district, retired Marine Col. Doug Applegate, has criticized the congressman as a Washington insider not mindful of the people he represents in a race that has drawn attention as a potential surprise this fall.
Twitter: @philwillon
ALSO:
Issa challenger came out of nowhere, raised more money
Hurting for support in her own party, Rep. Loretta Sanchez tilts her Senate campaign to the right
Obama, Biden endorse Kamala Harris for U.S. Senate
Updates on California politics
Get our Essential Politics newsletter
The latest news, analysis and insights from our politics team.
You may occasionally receive promotional content from the Los Angeles Times.