De León sends candidate-style political video — but says he has no imminent political plans
State Sen. Kevin de León of Los Angeles shares a light-hearted moment with Chief Justice Tani Cantil-Sakauye, right, and his daughter Lluvia Carrasco before he is sworn in as the 47th president pro tempore of the California Senate at Walt Disney Concert Hall.
(Gina Ferazzi / Los Angeles Times)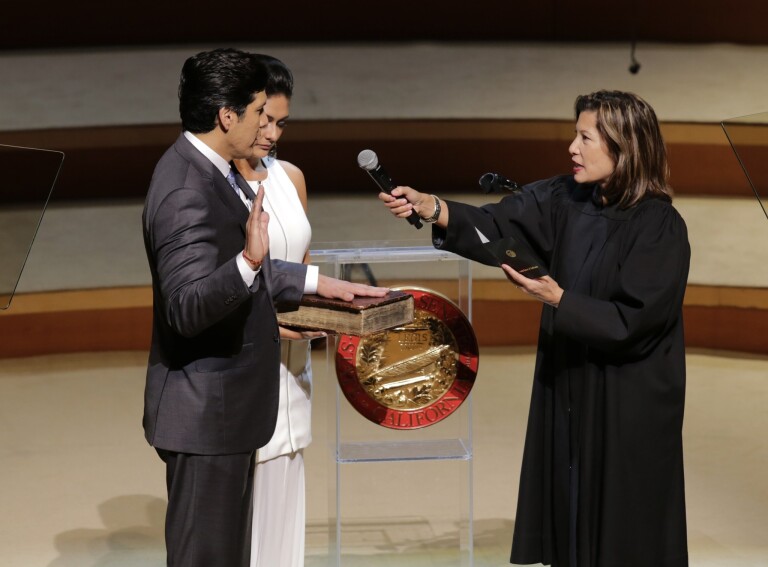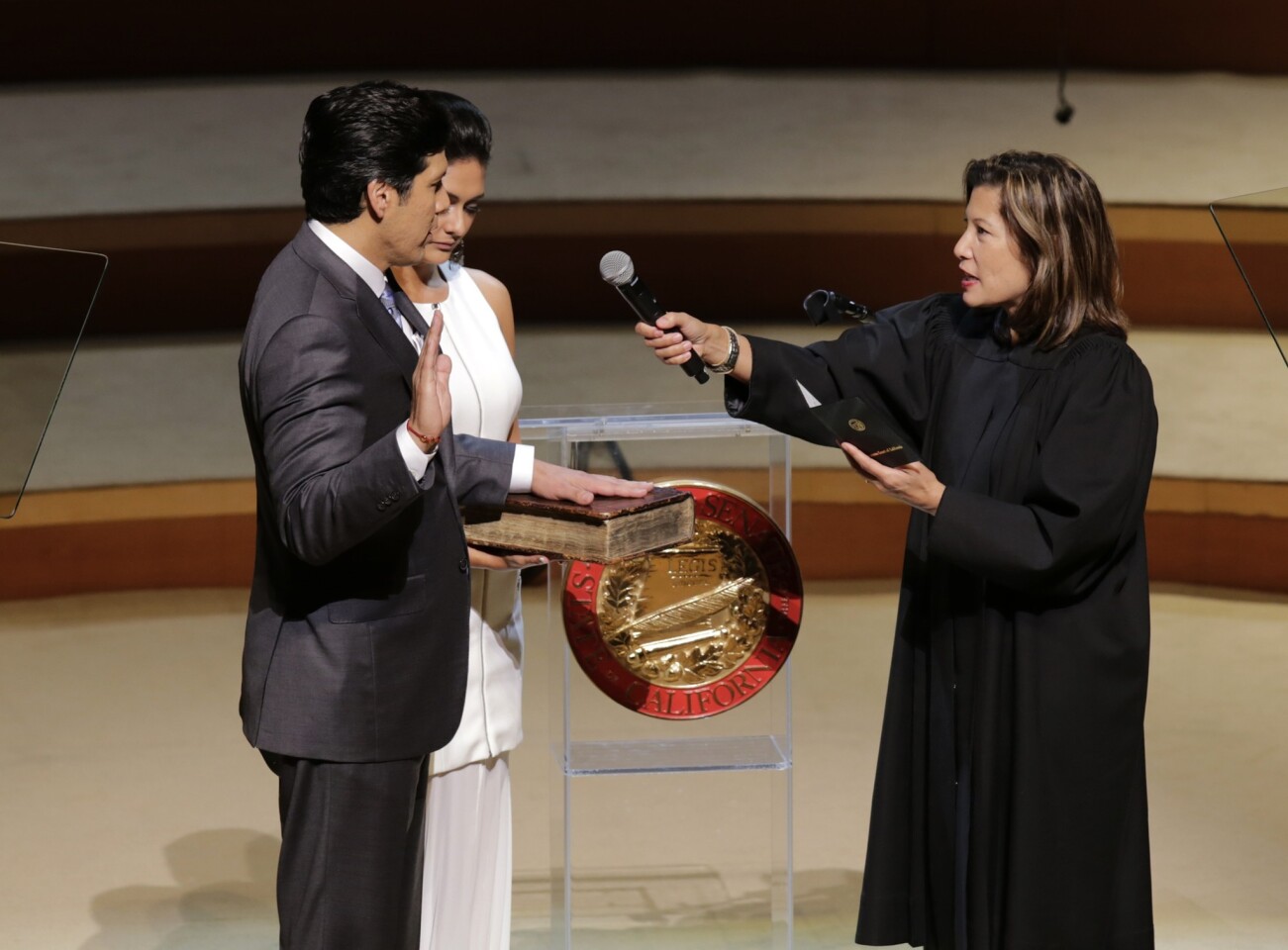 State Sen. Kevin de León, with his daughter Lluvia Carrasco by his side, is sworn in by Chief Justice Tani Cantil-Sakauye as president of the California Senate. He is the first Latino to hold the post since 1883.
(Gina Ferazzi / Los Angeles Times)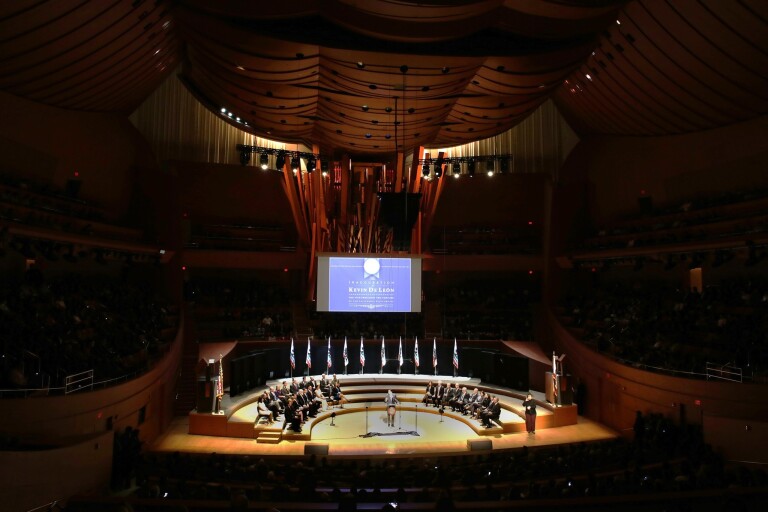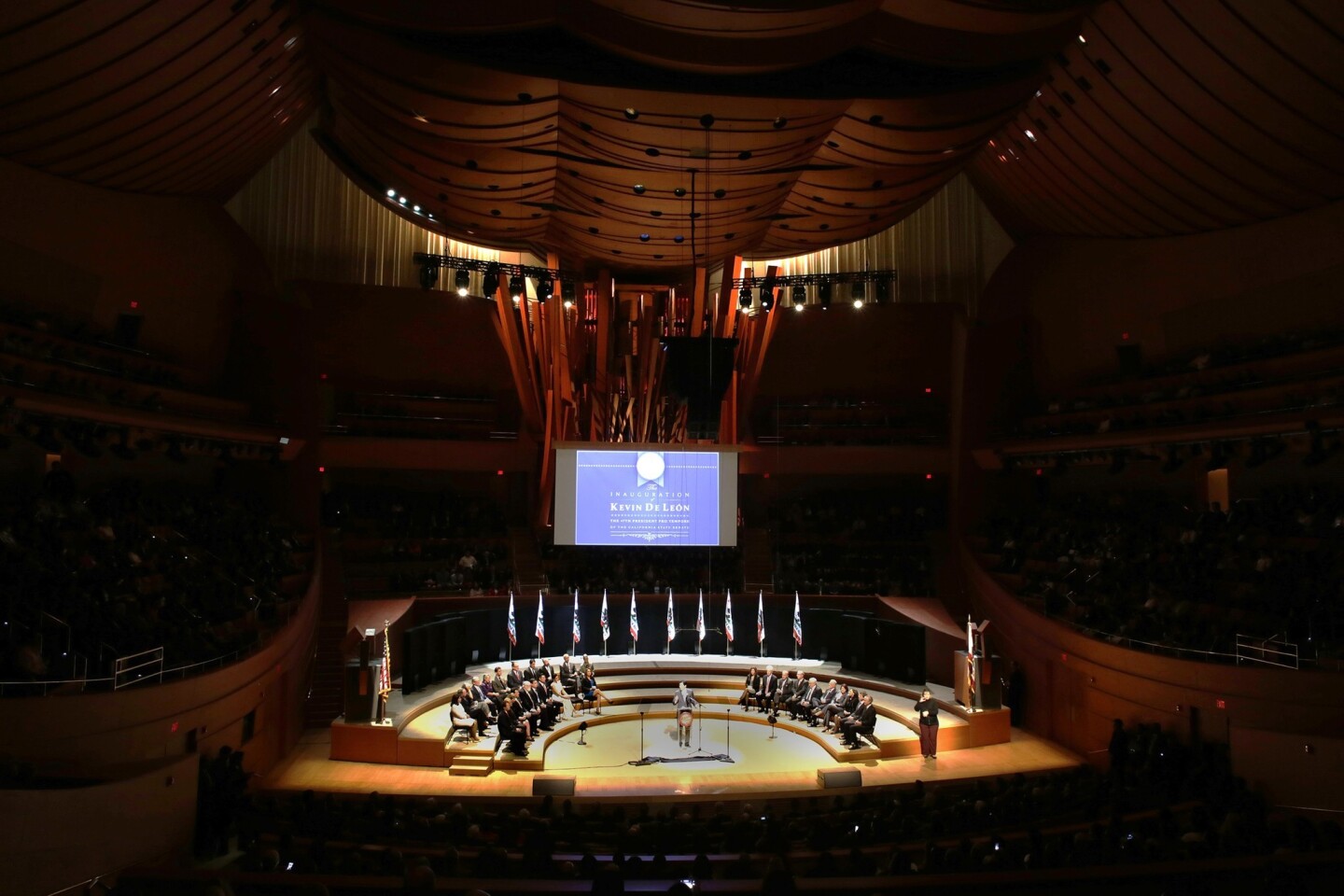 Some criticized the extravagance of Sen. Kevin de León's swearing-in celebration at Walt Disney Concert Hall. De León said he chose the space because it symbolized California.
(Gina Ferazzi / Los Angeles Times)
As the Mariachi Divas play, Kevin de León, with his daughter Lluvia Carrasco, points to friends in the crowd at his swearing-in ceremony.
(Gina Ferazzi / Los Angeles Times)
Sen. Kevin de León walks on stage with his daughter Lluvia Carrasco before he is sworn in state Senate president, succeeding Sen. Darrell Steinberg.
(Gina Ferazzi / Los Angeles Times)
State Sen. Kevin de León waves to the crowd as the new Senate president, after being sworn in by Chief Justice Tani Cantil-Sakauye, right, with his daughter Lluvia Carrasco.
(Gina Ferazzi / Los Angeles Times)
Mariachi musicians and retired migrant farm workers gather outside Walt Disney Concert Hall in downtown Los Angeles, where Kevin de León became the new leader of the state Senate.
(Luis Sinco / Los Angeles Times)
As rumors swirled that California Senate President Pro Tem Kevin De León was mulling a gubernatorial run, he said Thursday he had no imminent plans to jump in the race but demurred when asked about his political future.
"When I know, everyone else will know," he said in an interview.
De León (D-Los Angeles) is termed out next year and has long been the focus of speculation about what may be next. The rumors grew louder this week with the slickly produced video he emailed to Democrats just before they gather for their annual convention in Sacramento.
The state Senate leader, along with other top elected officials and all the announced gubernatorial candidates, is scheduled to address thousands of delegates, donors and influential activists Saturday.
The 90-second video about the importance of California as a liberal bulwark during President Trump's tenure could easily be interpreted as the type of introduction candidates make when they plan to run.
The narration includes phrases from De León's post-election statement, issued with Assembly Speaker Anthony Rendon, from November.
"America is greater than any one man or party. We will not be dragged back into the past. We will lead the resistance to any effort that will shred our social fabric or our Constitution," De León says in the video. "California was not part of this nation's history when it began, but we are clearly now the keeper of its future."
Track fundraising in the gubernatorial campaign »
The video shows images of California landmarks, diverse families and varied industries, along with images of the women's march and airport protests over Trump's travel ban. It shows De León speaking at events, posing with constituents and being confronted by what appears to be a pro-Trump protester. Shown on the screen are quotes from news stories and opinion pieces favorable to De León.
The video closes with the phrase, "Join the fight for California."
It will likely be viewed as a political billboard for the 50-year-old, who represents Boyle Heights, Echo Park, Lincoln Heights and Koreatown.
If De León decides to run for governor, it would immediately jolt the race, notably for one candidate: former Los Angeles Mayor Antonio Villaraigosa, who served as a mentor to De León. The Democratic men, both Latino and from Southern California, could cut into each other's support among voters should they both be in the race.
Villaraigosa said he had reached out to De León as talk of a potential gubernatorial run gained steam this week but was unsure about his intentions.
"I haven't talked to him. He's neither called me or answered any of my calls," said Villaraigosa, also a former speaker of the state Assembly. "I have no first-hand knowledge of this except that I have heard rumors that he's considering it…. I can just tell you this: We've been friends and allies, and I certainly have not had any conversations with him."
De León made history in 2014 when he was elected the first Latino to lead the California Senate. He has racked up notable accomplishments on climate change, minimum wage and creation of a state-run retirement program for private sector workers. He is also the author of this year's most sweeping plan in Sacramento on illegal immigration, which would extend so-called sanctuary status to the entire state.
He opened a campaign account to run for lieutenant governor in 2018 and had $1.7 million in the bank at the end of last year. He raised another half million this year, according to state political financial disclosure reports.
But De León is seen as having an eye on a higher office — perhaps governor, U.S. senator or state treasurer. He has done little to tamp down on such speculation: When he was sworn in as Senate president pro tem in the fall of 2014, he celebrated at a swanky $50,000 event labeled an inauguration at the Walt Disney Concert Hall in downtown Los Angeles.
The nearly 2,000 attendees, including many of the state's top political figures and kingmakers, were entertained by a mariachi band, a Korean drum circle and a student color guard in the iconic Frank Gehry-designed building.
The event ruffled some feathers because it was funded by a foundation that receives contributions from corporate interests with regular business before the state Legislature, including AT&T and Chevron.
De León used the event to highlight his modest upbringing. He was raised in San Diego by an immigrant single mother, and he said his ability to make it to the statehouse showed a path that should be available to every child.
"Yes, I rose out of poverty thanks to a dedicated mother who labored on her hands and knees so I could have a better life — and because of the teachers who believed in me and allowed me to get a college education," he said at the event. "Sadly, millions of kids today living in poverty simply won't ever have the same opportunities I had."
Twitter: @LATSeema
Twitter: @melmason
---
Get our Essential Politics newsletter
The latest news, analysis and insights from our politics teams from Sacramento to D.C.
You may occasionally receive promotional content from the Los Angeles Times.