This is how you'll know California Democrats had a good election night
Washington —
House Minority Leader Nancy Pelosi really wants another turn in the speaker's chair, this time working with what she hopes will be the first female president.
For the San Francisco Democrat to have that chance, Democrats have to win 30 new seats Tuesday night. But that would probably require adding to Democrats' already hefty portion of the 53-member California House delegation — Republicans hold just 14 of the state's seats and most of them are in solidly conservative districts. So observers expect Democrats to win closer to 10 or 15 new seats.
But if a strong anti-Donald Trump wave develops on election night, these are the California races to watch:
Which California races to watch if the GOP has a good night »
The fight for Los Angeles' last Republican-held congressional seat
In the 25th Congressional District, Rep. Steve Knight (R-Palmdale) already wore a target as the only Republican representing Los Angeles. His opponent, Democrat attorney Bryan Caforio, has said the congressman is out of touch with the district, particularly criticizing his slow reaction to the Aliso Canyon gas leak.
Caforio has pounded Knight repeatedly for refusing to say who he backs for president. Knight has said he doesn't support Republican nominee Trump or Democratic presidential nominee Hillary Clinton, but he plans to vote.
Congress' richest member may not escape the costs of supporting Trump
Trump has had an unexpectedly stark effect in the 49th Congressional District, where new boundaries and changing demographics have put eight-term Rep. Darrell Issa (R-Vista) on the offensive against a political novice, Marine Col. Doug Applegate.
The race has inspired some of the most caustic ads of the cycle, as both parties scramble in a fight neither anticipated. Applegate wasn't on most observers radar until he took 45.5% of the vote in the primary, Issa's weakest showing in years.
Applegate and Democrats have repeatedly pointed to Issa's endorsement of Trump, saying he's putting party before country.
Issa criticized Trump's comments about groping women in September, but he hasn't backed away from his support of the bombastic nominee. Known for needling and investigating the Obama administration, Issa's spent the last few weeks promoting his work across the aisle and his willingness to work with Democrats, saying he investigated the Bush administration just as much.
An Obama-leaning district with a potential Trump problem
In the 10th Congressional District, Rep. Jeff Denham (R-Turlock) is up against Democratic beekeeper Michael Eggman, the same man he beat just two years ago by 12 points. Though a majority of his constituents voted for President Obama in 2012, they chose Denham for his first term the same year.
When Denham started this latest campaign, most observers thought he would probably win, but the race has been gradually moved to a toss-up by the analysts at the Cook Political Report. Democrats have tried to connect the Republican incumbent with Trump's rhetoric in the Modesto area district that is nearly 40% Latino.
Denham has avoided saying Trump's name but has said he'll back his party's nominee. He argues that voters know him, and know he'll buck his party when he has to, especially on topics such as immigration.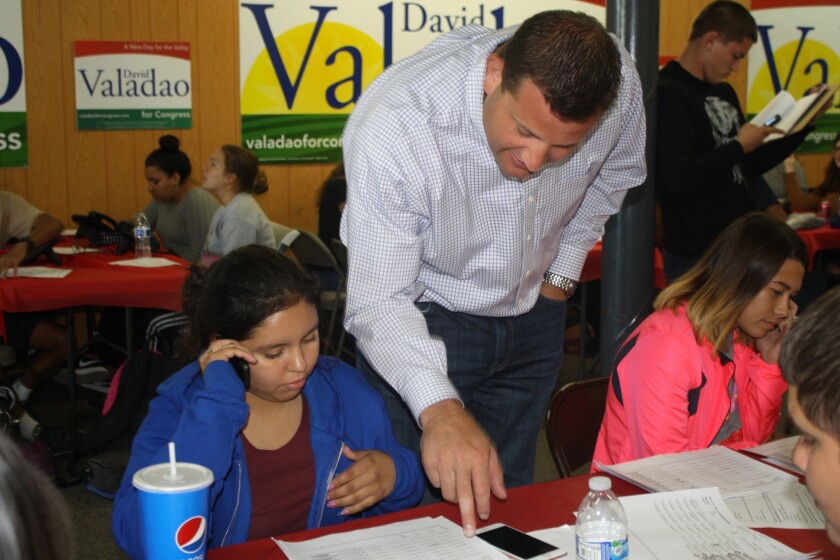 An unlikely pickup, but the national party is watching
On paper, the heavily Latino 21st Congressional District in the Central Valley looks like it fits the mold of a district that could flip f or the right moderate Democrat.
But Rep. David Valadao (R-Hanford) denounced Trump last spring and has focused heavily on local issues, particularly the agricultural district's water needs. He pulled 54% of the vote in the primary.
Democratic attorney Emilio Huerta, son of labor rights leader Dolores Huerta, hasn't captivated the district the way Democrats had hoped. His fundraising has dragged and though he's tried, he hasn't been able to paint Valadao with the broad-Trump brush as well as Democrats in other races.
Analysts at the Cook Political Report think the race is leaning in Valadao's favor but say Huerta still has a chance.
Follow @sarahdwire on Twitter
Read more about the 55 members of California's delegation at latimes.com/politics
ALSO:
Your ballot box guide to California's 17 propositions
California's U.S. Senate race is slipping away from Loretta Sanchez
---
Get our Essential Politics newsletter
The latest news, analysis and insights from our politics team in D.C.
You may occasionally receive promotional content from the Los Angeles Times.