California's U.S. Senate race is slipping away from Loretta Sanchez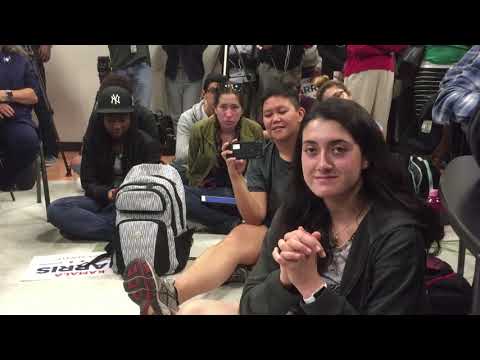 Senate candidates Loretta Sanchez and Kamala Harris campaign at Cal State Northridge on same day
Democrat Loretta Sanchez's wave of attacks against her rival and attempts to win over Republicans have failed to turn around her fading campaign for U.S. Senate, according to a new USC Dornsife/Los Angeles Times poll.
Just 28% of likely California voters have a favorable impression of the Orange County congresswoman, a basement-level number she shares with Republican presidential nominee Donald Trump, the survey found.
Atty. Gen. Kamala Harris, the solid front-runner in California's historic Democrat-versus-Democrat Senate contest, had favorability marks of 41%, brighter but not great. President Obama's approval here is 65% and Hillary Clinton's is 56%.
The survey found 48% of likely voters supported Harris, compared with 31% who backed Sanchez. The gap between the two Democrats has widened a smidgen since early September, when Sanchez began holding a series of news conferences attacking Harris' record as attorney general.
"I think the short story here is that Harris is comfortably ahead. Overall, she is just better-known and better-liked," said Anna Greenberg, the Democratic pollster whose firm forms half of the bipartisan team that conducts the survey for USC and The Times. "Sanchez is just at a major disadvantage."
Harris, the highest-ranking black politician in California, is the strong favorite among white, black and Asian voters. Latino voters remain Sanchez's strongest base of support, but even there Harris has made inroads, the survey shows.
"Hispanic voters are more likely to vote for Sanchez, but they are not hostile to Harris," Greenberg said.
The attorney general has been at the front of the pack in the Senate race since she first announcing in January 2015, and this and other polls indicate her lead has grown in the homestretch of the campaign despite two months of attacks.
Coverage of California races and ballot measures | Sign up for the newsletter
Since Labor Day, Sanchez has attempted to close the gap by yoking Harris to scandals surrounding Trump University, the closed San Onofre nuclear power plant and the nutritional company Herbalife. Sanchez also took shots at Harris' role in the national mortgage settlement, which the attorney general holds up as one of her top accomplishments.
But as of Oct. 19, Sanchez has raised only $4.5 million throughout the campaign, nowhere near enough to pay for a sustained statewide television ad campaign, the most effective — albeit expensive — way to influence the electorate in the largest state in the union.
Harris raised more than three times as much. Her $14.5 million didn't set any Golden State records, but it was enough to buy air time during the World Series and for a statewide ad with Obama singing her praises.
The race to succeed retiring Democratic Sen. Barbara Boxer, who is retiring after four terms in the Senate, is the highest-profile contest between two members of the same party since California adopted a top-two primary election system in 2012. And it's the first open Senate seat since 1992.
It also has played out on a desolate side stage of an election season dominated by the combustible presidential race.
The lack of voter interest, combined with Sanchez's struggles to raise money for her campaign, has undercut the congresswoman's effort to attract support from Republicans and independents who may feel disenfranchised by having two Democrats on the Senate ballot, said Dan Schnur, director of the Jesse M. Unruh Institute of Politics at USC.
"Republican and independent voters need to know you're more moderate," he said. "If they don't they will simply ignore you."
One in four Republicans won't vote for either Democrat or remain undecided. Still, the survey found Sanchez leads Harris among likely Republican voters by a narrow margin of 32% to 27%.
Sanchez for months has been courting Republicans and moderates, emphasizing her expertise on national defense and global threats as a member of the House Armed Services and Homeland Security committees, and at the same time has tried to paint Harris as a far-left liberal favored by the San Francisco Democratic establishment.
Along with support from Democratic colleagues in Congress, Sanchez has touted endorsements from well-known Southern California Republicans Richard Riordan, the former mayor of Los Angeles, and former Rep. Howard "Buck" McKeon of Santa Clarita.
That helped tip the scale for Republican Richard Ogan of Oceanside. Ogan, a Trump supporter who took part in the survey, said he struggled to decide.
The ballot box guide to California's propositions >>
"I've heard Sanchez before and I just like her better," said Ogan, 83, a retired electrical engineer who worked for the U.S. Navy.
Still, Sanchez's lead among Republicans might not pay great dividends, said pollster Randy Gutermuth of American Viewpoint, the Republican polling firm that jointly conducted the survey. He expects to see a "massive drop off" of GOP voters casting ballots in the Senate race after they check a box in the presidential race.
Democrats still rule the West, at least in California, with an 18% advantage over the GOP when it comes to registered voters. And likely Democratic voters favor Harris over Sanchez by more than a 2-1 margin, the poll showed.
Harneet Sawhney, a dentist from Irvine, said her decision to vote for Harris was influenced greatly by Obama's endorsement. Harris also has collected endorsements from most of California's top Democratic leaders, including the governor, Boxer and Sen. Dianne Feinstein.
Sawhney, a U.S. citizen who was born in India, said Harris' support of the Indian-American community also helped make her decision easier. She is the daughter of immigrants from Jamaica and India.
"I think she would be a good fit … and I saw the president of America was supporting her," said Sawhney, 26.
Harris lead among both men and women, and among all age groups except voters between the ages of 18 and 39.
Sanchez has a slight edge among voters in the Central Valley and California's central coast. But Harris dominates in Los Angeles County and the San Francisco Bay Area, which, combined, are home to more than 40% of California's electorate.
Democratic political consultant Doug Herman said he doesn't see any path to victory for Sanchez, no matter what type of patchwork coalition of support she may stitch together. The most effective strategy to have in a statewide race in solidly blue California is "to be the best Democrat," he said.
The survey of 1,500 registered voters was conducted for USC Dornsife and the Los Angeles Times by Greenberg Quinlan Rosner Research and American Viewpoint. The survey was conducted by telephone in English and Spanish from Oct. 22-30. The results for the U.S. Senate race are based on responses from 697 likely voters and the margin of sampling error was plus or minus 3.7 percentage points.
Twitter: @philwillon
ALSO:
Riding high in the U.S. Senate race, Kamala Harris pushes to help down-ballot Democrats
Backed by 'Occupy' activists, Loretta Sanchez criticizes Kamala Harris' signature mortgage settlement
When running for U.S. Senate, it's good to be the highly visible California attorney general
Loretta Sanchez has gone negative. Now she's risking fallout for a future in the Democratic Party
Get our Essential Politics newsletter
The latest news, analysis and insights from our politics team.
You may occasionally receive promotional content from the Los Angeles Times.