After gun control sit-in, California House Democrats bring 'day of action' home to constituents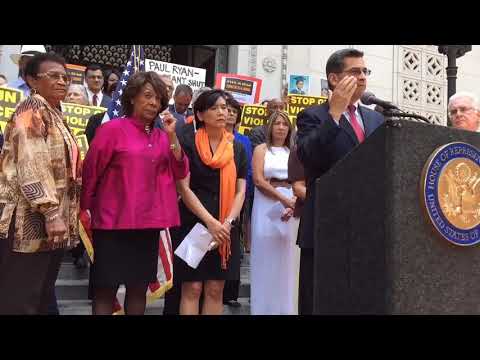 Rep. Xavier Becerra and other Democratic California House members hosted a roundtable discussion on gun violence at L.A. City Hall on Wednesday.
Watching the Democrats' sit-in on the House floor last week filled Mandy Pifer with pride — and the conviction that Congress will act on tougher gun violence laws.
Pifer, whose boyfriend, Shannon Johnson, was killed in the San Bernardino shooting Dec. 2, had the chance to offer her encouragement in person Wednesday at a roundtable discussion on advancing gun control hosted by Southern California House members at Los Angeles City Hall.
"Last weekend, I was watching the sit-in in the House. My heart was broken because it's personal now," Pifer said at a news conference following the discussion. "But for the first time in a long time, my heart was filled with love and pride, and I'm convinced that my representatives and our representatives aren't going to stand silent anymore."
Hundreds of similar stories were told at events around California and the U.S. on Wednesday as House Democrats held a "day of action" to keep attention on efforts to vote on expanded background checks for gun purchasers and to keep those on the FBI's watch lists from legally purchasing guns.
Democrats staged a 25-hour sit-in on the House floor a week ago, shouting demands for votes on new laws as Republicans quickly moved to head home for the week ahead of the July 4 holiday. Hour after hour Democrats told personal stories of victims they knew and constituents they lost, but ended the sit-in without Republicans conceding to a vote.
Republican leaders labeled the sit-in a stunt, especially after the Democratic Congressional Campaign Committee sent half dozen emails to supporters asking for donations while Democrats occupied the floor. House Speaker Paul D. Ryan said this week that Republicans won't tolerate another sit-in.
After meeting privately with more than a dozen community members, family members of gun violence victims and leaders of the Muslim and LGBT communities Wednesday, House Democratic Caucus Chairman Xavier Becerra demanded a vote.
"America's cities are becoming well known for sorrowful reasons. San Bernardino, Orlando, Charleston, Newtown, Columbine — we must do something, anything that can save even one life," the Los Angeles Democrat said. "Congress owes us a vote, and if you don't give us a vote, Congress, we'll remember it in November."
Rep. Maxine Waters (D-Los Angeles) told the crowd that "right-wing conservatives" are "hiding behind the 2nd Amendment and the Constitution."
"We're asking Paul Ryan to take this up on the floor of the House," she said. "He's spineless, he's gutless, and we want to take this bill up and we're going to stay in this mode, confronting until we get it done."
To the north, at the Zuckerberg San Francisco General Hospital and Trauma Center, Minority Leader Nancy Pelosi (D-San Francisco) spoke to supporters on Wednesday along with the Democratic Gun Violence Prevention Task Force Chairman Mike Thompson of St. Helena and other Bay Area House members. Several children sat on the stage holding signs saying, "Disarm Hate."
"This needs to be people-driven," Thompson said, urging the audience to contact their elected representatives about expanded background checks. "We need that message delivered to every member of Congress who's not already standing with us."
More than 200 people signed up to attend Monterey Park Rep. Judy Chu's meeting at All Saints Episcopal Church on Wednesday evening to hear from people affected by gun violence, including Josh Stepakoff, who survived the 1999 shooting at the Los Angeles Jewish Community Center, and his mother, Lauren Leib.
Rep. Scott Peters (D-San Diego) toured UC San Diego Medical Center's trauma center before talking with domestic violence and mental health professionals about how they treat gun violence victims, pointing out how domestic violence, mental health and gun violence can intersect.
Rep. Alan Lowenthal (D-Long Beach) was scheduled to host a community forum at Long Beach City Hall Plaza on Wednesday night with local gun control advocates.
Last week, millions watched as a few California members live-streamed the sit-in on the House floor after Republicans shut off the cameras that feed to C-SPAN.
Several members used live-streaming to reach out Wednesday as well. Rep. Pete Aguilar (D-Redlands) used Facebook Live to stream a San Bernardino news conference he held with clergy and people affected by gun violence.
Aguilar said Congress should be able to find common-sense reforms that also protect the 2nd Amendment.
Gun control "shouldn't be something that is subject to political theater or rhetoric or party-line talking points," he said.
A woman asked Aguilar afterward what concrete things Democrats expect to get done when the House returns July 5.
"We plan to elevate the discussion and do whatever we can to ensure a vote," Aguilar said.
Rep. Doris Matsui (D-Sacramento) also used Facebook Live to speak with constituents early in the day. She later held a video chat with doctors with the UC Davis Health System.
Several members used social media to make their case throughout the day.
Rep. Janice Hahn, a Los Angeles Democrat who held an emotional meeting with gun violence survivors Monday night, spent hours on Wednesday thanking the nearly 200 people in the entertainment industry who signed an open letter in Billboard magazine calling on Congress to act.
Follow @sarahdwire and @cmaiduc on Twitter
Wire reported from Washington and Mai-Duc from Los Angeles.
Read more about the 55 members of California's delegation at latimes.com/politics
ALSO:
'No bill, no break': House Democrats continue sit-in protest into early morning
California House members were the public's eyes during the Democrats' gun control sit-in
Get our Essential Politics newsletter
The latest news, analysis and insights from our politics team.
You may occasionally receive promotional content from the Los Angeles Times.