Democrats criticize GOP attempt to insert drought plan in federal spending bill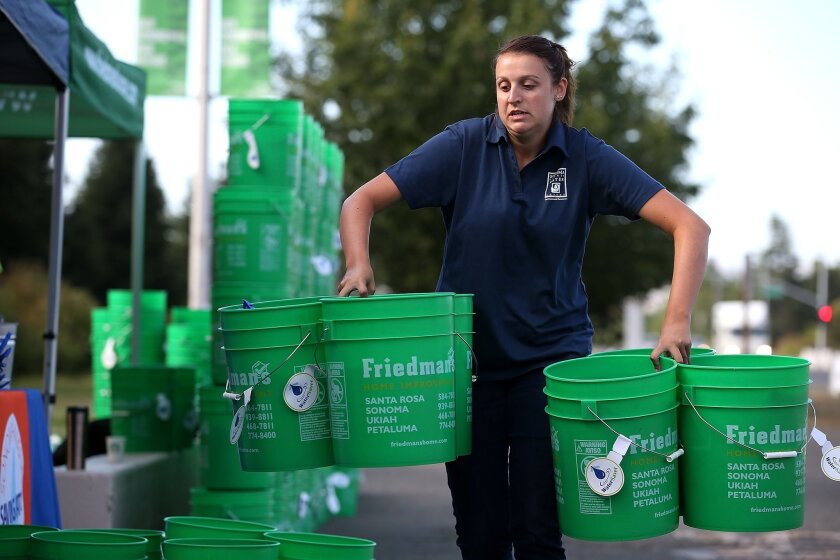 Reporting from Washington —
California Democrats are fuming over an attempt by the state's Republican House members to insert language addressing the state's drought into a must-pass bill to fund the federal government.
In an apparent mix-up, the GOP proposal was presented Friday as if it had bipartisan blessings.
Members from both parties and their staffs have met regularly, but unofficially, for months in an attempt to reconcile a House bill proposed by Rep. David Valadao (R-Hanford) and a Senate bill proposed by Sen. Dianne Feinstein (D-Calif.). With days dwindling before members leave for the year, and no final plan reached, Republicans put forward a draft of the negotiated bill to be included in legislation to fund most government operations. The details of that bill are still being worked out. Congress has until next Friday to pass it and avoid shutting down the government.
"This latest proposal is largely a byproduct of bipartisan negotiations following passage of legislation in the House and introduction of legislation in the Senate. In order to take advantage of precipitation from El Nino, we must act now," Republican House members said in a statement Friday.
Feinstein said Friday that she didn't sign onto the Republican measure.
"I am told it was proposed in my name, which I did not approve. This is regrettable, not only because I believe we remain close to an agreement on a broader bill, but also because it stands in opposition to my desire to do a bill in an open and public manner," Feinstein said in a statement.
Sen. Barbara Boxer (D-Calif.) accused House Majority Leader Kevin McCarthy (R-Bakersfield) of "making a last-minute attempt to place a complicated and unvetted water bill that impacts millions of Californians on the omnibus at the 11th hour." She said the final proposal needs to be debated publicly.
SIGN UP for our free Essential Politics newsletter >>
A Republican aide said Friday that the proposal was submitted by Republican members of the California delegation to the Appropriations Committee for consideration in the spending bill, but was not intended to be represented as a done deal that Feinstein had agreed to. But at some point along the way, there was miscommunication about her support.
Feinstein sent a second press release late in the day saying that she had spoken with McCarthy about her objections to including the drought language in the spending bill.
"To pass any bill out of the Senate, it must be supported by both California senators. Senator Boxer has urged an open process and the sign-off of both the federal and state governments, which is a very reasonable request. It is my intention to finish this process and submit the bill for regular order," Feinstein said.
Valadao's bill passed the House in June, but the White House signaled at the time that President Obama would veto it. The House bill aimed to funnel more water to San Joaquin Valley growers by reducing the amount used to support endangered fish populations. Feinstein's bill, which focuses more on water storage, desalination and other projects, hasn't been considered by the GOP-controlled Senate.
But 10 Delta-area Democrats sent a letter to House and Senate leaders Thursday objecting to including the language in the spending bill. Democrats and environmental groups have argued the House bill would have overridden legal protections for salmon, migratory birds and other fish and wildlife.
"Given the magnitude and gravity of this legislation for all Western states, we believe it should be thoroughly and thoughtfully considered, not hastily included in a must-pass funding bill," the letter states. "Both the House and Senate bills include long-term provisions which have implications far beyond the current drought and California."
Follow @sarahdwire on Twitter
Read more about the 55 members of California's delegation at latimes.com/politics
MORE:
Congressional Republicans send Obama letter demanding plan to collect El Niño water
California's congressional delegation can't agree on response to the drought
---
Life is stressful. Our weekly mental wellness newsletter can help.
You may occasionally receive promotional content from the Los Angeles Times.