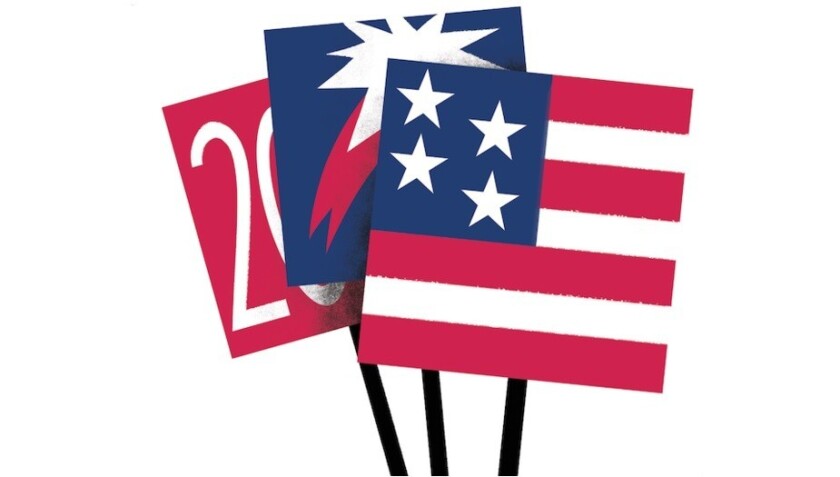 Congress will hold hearings all week for President-elect Donald Trump's nominees, including five of them Wednesday, the same day that Trump is scheduled to hold his first press conference since well before the election. But before all that, President Obama is slated to say goodbye in a prime-time farewell speech in Chicago.
Good morning, I'm Sarah Wire. Welcome to the Monday edition of Essential Politics, which many are regarding as the calm before the mid-week news dump. Some things to look for in the upcoming hearings:
Almost two dozen Senate Democrats want fast-food workers to testify at the confirmation hearing for Trump's Labor secretary pick, Andy Puzder, who is the chief executive of the parent company of the Carl's Jr. and Hardee's burger chains.
The chairman of the Senate Foreign Relations Committee said he thinks Trump's choice for secretary of State Rex Tillerson will play "a very substantial role" in shaping Trump's policies on Russia.
Trump still has some major picks to make so that they can get a hearing, and California farm groups are urging the incoming president to choose former California Lt. Gov. Abel Maldonado to lead the federal Agriculture Department.
California has a big confirmation hearing of its own on Tuesday for Rep. Xavier Becerra, who is likely to become the state's next attorney general. More on that later.
For updates on all the hearings, keep an eye on our Essential Politics news feed, get the latest about the Trump transition on Trail Guide and follow @latimespolitics.
ABOUT THAT INTELLIGENCE REPORT
Friday's release of a joint intelligence report on Russia's effort to help President-elect Donald Trump in the 2016 election continued to roil the political world over the weekend. In an interview that aired Sunday, President Obama told ABC's "This Week" he may have misjudged Russia's ability to influence the American electoral process, while Trump and his aides continued to downplay the report's findings.
SPREADING INFLUENCE
Trump supporters hope Democrats' control of the Golden State can be dislodged by a coalition the Republicans stitched together to win the presidency, although most acknowledge the hurdles they face. Seema Mehta has the story on Republicans trying to turn the energy that propelled Trump to the White House into political gains in California.
Turlock Republican Rep. Jeff Denham is hoping a single comment from the president-elect during the campaign will help his idea to let people brought to the country illegally as children earn citizenship through military service.
A LEFT COAST CONFIRMATION HEARING
Republican lawmakers say they want to know what Rep. Xavier Becerra will do as attorney general on crime prevention, guns and marijuana. They'll get a chance to ask when Becerra sits down for his first confirmation hearing Tuesday in Sacramento.
The law-and order issues are in contrast to Democratic lawmakers' expected questions for Becerra on how he will stand up to Trump's threat of mass deportations of immigrants in the country illegally.
Over the weekend, Becerra jabbed at Trump's threats of mass deportation and promise to create a registry of Muslims.
34TH DISTRICT: AND THEN THERE WERE 12
Two new contenders in the race to replace Becerra in representing downtown Los Angeles brings the field of candidates to 12. The latest hopefuls to announce they're running are Vanessa Aramayo, former head of anti-poverty group California Partnership, and Maria Cabildo, a former L.A. city planning commissioner who now oversees implementation of Los Angeles County's homelessness initiative. Meanwhile, candidate Steven Mac, won't be campaigning for the next few weeks, as he'll be in military training in Georgia.
The special election to choose a winner, which hasn't been scheduled yet, won't come cheap, our John Myers points out.
WILL ERIC HOLDER BE CALIFORNIA'S MVP?
Becerra is likely to be California's next attorney general, but legislative leaders announced last week they also hired former U.S. Atty. Gen. Eric Holder to provide legal advice for the state's anticipated battles against the incoming Trump administration.
Republicans in the Legislature have denounced the move, calling it a waste of taxpayer money. Odds are Holder could be the state's most valuable player in its fight against Trump's proposed policies, writes our columnist George Skelton.
EXPANDING IN-STATE TUITION FOR PEOPLE IN THE COUNTRY ILLEGALLY
State Sen. Ricardo Lara (D-Bell Gardens) wants to greatly expand the number of students in the country illegally who can get discounted, in-state resident tuition at state universities. Lara called his bill "another way California will fight Trump."
"Despite national rhetoric, California remains resolute in integrating the most vulnerable into our society," Lara said.
THE DATA GEEK WHO CAME OUT OF NOWHERE
Three years ago, Rob Pyers was an unemployed college dropout, eating cheap and binge-watching Netflix to pass the time. Today, from his one-bedroom apartment in West Hollywood, the one-time aspiring screenwriter helms the California Target Book, a nonpartisan election guide that for decades has analyzed state legislative and congressional races.
Christine Mai-Duc has the story of how Pyers, who took over after his mentor Allan Hoffenblum died in 2015, became a go-to source for reporters and Capitol insiders by organizing massive amounts of data and becoming a top source in the often opaque world of campaign finance.
NEW YEAR, NEW BUDGET, SAME ROADS PROPOSAL
This big news week will also include the unveiling of Gov. Jerry Brown's budget, and recent indicators suggest it could be Brown's "most circumspect to date, even after voters in November approved billions of dollars in additional taxes," John Myers writes. Few details are revealed beforehand, but Brown's aides say his new budget will include a plan for boosting repair of the state's crumbling roads and bridges similar to the $3.6 billion annual transportation funding increase he floated last year.
TODAY'S ESSENTIALS
— San Diego's Rep. Duncan Hunter pulled down a controversial student painting depicting police as pigs from a U.S. Capitol wall.
— After Uber tested its self-driving cars in San Francisco, a state lawmaker has introduced legislation to increase penalties on companies that don't get permission to do so.
— Former L.A. Rams star Rosey Grier says he plans to run for governor of California.
— New legislation proposed in the state Legislature would require law enforcement agencies to develop policies for the use of surveillance devices.
— State officials have failed to remedy problems that have contributed to a two-year delay for a new computer system, pushing its cost toward $1 billion, state Auditor Elaine Howle warned Thursday.
— Vista Republican Rep. Darrell Issa wants companies that recruit highly skilled foreign workers to follow new standards aimed at making it more difficult to exploit the visa program that allows them to work in the country.
LOGISTICS
Essential Politics is published Monday, Wednesday and Friday.You can keep up with breaking news on our politics page throughout the day for the latest and greatest. And are you following us on Twitter at @latimespolitics?
Miss Friday's newsletter? Here you go.
Have you heard the California politics podcast? It's hosted by Sacramento bureau chief John Myers. Here's the latest edition.
Please send thoughts, concerns and news tips to politics@latimes.com.
Did someone forward you this? Sign up here to get Essential Politics in your inbox.
---