How Rob Pyers went from laid-off drugstore employee to one of California's campaign finance experts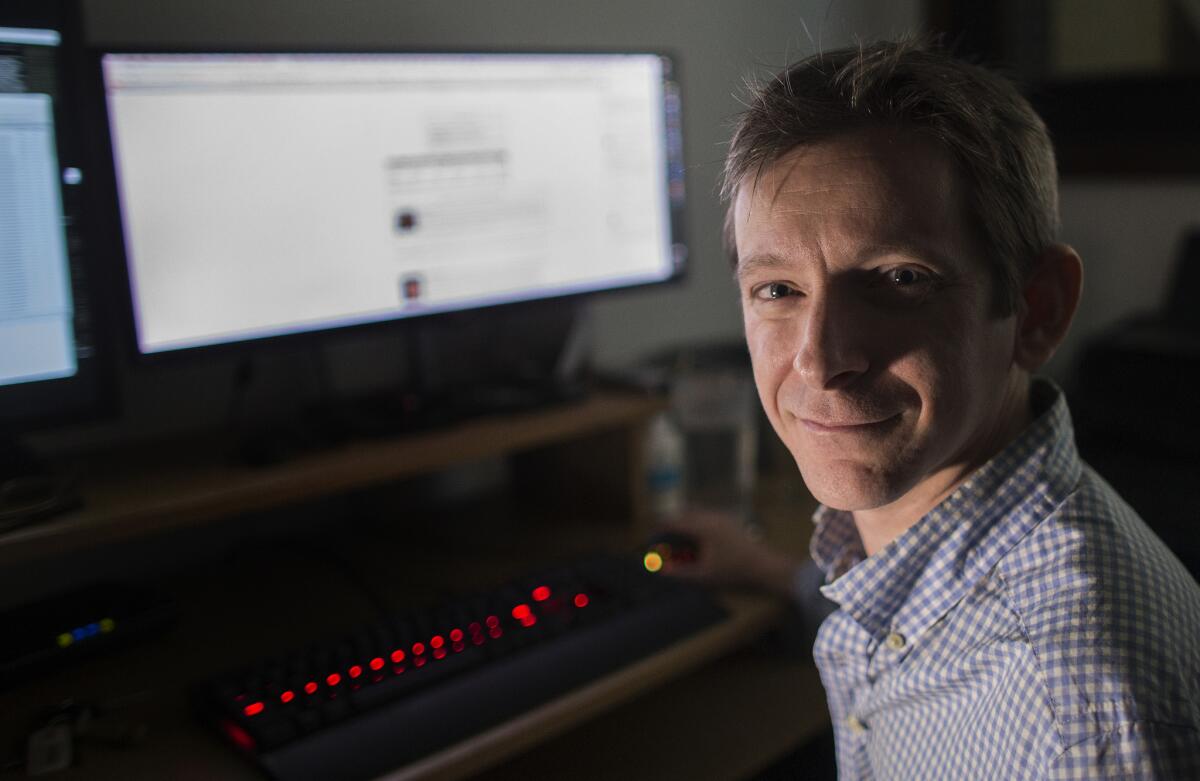 On an afternoon in mid-December, Rob Pyers notices something amiss. It's months after the grueling 2016 election, a quiet time when consultants and candidates are taking long-deferred vacations.
But that matters little to Pyers, who sees that hundreds of rows of federal campaign contributions he's carefully culled and coded have gone missing from the website of the California Target Book, the subscriber-based election guide he helps run. After 10 minutes of furious typing, Pyers is visibly relieved — he's fixed the database.
Three years ago, Pyers was as far away from politics as one could imagine: a listless college dropout who'd been laid off from his job, eating cheap and binge-watching Netflix to pass the time.
Today, from his one-bedroom apartment in West Hollywood, Pyers, 41, anchors the Target Book, one of the most trusted compendiums on state politics. For years, the publication has helped several hundred subscribers — mostly political consultants and party insiders who can afford its $2,700 price tag for a two-year subscription — identify the hottest legislative and congressional races to focus on. The guide uses publicly available information to provide an at-a-glance analysis of each district's demographics, a rundown of the candidates competing in political races and data on voter registration and past election results.
Despite Pyers' distaste for many aspects of the Sacramento political orbit, his work on the book has quickly made him the ultimate insider in the often-opaque world of campaign finance. His passion for organizing massive amounts of data has transformed the publication and made his Twitter feed a go-to resource for some of Sacramento's top operatives.
It's a transformation even he can hardly believe.
"If you would have put everything I've done in the past 18 months in front of me back then," he says, "I would have thought you were on crack or something."
SIGN UP for our free Essential Politics newsletter >> »
Pyers got to Hollywood the same way so many have before him: in a car stuffed full of his belongings and the hopes of making it big.
In early 2003 — harboring dreams of becoming a screenwriter — he drove as far as Interstate 10 would take him, from Jacksonville, Fla., to Santa Monica.
By 2011, constant rejection had withered those dreams, and Pyers was stuck at the same job at Walgreens he'd taken eight years earlier to pay the bills. It wouldn't be long before he was laid off.
It was around then that he met Allan Hoffenblum, the longtime publisher of the Target Book and a fixture in West Hollywood social circles through which Pyers had made most of his friends. Hoffenblum was one of the few conservatives he knew in the community, something he and Pyers bonded over.
"It was just very easy to get along with him, even if you completely disagreed with him on something," Pyers said of Hoffenblum.
When Pyers was living off a dwindling severance two years ago, Hoffenblum asked him for help redesigning his personal website. It had been decades since his last computer programming class, but after weeks of frustration and toil, Pyers finished the job.
A couple of months later, Hoffenblum asked Pyers to help with proofreading and research for the Target Book.
When Hoffenblum complained about how time-consuming it was to track down campaign finance data, Pyers looked for ways to automate the process with computer code.
He watched hours of online tutorials, took a couple of basic seminars and found himself in an obsessive trial-and-error loop for weeks.
"I think one of my great talents is being able to Google error messages," Pyers said.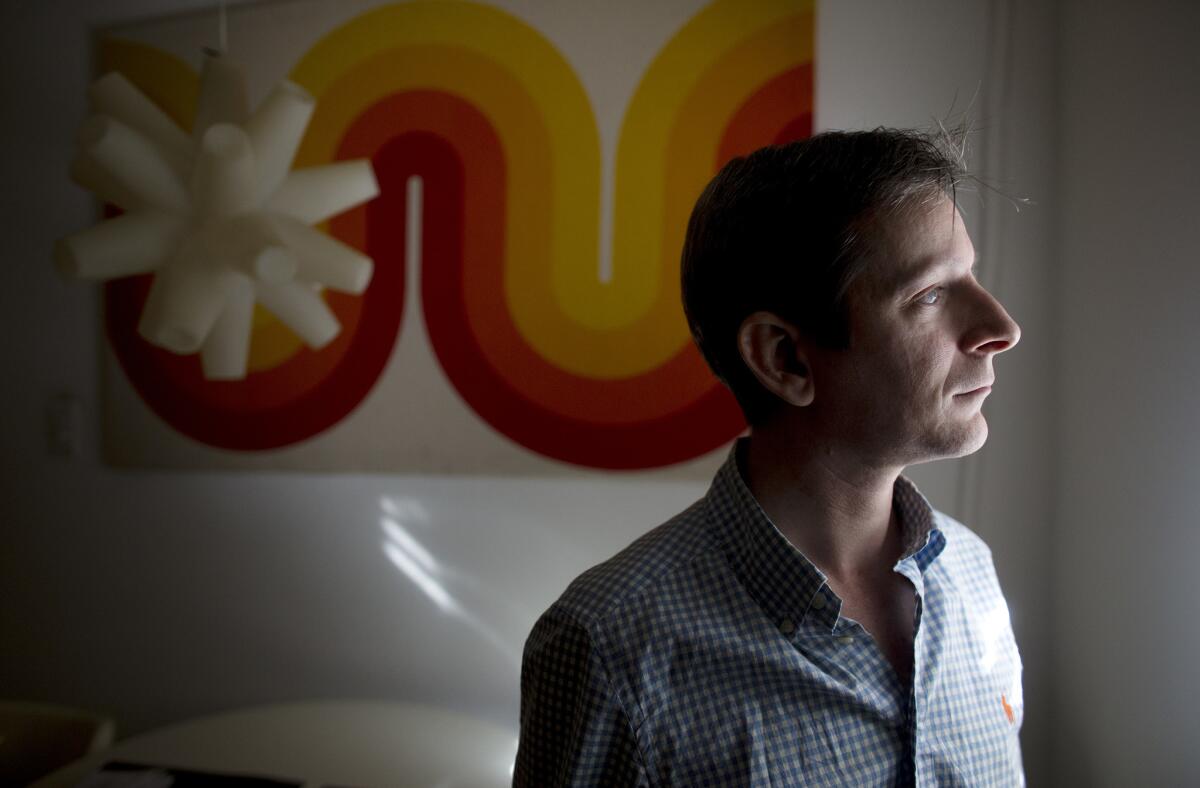 By June, he'd published his first data project on the book's website. By September, he was getting an automated alert every time someone filed a new candidate committee or when a major campaign contribution came in. Hoffenblum chimed in with tips on how to make the new features more user-friendly and taught Pyers how to use Twitter.
But the next month, Pyers showed up to his mentor's condo for a meeting and found that he'd died in his sleep. Hoffenblum, who had effectively run the Target Book virtually as a one-man show for 23 years, willed it to Darry Sragow, a friend and co-editor who had promised to carry it on.
But the question remained: Would subscribers remain loyal to a Target Book without Hoffenblum at the helm? Even if they did, Sragow wondered, who would do the work?
"Well, there was Rob Pyers, standing right there," said Sragow, who first met Pyers at his friend's memorial. "It really was providence."
With the election fast approaching and subscribers counting on the book to handicap legislative and congressional races statewide, Pyers got to work.
He wrote candidate profiles and updated voter registration data for each of the 120 legislative districts and 53 congressional districts in California, while Sragow and co-editor Tony Quinn edited his work. He also continued to add to the list of online campaign finance data tools tracking the flow of state campaign money.
It was like "trying to fix an engine on an airplane while you're mid-flight," Pyers said. He was terrified, he recalled, but also engrossed.
"It gave me something to drive toward, to make better, to channel all my energy into," he said.
In a year, he's added charts to track top spending by outside groups and state parties, and features that show top donors in the intricate web of political action committees, information that would usually take hours of work to find.
On Twitter, where Pyers describes himself as "95 lbs. of concentrated tech geek," he's often the first to break news on new candidate filings or large sums of money dropped into a race by outside groups.
"Data has become an increasingly key part of running any political campaign, and that struck me as a way to remain relevant," Pyers said of his digital approach to the Target Book, which has traditionally published its print edition three times a year.
During the height of campaign season, Pyers worked 19-hour days, fueled by Coca-Cola and four-packs of Red Bull. A wet bar in the corner of his living room gathered dust, and more than a year passed without him attending a party or concert with friends.
Data has become an increasingly key part of running any political campaign, and that struck me as a way to remain relevant.
— Rob Pyers, research director for the California Target Book
But many in the Sacramento political establishment began to take notice.
"I started seeing his stuff on Twitter over and over again, with information that was relevant and timely. I thought to myself, 'How does this guy know that?'" said Matt Rexroad, a Republican political consultant who relied heavily on Pyers' updates during the election season.
Pyers has also become a source for political reporters, answering inquiries on the most expensive campaigns and the millions of dollars poured into local soda taxes. His analyses and constant flow of updates on Twitter helped the Capitol press corps assess the ever-shifting landscape of political spending in a record-breaking year.
"That's a game-changer," said Laurel Rosenhall, a reporter for the nonprofit news outlet CalMatters, who often called Pyers for a birds-eye perspective on money in the election. Rosenhall, who for years tracked money and influence in state politics for the Sacramento Bee, used to keep her own spreadsheets for races she was following, updating contribution totals manually as reports rolled in.
"That's fine if you're responsible for covering a couple legislative races," she said. "But if you're sitting in Sacramento trying to assess the landscape of 100 legislative races going on, that's just not feasible."
Though Pyers says that having a "virtual monopoly" on this information is good for business, he thinks the state's campaign finance disclosure systems could be greatly improved.
"A system designed by a guy working out of his apartment shouldn't be able to compete with that," he said.
A self-described Libertarian with conservative leanings, Pyers believes in lifting all limits on campaign contributions and requiring immediate disclosure.
Philosophical questions aside, the current system is keeping him busy — and employed. He has grand designs for the Target Book: adding more robust coverage of ballot measure campaigns, redesigning the aging website and eventually covering congressional campaigns in other states.
He says he can't see himself leaving the work any time soon. Pyers, who calls himself an introvert, is still getting used to the often-clubby world of Sacramento operatives and politicians.
"The Sacramento cocktail circuit strikes me as one of my own personal versions of hell," he said.
But after the election, he met up with Rexroad in Hollywood, gleefully trading campaign post-mortems over coffee.
"Slowly coming into this and meeting people and getting new data and perspectives," Pyers said, "it's a learning experience — and one that I've enjoyed."
For more on California politics, follow @cmaiduc.
ALSO
Orange County's new 'homegrown' congressman plans to bring an immigrant's perspective to Washington
Who's in and who's out in the race to replace Rep. Xavier Becerra in Congress
After 24 years working together, Feinstein and Boxer say goodbye to their 'Thelma and Louise' partnership
Updates on California politics
---
UPDATES:
7:25 p.m.: This article was updated to provide additional details about the California Target Book's services.
This article was originally posted at 12:05 a.m.
Get our Essential Politics newsletter
The latest news, analysis and insights from our politics team.
You may occasionally receive promotional content from the Los Angeles Times.