California's gas tax increase has fast-tracked road repair projects as supporters hope to stave off a repeal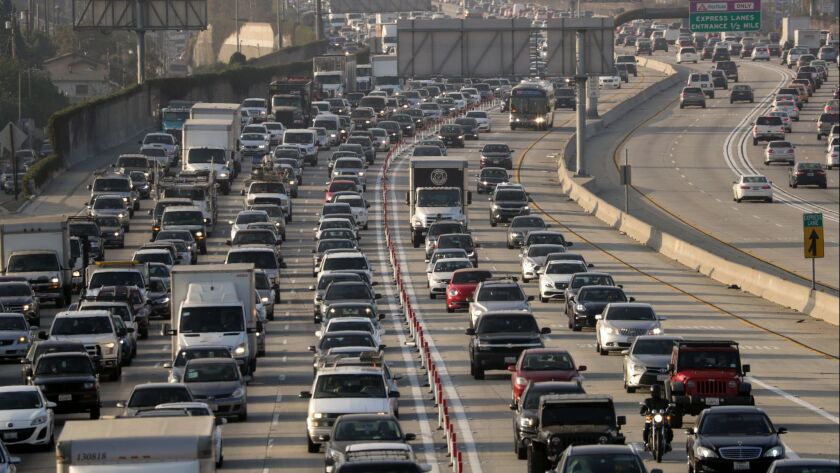 Motorists on the 605 Freeway may have recently noticed their ride getting smoother when they pass through El Monte — at least state officials hope they have.
Three months after the state began collecting an extra 12 cents per gallon in gas taxes, officials have put dozens of road and bridge repair projects on the fast track. With momentum growing for a Republican-led campaign to repeal the gas tax hike, nervous proponents of the higher charges are hoping the flurry of construction activity on California highways will save the $54 billion the levies will generate during the next decade for the state's badly neglected road system.
The stakes were raised Monday when President Trump announced plans to provide up to $200 billion in federal funds for road and other infrastructure projects, focusing heavily on the ability of states to provide substantial matching funds to receive a share of federal money.
"The proposed repeal of SB 1 would not only rob our state and local governments of vitally needed state funding, but now we learn that it could also hamper our ability to receive federal funding," said Matt Cate, executive director of the California State Assn. of Counties.
So far, $503 million in SB 1 revenue has been received, some of which went to cities and counties. The California Department of Transportation has spent $118 million in gas tax money on maintenance projects, completing 11 jobs and awarding contracts for 15 others. In addition, work has begun on 252 others, such as design and necessary engineering and environmental studies, said Matt Rocco, a Caltrans spokesman.
"Caltrans' quick work shows we are fixing and repairing the roads now," said Sen. James Beall (D-San Jose), author of the gas tax bill. "I think the quick turnaround proves that we can get the job done. I hope that resonates with voters.''
In some cases, the expectation of new tax revenue allowed Caltrans to front existing money so projects could be completed earlier with the idea that the costs would be replenished as the SB 1 funds arrive.
Projects completed early include a $2.6-million job, which wrapped up Dec. 4, that resurfaced three miles of Interstate 605 between El Monte and West Covina. Next month, Caltrans is scheduled to spend $1.7 million to resurface nearly seven miles of Interstate 5 between Interstate 605 and Washington Boulevard in the Los Angeles area.
Another 26 large road and highway improvement projects are in the design and pre-construction stages in Los Angeles County, and preparing to break ground in the coming months — much earlier than they would have started without the gas tax increase, officials said.
The expediting of projects is taking place as a group of Republican members of Congress from California nears the finish line in collecting signatures for a proposed ballot measure to repeal the gas tax increase that took effect Nov. 1, and the rise in vehicle fees that kicked in Jan. 1.
State officials hope that voters will see potholes disappear and, as a result, may be less likely to sign the initiative petition or vote for it should it make this year's Nov. 6 ballot.
Opponents of the gas tax don't believe the state construction spree will work to dissuade voters from repealing the tax hikes.
The opponents are close to collecting the 538,000 signatures needed to qualify the ballot initiative, according to former San Diego City Councilman Carl DeMaio, chairman of Reform California, a group pushing the repeal initiative.
"Voters are smarter than the politicians think — they know that any projects being done today are just window dressing as part of the campaign to keep this tax in place," DeMaio said. "Once the campaign is over, the projects will disappear and the money will be stolen again."
Gov. Jerry Brown signed the tax increase into law last April. Starting Nov. 1, the measure raised the state excise tax on gasoline by 12 cents, and increased the excise tax on diesel fuel by 20 cents. The sales tax rate on diesel was boosted from 9% to 13%.
Those provisions brought the state an extra $444 million in November and December, the last months for which figures are available.
Beginning Jan. 1, the law created a new annual "transportation improvement fee" on vehicle registrations ranging from $25 for cars valued at under $5,000, to $175 for cars worth $60,000 or more. That fee brought in $59 million in early payments during the last two months of 2017.
In lieu of gas taxes, electric car owners will pay a $100 annual fee starting in 2020.
The taxes and fees, when fully implemented, are expected to generate $5.4 billion annually. This budget year, which ends June 30, the take is estimated to be $2.8 billion. Next year, that will rise to $4.6 billion.
Some of the money will go to cities and counties. In January, the California Transportation Commission awarded more than $173 million to 57 local projects that will be allocated in fiscal years 2017-18 and 2018-19.
Caltrans Director Malcolm Dougherty said the approval of SB 1 in April let the department expand the number of projects funded this year and accelerated construction for dozens of repair jobs.
The state is in a race to get as many projects started as it can in the face of a threat that voters might repeal the tax hikes in November.
"We are moving forward as quickly and as appropriately as possible to bring the transportation improvements to the people of California," Dougherty said. "If the referendum were successful, then that would terminate any of those future investments."
Brown's gas tax money accelerates repair projects
More than $30 million in highway projects have been completed or started from SB 1 money.
Highway
Amount
Description
HighwayState Route 162
Amount$3 million
DescriptionResurface 8.2 lane miles near Covelo in Mendocino County
HighwayState Route 36
Amount$3.9 million
DescriptionResurface 11.4 lane miles south of Mad River in Trinity County
HighwayState Route 113
Amount$1.5 million
DescriptionResurface 3.6 lane miles in Dixon in Solano County
HighwayState Route 84;
State Route 220
Amount$1.7 million
DescriptionPlace a chip seal on 18.6 lane miles in Solano County
HighwayState Route 99
Amount$2 million
DescriptionReplace damaged pavement on 3.5 lane miles in Fresno
HighwayInterstate 605
Amount$2.6 million
DescriptionResurface 23.4 lane miles between El Monte and West Covina in Los Angeles County
HighwayInterstate 40;
U.S. Highway 95
Amount$10.1 million
DescriptionResurface 72.5 lane miles south of Needles in San Bernardino County
HighwayState Route 59
Amount$3 million
DescriptionResurface 25.6 lane miles near Merced
HighwayState Route 39;
State Route 1
Amount$2.7 million
DescriptionResurface 23 lane miles of pavement near Westminster and Huntington Beach in Orange County
HighwayState Route 57;
State Route 60
Amount$1.8 million
DescriptionRepair and resurface sections north of the Los Angeles/Orange County Line and in Diamond Bar in Los Angeles County
Source: Caltrans
To make sure the public sees progress being made, Caltrans has created a website that allows residents to follow the status of projects throughout the state.
If the ballot measure qualifies, voters can expect to see Brown out campaigning against it and touting completed projects.
"I will do everything in my power to defeat any repeal effort that gets on the ballot, you can count on that," Brown said last month in his State of the State address.
The flood of construction work underway will help the gas tax politically if the repeal measure makes the ballot, according to Roger Dickinson, executive director of Transportation California, an advocacy group of construction firms and labor unions.
"Projects are underway all across our state to increase safety, ease congestion, fill potholes, and repair bridges and overpasses," Dickinson said. "Californians want to see these improvements keep going. If the SB 1 repeal initiative makes it to the November ballot, it will be defeated."
Twitter: @mcgreevy99
---
Get our Essential Politics newsletter
The latest news, analysis and insights from our politics teams from Sacramento to D.C.
You may occasionally receive promotional content from the Los Angeles Times.