Gov. Gavin Newsom hints at a more hopeful budget for the state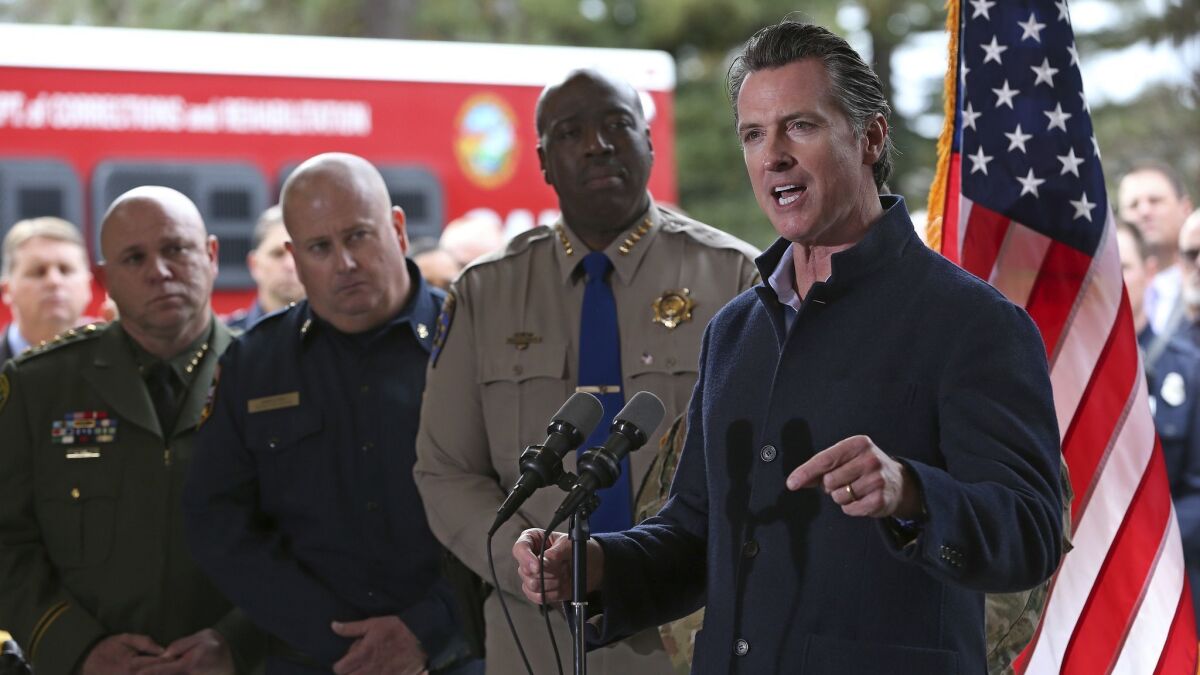 Reporting from Sacramento —
Gov. Gavin Newsom will unveil a lengthy blueprint for California government spending on Thursday, with promised money for healthcare, low-income housing and education riding on whether he sees boom or bust times on the horizon.
State officials use that economic forecast to calculate expected tax revenues. It is also a key component in gauging the size of what's believed to be a substantial windfall — as much as $15 billion in unexpected, discretionary revenues through next summer due to a still-booming economy. The question is how long these good times will last.
Newsom piqued the curiosity of state Capitol watchers on Tuesday when he described a soon-to-be-revealed decision he made in preparing his first budget as governor.
"I'm about to announce an interesting surplus," he told reporters during an event to announce new wildfire prevention efforts. "That will be a little more interesting than the one you're reading about, writing about."
With so much of the money collected by the state dedicated to things few governors would tinker with — those controlled by either constitutional mandate or political consensus, including bond obligations and prison spending — the bonus cash stands out as the most likely source of funding for much of Newsom's ambitious agenda. The funding plan could also bring into view a sharp contrast with his predecessor, the preternaturally cautious former Gov. Jerry Brown.
"Fear of recession has become the accepted mantra" in Sacramento, said Chris Hoene, executive director of the California Budget & Policy Center, a nonprofit that advocates for programs to help those in the state living in poverty "We're already seeing a difference in approach with this governor."
Newsom's advisers did little during the nine-week transition between governors to dissuade lawmakers or advocacy groups from believing an evolution in budgeting was in store. In the week leading up to Monday's inauguration, a series of proposals were revealed for new investments in programs for children and families: expanded early childhood education services, longer workplace leave with pay for new parents and greater access to tuition-free community college.
Most of the documents on Newsom's budget plans, leaked to news outlets over the past week, lack details on what the programs would cost. But a plan to expand education programs, including full-day kindergarten and infant or toddler childcare, was pegged at $1.8 billion. Much of that money, according to a document obtained last week by The Times, would be a one-time expense. Newsom would expand classroom facilities and training programs for childcare workers — the kind of spending that would lay the groundwork for enhanced programs. Actual growth in the programs would have to wait until the future.
"That kind of step-by-step staging is what's needed," Hoene said. "I think we are seeing some smart policymaking in these early plans."
On Tuesday, Newsom continued his focus on one-time expenses by proposing $10 million for a long-term effort to move California's 911 system from decades-old analog technology to more reliable digital-based communications. He told reporters full funding of the conversion would come in the future through a new, dedicated fee on phone bills, a plan likely requiring legislative action.
Newsom's approach is not completely at odds with that of Brown, who famously constrained his tax revenue projections and then insisted to lawmakers that any windfall created by the miscalculation shouldn't be construed as money to pay for long-term government commitments.
In his inaugural speech, the new governor signaled what sounded like a new middle-ground approach.
"We will be prudent stewards of taxpayer dollars, pay down debt and meet our future obligations," Newsom said. "But let me be clear: We will be bold. We will aim high and we will work like hell to get there."
Education advocates are counting on that promise of audacity. The largest single share of state general fund spending each year — more than a third of such expenditures in the budget enacted last summer — are earmarked to K-12 schools and community colleges. But California's three-decade-old law prioritizing public school funding sets only a minimum level, not goals for additional spending.
"There's an opportunity now to do something very significant," said Kevin Gordon, a longtime education lobbyist. "The expected revenues could help break the back of this mentality that schools should only get the bare minimum [required by law]."
Successive years of strong tax revenues helped the state in recent times pay back most of the legal obligations to schools dating back to cuts enacted during the Great Recession. But Gordon pointed out that a number of school districts have raised a red flag of financial distress.
"[Newsom's] heart's in the right place when it comes to focusing on early education," Gordon said. "But it sets those kids up for failure if they go into an underfunded K-14 system."
Times staff writer Phil Willon contributed to this report.
Follow @johnmyers on Twitter, sign up for our daily Essential Politics newsletter and listen to the weekly California Politics Podcast
---
Life is stressful. Our weekly mental wellness newsletter can help.
You may occasionally receive promotional content from the Los Angeles Times.