Newsom blames the media, not his own words, for confusion over high-speed rail's future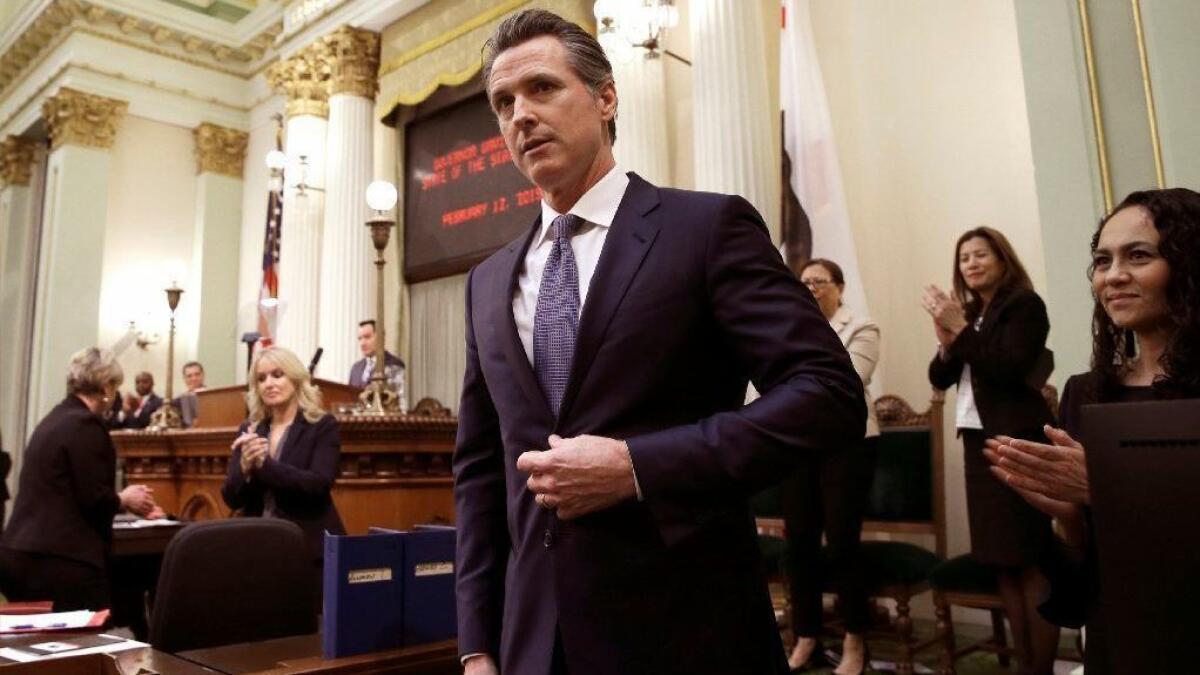 In the early moments of Gavin Newsom's first State of the State address, California's new governor promised to talk "frankly and directly" on "tough calls," including the future of the state's rail system.
Then he triggered mass confusion over the fate of the state's $77-billion high-speed rail project.
In the hours that followed Tuesday's speech, President Trump demanded California return $3.5 billion in federal stimulus funds, and headlines proclaimed the Democratic governor was abandoning the ambitious project championed by his predecessors — a story line that Newsom asserted is "completely made up" and one that his team has scrambled to walk back.
"I'm baffled by it," said Rob Stutzman, former communications director to Gov. Arnold Schwarzenegger. "It's very perplexing as to how something so important would be so dramatically miscommunicated."
Standing in an elementary school library Thursday in Magalia, a Butte County town heavily damaged in the Camp fire last year, Newsom told The Times that he too was "a bit perplexed" — but by reporters' misconstruing his words.
"I just think people in the media should pause before they run headlines and actually consider the facts and maybe even ask the person that's stating things before they run with things," Newsom said. "That's the deep lesson I learned in this."
In his speech, Newsom began by paying respect to the vision of Schwarzenegger and former Gov. Jerry Brown, who both supported a plan — now $44 billion over budget and 13 years behind schedule — to build a bullet train capable of hitting 200 miles per hour from San Francisco to Los Angeles.
The 51-year-old governor said that he shares that vision and that the economy and quality of life in California hinge on improving transportation.
"But let's be real," Newsom said to lawmakers gathered for Tuesday's speech. "The current project, as planned, would cost too much and respectfully take too long. There's been too little oversight and not enough transparency.
"Right now, there simply isn't a path to get from Sacramento to San Diego, let alone from San Francisco to L.A.," Newsom said. "I wish there were. However, we do have the capacity to complete a high-speed rail link between Merced and Bakersfield."
He guessed that critics would label it a "train to nowhere," which he called "wrong and offensive."
"High-speed rail is more than a train project," Newsom said. "It's about economic transformation, and it's about unlocking the enormous potential of the [Central] Valley."
Within minutes, the first headlines appeared.
An Associated Press story led with this: "California Gov. Gavin Newsom announced Tuesday he's abandoning a plan to build a high-speed rail line between Los Angeles and San Francisco, a project with an estimated cost that has ballooned to $77 billion."
Another headline from the Fresno Bee editorial board read: "Three words change the fate of high-speed rail, and with it, the Valley's future."
Dozens of publications offered varying interpretations.
House Minority Leader Kevin McCarthy, a staunch opponent of the project, seized on the moment.
"The train to nowhere is finally stopped," the Republican from Bakersfield tweeted. "I look forward to working w/ Governor Newsom and federal officials in the coming weeks to best mitigate what has already been wasted on high-speed rail due to the previous administration."
Newsom's communications office began calling reporters to clarify the governor's statements.
"What he said is we are refocusing to get a finished product from Bakersfield to Merced," the governor's spokesman, Nathan Click, said as the narrative spread.
"Governor Newsom fully committed to high-speed rail as part of All in California economic transformation, and clean energy future," tweeted Ann O'Leary, his chief-of-staff.
Lawmakers and outside groups friendly to Newsom attempted to stomp down assertions that he would finish anything less than the existing plan.
"He said we must focus on completing Central Valley segment & then move forward from there," state Sen. Scott Wiener (D-San Francisco) wrote on Twitter. "Bay Area & LA must be - & will be - part of CA's high speed rail network."
Newsom did not specifically say he was killing the project entirely or ending efforts to secure more funding. Rather, he said that the state would complete the Merced-to-Bakersfield line, the first phase of environmental work and "continue to support our regional projects north and south." Days later, the governor clarified that he meant regional work that has already been funded, including but not limited to the electrification of a commuter rail line from San Jose to San Francisco called the Caltrain and improvements at Union Station in Los Angeles.
The governor said Thursday that he publicly expressed thoughts in his speech that others have said in private, in an effort to be "more honest and accountable" about the reality of the project.
"The money that exists will allow us that 171-mile system," he said. "Beyond that there's no identifiable money. I also made that point. Everyone knows that. I said it. But that doesn't mean we give up."
Trump entered the fray more than 24 hours after Newsom's speech — much later than expected.
"California has been forced to cancel the massive bullet train project after having spent and wasted many billions of dollars," Trump tweeted. "They owe the Federal Government three and a half billion dollars. We want that money back now. Whole project is a 'green' disaster!"
Newsom tweeted back and called Trump's words "fake news." He asked if the president was "desperately searching" for money for his border wall with Mexico.
"We're building high-speed rail, connecting the Central Valley and beyond," Newsom tweeted. "This is CA's money, allocated by Congress for this project. We're not giving it back. The train is leaving the station — better get on board!"
Then, on Thursday, the governor blamed the Associated Press.
"There was an AP headline that really confounded us that I think created this firestorm, respectfully," Newsom said in an interview with The Times. "I'm not impugning anyone, but that, I think, led to a lot of … they just heard the first line and didn't listen to anything else in the speech."
The AP said it stands by its story.
"The Associated Press reported what the governor said during his State of the State address," Lauren Easton, director of media relations at the AP, said in a statement. "When AP later received additional comment from the governor's office, we updated the story."
Stutzman, the former aide to Schwarzenegger, said the pushback from the governor's office was more confusing than the speech itself.
"You can't put this one on the press," Stutzman said. "Mean what you say and say what you mean. To me, it was very clear that he was going to resize the scope of [the bullet train], finish what they started and then get out of it."
Stutzman said major speeches are typically vetted repeatedly and aides are tasked with understanding how words would be interpreted by different groups.
Newsom's office selectively shared information about his plans before the speech.
Reporters received the text of the address minutes before Newsom walked into the Assembly chamber. The governor's office briefed the State Building & Construction Trades Council of California before the speech, but only by saying the governor planned to discuss the rail project, said Cesar Diaz, the council's legislative and political director.
Afterward, Diaz said, the council urged the governor's office to clarify his plans.
"The project itself is an integral part of moving us from an economy that depends on freeways and so forth," Diaz said. "We know that rail works. We believe in tightening up and more accountability. The governor's changes could be a shot of energy to get this project up and running."
Carl Guardino, chief executive of the Silicon Valley Leadership Group, said he received a clear explanation of the governor's support for a "valley to valley" bullet train in private briefings, both before and after the speech.
"Why did I walk away with a much more positive view?" Guardino said. "That is why."
Times staff writer Liam Dillon contributed to this report.
Follow @TarynLuna on Twitter and sign up for our Essential Politics newsletter.
Get our Essential Politics newsletter
The latest news, analysis and insights from our politics team.
You may occasionally receive promotional content from the Los Angeles Times.