Newsom unveils a $209-billion budget to boost schools and healthcare and fight poverty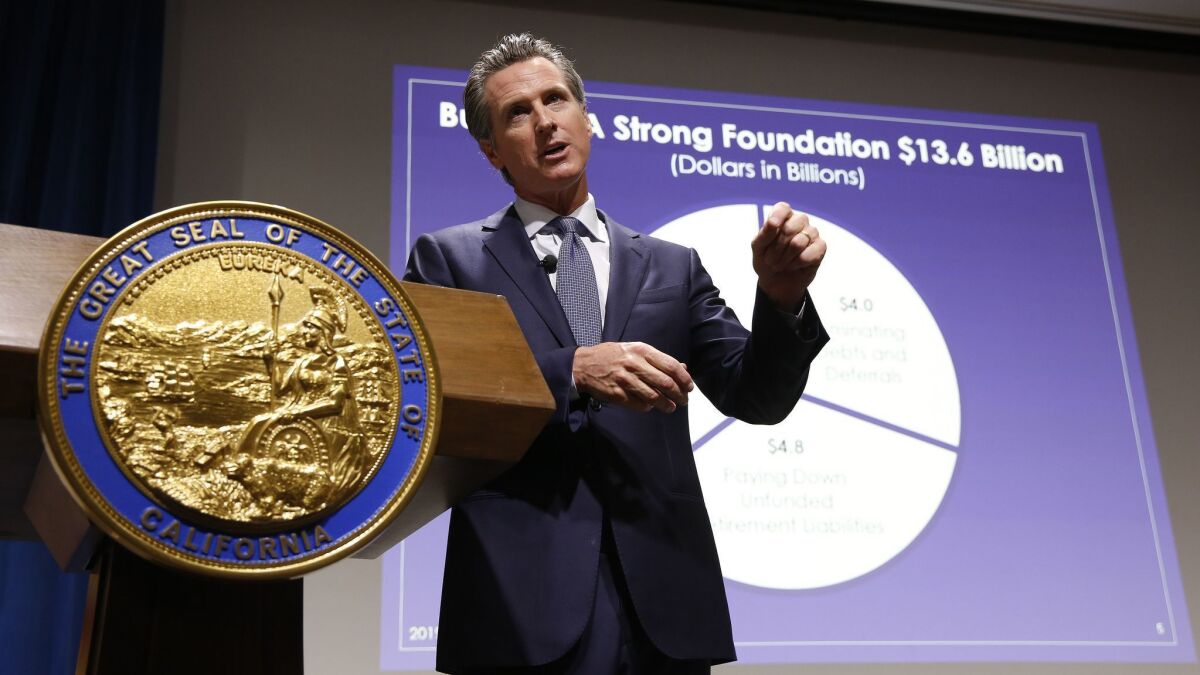 Reporting from Sacramento —
Gov. Gavin Newsom unveiled a $209-billion budget proposal Thursday that relies on a record-setting windfall of tax revenues to boost public schools and healthcare programs while adding significant one-time spending to address the state's homelessness epidemic and prepare for future natural disasters.
Newsom presented his plan in a free-wheeling event more akin to a political rally or TED talk than a formal budget introduction, using a slide presentation at the nearly two-hour event to make critiques and observations. The governor invited not only journalists but statewide elected officials, as well as leaders of powerful labor unions that supported his candidacy. Guests applauded as he vowed to expand services to help California's neediest.
"I know it's rote and cliche to say it's a reflection of our values, but it is a reflection of our values," Newsom said of his budget. "It is demonstrable that these dollars attach to real people and real people's lives."
Key to the governor's fiscal blueprint is its projection of $21.6 billion in unexpected revenue — money with no strings attached on its use. The estimate is significantly higher than even the most optimistic projections made just two months ago. And it's on top of $15.3 billion expected for the official "rainy day" reserve fund set aside for the direst of economic circumstances.
Newsom insisted that his plan, which uses $18.5 billion of the unrestricted windfall for one-time expenses, is even more prudent in some respects than those crafted by his predecessor, former Gov. Jerry Brown.
"We are arguing for even more discipline on our one-time investments," Newsom said. "The message we are advancing here is discipline. Building a strong foundation on which everything else can be built."
The budget offers additional money for myriad programs, many of which are used primarily by low-income residents, particularly those with children. Newsom proposed a $1-billion "working families tax credit," more than double the size of the state's existing tax break for low-income workers. The budget would notably expand eligibility for the tax break to those who earn up to $15 an hour, estimated by the administration to add up to 400,000 additional families.
The governor will also ask lawmakers to increase monthly welfare assistance grants under the state's CalWorks program, building on an effort led by lawmakers over the last two years.
Efforts to help ease California's housing and homelessness crises would be bolstered under the spending plan too, with $500 million to be set aside to help local governments build shelters and add services to help the homeless. Some of the money would be earmarked for the state's 11 largest cities, while other funds would be used to reward communities that are the most successful at creating housing options. Newsom also called for an expedited environmental review of construction projects to alleviate homelessness.
He said if the state can use those same tools to "expedite [sports] stadium projects, and we do all the time, we sure as hell should be able to do that for 138,000 damn souls that are out on streets and sidewalks."
Newsom pledged to escalate the state government's response to the lack of affordable housing, asking lawmakers to allocate $1.3 billion toward a new effort to build more homes and apartment units — and saying that fewer state transportation dollars could go to communities that fail to take action on housing.
"I'm in the spirit of collaboration and cooperation," the governor said. "But I'm also in the spirit of seeing things happen."
State Senate Minority Leader Patricia Bates (R-Laguna Niguel) said any refusal to fund transportation projects would fly in the face of promises made to voters last fall who left in place higher fuel taxes and vehicle fees.
"Withholding funds for road repairs would be a mistake and a bait-and-switch on the commitments made," Bates said.
A number of proposals reflect relatively small, targeted infusions of cash. The Newsom administration believes those initiatives will provide a foundation for new or expanded services, many of which would need to be funded over the course of several years.
Some of the phased-in efforts were outlined in the days leading up to Newsom's inauguration Monday. The governor will ask lawmakers to spend $1.8 billion, mostly in one-time expenses, to improve early childhood education and encourage more schools to provide full-day kindergarten. He will also ask for early steps toward a significant expansion of California's paid family leave for new parents. And Newsom has embraced calls for a second year of tuition-free community college for any student who wants it, a $40-million proposal that builds on existing law that covers costs for the first year.
"We are excited," said Eric Heins, president of the California Teachers Assn.. "He said what his commitments were on the campaign, and now he's following through on those."
The budget also makes good on a promise by Newsom hours after taking the oath of office: full access to Medi-Cal, the state's low-income healthcare program, for anyone up to age 26 who is in the U.S. illegally. Those who are 19 or younger are already covered. The budget proposal, which would be the first of its kind in the nation, puts the estimated cost for the first year at $260 million, dollars that must come from the state given federal restrictions based on immigration status.
Newsom said the expansion would be a first step toward providing universal healthcare, a key part of his platform during the 2018 campaign. Estimates are that increasing the age cut-off to 26 would extend coverage to 138,000 young immigrants now in the state.
Even without federal funding, the effort has drawn the ire of conservative lawmakers. On Tuesday, U.S. Sen. Bill Cassidy (R-La.) vowed to lead an effort in Washington to block Newsom from expanding healthcare access to more immigrants without legal status. Cassidy tweeted that California shouldn't use "American citizens' money" for the effort. Newsom fired back on Twitter that healthcare should be a "basic right."
The governor also proposed new help for some communities devastated by recent wildfires, including an offer to pay back property tax revenues that were lost when homes were destroyed.
The list of new spending in the Newsom budget is long: a boost to in-home support services, completing California's early earthquake warning system, extra payments toward public employee pensions and an almost four-fold increase in the size of Cal Grants for college tuition and books.
He even offered assistance to federal government workers who are without pay due to the shutdown stalemate in Washington.
"We'll get you unemployment insurance," Newsom said. "We'll cover you. We have your back."
Those proposed efforts and others are made possible by a continued strong economy, the seventh consecutive year in which tax revenue collections are expected to outpace official estimates. It is a remarkable run in a state where deficit-plagued budgets were once commonplace, helping plunge credit ratings and voter approval of lawmakers to historic lows.
But the governor and legislative leaders also know that a recession could be looming. Analysts have pointed out that if the national economy continues to produce solid results through this summer, it will tie the record — 10 years — for the longest recovery in modern history, double the length of average economic expansions.
Last month, officials reported the state's unemployment rate remained low at 4.1%, with more than 3 million California jobs created since the beginning of the current economic upswing.
The new governor will get his best chance to set the state's fiscal agenda in May, when his revised budget will take into account tax payments made by millions of Californians by April 15.
Times staff writers Taryn Luna, Phil Willon, Patrick McGreevy and Melody Gutierrez contributed to this report.
Twitter: @johnmyers
---
Life is stressful. Our weekly mental wellness newsletter can help.
You may occasionally receive promotional content from the Los Angeles Times.