Newsom wants companies collecting personal data to share the wealth with Californians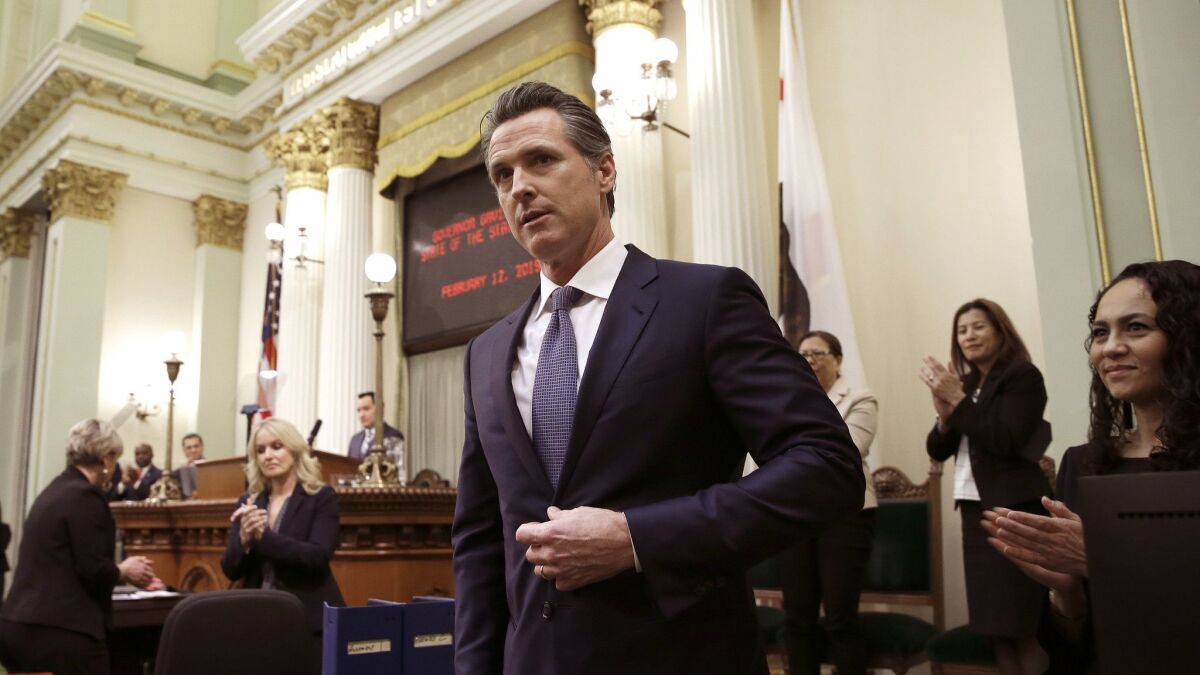 Reporting from Sacramento —
With a legislative battle underway in California over a landmark 2018 law that allows consumers to control what online personal data companies collect about them and sell, Gov. Gavin Newsom and state lawmakers have started work on another ambitious pursuit: putting a financial value on that information.
Newsom has assigned a team to work with national data scientists and legislators to create a "data dividend" — a payment that businesses would make to the state or to consumers if their personal data are sold. The concept has been discussed in Silicon Valley for years as a way to tackle growing income inequality at a time when tech companies have flourished and advances in automation have eliminated jobs.
But there is lots of debate over how it should work.
"[A data dividend] is a hard problem to solve," said state Sen. Bob Hertzberg (D-Van Nuys), who co-authored last year's California Consumer Privacy Act. "I see it as a societal issue. We have the potential to monetize people's value and ask: How do we create assets that can be enjoyed by the common good?"
Hertzberg and other state lawmakers have started their own data dividend discussions with experts — any plan crafted by the governor will require legislative approval — and at least one proposal introduced would create a legislative committee to study the issue.
Social media platforms such as Facebook, Twitter and Instagram and tech giants such as Google have long relied on the free trade of personal information in exchange for services. But any business can package and trade the personal data they collect from users or clients in the hidden online marketplace.
Banks, insurance providers and major retailers such as Amazon possess significant information about what people buy, watch, want or need that can be bundled and sold to third parties or used to target advertising and increase profits. No state or federal law provides consumers the right to know how much the information is worth or how much businesses pay for it.
The practices have also allowed third-party traders to compile data sets from multiple companies to create profiles about consumers that can be repackaged and resold, data scientists said.
Scandals over the practices of third-party data firms such as Cambridge Analytica, which obtained the information of tens of millions of Facebook users to help President Trump's 2016 campaign, have led consumers to demand more privacy regulations. Last month, Facebook reported it expected to pay up to $5 billion in fines to federal regulators over privacy issues.
California took the first step to regulate the marketplace and rein in data brokers last year when state lawmakers passed a far-reaching privacy law that gives people the right to "opt out" of having their data collected and allows them to ask companies to delete it. A data dividend, data scientists said, would go further, allowing consumers to collectively leverage their power over their information.
Such a system could allow the state to redistribute the profits — or develop an entirely different system, requiring businesses to pay people for the content they upload to free platforms. For example, Instagram became a billion-dollar company with just 13 employees and the help of hundreds of thousands of people around the world who contributed their photos without compensation from the company.
"I think most people recognize that there is something unsustainable going on here, where we are concentrating more and more power and wealth in a few companies, and it is not normal power. It is power over the nature of our democracy, over our families, over our personal identities," said computer scientist and author Jaron Lanier, who has been meeting with state lawmakers to discuss potential models for a new data dividend.
The concept shouldn't be misunderstood as "anti-tech," Lanier added. Drafting up a data dividend could allow the governor and state lawmakers to rethink the economy and measure the invisible labor of people, whether it's posting content to social media platforms or contributing personal information useful in coding new tech tools, he and other experts said.
In a state that's home to the most tech billionaires and Silicon Valley businesses that have spurred growth of the information economy, the push for a data dividend has taken hold as income inequality is acutely felt. Families that earn in the top 10% make more than 10 times as much as those in the bottom 10%, nearly double the divide in 1980, according to a 2019 study by the Public Policy Institute of California.
Newsom put legislators and tech companies on notice in his State of the State address in February that he planned to expand the state's data privacy efforts when he praised the 2018 law, saying "companies that make billions of dollars collecting, curating and monetizing our personal data have a duty to protect it."
"California's consumers should also be able to share in the wealth that is created from their data," he said.
Part of the challenge in crafting a state data dividend is that public officials have little idea what the data are worth. Companies have their own internal finance teams that place values on the data of different types of users or customers, and no state or federal agency has oversight over the private estimates.
There also is debate about how the data dividend should be structured. It could function like Alaska's Permanent Fund, in which oil companies doing business there pay a portion of their revenues to the state, and a part of the profit goes to a savings account divided among Alaskan residents.
Or it could be a payment or reward that goes straight to consumers who give companies the right to sell the personal information collected from them. Or it could function as a state tax on the businesses, with the resulting revenue redistributed to consumers.
Olaf Groth, an author and managing partner of Cambrian Group, an advisory think tank that designs tech strategies, policies and applications, said it could make sense to have a "data trust fund" instituted by the state and accessed by entrepreneurs and researchers who study or train in artificial intelligence.
Or, "You could say to the big digital companies — Google, Amazon and their Chinese equivalents — that they have to pay a small percentage of their revenue to their customers who are leaving these data footprints," Groth said. "But the amount of dividend any customers would receive, given how many customers there are, would likely be too tiny to matter much."
Dominique Shelton Leipzig, co-chair of the international law firm Perkins Coie's Ad Tech Privacy and Data Management practice, said that in developing a data dividend, legislators and the governor will have to consider the entire internet ecosystem and all its smaller players, including bloggers, entertainment companies and students.
Putting limits on the free exchange of personal information could hinder small businesses and entrepreneurs that rely on advertising and donations and also hurt internet users, she said.
"The reason there is so much content available to consumers globally is because it is ad-supported," she said.
The discussions are likely to coincide with another fight this year over the state's privacy law: Business groups want to narrow the scope of regulations for employers, while privacy advocates are working to expand protections for consumers and enforcement against violators.
Privacy advocates absorbed a major defeat last month as the Privacy for All bill, which would have created an "opt-in" option for consumers and require businesses to get permission before collecting their personal data, was shelved.
Six other industry-backed privacy bills remain, including proposals that would exempt insurance companies and agents from California's privacy law and allow companies to collect some personal data on employees and consumers needed for loyalty programs, gift cards and discounts.
Sen. Henry Stern (D-Los Angeles) pulled back another bill that would have amended the state's privacy law to allow targeted advertising by small businesses and nonprofits seeking customers or potential donors. His other proposal to establish a joint legislative committee to study putting together a data dividend moved out of a Senate committee last month.
Stern said the joint committee would allow legislators to analyze how Facebook and other tech companies could give back to the economic, media and political landscapes they have upended.
A data dividend is more than a tax, he said.
"To me, it's not only about the individual relationship with the internet: What is the selfie worth and are you getting enough for it?" he said. "It's more of collective look at it: What is the broader public cost and is tech taking a proper equity stake?"
More stories from Jazmine Ulloa »
Follow @jazmineulloa on Twitter.
---
Life is stressful. Our weekly mental wellness newsletter can help.
You may occasionally receive promotional content from the Los Angeles Times.