Gov.-elect Gavin Newsom names former Clinton advisor his chief of staff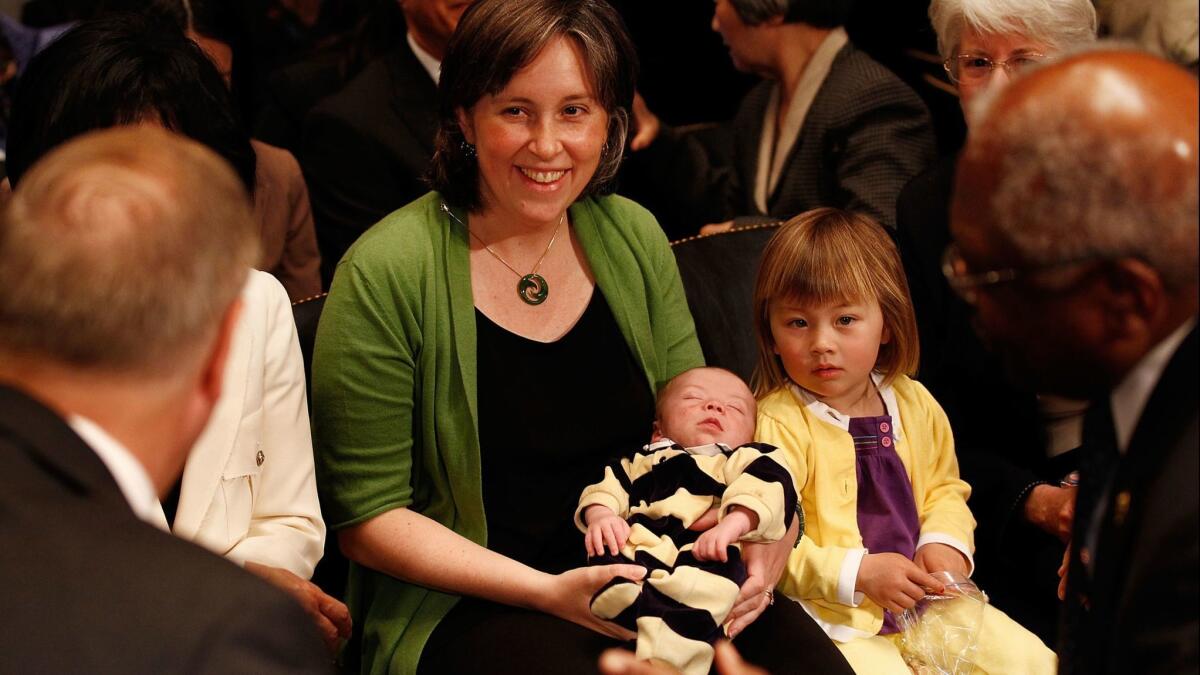 Reporting from Sacramento —
Moving swiftly to fill the highest-ranking member of his nascent administration, Gov.-elect Gavin Newsom tapped Ann O'Leary, a longtime policy advisor to Hillary Clinton, to serve as his chief of staff and a leader of the transition team this fall.
The governor-elect also named Ana Matosantos, an experienced Sacramento hand, as his Cabinet secretary — the person who will serve as key liaison to the sprawling state bureaucracy of departments and agencies Newsom will oversee. Matosantos served as budget director to Gov. Jerry Brown and former Gov. Arnold Schwarzenegger.
"I pledged an Administration that would dream big and demand more — and draw on the talents of some of the most capable public servants in America," Newsom said in a statement. "That's what Ann and Ana represent — lives of unrivaled professional accomplishment paired with a personal determination to serve the public good."
O'Leary, an attorney and veteran political aide, does not have experience in state government. But the 47-year-old Democrat has a reputation among Clinton alumni as a coalition builder and jack-of-all-trades policy wonk with a passion for early education and working families.
Newsom needs a deep bench and smart team to deliver on ambitious campaign promises to offer universal preschool, free community college tuition for two years, a government-sponsored healthcare system and other big-ticket ideas.
With O'Leary being a relative unknown to state government veterans, Capitol watchers have looked for information on Newsom's new chief wherever they could find it. Policy documents in hacked emails sent between members of the Clinton campaign, which were made public on Wikileaks ahead of the 2016 presidential election, have been passed around by interest groups seeking to gain insight about O'Leary.
While some political insiders wonder whether an outsider to the insular state Capitol community is the best fit for a governor with little legislative experience, allies of O'Leary and former senior officials refute the notion that she needs Sacramento on her resume to be effective.
"I've seen Ann build coalitions where she didn't have them before," said Amanda Renteria, Clinton's national political director who was briefly a Democratic candidate for governor last year.
Get the latest California politics news »
Renteria and others say the governor can offset the local inexperience by adding other seasoned Sacramentans to his team, such as Matosantos. She argues that O'Leary's background may help Newsom build national coalitions for some of his toughest goals.
Brown has warned, for example, that landing a single-payer healthcare system in California will require the help of the federal government.
"Today, in order to be big and bold and also be able to execute, this governor is going to need to be able to grapple with both of those worlds," Renteria said.
O'Leary served as Clinton's senior policy advisor in the 2016 presidential campaign, and as her legislative director in the U.S. Senate. She was also a special assistant to former President Bill Clinton during his time in the White House.
After the presidential election, she returned to California and became a partner for the law firm Boies, Schiller & Flexner in Palo Alto. She also co-founded the Berkeley-based Opportunity Institute, a nonprofit group that works to improve social mobility through education.
O'Leary grew up in a small town in Maine as the daughter of an AFL-CIO leader. Karen Skelton, a California political strategist and friend who worked with her in Washington, said her career is inspired by struggles in her upbringing.
"Ann was lucky to be able to get an education and leave Maine and fly at the highest levels of government," Skelton said. "Yet she has never forgotten that there are people like her sister and her father and her mother who struggled financially and with their health. She tries to make the world a better place for all those people."
O'Leary's experience on Clinton's transition team is expected to help Newsom as he prepares to take over. And her experience working with other high-profile national Democrats such as Tom Steyer will certainly stoke speculation about Newsom's ambitions beyond California.
She attended law school at UC Berkeley and was a deputy city attorney in San Francisco. She has two children with her former husband, California Supreme Court Justice Goodwin Liu. Friends say she plans to move to Sacramento
She will be the sixth consecutive woman to hold the top staff job — although some shared the duties with a man — for a California governor. Lynn Schenk served under former Gov. Gray Davis. Patricia Clarey and Susan Kennedy worked for Schwarzenegger. After the death in March of Nancy McFadden, Brown's most trusted advisor, Diana Dooley filled the role for Brown.
"Nothing thrills me more," said Cassandra Pye, a political strategist and former deputy chief of staff to Schwarzenegger. "I really believe that women bring so much to the conversation."
Newsom's choice for his No. 2 aide, Matosantos, has a deeper Capitol resume. She served as the top budget official under Brown and his predecessor, Schwarzenegger. She was also a deputy legislative secretary in Schwarzenegger's office and worked in the state Health and Human Services Agency.
"He couldn't have picked anyone better. Ana is the greatest," Schwarzenegger said.
Matosantos has experience overseeing the state budget in dire times; she was at the helm when California faced a $27-billion shortfall.
"My organization — we were pretty pissed at her during the Schwarzenegger days," said Alma Hernandez, executive director of the influential Service Employees International Union California. "But there was never a moment where we didn't think she wasn't trying to take care of those that needed the most."
Hernandez said Matosantos' Capitol experience would help offset O'Leary's newness to Sacramento.
"You have someone who was thinking really big and bold on a national level for Hillary, and you couple that with someone who knows how state government works, how budgets get made, how we actually govern," Hernandez said. "I think they're going to be an all-star team."
Newsom also announced that Californians could go to gavinnewsom.com for updates on the transition and to apply for administration jobs.
Times staff writer John Myers contributed to this report.
Follow @tarynluna on Twitter and sign up for our daily Essential Politics newsletter.
Get our Essential Politics newsletter
The latest news, analysis and insights from our politics team.
You may occasionally receive promotional content from the Los Angeles Times.