Newsom delays threat to block transportation funds to cities that flunk housing goals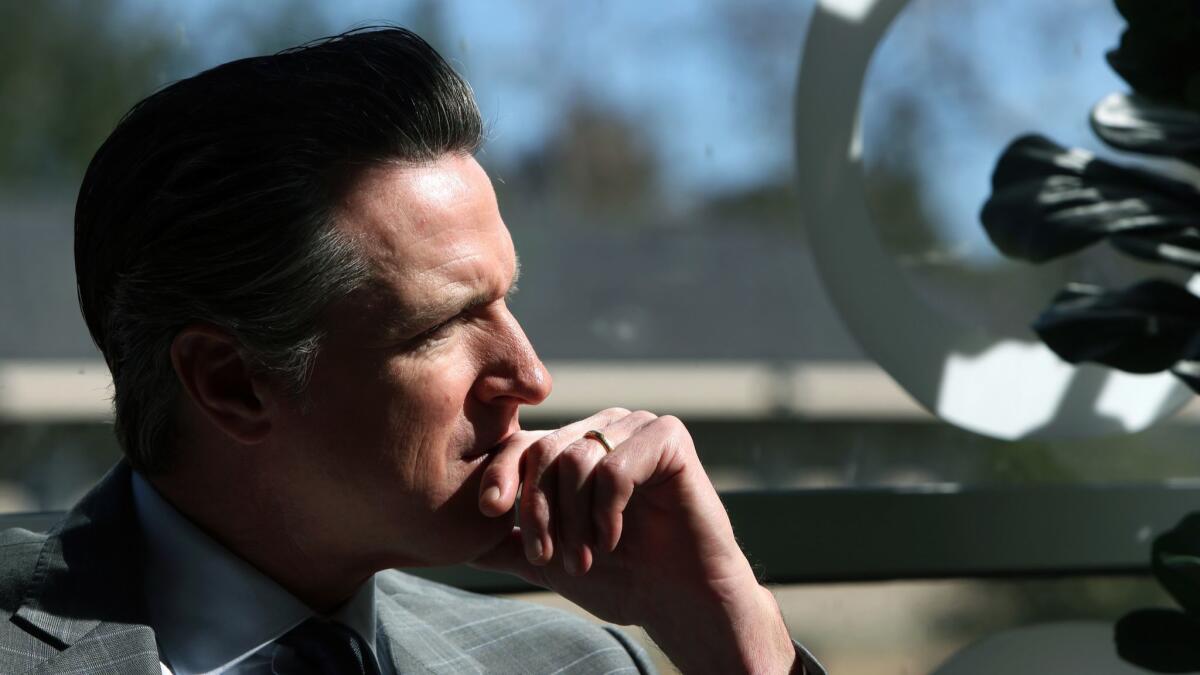 Reporting from Sacramento —
In his first week in office, Gov. Gavin Newsom sent a strong warning to cities and counties: He was coming for their road repair dollars if they didn't meet state goals for new housing.
"If you're not hitting your goals, I don't know why you get the money," Newsom said when he announced his budget plans in January.
Two months later, Newsom is setting aside plans to withhold state transportation dollars from local governments for four years. The move, which comes after fellow Democrats pushed back on the idea, is part of a larger acknowledgment that revamping how California plans for growth will be more arduous than the governor implied on the campaign trail.
Newsom made the announcement Monday when he unveiled a new bill that will be debated as part of the state budget. The legislation calls for $750 million in new funding for cities and counties to plan for increased housing production and then receive financial rewards as new building occurs. The money would begin flowing, according to the bill, in August.
"Our state's affordability crisis is undermining the California Dream and the foundations of our economic well-being," Newsom said in a release.
Gov. Gavin Newsom threatens to cut state funding from cities that don't approve enough housing »
But the bill released Monday also laid out a lengthy timeline for the governor to implement more contentious parts of his housing agenda.
As a candidate, Newsom called for the building of 3.5 million new homes in the state by 2025, an amount that would more than quadruple the current rate of production.
For five decades, the state has required cities and counties to plan for housing production at a rate sufficient for all residents to live affordably. But the process hasn't resulted in nearly enough homebuilding, especially for low-income residents, to meet demand.
Newsom pledged to reset housing supply goals so cities and counties would have to set aside more land for housing, concentrate production in existing urban areas to support climate change efforts and receive greater financial incentives to actually approve development. California's tax system generally provides local governments with more tax revenue if they authorize hotel or commercial projects instead of housing.
Under Newsom's new proposal, the state could take until 2023 — after the governor's first term in office has ended — to put the new housing supply goals in place. When he unveiled his budget in January, Newsom also said he wanted to withhold money from the state's recently approved increases to the gas tax and vehicle registration fees from communities that blocked housing. The bill says that wouldn't happen until 2023 as well.
Giving new money to cities and counties before implementing new planning rules is an effort to show local governments that the governor sees their support as vital to meeting his housing goals, said Jason Elliott, Newsom's chief deputy cabinet secretary.
"The best way to do that is to work with cities," Elliott said.
When Newsom first announced his plans to tie transportation funding to housing goals, he didn't provide a timeline. But some Democratic lawmakers made clear they weren't fans.
At a budget committee hearing last month, Assemblywoman Cecilia Aguiar-Curry (D-Winters) noted that voters upheld the gas tax hike at the ballot last year and said the governor shouldn't consider restricting that money.
"We worked too hard on that and to all of a sudden have that used as a potential is disturbing to me," Aguiar-Curry said.
It's unclear if pushing off the plan for four years will lessen legislators' concerns.
Sen. James Beall (D-San Jose), who authored the gas tax increase in 2017, said in a statement after the bill was released Monday that he remains against linking road construction funds to housing supply goals.
"Their use for any other purpose, such as to be used as leverage, is a violation of the trust of the voters and taxpayers," Beall said.
Get our Essential Politics newsletter
The latest news, analysis and insights from our politics team.
You may occasionally receive promotional content from the Los Angeles Times.