Newsom's office implores court to give wildfire victims a voice in PG&E bankruptcy case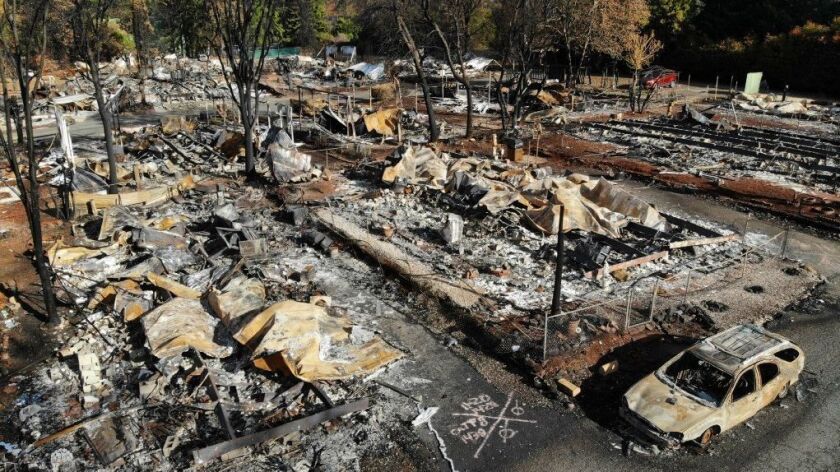 Reporting from Sacramento —
A lawyer working on behalf of Gov. Gavin Newsom sent a letter Friday asking a federal trustee overseeing the bankruptcy of Pacific Gas & Electric to make sure wildfire victims, employees and customers of the company are represented in the proceedings.
The administration sent the letter three days after the state's largest electrical utility filed for bankruptcy in a decision that sparked concerns about higher electricity bills, layoffs and the ability of wildfire victims to seek compensation.
The bankruptcy filing also frustrated California lawmakers, who spent months last year passing a bill to help offset PG&E's legal liability for damages after state investigations found the company's equipment had sparked dozens of wildfires in the last few years, in some cases because of negligence.
PG&E has said it faces as much as $30 billion in financial liability from recent blazes.
"Wildfire survivors, employees and customers deserve to have a seat at the table during this bankruptcy process," Newsom said in a statement. "These groups don't have the resources of many of PG&E's Wall Street creditors, but they will be directly impacted by the bankruptcy's results and deserve to have substantial representation in bankruptcy court."
Under Chapter 11 bankruptcy, the company will continue to operate as it develops a plan to pay off debts, often starting with secured creditors.
Wildfire liability, net neutrality bills help spur record spending on California lobbying in 2018 >>
Nancy Mitchell, an attorney at the O'Melveny law firm in Los Angeles, asked James Snyder, the trustee assigned to the case, to allow representatives of stakeholder groups to serve on an unsecured creditors' committee that would have "significant power" to negotiate the reorganization of PG&E. Typically, the committee comprises groups holding the seven largest individual unsecured claims.
"Most vulnerable in this process are the wildfire victims who were uninsured, underinsured or have potential claims against the company for personal injury and wrongful death," Mitchell wrote in the letter. "These individual victims should not be left to fend for themselves in a creditor class outnumbered by sophisticated and deep-pocketed financial institutions and insurance companies."
California utility equipment sparked more than 2,000 fires in over three years >>
Newsom, who originally said he hoped to avert a PG&E bankruptcy, has continued to focus his public comments on the need to protect wildfire victims, including underinsured homeowners, and other Californians.
On Thursday, a federal judge said PG&E violated its criminal probation related to the 2010 gas pipeline explosion in San Bruno, according to reports. Judge William Alsup, who said he will sentence PG&E at a later date, previously suggested PG&E inspect all of its power lines throughout the state and cut back vegetation in advance of the 2019 wildfire season — an effort the company said would cost at least $75 billion.
More stories from Taryn Luna »
Follow @tarynluna on Twitter and sign up for our daily Essential Politics newsletter.
---
Get our Essential Politics newsletter
The latest news, analysis and insights from our politics teams from Sacramento to D.C.
You may occasionally receive promotional content from the Los Angeles Times.