Newsom declares wildfire emergency, waives environmental rules to expedite projects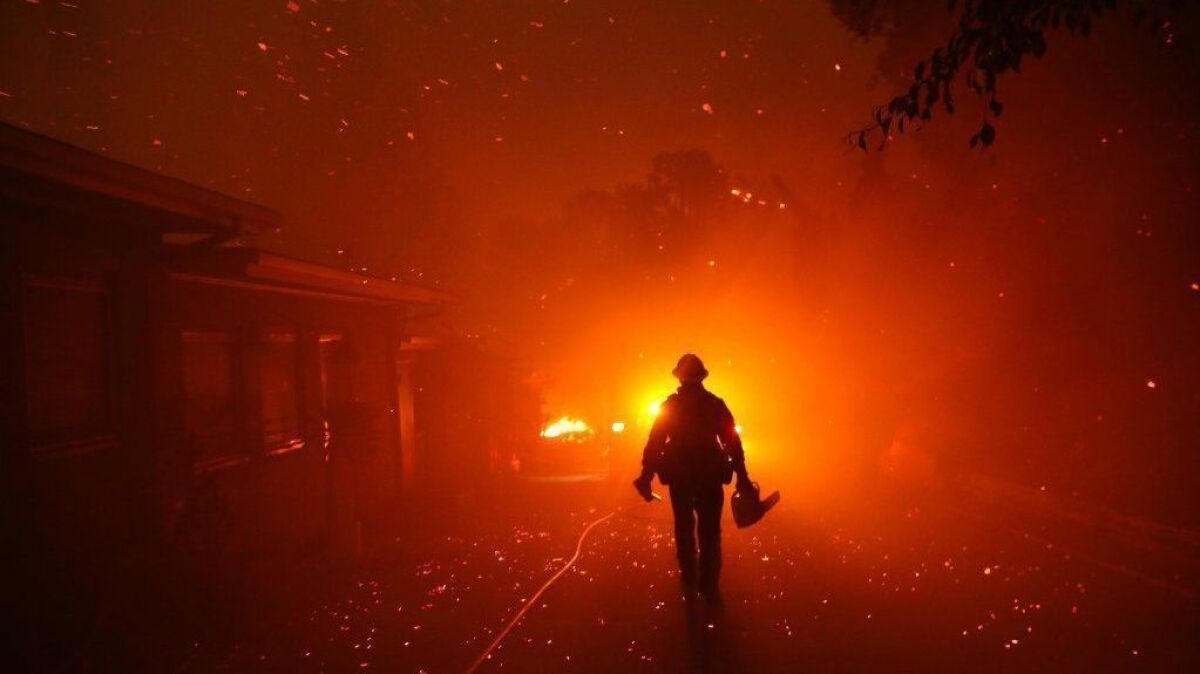 Reporting from Sacramento —
Gov. Gavin Newsom declared a state of emergency in California on Friday and waived environmental regulations to expedite nearly three dozen local forest management projects to protect communities from the deadly wildfires that have decimated regions up and down the state.
The governor's action marks the latest effort by the state to offset the possibility of catastrophe after back-to-back years of savage wildfires that killed more than 100 people and burned nearly 2 million acres in total. The projects will cost a total of $35 million, which will be paid with forest management funds in the 2018-19 budget.
"The increasing wildfire risks we face as a state means we simply can't wait until a fire starts in order to start deploying emergency resources," Newsom said before making his announcement at a news conference in Lake County on Friday morning. "California needs sustained focus and immediate action in order to better protect our communities."
Gov. Gavin Newsom waives environmental regulations to expedite nearly three dozen local forest management projects to protect communities from wildfires that have decimated regions up and down the state.
Critics voiced concern about the governor's decision to suspend guidelines put in place to protect the environment and the precedent his executive order might set. Some argued that regulations do not pose a problem and the state should have prioritized the projects earlier.
"This is like deferred maintenance on a building," said Char Miller, professor of environmental analysis at Pomona College. "We just kept putting it off and putting it off and putting it off."
California's forests have become a hot-button political topic, with President Trump fueling assertions that poor management practices and environmental laws have made wildfires worse.
Experts have refuted the notion that heavy timber fueled the state's most destructive fires in urban areas and say much of the millions of dead and dying trees grow on lands controlled by the U.S. Forest Service. The Camp fire in Paradise, for example, burned through a region scorched and logged a decade earlier.
Ironically, Miller and others said, Newsom's decision to walk back regulations co-opts the president's message.
"Unfortunately, it's a very Trumpian approach," said Douglas Bevington, forest director of the Leonardo DiCaprio Foundation. "It's the false notion that more logging paired with rolling back environmental protections is going to protect communities."
At the news conference, Newsom acknowledged the criticism, and rebutted it.
"Some people, you know, want to maintain our processes and they want to maintain our rules and protocols," the governor said. "But I'm going to push back on that. Some of these projects quite literally, not figuratively, could take two years to get done, or we could get them done in the next two months. That's our choice."
"We've got to step up our game, dare I say, get our act together," Newsom added.
Thom Porter, director of Cal Fire, also disputed that the governor's order was "Trumpian."
"This administration and Cal Fire has been committed to the protection of life, property and the environment well beyond President Trump even considering what that actually means," he said.
Porter said his crews on the ground will continue to work with state agencies and experts to ensure that resources are protected.
"While we're asking for an exemption from the paperwork process of doing the upfront deep analysis, we are not asking for an exemption from the need to protect the resources," Porter said.
Newsom signed an executive order in his first week in office that directed Cal Fire to develop recommendations to prevent wildfires.
The agency published a report in late February that said forest management efforts by the state, federal government and private landowners were "inadequate to improve the health of millions of acres of forests and wildlands" that require maintenance. The agency reported that up to 15 million acres of California forest need some form of restoration.
The report recommended that the state waive and streamline regulatory requirements and direct Cal Fire to immediately begin 35 fuel reduction projects, such as the removal of dead trees, brush clearing and prescribed burns to create fuel breaks, defensible space and safe travel corridors on 90,000 acres of land around cities and towns vulnerable to wildfires.
Newsom's new order does just that and waives laws that fall under the jurisdiction of the California Environmental Protection Agency and the California Natural Resources Agency and would typically apply to the projects. The laws include the California Environmental Quality Act, which requires state and local agencies to identify and mitigate the environmental impacts of their work.
According to the emergency declaration, Cal Fire must seek a confirmation from the state agencies that its activities fall under the order and will "take protection of the environment into account while ensuring timely implementation."
The governor is also allowing the Office of Emergency Services to use any state-owned properties that it determines suitable for temporary shelter for crews and troops completing the work.
Porter said the governor's intervention will help expedite the plans, which are in various stages of approval. His agency has been struggling for the last 15 years to certify a sweeping statewide environmental impact report, which once completed later this year, will allow them to move forward with individual wildfire mitigation projects more quickly.
"In lieu of having that document for environmental clearance purposes, this is the means to get these 35 emergency projects done to help protect these communities," Porter said.
Bevington of the DiCaprio Foundation criticized the Cal Fire report for relying on logging and fuel breaks to prevent fires over what he and others say are more effective mitigation methods focused on homes, such as replacing flammable materials on roofs and clearing vegetation directly around buildings.
"It's damaging the ecosystem as well as not being an effective way of keeping communities safe," said Bevington, whose organization recently published a report that questioned the state's direction.
Kathryn Phillips, executive director of the Sierra Club California, said fuel breaks have failed to stop the spread of wildfires against strong winds, including the Carr fire in Shasta County last year.
"I think they have a new leader and they are under extraordinary pressure to do something," she said.
Porter said the state will continue to encourage home hardening, but his agency does not have jurisdiction over local governments to require work on existing homes. He agreed that fuel breaks won't have an impact on every fire, but said they have stopped the spread of blazes under certain wind conditions.
Most of the 35 projects are in Northern and Central California and would be completed over the course of the next year. Cal Fire worked with its local fire units to determine which projects to prioritize, assessing risk and socioeconomic factors, such as age of the nearby populations, poverty and access to vehicles.
The work includes prescribed burns and tree and brush removal over 26,500 acres of land in Ukiah. Other projects would establish fuel breaks, or areas of reduced vegetation to slow or stop wildfires, around Crest in San Diego County and 393 acres of treatment along roads in Fresno County, according to Cal Fire.
Some of the work would create safe "ingress and egress corridors," or exit routes to escape blazes, after Paradise residents became trapped in bumper-to-bumper traffic when they tried to flee the flames on congested roads in November.
The only project in Los Angeles County calls for more than 400 acres of prescribed burns to clear brush and chaparral in the coastal region near Malibu, where hundreds of homes were destroyed in the Woolsey Fire that killed three people in November. But the burns, like many of the projects, would do nothing to prevent wildfires this year.
Susan Dueñas, public safety manager for the city of Malibu, said the project will be presented to the city council in May and the prescribed burns are tentatively scheduled for late November or December, when conditions lessen the risk that a controlled fire may spread, she said.
Based on early feedback, she anticipates environmental and safety concerns from residents.
"You have two camps of opinion here: Those who are afraid of it and don't want it, and those who think it's what we need to be doing more of," Dueñas said. "There was a sensitivity to fires before but now even more so because of the trauma of the Woolsey fire."
In addition to streamlining the mitigation projects, Newsom is expected to announce a $50-million public awareness campaign to help communities inform residents about local emergency action plans and the need to make their homes more resilient to wildfires, according to the governor's office.
The governor also launched a request for innovative ideas from the private sector to mitigate wildfires as part of a new technology procurement model announced earlier this year.
More stories from Taryn Luna »
Follow @tarynluna on Twitter.
---
Life is stressful. Our weekly mental wellness newsletter can help.
You may occasionally receive promotional content from the Los Angeles Times.