GOP members blame Sen. Feinstein for blocking drought language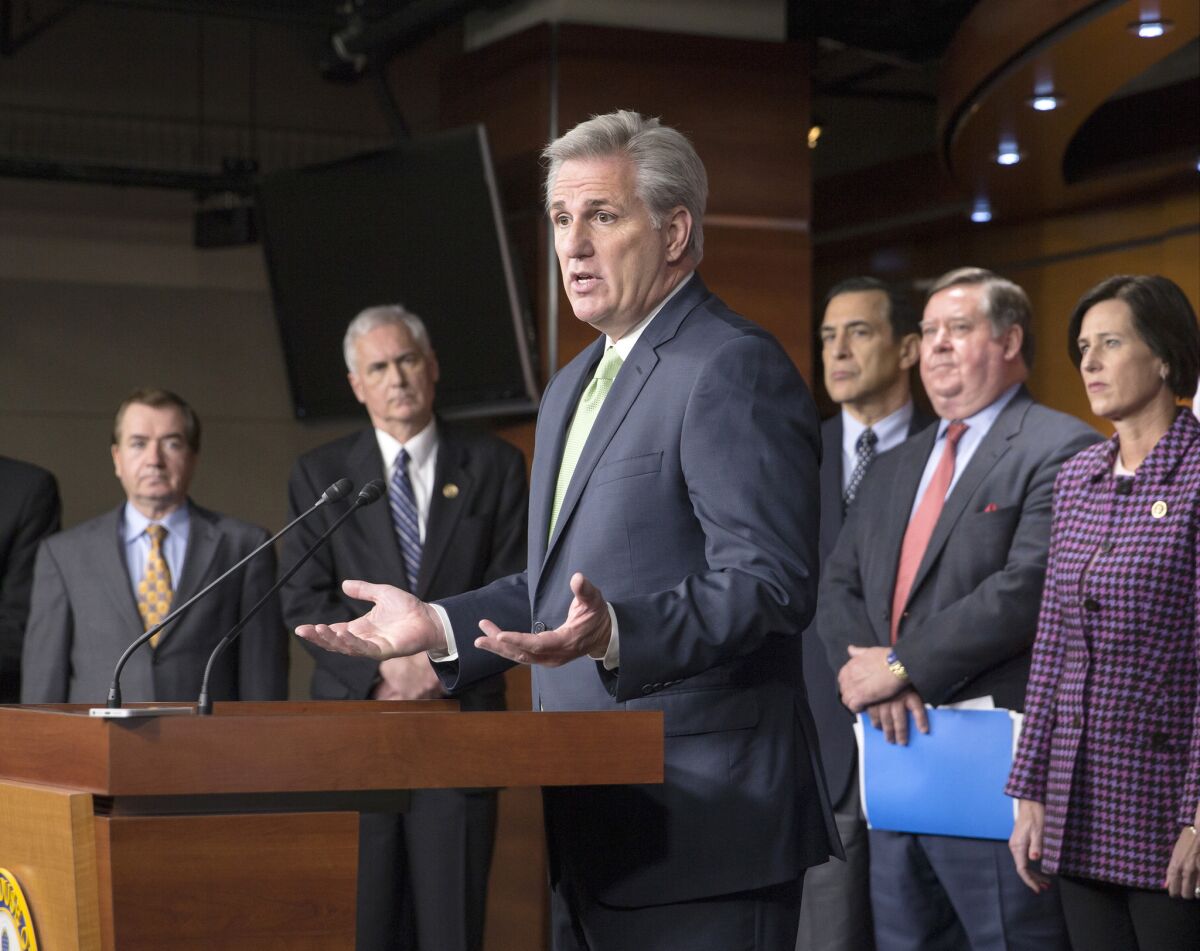 Reporting from Washington —
Debate over a plan to address California's drought continued Friday as the Republicans in the state's delegation held a news conference blaming Sen. Dianne Feinstein (D-Calif.) for not supporting their bid to insert the plan into a must-pass spending bill.
Feinstein's staff responded that negotiations were still ongoing when Republican members put the plan forward without approval from the rest of the delegation or stakeholders and interest groups back home.
The House and Senate are expected to leave town by the middle of next week, and the dwindling days, and frustration from both sides, have diminished the chance a drought proposal could pass by the end of the year.
Members from both parties and their staffs have met unofficially for months in an attempt to reconcile a House bill proposed by Rep. David Valadao (R-Hanford) and a Senate bill proposed by Feinstein. They had hoped to pass something in time to be able to collect and store rainwater from the expected El Niño storms.
Democrats fumed last Friday at news that Republicans had put some of the negotiated ideas forward for inclusion in the spending bill.
Republicans responded Wednesday, saying the bill was largely made up of items negotiated with Democratic members and that they hoped Democrats would change their minds.
Among other things, the proposal would authorize storage, desalination and water recycling projects, increase how much water could be pumped south from the delta area and expand the use of conservation hatcheries for salmon and delta smelt.
Republicans said the bill conforms with existing biological opinions under the Endangered Species Act, something Democrats in the California delegation contested.
Democratic members said they were worried it would override existing biological opinions under the Endangered Species Act by allowing more water to be pumped out of the delta than biologists have said is acceptable under the act.
Valadao's House bill, which was approved in the chamber, aimed to funnel more water to San Joaquin Valley growers by reducing the amount used to support endangered fish populations.
The GOP-controlled Senate hasn't considered Feinstein's bill, which focuses more on water storage, desalination and other projects.
At Friday's news conference, attended by all 14 of the delegation's Republican members, Feinstein was blamed for the water policy's not being included.
"I am so disappointed to be here today," said Rep. Ken Calvert (R-Corona). "I was hopeful that we would get a deal done. Unfortunately, we could not get the senators to accept a good, reasonable compromise. All 14 members of our delegation got to yes. Our two senators could not."
Rep. Ed Royce (R-Fullerton) said the members' frustration comes from knowing the water from El Niño will drain away.
SIGN UP for the free Essential Politics newsletter >>
"We have a window of opportunity that next week is about to close," he said. "That window of opportunity is because finally we have El Niño coming through the state. Finally we have the opportunity to pump some of that water into Southern California and to the Central Valley."
Feinstein's spokesman, Tom Mentzer, pushed back after the news conference, saying that throughout the unofficial negotiations, the senator insisted that she would consider any vehicle for the finalized drought proposal as long as all the stakeholders agreed to the language and it was reviewed publicly. He said negotiations, while close to completion, weren't done when Republicans added it to the spending bill.
Rep. Jerry McNerney (D-Stockton) said by phone after the news conference that Northern California lawmakers felt cut out of the negotiations and that even if a proposal came out of the negotiations, "Sen. Feinstein seemed to understand that without our involvement" it wasn't going forward.
Feinstein said in a news release Friday that she's worked over the last week to try to resolve the remaining issues in the legislation.
"I expect that by early next week we'll have a bill that the state and federal government can sign off on," she said in the release.
Mentzer said the bill could go before the Senate Energy and Natural Resources Committee as soon as January.
Follow @sarahdwire on Twitter
Read more about the 55 members of California's delegation at latimes.com/politics
MORE:
Californians clash over money for drought in spending bill
Rep. Loretta Sanchez responds to criticism over comment on Muslims
Democrats criticize GOP attempt to insert drought plan in federal spending bill
---
Life is stressful. Our weekly mental wellness newsletter can help.
You may occasionally receive promotional content from the Los Angeles Times.