Candidate for California governor John Cox was sued for alleged financial misconduct, court documents show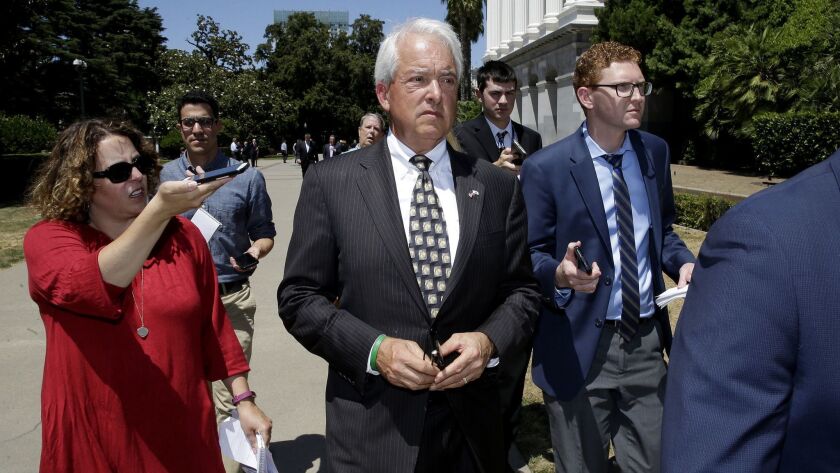 Reporting from Sacramento —
Republican gubernatorial candidate John Cox often cites his role in the financial turnaround of a Chicago potato-chip company as evidence of the sharp business mind he'd use to run California.
But there is another aspect of his relationship with the family that owned the snack company, Jays Foods, that has gotten less attention. Founder Leonard Japp Sr. and members of his family sued Cox 20 years ago alleging financial misconduct, a case that led to Cox paying a $1.7-million settlement in 1999, according to court documents obtained by the The Times. Cox denied any wrongdoing.
The plaintiffs claimed that Cox "engaged in self-dealing; charged excessive and unnecessary fees; misappropriated partnership funds; and violated the partnership agreements and Illinois law" related to their investments in a string of Midwest apartment buildings and condominiums, according to the suit filed in the Circuit Court of Cook County.
Cox called it a "frivolous lawsuit" and an attempt by the plaintiffs to extract a better deal in a real estate transaction.
"For over 30 years I built from the ground up a successful real estate business. In this deal, a few investors demanded to be bought out of real estate holdings for an outrageous price, $10 million," Cox said in a statement to The Times on Thursday.
Cox provided details of the settlement agreement with the Japp family during a divorce proceeding with his now ex-wife, Nancy.
In a 2001 court affidavit, Cox said the lawsuit "had little merit but was threatening regardless." He added that he agreed "to pay the Japps $1,700,000 over seven years in exchange for certain limited partnership interests." The Japp family initially demanded $10 million, he stated in the document.
Several of the plaintiffs have since died, including Leonard Japp Sr., Leonard Japp Jr. and Leonard Japp III — all of whom served as chief executive officers of Jays Foods. One of the plaintiffs in the case, who asked not to be named to speak about the lawsuit, said the settlement agreement included a nondisclosure clause, preventing him and the other parties from commenting on the matter.
The lawsuit stems from Cox's role as a financial and legal advisor to members of the Japp family and trustee to several of their estates between 1983 and 1995, not his position at Jays Foods. Cox is a certified public accountant and licensed attorney in Illinois, and he owns legal, investment and real estate firms in that state.
Most of the allegations in the lawsuit focus on more than $2.2 million in investments family members made in real estate partnerships that owned apartment complexes and condominiums in Illinois. Cox managed and controlled those real estate ventures, either directly or through his firms, and provided legal and tax consulting services to the partnerships. By 1997, those investments were worth $1.6 million, and the plaintiffs said they received a total of $291,300 in cash distributions over five years — a return of just under 3%, according to the lawsuit.
The plaintiffs hired a corporate accounting expert, Lee A. Gould, to review the financial records of the real estate partnerships. According to his 1998 court affidavit, Gould said:
Cox and his firms charged "unanticipated and undisclosed" management and servicing fees that far exceeded those projected in the partnership agreements — $380,000 between 1993 and 1996.
Cox "purportedly made approximately $4,000,000 in loans to the limited partnerships," and 40% of those loans did "not have any independent corroboration or verification of any sort to indicate that they were in fact made."
Cox and his firms transferred money between the business partnerships without regard to their independent legal status or different ownership structures, "to either account for cash flow problems of a particular partnership at a particular time or to correct accounting errors."
"The pattern of self-dealing has caused economic damage to the limited partnerships," Gould said in his affidavit.
Dr. Thomas A. Staner, Jr., a neurosurgeon from Birmingham, Ala. who has invested in some of Cox's real estate ventures and whose father worked at Jays Foods for several decades starting in the 1940s, said he and his father always considered Cox to be an ethical financial advisor. He said he was close with both Cox and the Japp family but isn't sure what what caused the rift between them.
"I've got a lot of confidence in him," Staner said. "I trust John with my money."
On the campaign trail, Cox tells supporters that he helped the Japp family sell their company to Borden Foods in 1986 for $30 million, then helped them buy it back for $10 million in 1994. Along with being a business partner at Jays Foods, Cox also served as the company's chief financial officer.
"We turned that company around from a $17-million loss to a $3-million profit," Cox said during a recent fundraiser outside San Luis Obispo. "That's what California needs, ladies and gentlemen. We have to build a bridge from a losing state to a successful state."
Cox says his self-made success in the business world is what sets him apart from the front-runner in the governor's race, Democratic Lt. Gov. Gavin Newsom. Cox dismisses Newsom, a former San Francisco mayor who made his money in the hospitality industry, as a career politician whose own business enterprises were jumpstarted by financial benefactor Gordon Getty, heir to an oil fortune.
"I run my businesses with efficiency, with integrity, with service in mind, with quality," Cox said at the fundraiser. "And you know what, that's not what our political leaders do."
Coverage of California politics »
Twitter: @philwillon
Updates on California politics
---
Life is stressful. Our weekly mental wellness newsletter can help.
You may occasionally receive promotional content from the Los Angeles Times.