Gavin Newsom issues a warning: He's going to talk a lot more than Jerry Brown
Reporting from Sacramento —
Gov. Gavin Newsom barely paused to catch his breath as he tossed out more than $300 million worth of morsels from his newly crafted budget in a span of less than three minutes.
Cash to provide immunizations and developmental screening for children; $50 million for family planning; millions for Alzheimer's research and workforce development; $25 million for early detection of psychosis; and a pot of cash for literacy programs and tattoo removal for prisoners.
That was just a snippet from Newsom's marathon news conference on the spending plan Thursday, a one-man political show peppered with jabs at President Trump, a wonky soliloquy on housing policy and ample shout-outs to legislative leaders who'll be sifting through the governor's budget proposal in the coming months. Newsom, a microphone pinned to his lapel, left the lectern to get closer to his audience, flicking up graphics on a big screen behind him and fielding questions for a total of nearly two hours.
"I, unlike the previous administration, may spend a little bit more on this than you want. Just warning you. Full disclosure. This is something I really enjoy," Newsom said.
The governor's stagecraft was a unmistakable departure from the more austere performances of former Gov. Jerry Brown. Brown took on the persona of a stern economics professor in his budget presentations, wielding enlarged charts showing California's volatile tax revenue to preach fiscal caution and issue warnings of economic calamity ahead.
"What's out there is darkness. Uncertainty. Decline and recession," Brown said after releasing his final budget a year ago. "So good luck, baby!"
Newsom offered similar warnings Thursday. The potential for a recession is why his budget includes $13.6 billion to increase the state's rainy day fund and pay down California's unfunded pension liability, he said, and why the vast majority of new spending proposals are one-time allocations, not sustained, long-term budget commitments.
"None of us are naïve," Newsom said. "The governor said the next governor is going to be standing on a cliff. That may be true. This may be that moment."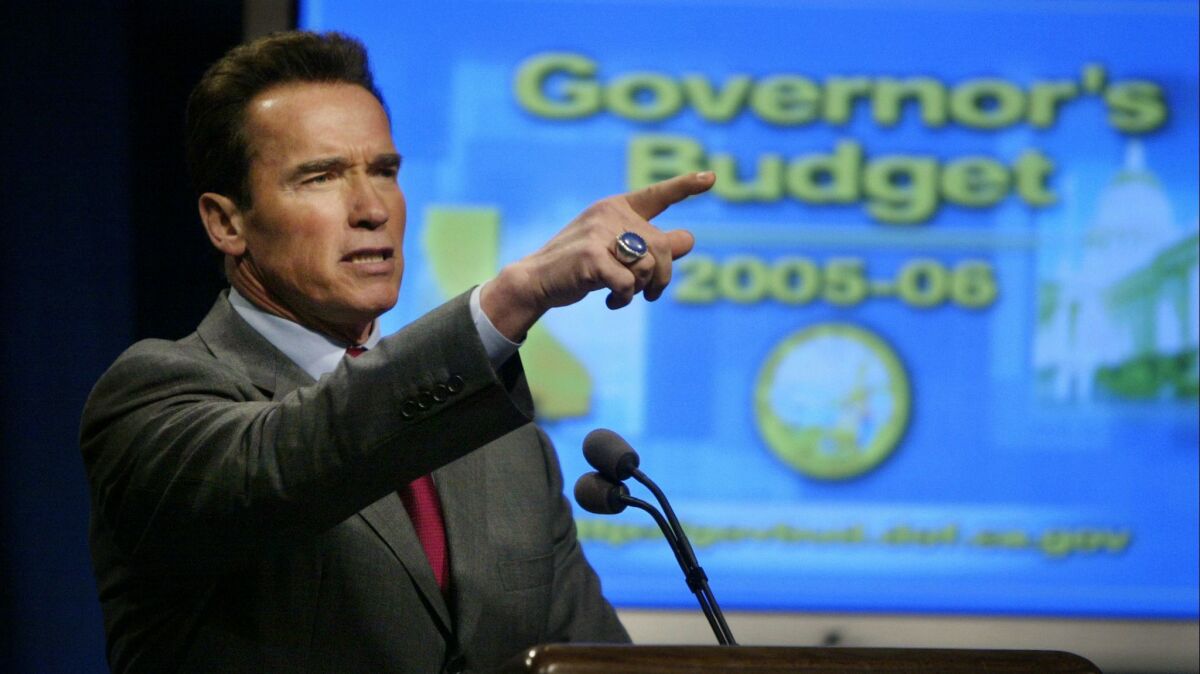 Still, Newsom threw a few soft elbows at Brown's restraint. He chided his predecessor for saying "there won't be one more dollar for higher education" last year and adding $100 million for the California State University system when he released his revised budget that May. Rather than take a hard line in his initial budget and increase funding later, Newsom said he decided to take a more realistic approach that would create "a lot less stress."
"We have a budget that we are submitting that is structurally balanced over the next four years," Newsom said. "And forgive me, it's not an indictment and please don't consider it such, but that has not always been the case with presentations by governors. Even recently."
Brown guided California from a $27-billion deficit to an estimated $21.6-billion surplus during his eight years in office. During news conferences, he was content to explain the macro elements of the economy and his spending plan before leaving the stage, usually after about a half hour, to allow his director of finance to field the nitty-gritty questions.
The former governor also hosted his budget presentations in the cramped media conference room at the Capitol. Newsom chose the expansive auditorium inside the California Secretary of State Building a few blocks away — the same venue used by former Gov. Arnold Schwarzenegger, whose political events at times attracted international news coverage thanks to his career in Hollywood.
Newsom's administration also returned to the tried-and-true political practice of previous governors — Brown being the exception — of strategically leaking budget details to media outlets in the weeks before the full proposal was officially released.
"From a governor's office perspective, you want to drive the message," said Republican political consultant Rob Stutzman, who served as Schwarzenegger's communications director. "The benefit is, let's say there are five big pieces of news in the budget, it's better to turn them into five days of news rather than have them step on one another in one single day."
Most of California's top statewide elected leaders were in attendance at Newsom's presentation, along with labor leaders, agency heads, governor's office employees, finance staffers and workers with the Legislative Analyst's Office.
Minutes into his speech, Newsom began name-checking lawmakers and praising work already done by the Legislature.
He called Assemblyman Phil Ting (D-San Francisco) and Holly Mitchell (D-Los Angeles) "wise" for establishing a safety net for social service programs and announced he would more than quadruple the reserve. He credited conversations with Assemblyman Patrick O'Donnell (D-Long Beach) and Sen. Allen (D-Santa Monica) for the $576 million in funding he proposed for special education programs. And Sen. Scott Wiener (D-San Francisco) and Assemblyman David Chiu (D-San Francisco) were lauded for their work on housing, among a long list of other lawmakers Newsom nodded to during the presentation.
The charm offensive appeared to have an effect.
"I think the difference between last year and this year is we had a governor-elect who actually went out of his way to talk to the Legislature and really understand what the major priorities were," Ting said after Newsom's speech.
Times staff writer Liam Dillon contributed to this report.
Coverage of California politics »
Twitter: @philwillon
Updates on California politics
---
Life is stressful. Our weekly mental wellness newsletter can help.
You may occasionally receive promotional content from the Los Angeles Times.