Politicians don't normally overrule voters. On the death penalty, Gavin Newsom just did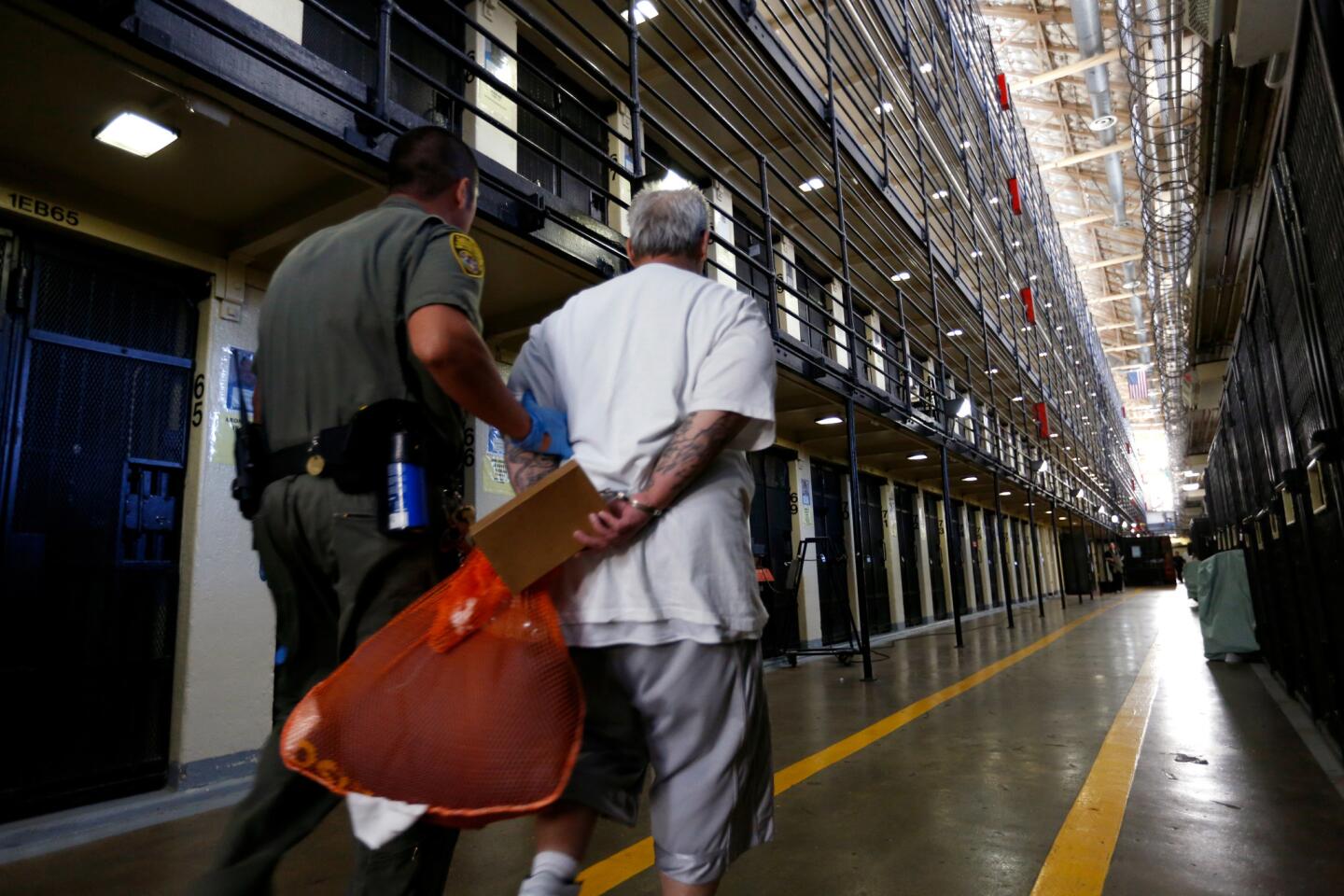 A death row inmate is escorted back to his East Block cell after spending time in the yard at San Quentin State Prison.
(Gary Coronado / Los Angeles Times)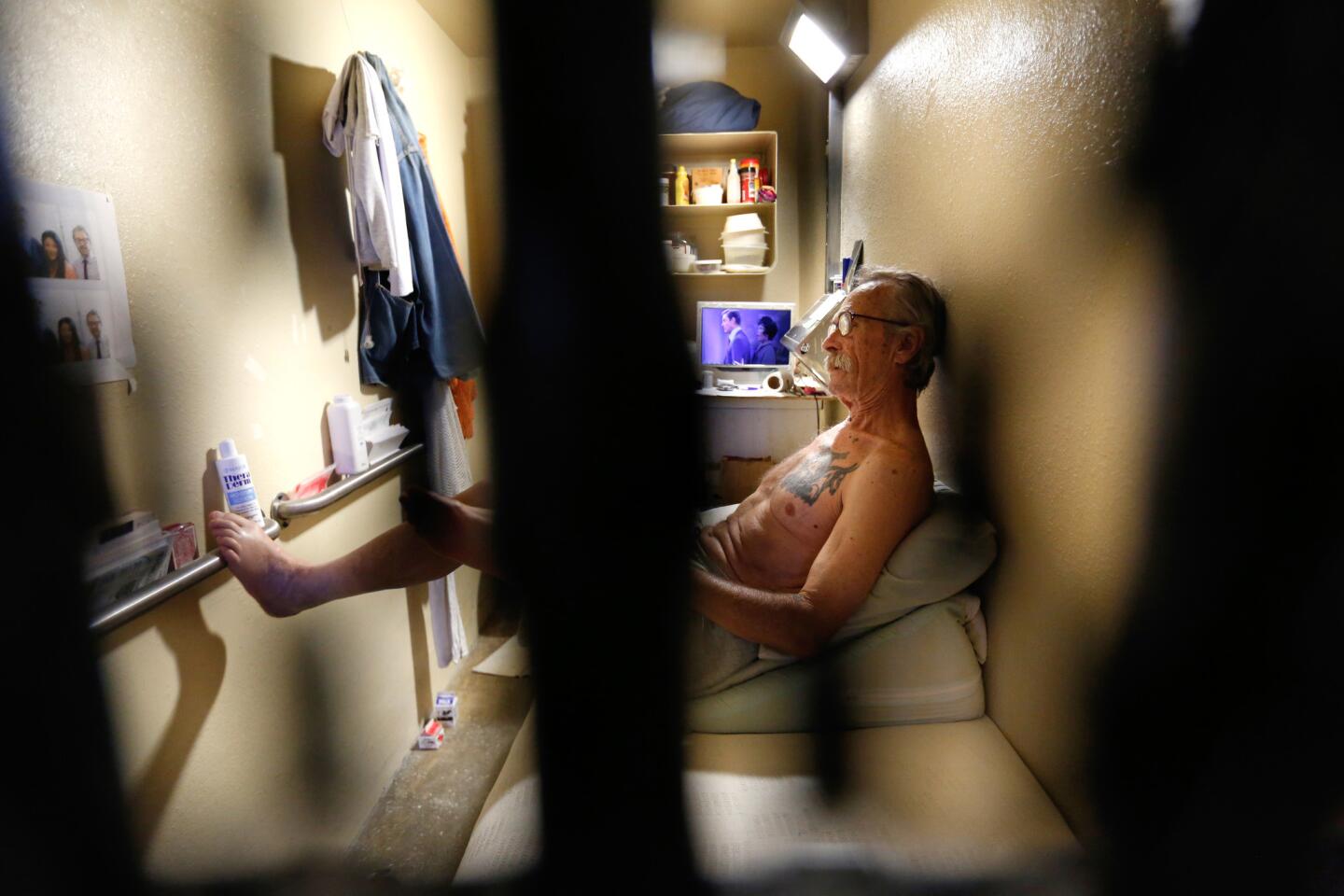 Death row inmate John Abel at San Quentin State Prison. In 1991 Abel shot a Tulare County merchant in the head as the merchant left a bank parking lot with $20,000 in cash.
(Gary Coronado / Los Angeles Times)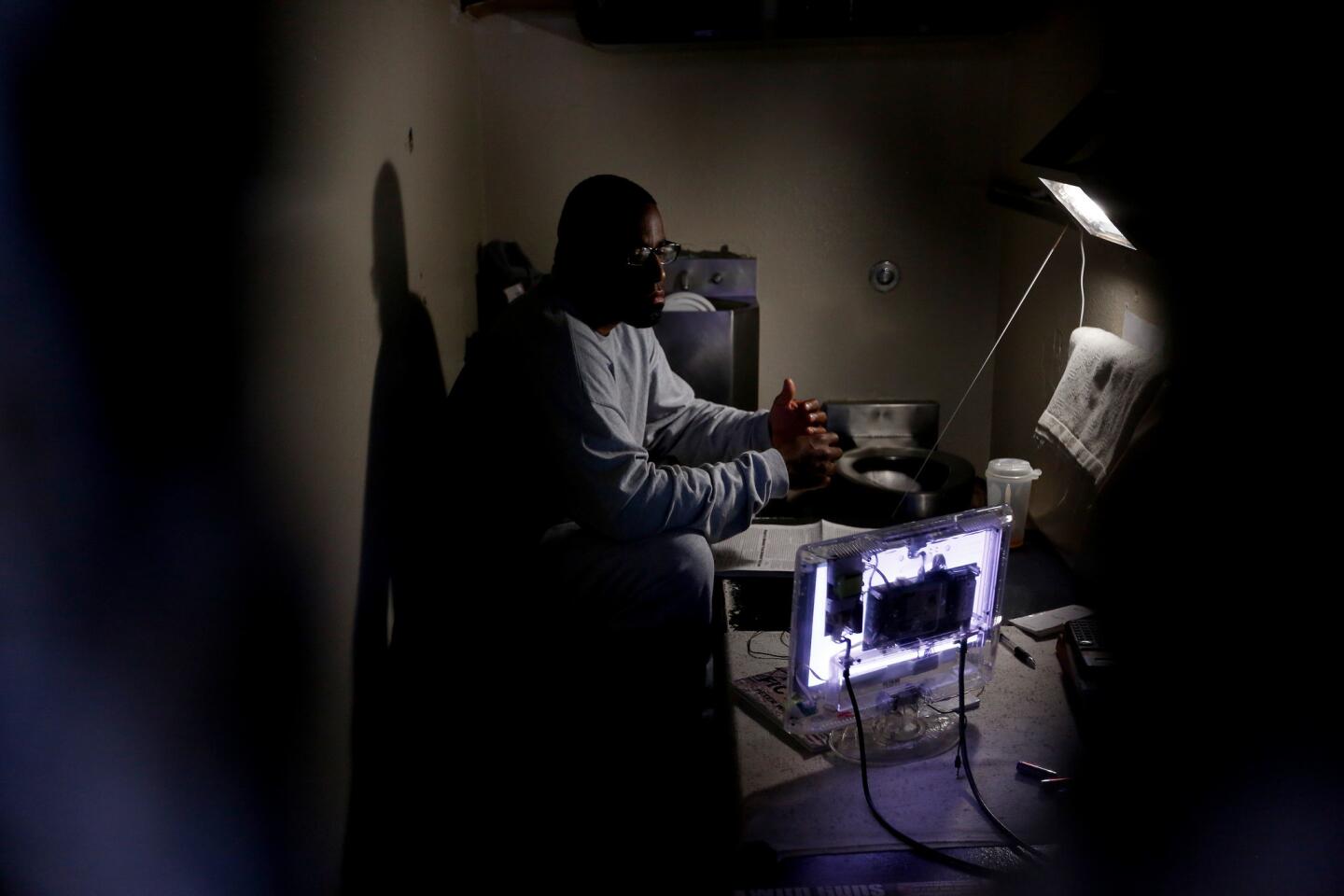 Death row inmate Javier Victorianne watches television at San Quentin State Prison. Victorianne sexually assaulted and killed two women, one 37, one 16, in Riverside County a year apart after they rebuffed his sexual advances. He left their bodies bound and hanging.
(Gary Coronado / Los Angeles Times)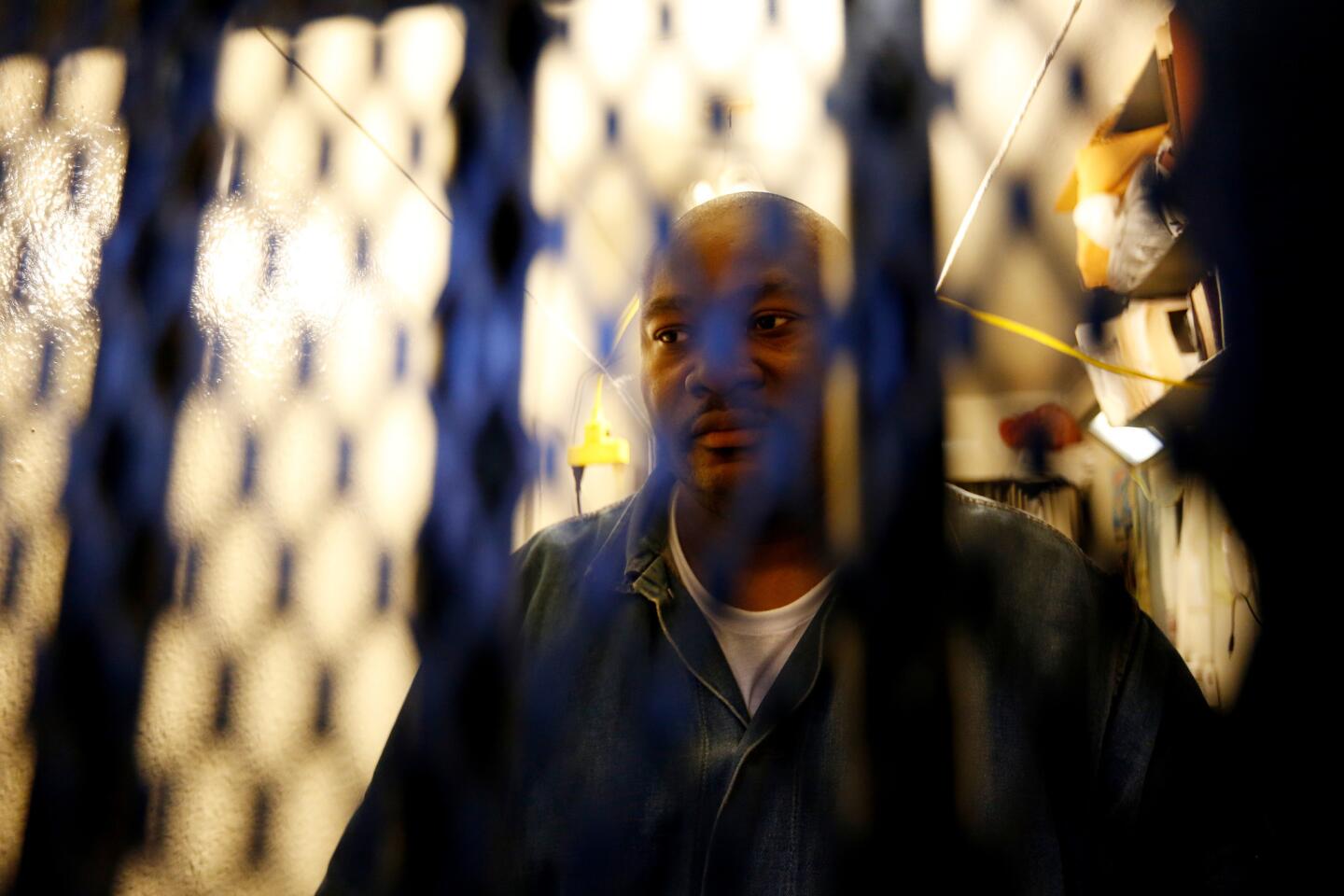 Death row inmate Clifton Perry at San Quentin State Prison. Perry and a partner were convicted of murder for the 1995 shooting death of a store clerk during a robbery of a convenience store in Kings County.
(Gary Coronado / Los Angeles Times)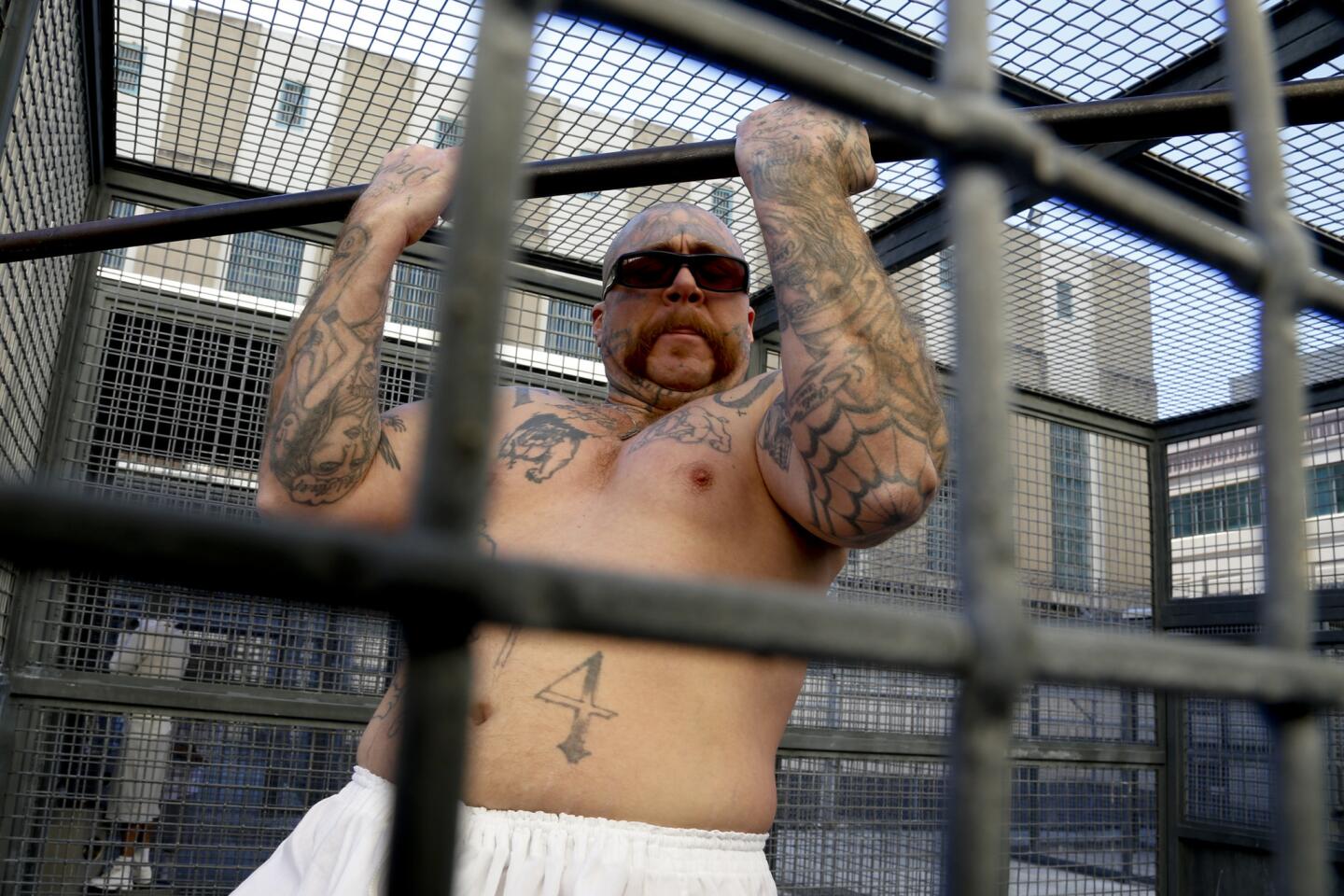 Condemned inmate Robert Galvan gets some exercise in the yard in the Adjustment Center at San Quentin prison.
(Mark Boster / Los Angeles Times)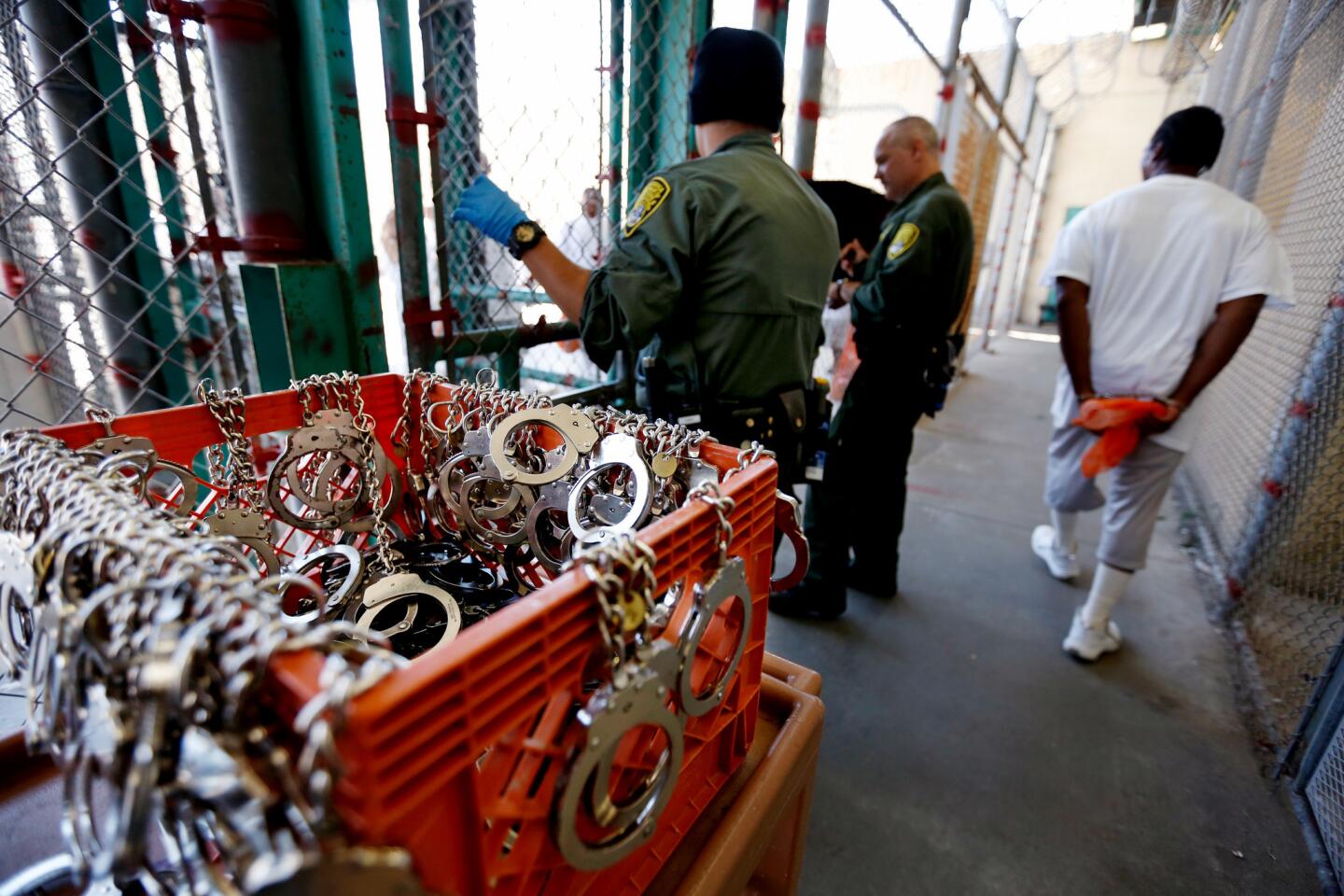 A death row inmate makes his way to his East Block cell after spending time in the yard at San Quentin State Prison.
(Gary Coronado / Los Angeles Times)
A guard escorts a death row prisoner through East Block at San Quentin State Prison.
(Mark Boster / Los Angeles Times)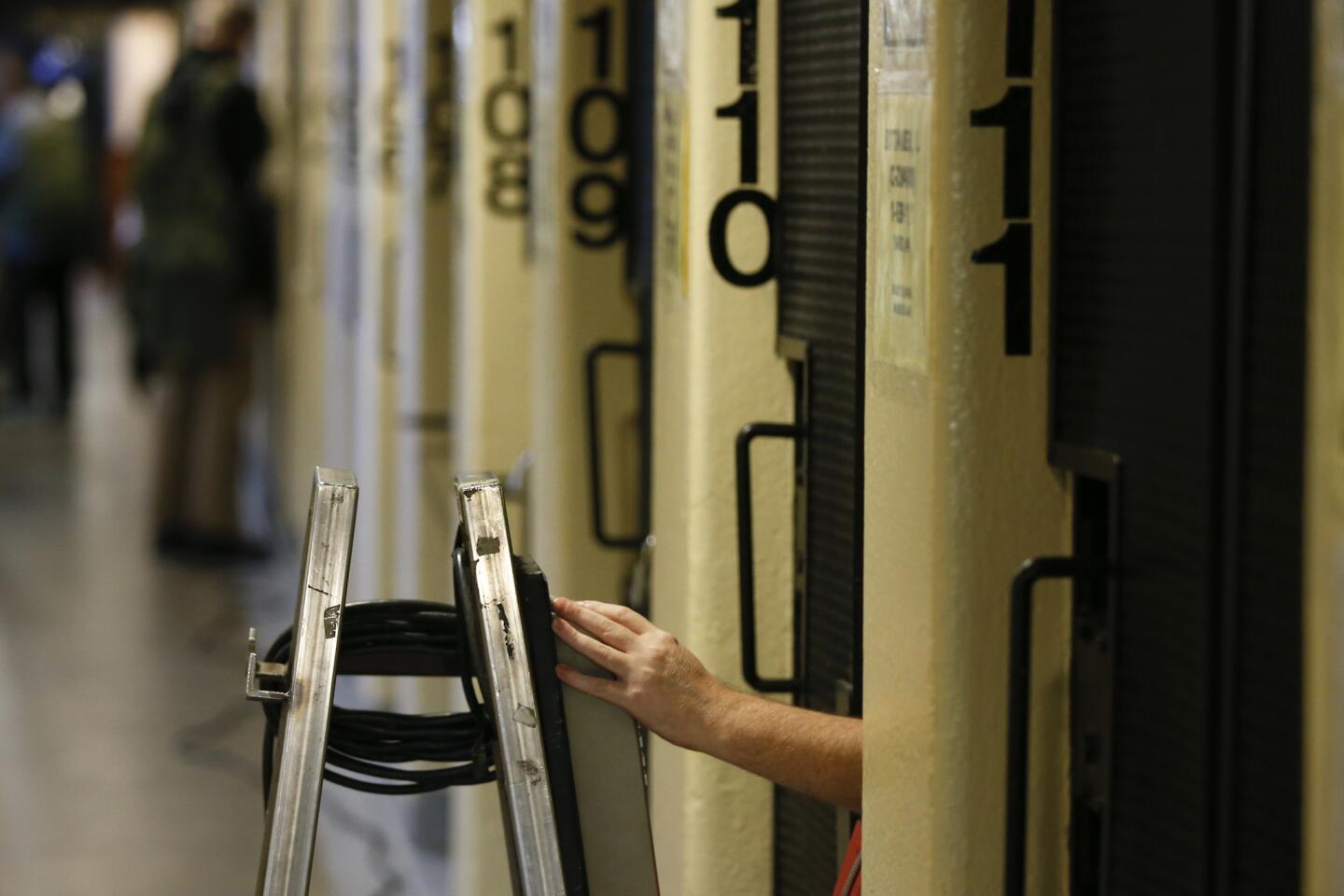 A death row inmate gets some phone time on the East Block at San Quentin prison.
(Mark Boster / Los Angeles Times)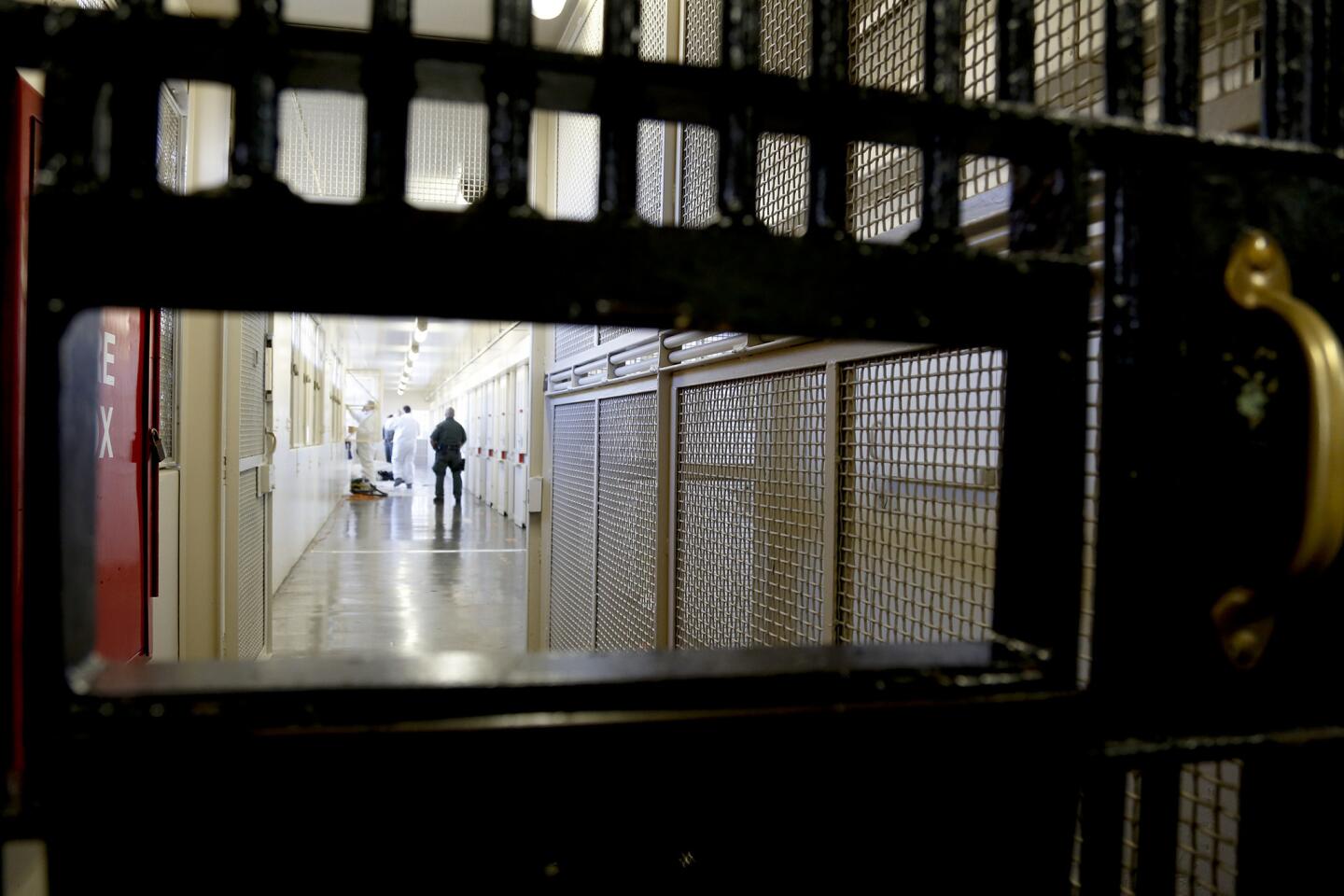 A guard watches the hallway in the Corrections Center at San Quentin State Prison while contractors do some work on the building.
(Mark Boster / Los Angeles Times)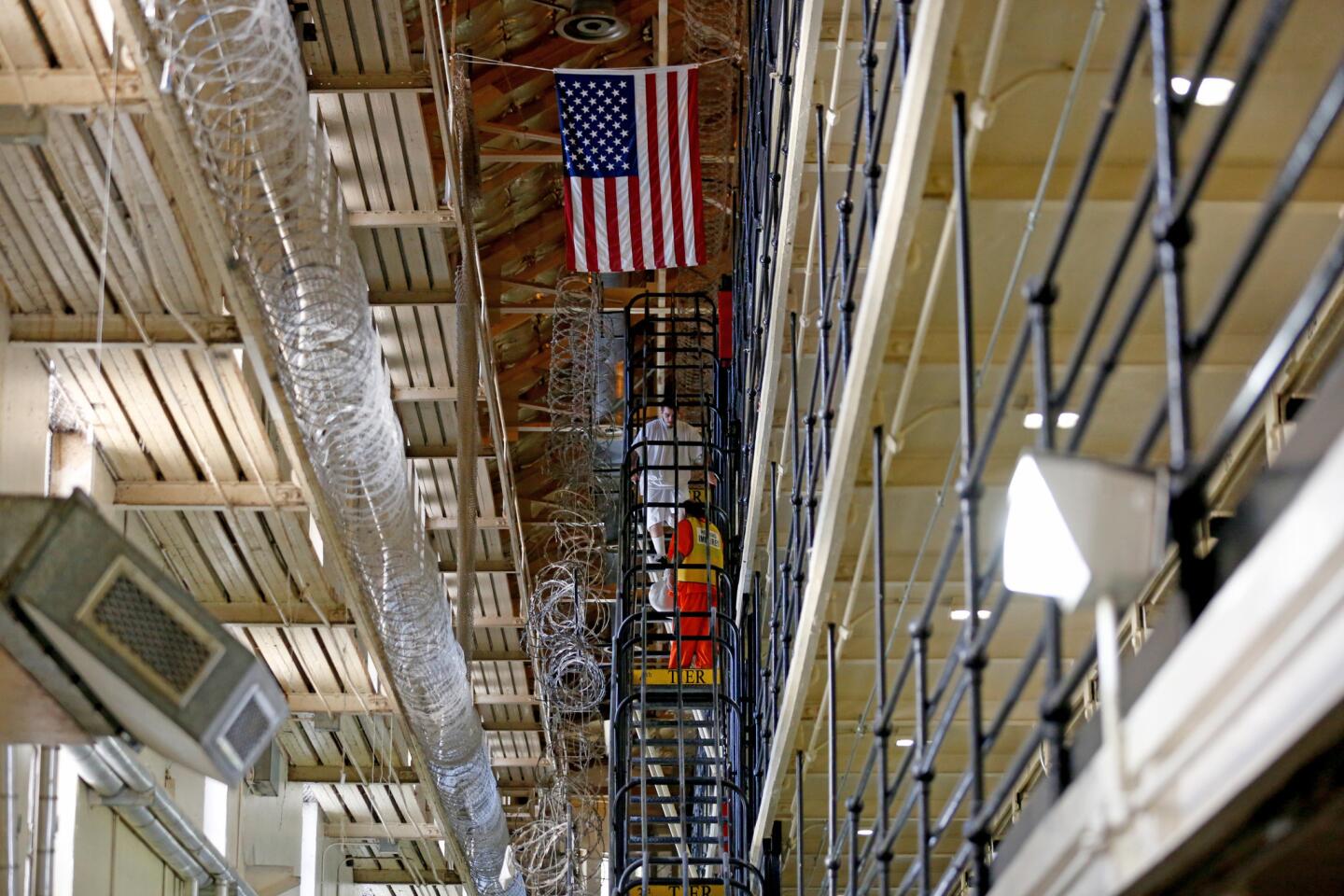 East Block at San Quentin State Prison.
(Gary Coronado / Los Angeles Times)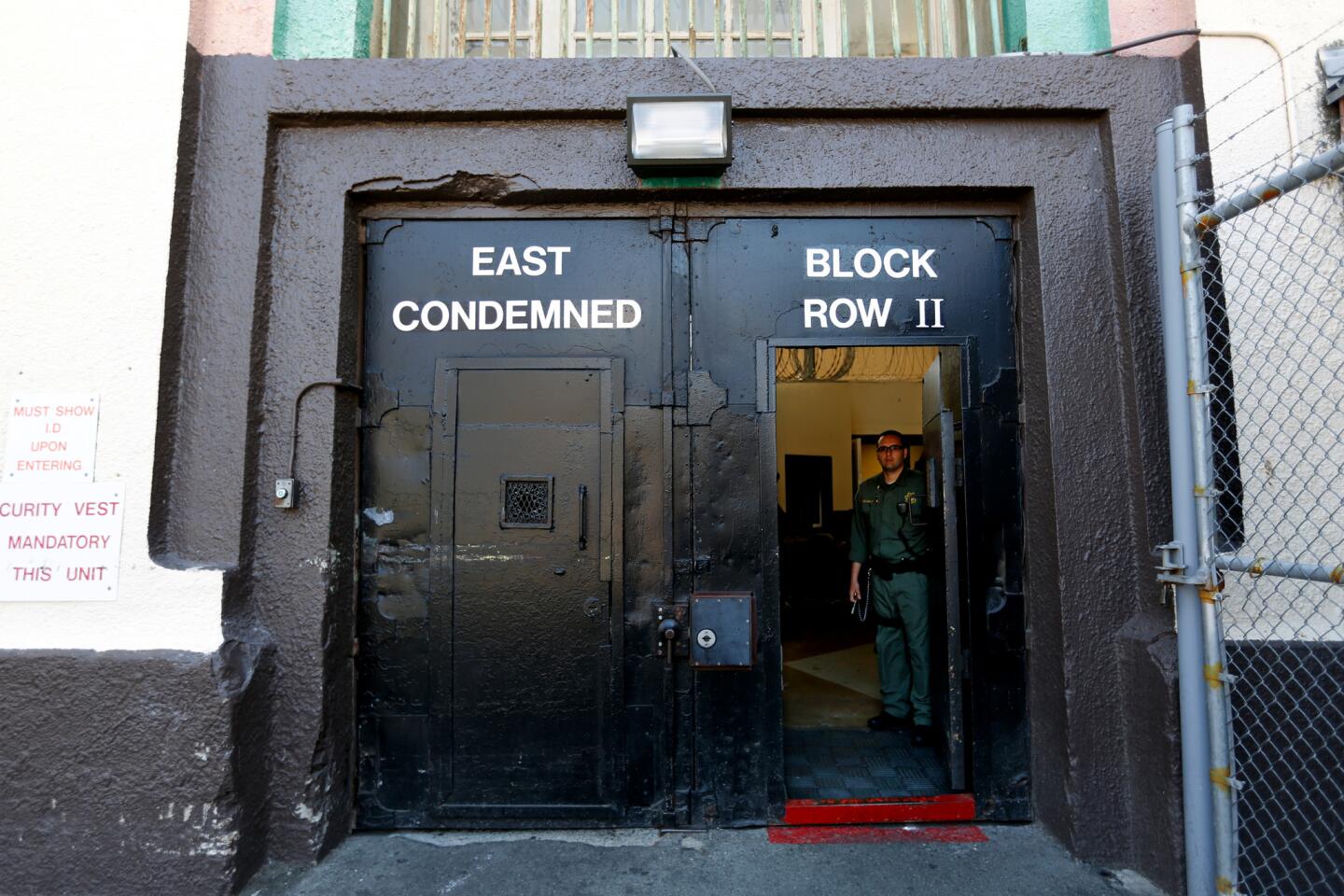 The entrance to the East Block of death row at San Quentin State Prison. San Quentin opened in July 1852. It is the oldest prison in California.
(Gary Coronado / Los Angeles Times)
Reporting from Sacramento —
Gov. Gavin Newsom insisted on Wednesday that he possessed both the legal authority and moral responsibility to impose a moratorium on executions in California, rejecting the idea that he was defying the will of voters who refused to abolish capital punishment just two years ago.
"The law is the law and this is crystal clear: The constitution of the state of California provides the governor the ability to reprieve, the ability do this moratorium," Newsom said during a morning news conference at the Capitol. "I don't believe there is any ambiguity. My ultimate goal is to end the death penalty in California."
Moments before, Newsom had signed an executive order granting a blanket reprieve to all 737 condemned prisoners in California, the state the with largest death row in the nation.
Newsom said voters knew he was a strong opponent of the death penalty when they overwhelmingly elected him governor in November. He insisted that his decision — which included a rejection of the lethal injection standards being developed by the state and a symbolic closing of the execution chamber at San Quentin State Prison — should not be a "huge surprise to anybody."
But supporters of capital punishment expressed outrage over the governor's decision.
"Gov. Newsom just demonstrated his first questionable action to be a leader for all Californians by putting his own views above the will of the people," said Assemblyman Tom Lackey (R-Palmdale), a retired California Highway Patrol sergeant. "Death row inmates are not ordinary criminals. They are kidnappers. They are cop killers. They are rapists who murdered their victims. These are the monsters Gov. Newsom is protecting."
Gov. Gavin Newsom to block California death row executions, close San Quentin execution chamber »
Kent Scheidegger, legal director of the Criminal Justice Legal Foundation, called Newsom's actions "an abuse of power."
Scheidegger's organization was the main backer of Proposition 66, a statewide ballot measure that voters approved in 2016 to fast-track executions in California, potentially speeding up executions. During that same election, voters rejected a separate ballot measure — Proposition 62 — to abolish the death penalty, marking the second time since 2012 that Californians voted against repealing capital punishment.
Scheidegger said families of murder victims could challenge Newsom in court, but he was not sure if the result would be worth the effort. The state constitution gives the governor wide latitude to issue reprieves, he said.
The Democratic governor, flanked by Democratic leaders at the Sacramento press conference, said he felt compelled to act on Wednesday because he was being asked to approve California's revised method of lethal injection, which would likely lead to the dismissal of legal challenges to executions in California. With 25 prisoners on death row having exhausted all of their appeals, the state was on a path to execute more people than any other state in modern history, Newsom argued.
"I can't sign my name to that. I won't be party to that. I couldn't sleep at night," Newsom said, adding that he will not allow California to be in league with authoritarian regimes that execute their citizens with little justice, such as North Korea, Saudi Arabia and Iran.
The governor argued that the death penalty discriminates against defendants who are poor, mentally ill, African American or Latino. He also said he would not take part in executing prisoners knowing that many death row inmates in California and other states have been exonerated, providing proof of the nation's flawed criminal justice system.
Newsom cited the case of Vicente Benavides Figueroa, 68, who was sentenced to death after being convicted of raping and murdering a 21-month-old girl in Kern County. The former farmworker was released after 25 years in prison, when all but one of the medical experts who testified against him recanted their testimony.
"I cannot sign off on executing hundreds and hundreds of human beings, knowing — knowing — that among them will be innocent human beings," Newsom told reporters.
Riverside County Dist. Atty. Michael A. Hestrin said the arguments Newsom made have been heard many times by the California Supreme Court, which has repeatedly ruled that the death penalty is fairly and justly applied.
"Nobody gets to substitute their own beliefs for the express will of the people. That's what the governor did here," Hestrin said Wednesday. "He's doing damage to the rule of law. It's a bad day for the state of California."
The last time California executed a prisoner was in 2006, after a series of legal challenges to the method of lethal injection.
To impose a de facto moratorium on capital punishment in California, Newsom granted reprieves to all death row inmates — in essence, stays of execution. However, the reprieves will expire as soon as Newsom leaves office, potentially forcing his successor to revisit those life-and-death decisions.
On Wednesday, Assemblyman Marc Levine (D-San Rafael) introduced a proposed constitutional amendment to ban the death penalty in California, a measure that would appear on the 2020 ballot if approved by the Democratic supermajorities in both chambers of the California Legislature. Newsom said he would support that effort, but offered no indication that he would rescind his moratorium on executions even if Californians voted to keep the death penalty in place.
Top Democrats lavished Newsom with praise for his actions on Wednesday, including U.S. Sen. Kamala Harris, one of the leading presidential candidates. Harris called the death penalty "immoral, discriminatory, ineffective and a gross misuse of taxpayer dollars" — yet, while she was California attorney general, she did not take an official position on ballot measures to abolish the death penalty.
Harris' successor, Atty. Gen. Xavier Becerra, called the governor's death penalty moratorium "a bold, new direction in California's march toward perfecting our search for justice." Becerra, when appointed by Gov. Jerry Brown to replace Harris, said during his Senate confirmation hearing that he supported the death penalty. But he also said the state needed to put more reforms and resources into implementing it to ensure it was fairly applied.
Anti-death penalty advocates also praised Newsom's actions on Wednesday, calling it a seminal moment in longstanding efforts to end capital punishment across the nation.
"I am hopeful that this is going to be a game changer in how we deal with ourselves and how we deal with criminal justice issues," said actor Mike Farrell, who authored Proposition 62 and met with the governor soon after he was elected to discuss the death penalty issue. "I think it's great not only for the state of California but for the country."
Beth Webb, who lost her sister and several friends in a 2011 mass shooting at a Seal Beach hair salon, said she felt a physical blow the day after the anti-death penalty measure was voted down and Donald Trump was elected president. She flew into Sacramento from Huntington Beach for Wednesday's announcement.
"This is so brave, and so right and so smart and so humane. I am overwhelmed with gratitude," Webb said.
Times staff writers Jazmine Ulloa and Maura Dolan contributed to this report.
Twitter: @philwillon
Get our Essential Politics newsletter
The latest news, analysis and insights from our politics team.
You may occasionally receive promotional content from the Los Angeles Times.